Angel of Release
An Angel in Disguise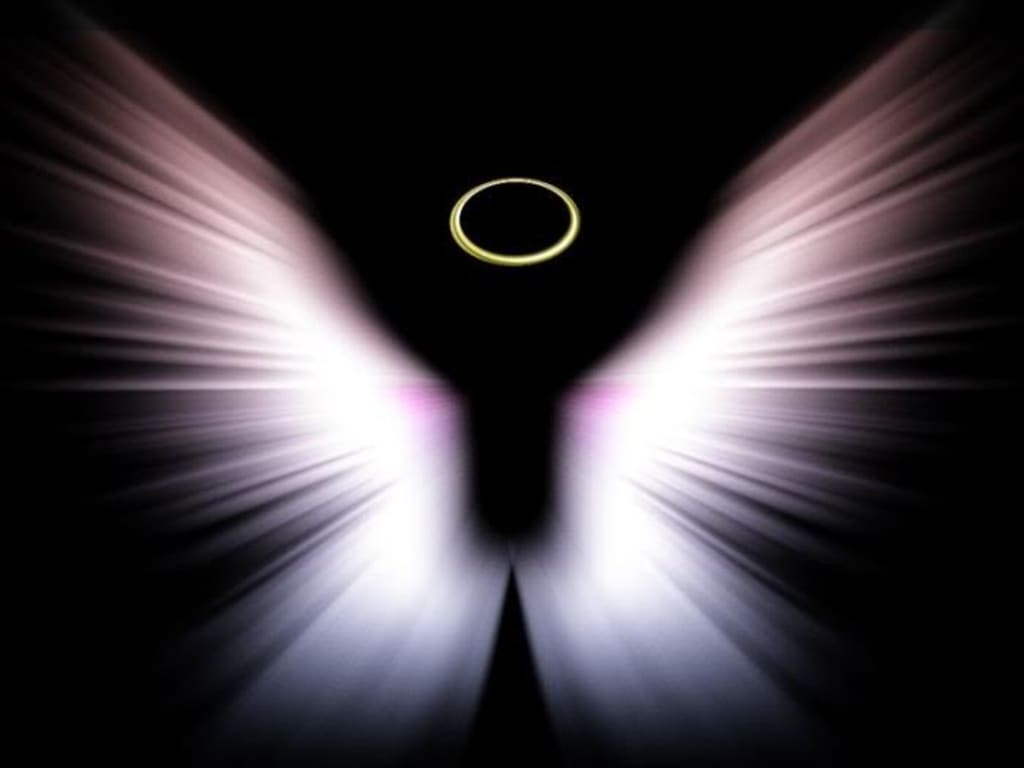 Angelina sat naked on her velvet stool. She wiggled her ass cheeks against the plush feeling of the crushed velvet. She felt a tugging in her lower belly as she rubbed herself against the fabric. She leaned forward and expertly applied her makeup. Pancake foundation followed by powder. Smoky eyes, pink cheeks, and lips. A swipe of black eyeliner and a fluff of her hair and she was done. She expertly pulled and tucked her cock into her ass-cheeks and slipped on her satin panties.
She stepped into her sheer hose and fastened them with the button straps at the tops of her smooth thighs. She fastened her 34 C bra and adjusted her cleavage with the palms of her hands. She stepped into her white nurse uniform, wiggled it up over her bubble shaped ass, and fastened the buttons with red-taloned hands. She slipped on her sensible-but-sexy crepe-soled white shoes and walked out of the bedroom.
She fastened the white nurse's cap on top of her blonde hair and smiled at her reflection in the window that looked out over the park. It was nighttime and her time. Time for work. Time for the Angel of Release to spread Joy and Relief where needed.
The Agency had already faxed over the client requests for tonight. At Boston General, she had three clients to see tonight. At County Memorial, there were four hungry patients waiting for her willing hands and mouth.
Her requests ran the gamut tonight. Her heels clicked confidently down the burnished hall on the third floor. She winked towards the nurses' station and turned the corner into room 343. She shut the door behind her, confident that the shift nurses would give them the 20 minutes she needed to make Jake's wishes come true.
Jake's 18-year-old body was spread eagle on the narrow hospital bed. Both legs were encased in white plaster casts with various signatures in different colored ink. A bicycle accident with a parked car broke both of his legs. Jake looked at Angelina and closed his eyes. His salvation was here.
Angelina opened her nurse's bag and selected a chocolate flavored condom and a vinyl glove. She slipped the glove on her right hand and put the condom in her mouth. She approached Jake and wordlessly slipped the covers down to his knees. She gently pried his hairy thighs open and leaned her mouth over to his semi-hard cock. She used her mouth to slide the condom down his now very hard cock and used her teeth to push it down to the base of his thick shaft. She ran her lips and teeth back up his dick and felt his body shudder under her touch. Angelina unhinged her jaw and let his dick fill her throat completely. She expertly applied sucking and releasing actions to tease his cock into release. Her gloved hand pried open his ass cheeks and probed his hole until her forefinger was inside his ass up to the second knuckle. In and out, in and out she slid her finger. The sounds in the room sounded wet and slurpy with the moans of the almost satisfied overriding all other noises. Jake began panting, "Fuck, oh fuck you suck me you cocksucker you cocksucker motherfucker. Oh god. Oh, god I AM GOING TO CUM IN YOUR HOT MOUTH!" Jake grabbed the back of Angelina's head and slammed it down on his cock, momentarily gagging her but she quickly recovered and applied the greatest pressure as she slammed two fingers into his dripping ass hole. Jake bucked his ass cheeks and jammed both of his hands into Angelina's hair with a force that shook the bed. Wordlessly Angelina climbed off Jake, removed the glove and the condom. Wiped her mouth. She looked at Jake, now half-asleep with his tongue peeking out of his mouth, and winked a goodbye.
She tossed the trash into the can and left the room.
Next stop, a retired cop in room 420 of Boston General. Sgt. John Handry tore an ACL in his knee playing football with his grandsons and he was missing his street corner action. His request was in keeping with his extracurricular activities on the street. A single for $10. A doubleheader for $25. A month in the hospital has John in absolute agony and climbing the walls. Angelina got a glimpse of his wife, poor guy.
Tonight Angelina was wearing long silk gloves under her white nurse's cape. She closed the door and smiled at her patient. She tossed her bag at the bottom of the bed and bent over to give John a good look at her bare thighs and silky panties. She slowly started to pull off her gloves with her teeth. "No don't. Keep the gloves on." Her patient hissed in the semi-darkness. All was quiet save for the faint beeping of the life-saving machines up and down the halls. John was only hooked up to some pain medicine so he was somewhat flexible.
Angelina ran her hands over John's cock, which was rising under the covers. It was long, hard, and hot through the white sheet. John looked up at the ceiling and let out a whistle between his teeth. "Take my dick in your hands, bitch," John ordered her. Angelina was more than obedient and unsheathed his cock from his sheet and hospital gown prison. She ran her silky gloves up and down his shaft, feeling the thick veins and ridges of his cock even through her gloves. She used both hands to pump his cock, foreskin moving back and forth lubricated by the juices seeping out from the glands. "Give me your ass whore. Sit on my cock and let me stick it in your ass." John tried grabbing at Angelina's ass from where he was in the bed. She carefully raised her dress and positioned herself so that he had a good view of her ass. Her cock and balls were neatly hiding up front in anticipation of this booty call. Angelina applied an extra large condom and some KY to John's huge dick. It seemed to grow as she slid the rubber down to the base of his rod. Angelina positioned her asshole over his cock and slowly rubbed his tip over her opening. She lowered herself down on him, inch by inch. The pressure was incredible and she had an unbelievable urge to poop. The feeling passed and soon John was gripping her hips, grunting, and sliding her up and down on his love pole. "Ah fuck. Oh, that is it, that is it you bitch. You love it, all you girls are the same. You are all whores. Take it cunt, take it all in…" Angelina just smiled as she went along for the ride. She reached into the front of her panties and took her cock into her hands. She ran her hands up and down and felt the waves of pleasure in her ass as she closed her eyes and pictured herself wearing her favorite heels and push-up bra with the Gwen Stefani wig. In minutes she was pumping hot cum into the air as John was grunting behind her pumping his own seed into her ass. She carefully climbed off her man-ride and smoothed down her uniform. She re-adjusted her pantyhose and stepped into her shoes. She looked over at John who was curled into a fetal position rocking back and forth cursing all whore-women while she donned her cap and nurses cape. She slipped out of the room quietly and made her way to the parking garage.
She finished her calls by early morning. Two more handjobs, one gentle spanking session and a suck-off request, and she was exhausted. She took her shoes off in the car and drove home with just her hose on. She loved the feel of the hose as it whispered against her freshly shaved legs and thighs. Her garters held up all night and her silky panties still rubbed her cock and balls just the right way. She freed her cock from its ass-imprisonment and let it lay in her lap as she drove. Right hand on the wheel and left hand down below. Somehow, it felt sexier, nastier when she used her other hand on her dick. Pulling and tugging on her dick faster and faster. She pulled into her driveway just as her legs went taut and she came in her hand. Breath coming fast and heart beating even faster, she let herself into her house to get some sleep.
Up in the bedroom, Angelina carefully removed her short blonde wig. The cool air felt good on the back of her neck as she brushed her wispy hair out. The wig went on the headstand. She tossed her white uniform and silky stockings into the corner of the room. She would clean them later. Last off were the panties, freeing her cock and balls to swing free in the chilly night air. She tossed the panties and bra over on the pile as well.
Now Brad again, he pulled on sock shorts and a ratty t-shirt and climbed into bed. Brad cried himself to sleep, as he did every night after Angelina. He missed her already. If only he had an Angel of Release.