Amora's Desire For A Female
Sexual Fantasy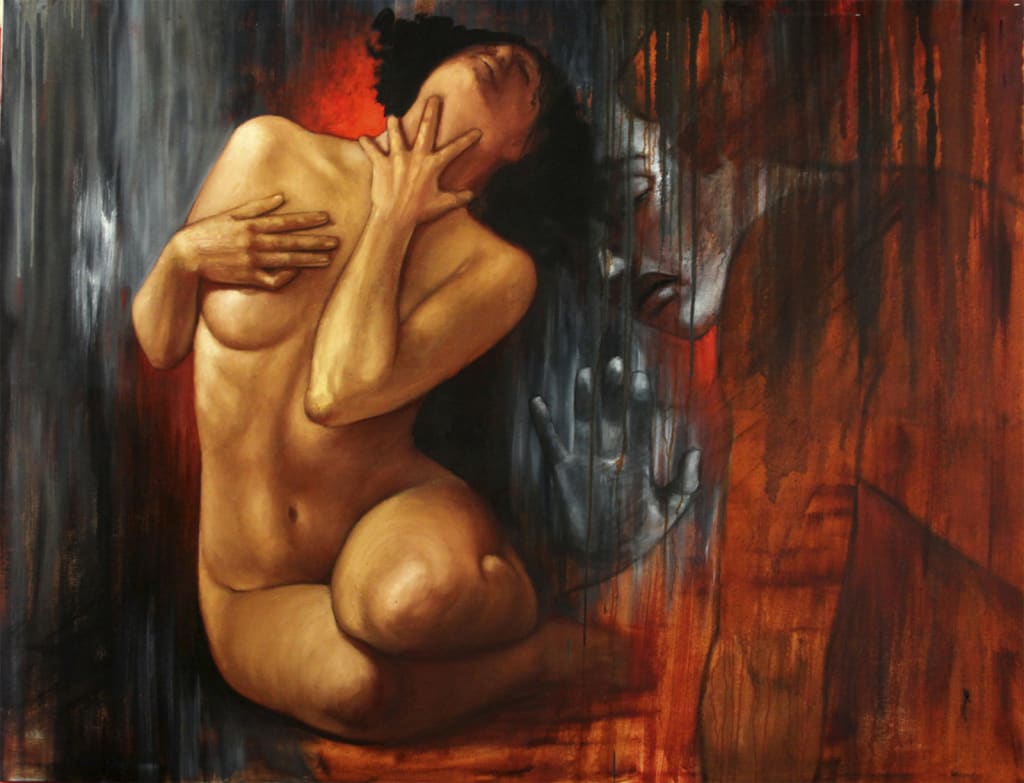 2020
Amora desires to make love to a woman. Unfortunately, no one knows her fantasy. She is aware that when she visualises a woman's body her thoughts are wild. Feelings of wanting to love on a woman and have her way with one is intensifying. Amora's ideal woman should be resilient and capable of handling all of Amora's outlandish ways. Amora is constantly observing the movements of a woman's body, especially when they're making sweet love in adult movies and she yearns for it.
The fascination of fulfilling her needs grow's stronger. Amora touches herself in ways she longs to be touched and the resonances that she would create were out of this world. This need has caused her to look for her counterpart, on a cheeky tinder app and in gay bars, but the bravery never came.
Amora just wished she could be open about this. She sought to be true to herself and let her guard down. One thing is however holding Amora back, her big secret, Amora is married and has dated men her entire life. Amora chose to settle with a male as she felt it's what her family requires. The harmony of marriage has never been Amora's priority. Amora relentlessly searched for sexual reassurance from females.
The touch from her husband and the love making wasn't steamy enough and didn't make her reach her climax. All these involvements couldn't meet her needs. Anal sex, sex in exciting places just couldn't match up.
Amora has a dark side which she wants to let loose in the bedroom. Dim the lights, have a whip, throw her against the wall, control her and let her grind on you for hours. Licking A woman's walls and tasting how her juices flow in her mouth, hearing her groan and knowing it's because of her she felt that way. Amora got frustrated because she just couldn't live her dream. Would her life pass her bye before she experienced her sexual fantasy? What if this wasn't a fantasy and maybe she deeply desired a woman's love to complete her.
A Conversation with her friend on a cold winter's night is where she spoke her truth. Amora told her friend she had all she was searching for. The friend got insulted and told her she must be a lesbian to be querying her. The quarrel went on for hours, until her friend undressed herself and let her make deep passionate love to her. They now meet up and have sex often, so often it's become an addiction. Sex in the shower, sex on the floor, sex in the car an even at their workplaces. Every time their bodies meet it becomes a movie.
The screams were so flamboyant that in the moment she did not consider her truth.
It was only a matter of time until Amora began to realise, she has to tell her husband about her sticky affair with a woman. Not only is it an affair but she wants her endlessly and doesn't want him.
Years of lies and deceit. Amora's husband has been taken on a journey that she never anticipated him to be a part of. It has finally come down to it, January 1st, 2020 she sat her husband down and told him. Amora said to him she didn't want him anymore. The husband's reaction was, I know. He knew that she wasn't attentive to him or captivated by him. In the middle of the argument, Amora shouts, I love women. The room went silence and that was when she knew her marriage was over. Amora had chills and did feel guilt-ridden for damaging someone's life but it was time to be free, sexually free. Free to find the women of her dreams, so they can steam up their windows, caress each other and have midnight kisses.
Amora can now have her way with the woman of her dreams. Let's hope it's the right one and her body will be on fire.