Affair with Stepmom
Moms Teach Sex Scene starring Sheena Ryder & Rion King.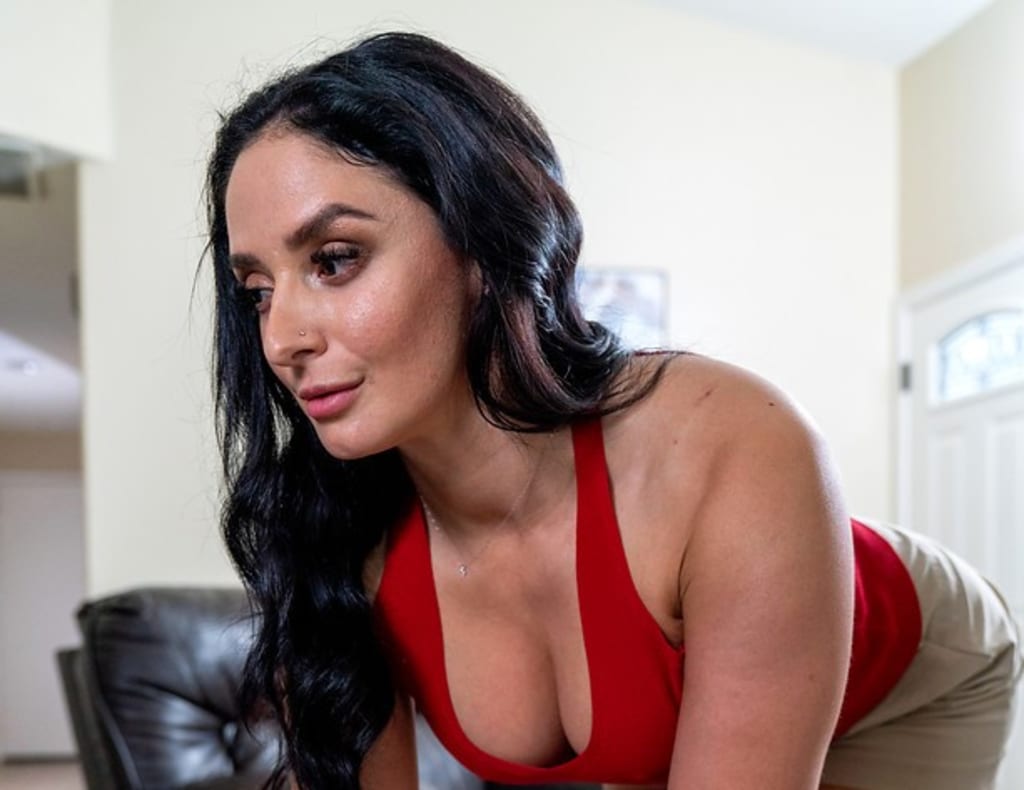 With porn it's hard to keep everything fresh and new so you can imagine producers clawing at their brain for new ideas. For some audiences just the view of people having sex can be arousing; but for many of us we need a bit of narrative to feed the fantasy. That's the thing with porn, it's often there to take us away from the mundane. We don't want what we have in everyday life, we want something a bit more exciting and taboo.
I've often watched scenes from the Nubiles website 'Moms Teach Sex' which often focuses on the older woman. Their material consisted of a lot of threesome scene 'GGB' (girl, girl, boy) where an older woman would teach a teenage girl how to pleasure the often younger man. Lately though they've went in another direction where it's a boy being schooled by an older woman in the art of sex. I have to say it's a good direction and certainly gives their website a bit of variety; it's also a more believable scenario for audiences. It allows the Nubiles brand to compete with other websites like Naughty America & MYLF who have similar themed scenes.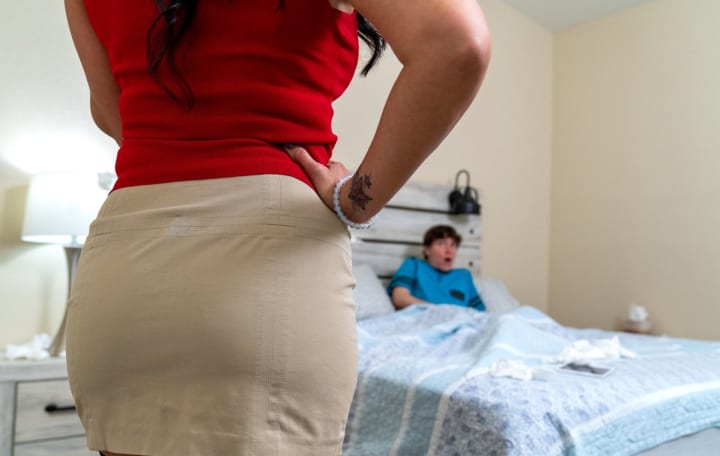 This particular scene I'm reviewing today stars the talented Puerto Rican performer Sheena Ryder. The 37 year old is often cast as the MILF in a lot of scenes and it's easy to see why. With her green eyes, 34D-27-39 curves and mature confidence on screen it's easy to see why she gets plenty of work. Born January 19th 1984 in Los Angeles, California as Veronica Elish Gonis, her confidence most likely comes from serving several years in the military as a nurse. Of Puerto Rican & Greek descent Sheena admits to attending Swinger parties from around 2007 where she met a number of adult stars. One of the many stars who encouraged her was Marcus London and eventually she was honorably discharged from the military. This allowed her to start working in adult film full time currently amassing over 300 scenes according to the website IAFD. It sounds like life was not without struggle for Sheena though as she suffered an almost career ending accident from the back of a motorcycle. She was thrown 50 feet across a highway after the rider lost control of the bike. This left Sheena with several pins, a plate and a rod in her ankle. Luckily she was able to defy the odds and rehabilitate her body to get back in front of the camera.
I've actually seen her in similar roles to the I'm reviewing today; here she plays the stepmother to young looking performer Rion King. Previously I'd seen her in the full feature films 'The MILF Pact' again playing a stepmother to a young man she seduces.
Her stepson is played by the talented 30 year old Rion King who is represented by Riley Reynolds and his North Miami Beach-based talent agency 'Hussie Models.'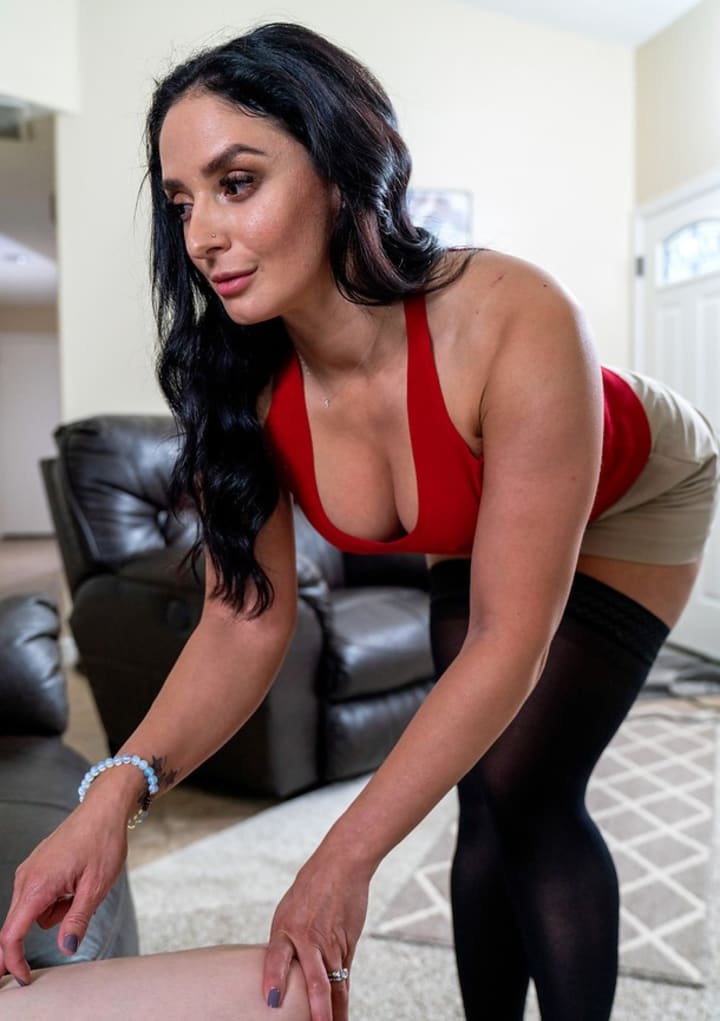 The guy could pass for 20 years old and is very underrated as an actor. I've seen him a few times in scenes and at what point didn't recognize him because his character was that different from the one he'd played previously. Currently IAFD has his tally of scenes at 477 but it's likely more as the website can't be 100% accurate with the amount of work available.
In this scene Rion has a bit of a 'masturbation problem' as he can't seem to control how much he needs to do it. The scene begins with Sheena finding many of his 'tissue waste' lying about the house. She confronts him about it and finds him again in his room masturbating. Rion is angry that she would just burst into his room but Sheena is adamant that he needs to be more discrete. Not only does she want him to be discrete but she wants him to clean up his mess after he is done. It becomes apparent Sheena is stressed because Rion's father is unable to get her pregnant. Rion sympathizes to a degree and promises to clean up his mess before Sheena arrives back from the salon. The scene cuts to Sheena on the bed using her phone; she hears sex noises from the living room and investigates. It appears Rion is still having trouble controlling his urges as his pants are full down while masturbates to a porn flick on the TV.
Again Sheena confronts him about his behaviour much to Rion's horror as he thought his stepmom would be at the salon. Sheena is good with her acting and very convincing as the new stepmom in Rion's life. Her everyday girl look makes her perfect for this type of role and the natural confidence she has allows her to portray this. Sheena's frustration surfaces as it becomes apparent that she's more frustrated that Rion's semen is going to waste rather than the fact that Rion is masturbating all over the place. Rion is pretty shocked but he empathizes with her as he seems to understand what she's going through. The young man is still pretty hesistant though when his new stepmom asks him for his 'cum.'
The pair make an arrangement that Sheena won't tell Rion's father about his excessive masturbating (to which he's already been warned about) and Sheena can have a sample of his semen to get pregnant with. Initially she just holds out her hands for Rion to cum into but it becomes apparent that this just isn't enough for him. Sheena then removes her pants and exposes her breasts before putting Rion's dick in her pussy. She then rides him in the reverse cowgirl position stating 'If you want a job done right then you've got to do it yourself.'
It's pretty hot stuff as she really does ride Rion hard; a nice hairy pussy is a nice sight as well. The pair proceed to the bedroom where they get fully naked and go at it. Sheena looks particularly attractive in just her stockings which is a good look for her. There's good chemistry between the pair too as they seem to have the odd smooch now and again. Sheena's body looks amazing for 37 year old and you do appreciate when she's bent over in the doggy position. I'd also like to state she's much better at blowjobs than a lot of American stars. If you watch the European porn and US porn you can clearly see a difference as the Europeans tend to be a bit more dirtier. Sheena breaks that stereotype here though as she tongues Rion's balls and shaft.
This is a great 24 minute scene with some good acting and great performing. I have to give it 5 out of 5 for it's believe-ability, you won't find many like it.
5 out of 5.