A Prick's Pet Tattoo
Boss It's Not the Plane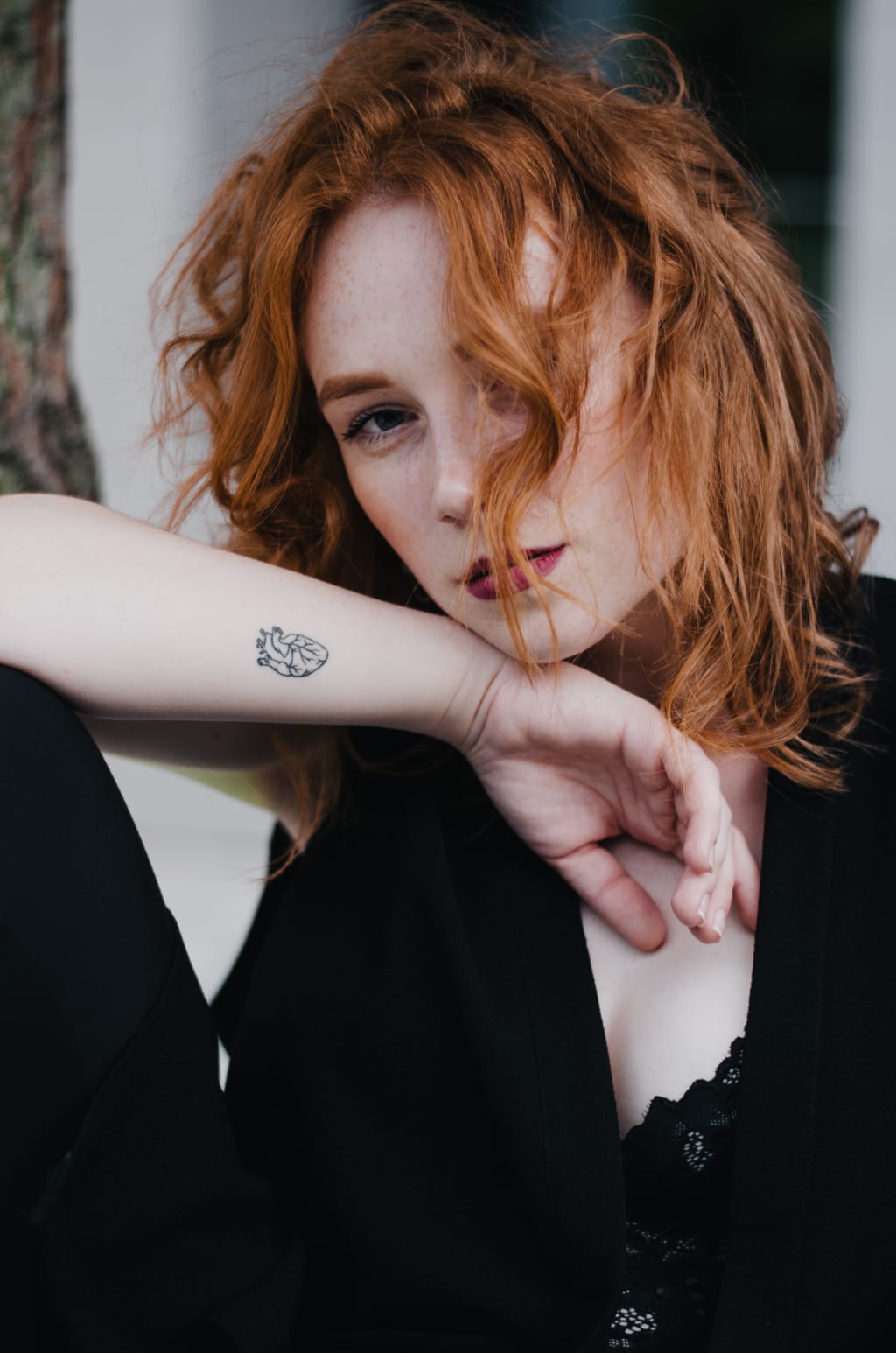 Photo by Dmitriy Nushtaev on Unsplash
I thought that it was a figment of my imagination when I saw her tattoo. I had finally found the woman with the perfect inscription. A woman is already perfect. I typed it before. But this tattoo in particular, on this woman, since I can't be sure that it would have caused the same reaction on a different woman, suddenly became my only preference to a tattoo-less gal. But I'm jumping the gun. Some can also jump a knife. And yes, there was no plane as far as I could see or hear, yet the airport was only about thirty minutes away.
Of course, it's not the woman in the picture above, but it could have been her. Let's call her Red. My reddish Ruby looked a lot like Red except that Ruby wore her second heart on the other sleeve, the same side as her real heart. Is wearing it like Red on the right also renders her a woman with two hearts? One heart is enough. One heart can also be too much when one is surrounded by heartless pricks. Women with two hearts would have never survived the pounce of one real prick. I'm a harmless prick but I still prefer a woman with a heart. Heart to heart some call it. One heart it is.
What about sex? you may ask. When there's a heart there's always sex, though I also call it love. There's, of course, sex without love, but that's where I draw a line. Not the line but a line nonetheless. Not that there's anything wrong with it. Well, there's something wrong with it, but it's beyond the scope of this story since it involves both love and sex, which are synonyms in my sex pamphlet. I think that I may have to publish this pamphlet at one point given that I refer to it too often or often enough.
Ruby was a flower in bloom, a redhead extraordinaire. Everything about her was reddish, rosy, ruddy. Even her lips tasted red, but I wasn't sure if it was strawberry, raspberry, or cherry. I didn't ask her. You would be laughing just a little had I mentioned that she was a firewoman, though I felt foolishly feverish when she touched me, anywhere. Ruby was a nurse at the Montreal General Hospital where I had my back fixed a few years ago. The piercing pain was almost gone, but I had lost most of the feeling in my left leg from the knee to four of the toes. Only the big toe looked proud to be really alive. What a prick! I felt that a part of my leg was missing only at night in bed. At rest, that comatose leg made itself more important than it was. I could walk. I could run like a tortoise being chased by a hare. I could sleep as long as I pressed the good leg over the senseless one, giving the latter some transference of life through weight. Life is not a bitch. Life's a prick.
During my two-week vacation in that hospital, I met several nurses, both male and female, but most of us seem to appreciate the sisterly nurse more than the brotherly attendant. Ruby acted like a future girlfriend or dare I say wife perhaps on account of my being alone. I had no family or friends visiting me in my on-the-mend bed since they were nonexistent during that time. I had a few phone calls from here and there, but I was alone. My surgeon assured me that I would be discharged the same day of my operation, but it soon looked like I was going to stay. The operation was a bust and he thus had to operate again a few days later. Second time's a charm? I guess, especially that he was going for a third operation before having his mind changed by another surgeon. A bulging disc, they call it. It seems that anything bulging needs a fix, whether it's a disc, a bad heart, or a prick. The prick's fix, however, is the easiest to finish.
Ruby smiled a lot and reddened when she took my vitals or my blood. My blood pressure was ceiling-high, my heart rate raced like a jaguar, and my blood was bloody. We both knew that the elevated numbers were because of her. Isn't blood red? These numbers never surfaced with other nurses. Ruby became my girl even before any stop sign or any elevator going up. I saw Ruby. I saw well. She gave me her phone number before I even asked. In case you need me when I'm not here, she had said with a timid reddening smile. Red up there in the photo could be a nurse too. All redheads should be physicians or nurses. Their redness relieves any concerns. If blondes were dumb and brunettes were smart, redheads would be hot. Yet, the latter may be the only truth.
It was during one of her check-ins that I noticed her tattoo: a little red heart on the back of her left forearm just above the hand and below her watch if she hadn't worn it on the right. Do you wear your watch on the right so I can see your other heart? I asked, unable to stop myself from telling her that I would also love her main heart, the one underneath her uniform, but more than the one she was wearing beneath her sleeve. She reddened beyond measure. It appears that I did too, but surely not from my words. Ruby also reddened me when I saw her. I knew her schedule too well and would often do my so-called walking exercises while she was advancing from room to room to my room. You always look well, I had told her more than once. You look so much better, she had replied once or twice, reddening somewhat, on account of her complexion many other patients may have thought or believed. But we knew that it was because of all the redness everywhere on and between our faces.
I asked her out a day before I was discharged. She turned into a cherry and I told her, chérie (darling), I'll be good. What's redder than a cherry? She easily turned into that. I hugged her but this time the other patients may have guessed, no, they surely knew that I was going home with her or that she was going home with me. My neighbour across even cheered us on. Love is contagious, especially when facing someone with two hearts, or two hearts about to become one. I think that U2 sang something to that effect. Me too, I guess, except that I wasn't thinking of singing it yet. To Ruby or not to Ruby? Even when I see red, I actually see Ruby.
I was discharged around noon and Ruby came to see me after her shift at about six. These few hours enabled me, in a still uncertain state, to lightly freshen up the apartment and myself. The peppermint bath put a new heart on my entire being, but I felt it most on my face which kept reddening when I thought of Ruby. The mirror rarely lies. I actually found myself thinking only of Ruby. I usually cook for any type of love, but given my so-called state, I ordered some food from a good nearby restaurant. Everything was ready for Ruby. Even a peppermint bath would greet her to soothe the hospital away from her reddish frame.
I kissed her as soon as she entered the apartment. She reddened, of course, but it was a good kind of red. Blood warming up to the love to come. And nothing is redder than love.
"It smells wonderful here," Ruby said a moment after the parting of our lips.
I love peppermint and the food smells alright, I replied. Yet, you, my dear Ruby, smell the best, I continued.
"Not after a shift at the hospital," Ruby said.
Make yourself at home, I said. I'll prepare you a peppermint bath to help you forget your shifts and remember your gifts.
Reddening, she acquiesced but not before asking about the peppermint. Everyone does. It's only peppermint, not cayenne pepper. Peppermint is a hybrid mint, a cross between watermint and spearmint. I love peppermint and it shows me its love in return, calming my suffering and pain, making baths lingering moments of heaven, soothing digestive arguments, changing tea into a remedy, declaring itself a physician and a friend. I'm in love with Mentha x piperita, its scientific name.
If you love peppermint, you'll love a peppermint bath, and if you don't, you may begin to love it, I said.
"Oh, I love peppermint," Ruby replied.
You're the woman of my heart, I said, kissing her and allowing her to end the kiss. She reddened again. She always reddened, no matter what. She actually wore her heart on her face. I left her in the bathroom which was emanating again the smell of Mentha x piperita, but not before she showed me her breasts. She took of her shirt and bra, revealing a second tattoo on her left breast, just above her heart, but this one was of the letter M. I surely reddened, both from her beautiful bountiful breasts, both of them, and that mesmerizing scarlet M.
"I had it tattooed a couple of days ago," Ruby said and smiled.
M for more, for memory, for me? I asked.
"M for Maurice," Ruby replied smiling still but with a bigger smile.
I could have died then a happy man. But life requires love before it dies. And there was so much love radiating from Ruby. I could feel her heat. I wanted to kiss her breasts and so much more, but it was her peppermint bath, Mentha x piperita beckoning to pacify her too before our eruption of love.
I don't think that she took her time in the bath. Our meal also only partly disappeared in spite of its good aroma and taste. Our minds and hearts were ready for real love, not those stand-ins that always come short. I gently bit each one of her ears from behind her chair, which was surely happy as well to feel such life breathing on its shell. Then came her flaming hair, peppermint fused with red, strands of burning desire to be touched and inhaled. I was afraid to gaze into her eyes since eyes reflect more than anyone bargains for. Ruby stood up and led me to my, our bed. I undressed her save her panties that should always be taken off with some grace. She lay on the fresh bed, spreading her arms so I could join her embrace. I was there on top of her between two heavens, many more if you count all the rest.
I never liked the colour red. Even roses I prefer to be yellow like my car. White roses are for death. Pink ones leave me sickened in my breast. But a red woman is not really red. She's enflamed. She gives red a beauty that I can enclasp, encircle with my hands, my mouth, my tongue. The sprouting prick is only interested in holds, folds, and holes; one of the latter having been crowned as the Queen long before there was ever a so-called King.
I took her panties off with my teeth but could never finish the gratifying task when my sight caught the contours and topography of the spot from which much of life comes into being. I was lost in that space, remembering that life continues beyond it when Ruby peaked. The tongue may be a better prick. Tongue anyone? We don't do pricks. It could be a new slogan for a prick-retreating world. Was it my turn? Not in my sex pamphlet where it's always the woman's turn. Pricks dominated women's lives long enough.
I remembered her breasts. How could I forget such monuments of senses ensnarled! Luckily, we have two of them to cherish, and each one should be given love as if it was the only one. Did I love them too much? Ruby didn't mind. Her rubicund nipples couldn't pretend. They couldn't lie to my face, although they were almost the same colour as her skin.
"What about you?" Ruby asked. "Let me love you too!" she added.
I'm not done with you, I replied. I don't think that I'll ever be, but luckily we have time.
"Oh, Maurice! I think that I loved you from the start. You looked so lonely and assertive at the same time. The M also stands for Man, My Man."
You also knew through my vitals and other measurements that my heart was yours. My mind followed my heart. No! My heart followed my mind. No! Both followed your hearts.
"I love you, Maurice," Ruby said, with emotions seeping out from her freckled skin.
I will always love you, will beat my rub-a-dub heart. My mind is already Ruby-bound, Ruby-abducted, Ruby-drunk.
That's it. I'm done. Thank you for your time! What about the rest of her? you may ask. To go any further would be a redline, at least this time around.
...
If Ruby's ever gone — I hope that I'm first to be gone — I may contact Mr. Nushtaev, Red's photo taker, following long days and nights of bereavement, about Red, hoping that he reads and or speaks English or French. My Russian is limited to hello, goodbye, and a few curses, which can take one so far, especially when he may turn out to be Ukrainian.
fiction
Medical writer who prefers to read and write fiction and some nonfiction, though the latter may appear at times as the former. anthi-and-m.com
Receive stories by Patrick M. Ohana in

your feed