A Hot College Coed For Breakfast
The Best Bacon Head Ever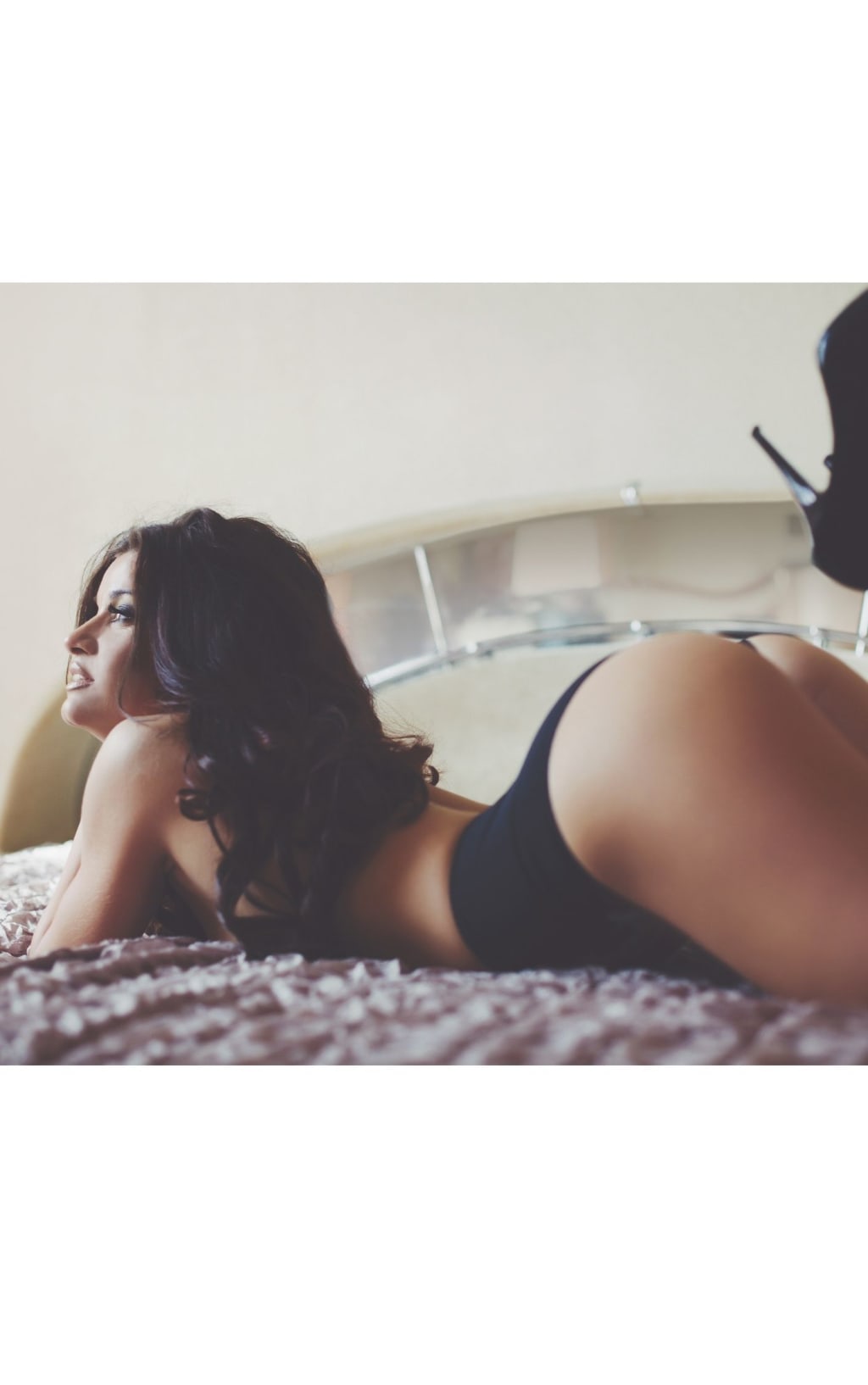 Photo By Canva Pro
Class over, I race across campus to my apartment. A tantalizing Tiger Belle is there from last night's festivities. I didn't make it to the Training Table for breakfast because of our morning sexual escapade.
However, the taste of a sizzlin hot college coed will ease my insatiable hunger pains.
I smell my upper lip, her aroma still present. I've crossed campus in record time. As I walk into the apartment, it smells absolutely delicious.
"Perfect timing, honey," Stephanie said.
She looks stunning wearing my burnt orange practice jersey like a sexy dress. It falls just below her fabulous fanny.
I was thinking she would be in bed waiting for me. Instead, the Tiger Belle has prepared bacon, eggs and pancakes. The microwave beeps and she takes out a small bowl of syrup.
"How? Where?" I asked.
"No worries, Boo. I went to my apartment, got my overnight bag, and raided the fridge. Now sit."
She takes my book bag and places it on the love seat. I take a seat on the couch. Steph approaches with a tray containing one plate of food, one glass of juice, and one fork. My Love places the food between us and takes a seat.
"Breakfast is always better when shared," she said.
Steph moves her hand over the plate and picks up a piece of bacon. Slowly placing the entire piece in her mouth and slowly taking it out.
She licks each side, back in and out of her mouth, licking the front and back, giving the best bacon head ever.
I've always loved bacon, but at that moment, I wanted to be bacon. She feeds me the same piece, and when it gets halfway in, I bite.
"Ouch! Baby, no teeth please."
"You naughty girl."
"You know you like it."
The bad girl takes a piece of pancake, dips it into the syrup and places part of it in her delicious mouth. The other part she leaves dangling and gives me the come hither finger.
I comply, sucking the pancake from her lips. This breakfast foreplay has me so heated I have to take a couple of deep breaths to avoid hyperventilating. We share the juice, washing down the food.
"Did you enjoy breakfast, Bae?"
"Best breakfast I've ever had in my life."
I give Steph a kiss. "Excuse me Boo, I need to pee pee."
"Aww, how cute? You say the sweetest things."
"Are you making fun?"
"Baby never."
She giggles.
I go to the bathroom to relieve myself. As I turn to walk out of the water closet. The vixen is waiting at the door.
"Don't put it away, Kincaid. He's got some unfinished business."
I walk to her; she turns her back. Stephanie's hair is up in a bun. I go for the exposed nape, licking and making my way to her ear. Softly biting her earlobe, placing the tip of my tongue inside.
"I'm so hungry for you," I said.
"I need you to pound me from behind," she replies.
Steph pulls up my jersey and walks in front of the dual sinks. She is peering at me through the large wall mirror.
I lock my eyes in on her unblinking pupils. She bends, placing her hands on the counter that connects the sinks. The Tiger Belle shakes her head, releasing the bun so that her silky locks fall down her spine.
I take a moment to admire that porn star-like ass. She stands on her tiptoes and arches her back, positioning that booty perfect for me to pound.
I grab a handful of hair, my eyes returning to her gaze. I drive my rock hard cock to the depths of that tight, wet, love portal. Her screams are like a beautiful melody.
Momentarily closing my eyes, pulling my love's hair harder. I reach my destination, convulsing as if hit with several stun guns, unloading on the small of her back.
My eyes open to find the Tiger Belle's stare, offering a mischievous smile. I gain my composure, a pull of adrenaline propels me.
Pulling my jersey off the Jersey Girl, lifting her to the counter. My drooling mouth latches on to her sweet wetness. She gasps.
Steph's legs wrap around my neck, squeezing so hard I fear she may decapitate me. My Love gives me every ounce of her womanly fluids as if turning on a fountain. She's wildly squirting.
I hold on for the ride. Her gut wrenching screams assure me the waterworks will soon end. I come up gasping for air. She attacks by feverishly licking and sucking the juices from my soaked face.
With our thirst satisfied, we make our way to the shower, then cuddle up under the sheets. She is spooning me from behind.
"T.K., can we just stay here forever? I just want to stay in your Kincaid cocoon. It's so loving here. No pressure, no stress, it's as if the real world doesn't exist."
I turn so that my Tiger Belle's face is only three inches away. Stroking her hair, I notice the sweetheart's eyes are heavy. We got little sleep last night, as well as all the strenuous activities we engaged in all morning. She can't keep them open.
"Yes, Boo. Let's take a nap in our cocoon and rest. We have a big game tonight."
Before I can finish my sentence, the beauty is soundly sleeping. A Hot College Coed Was My Breakfast.
FINAL THOUGHT
I hope you enjoyed my story. Thank you so much for reading.
About the Creator
A freelance writer who offers ghostwriting ebooks, FaceBook posts, article & blog writing services. He works with B2B & B2C companies providing digital marketing content designed to drive traffic, increase conversion and SEO.
Reader insights
Be the first to share your insights about this piece.
Add your insights