A Complete Guide To G-Spot Stimulation
Turn up the heat by learning the art (and science) of G-spot stimulation.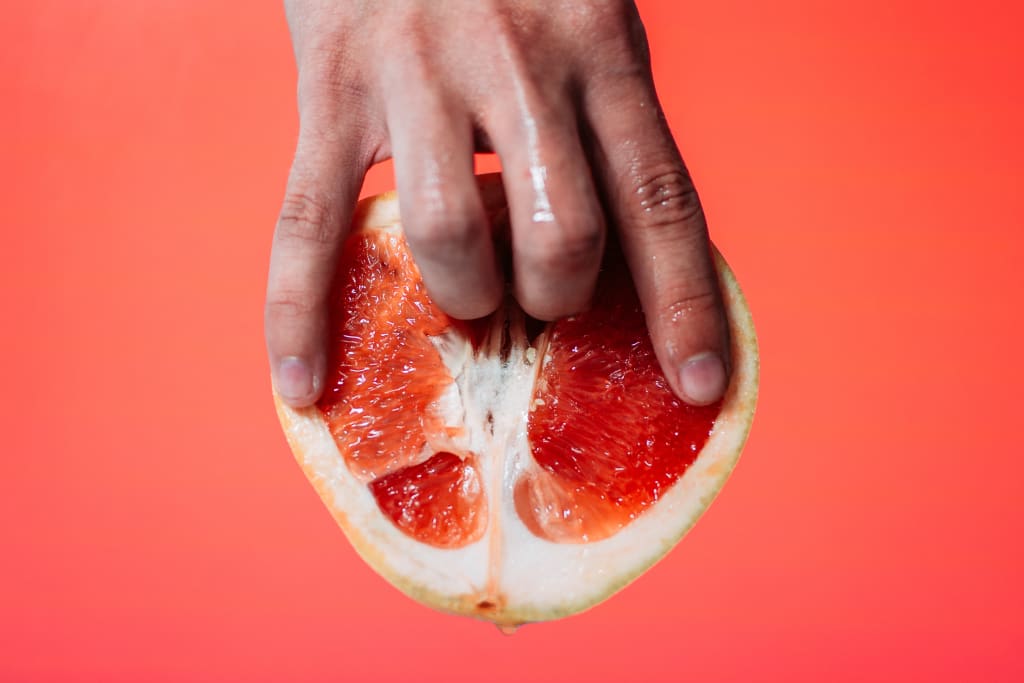 They say the best way to get comfortable with the unfamiliar is to talk about it…if this is the case, I am deeply surprised there aren't women in the streets screaming the word "MASTURBATION." Okay, it's a ridiculous thought to envision — but why are we so afraid to talk about masturbation, sex, and orgasms as openly as our male counterparts? And even more so, why is there a gap in knowledge when it comes to the "how to's" of these topics?
We are all told that the g-spot is the holy grail of orgasms, yet there are very few resources out there about stimulating it. Honestly, well into my teens I believed the g-spot was an accessible outer area that was somewhere in the region geographically covered by your g-string (I blame my less-than-informative sex health classes on this one). Given this information, I think it is safe to say that I am not a kinky, sex goddess who is always down to get down. And that's okay, but that doesn't mean I don't love sex — and it definitely doesn't mean I don't love a good orgasm.
Figuring it Out
After hearing about the elusive g-spot, I went to my favorite search engine to gather all the information I could. I was disappointed to find that most of the resources out there felt, well, medical. No part of me was interested in a stiffly written instruction manual to orgasming; something about that seems more than ironic.
So, what exactly is the g-spot and more importantly — how do I stimulate it for the big O?
Here is everything I learned in my 25 years of experience, and though I am not a doctor, I believe that'll work to your benefit.
What Is a G-Spot?
The G-spot is a nickname for the Grafenberg spot. This spot is a huge bundle of nerves inside your vaginal canal that, when stimulated, is known for giving extreme pleasure… how clinical.
Your g-spot can provide you with different sensations — after all, there is one one-size-fits-all guide to sexual experiences. Some women say the sensation from stimulating their g-spot can be irritating and painful, while others say it provides sensations similar or more intense than clitoral stimulation. Remember that as you explore your body, either alone or with a partner, that you go at a speed you are comfortable with, and never do anything you don't want to do!
How To Stimulate The G-Spot
Cue the imaginary drum roll because this is the moment we have all been waiting for. We have the anatomy down, but how exactly do you make the magic happen? If we are starting at the basics, you can likely feel your g-spot with your finger. The easiest way to stimulate it for most is to hook your finger inside and do a "come hither" motion — though that is the least sexy way to describe it, it will probably do the trick. If you are looking for a more intense experience, I recommend investing in a toy to help you out.
Using a Toy
Sex toys are a great way to access your g-spot area without the manual labor; I would argue the only thing better than an orgasm is one that comes easily (pun intended).
I often find standard vibrators and dildos to be a little lackluster. After a few toys and a lot of experimenting, I found the one—like a sell-my-soul-for-this vibrator. LELO's Soraya 2 rabbit vibrator has truly changed orgasms for me (seriously, do I write a thank you letter to them or something?). I found that the standard rabbit vibrators lacked the flexibility I was looking for, and never felt as smooth as I would like it to when in action.
The Soraya 2 gives both clitoral and g-spot stimulation for a truly mind-blowing experience. I have shamelessly told all my friends about it, and it seems unanimous: g-spots everywhere love it. While that sounds a little too sensational to be true, LELO has created a product that is ergonomically designed to reach as many women's g-spots as possible. "Ergonomic" often reminds me of airplane design, but honestly, I want someone to consider my orgasms as thoughtfully as they do when crafting gravity-defying machines. It's about time someone started paying attention to the female orgasm.
You get 12 speeds in one vibrator, so regardless of your preferences, there is a setting for you. Whether having fun on your own or with a partner, using a toy can give you that added bit you need to push you over the edge.
With a Partner
Accessing your g-spot with your partner— toy or no toy — is easier than it seems. I found a few positions lend themselves to g-spot stimulation more than others. These specifically do not require you to be an Olympic gymnast, but if you are, more power to you, gal pal.
Missionary
Ah, the classic missionary position. Whether you love it or hate it, this position can lend itself nicely to g-spot stimulation when you elevate your hips. I prefer to put a pillow underneath me to prop myself up a bit; once your hips are slightly above the rest of your body, your g-spot is more optimally positioned for pleasure. You can also try "closed missionary" by keeping your legs together. The increased pressure can lend itself to additional stimulation.
Cowgirl
When you're on top, you have more control, which is a given. Cowgirl can give you the extra advantage of being able to position your hips in the best spot for g-spot stimulation. With your partner (or toy) situated underneath you, there is more room to navigate the space until you hit it.
Doggy-Style
I've said it before, and I'll say it again: positioning is everything! Last, but certainly not least, is doggy style. With your hands and knees on a flat surface, your hips at a slant, and your partner behind you, you're in a great pose for g-spot stimulation.
Getting Into It
I am not a sexpert, but I have had a decent amount of orgasms in my 25 years of life to know what works for me and what doesn't. At the end of the day, whether you are using a LELO toy or are doing it the old-fashion way, g-spot stimulation can spice up your typical sexual experiences.
Sex can sometimes feel weird to talk about, and while you might not want to scream "masturbation" in your local super market, being comfortable exploring your own body can help you become more comfortable.
For a limited time, you can get the above mentioned toys and more LELO products for up-to 40% off! Happy Valentines Day, folks.