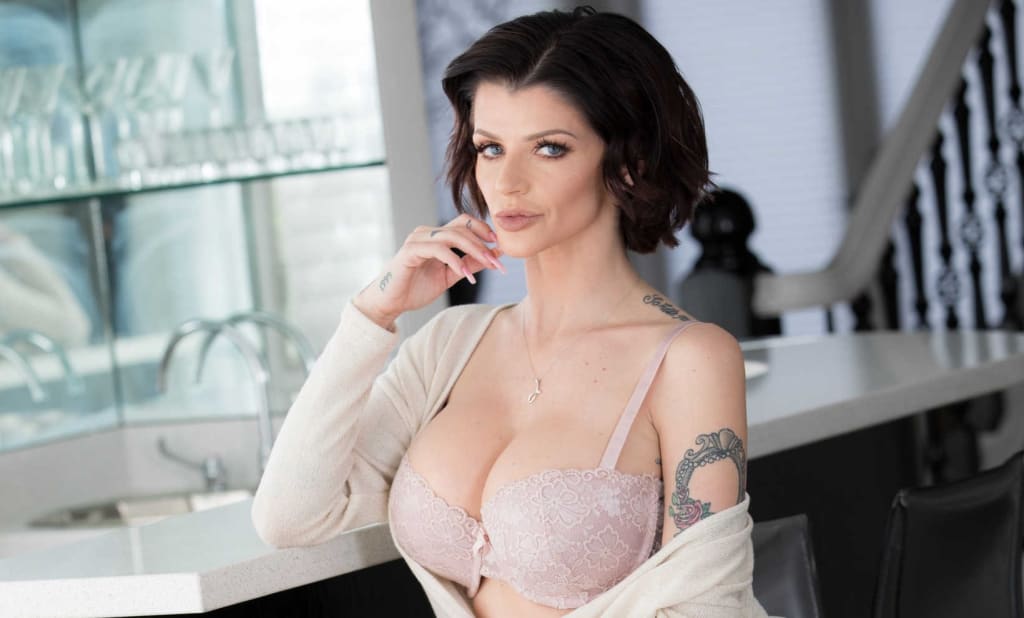 It's safe to say that 2020 has been one of the worst years in decades with the world's governments locking up their citizens in doors for what they call a 'pandemic.'
It's literally put everyone's plans on hold and has us all moving at a pretty slow pace through our society's. It sucks balls, with us all being limited to what we can do and made to shuffle round like goats in a 'pen.'
The internet can be a temporary distraction at times providing much entertainment for the masses. It also provides much adult entertainment which is our subject matter for today as I bring you nine of the hottest 'Stepmom Scenes' from porn.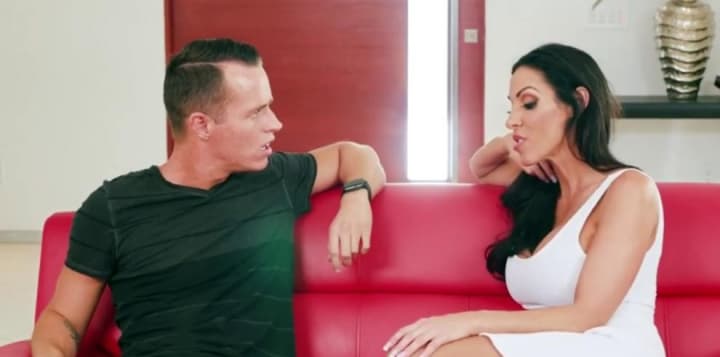 1. Keys to her pussy
This is a great scene from Brazzers starring Veronica Rayne and Justin Hunt. When they aren't doing shitty slap stick scenes, Brazzers film some quality material. In this scene Veronica Rayne is a horny step mom who is masturbating on her bed. Her pleasure soon turns to panic as she realizes she is late for a prior engagement. She frantically gets dressed and struggles to find her car keys. Enter her stepson played by Justin Hunt who doesn't feel like being helpful today. Veronica asks him to lend her his car to which he arrogantly refuses clearly wanting some type of payment. Veronica is angry but attracted to him site seductively on his lap. Justin is apprehensive but eventually comes around in what is a bit sex scene on the couch. If you've watched Veronica Rayne's scenes before you know she really gets into what she does. It's not watching her slobber over her stepson's cock in pure dirty fashion. Another sexy part is when she smooches him in the spooning position in one pretty taboo scene. If you watched any of Veronica Rayne's pre-boob op scenes they're just as good. Although her massive chest makes her an even better spectacle now in this well acted out scene.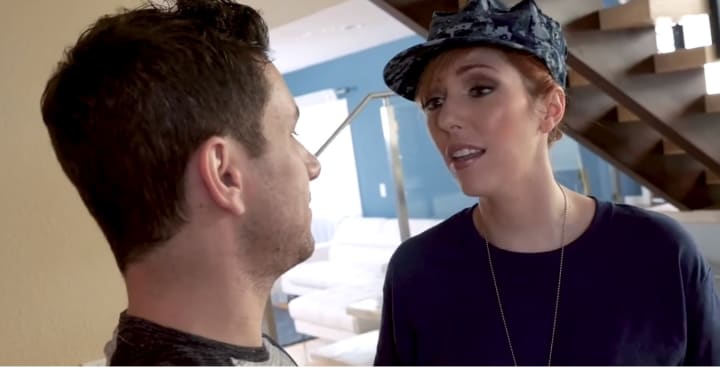 2.Star Spangled Step mom
Guys love a mature red head and they don't come much hotter than Lauren Phillips. She's a pretty decent actress which makes this a quality scene. She plays the Step mom of Tony Rosato who is also a pretty decent actor. Step mom Lauren is home from the military on shore leave; her husband and stepson decide to throw her a welcome home party with cake and alcohol. The porn company did the cool thing and got an additional actor to play Lauren's husband and while he isn't credited he does a good job playing the part. The pair welcome Lauren home who looks particularly hot in military colours. Lauren enquires why Tony has joined the military himself yet but it appears he s still studying at college. It doesn't take long for Tony's Dad to sink too many suds and he needs to go lie down. Lauren goes upstairs to check on her husband hoping for some bedroom action. To her disappointment he's passed out leaving her to find other ways to satisfy herself. This is a scandalous scene as she decides to text a naughty picture to her stepson of herself posing in her g-string. Tony is taken a back but curious as his Step mom sneaks back downstairs to follow up on the text message. It's a pretty sexy scene as Lauren literally gags on her stepson 's cock and gets really sloppy. Watching her pale backside work his dick is a pretty hot spectacle too as Lauren is naturally sexy. I think the whole fantasy of a naughty woman in uniform adds to the quality of this scene too which is well worth a watch.
3.Brandi Love SpyFam.com
If you want your Step mom porn as real as possible then your best option has to be the website 'SpyFam.' Never have I experienced a more taboo, realistic scenario than the scenes I've watched from this site. They're well aware of it as well as they're producing fewer Step mom scenes in a way to make the ones available more sought after. This particular scene stars Brandi Love who is no stranger to playing the stepmom. She walks in on her stepson naked masturbating to a VR headset. She decides to tease herself saving her naked body in his direction as he cannot see her. Eventually she takes the plunge and starts sucking his cock much to his delight. What makes these scenes so good is how realistic they are and the acting is pretty good too.
Brandi's casual demeanour really sells this scene as well as after she makes her stepson cum, she tells him to get ready for dinner. The sex is in a variety of positions too and she really seems to get off on it.
4. Bianca Breeze 'Bang My Step Mom'
This scene sees another sibling who can't handle their alcohol but this time they're in the mood for action. Bianca Breeze is driven home by her studly stepson after being too dry I at a family party. It's clear that this Step mom is in the mood as she's already taken her panties off in the car. Her stepson helps her into the house and goes to make her a glass of water in the kitchen. He returns to find his Step mom Bianca playing with herself on the couch and gets an invite to join her. It's a hot scene and the acting doesn't stop once the sex begins. At one point in the cowgirl position Bianca calls her stepson her 'little boy with a really big cock!' Hang my Step mom have done a few quality scenes like this which are worth a watch.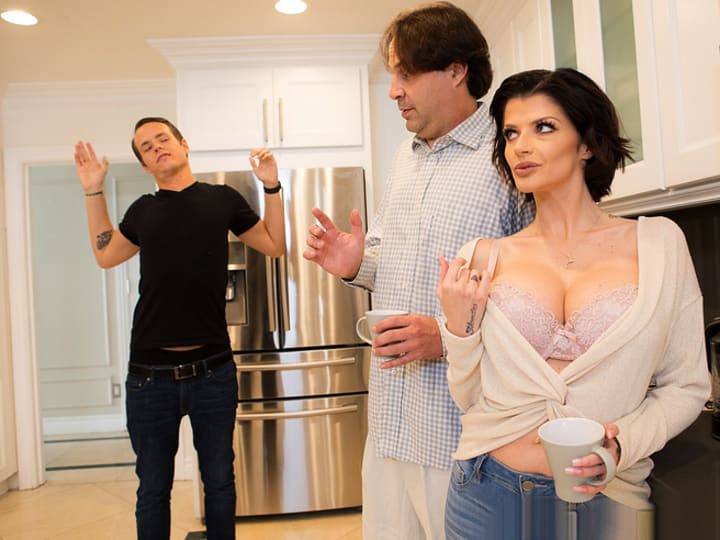 5. Joslyn's Secret Shower
One of me favourite scenes of all time stars the equally controversial MILF Joslyn James. Mainly famous for an affair she had with golfer Tiger Woods; Joslyn is now dubbed t he 'Tigress MILF.'
Brazzers took advantage of her fame in an equally controversial scene titled 'Joslyn's Secret Shower.'
Brazzers are clever as they go out of their way to establish the Step mom / stepson scenario with a number of cast members. Her stepson is played by Justin Hunt and another elderly pornstar plays her husband. At the beginning of the scene Joslyn is shown being intimate with her husband and the audience learn that they have just recently been married. Justin returns from pulling an all nighter studying; he tells his parents what he's been up to before going upstairs to use the shower. Joslyn and her husband's plans to return to the bedroom for intimacy are interrupted by a call from the husband's boss. It appears he wants the figures now which puts sex with his wife on hold. Late r outside the shower, Joslyn thinks it's her husband in the shower and starts to play with his cock. To her surprise it's actually her stepson Justin who is horrified if a bit turned on. Joslyn is equally impress by his gigantic cock and wants to help him with his erection. Joslyn 's pale tattooed body he re is really a sexy spectacle and am sure no man would mind licking the crevices of her large rump. The pair work with some awkward angles i n a small bathroom but it seems to work. It's a quality scene and probably one of Brazzers best.
6. MYLF.COM Filling My Step mom Full of Cum
Now if you want taboo then you should try what MYLF.com has to offer. Starring the little know Angelina Diamanti as the Step mom who's agreed with her husband that their stepson will provide sperm to get her pregnant. The scene begins with Angelina driving her stepson to the sperm bank as her husband can't get her pregnant. What makes this sexy is Angelina 's casual attitude when her stepson is too embarrassed to cut at the sperm bank. It's like she's getting pregnant one way or another and she makes her stepson swear his silence. She begins by giving him a blowing in the car before having wild sex in their living room. I've never watched her material before this but Angelina is in some pretty hardcore scenes other than this and is definitely worth a watch.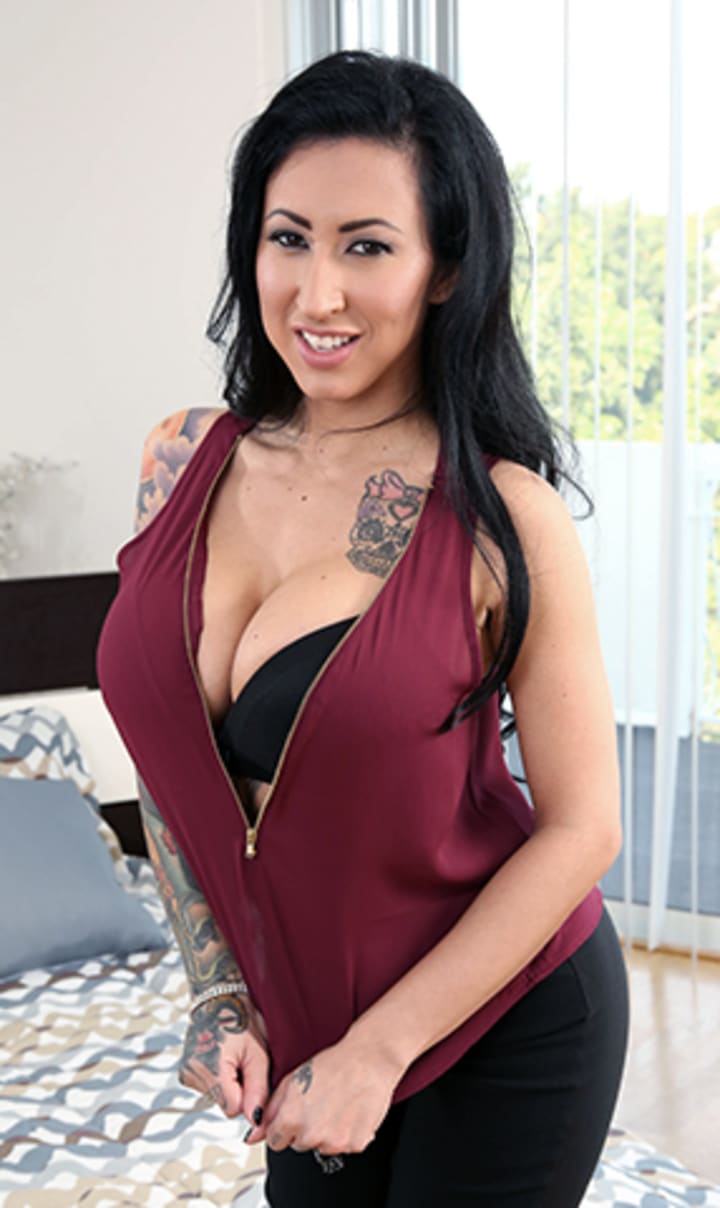 7. FILF.com Lily Lane
Another actress I hadn't seen before this scene; Lily Lane is a tattooed bombshell with gigantic knockers. H ere she sneaks up on stepson Justin Hunt (he must be type cast) as he masturbates to sexy pictures of his stepmom. Lily is angry as these were pictures she had taken for Justin's father. Things develop as a 'grudge fuck' scenario as we get to see all the brunette's curves on camera. Lily is particularly dirty as she snarls that if Justin 's father walks in then she'll just 'fuck them both!'
The scene is well shot from a variety of angles and we'll worth a watch for Lily's gorgeous curves and dirty sex.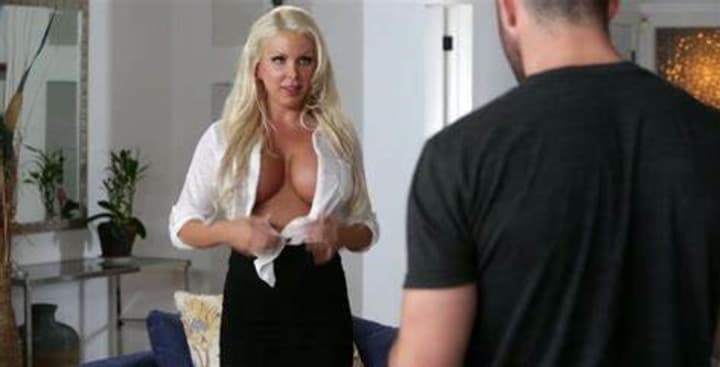 8. 'Photos for Grandma' starring Savanna Stevens
The thing that made this scene so good was the little heard of Savanna Stevens. I couldn't find much of her content online but what is there is quality stuff. In this scene her husband asks his son to take some pictures of his new wife. His son is reluctant as he has dinner reservations but his Dad promises to make it up to him. Apparently he is a good photographer and can make his Dad's wife look stunning in the pictures. Savanna arrives and is very much a blonde bombshell with curves to match. Her new stepson is suspicious where his Dad might have met her and believes it could have been the 'swingers circuit.'
Savanna doesn't deny this and waves the comment off like 'you shouldn't know about that.'
As her new stepson tries to take some conservative pictures for his grandma, it appears that his comment about swingers got Savanna hot under the collar. She starts stripping much to the shock of her stepson who is encouraged to take some naked shots and keep them for himself.
Savanna tells him to 'get over here' and starts pleasuring her stepson orally. It's a good scene, the curvy Savanna getting really worked up for the camera. Both are a sweaty mess before the end of the shoot and it makes for excellent viewing.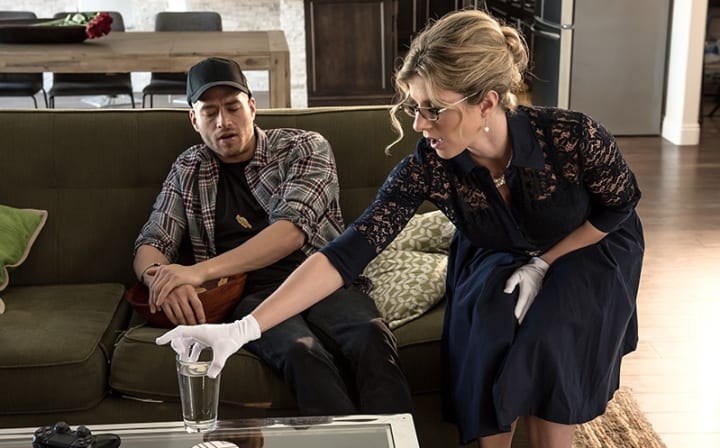 9. 'Stuck Up Stepmom' starring Cory Chase
This particular scene has to be Cory Chase's best stepmom scene by far just for the production values. It's another one from Brazzers which is pretty good about a posh stepmom who decides to fuck her degenerate stepson. Xander Corvus plays the stepson who is a bit of a 'lay about' other than attending college. Cory is horrified to find her house in an absolute mess, reading stepson Xander the riot act because of his actions. She later spies him in the shower and is turned on by his massive cock. Not being able to resist she pounces on him in the shower and what ensues is a great sex scene. The director seems to utilise great angles getting a good under shot when Xander is fucking Cory while standing. Cory's enormous breasts look great in motion and more taboo now as she played this posh upper class wife. The fact that she's now dirtily fucking the stepson feeds the hot fantasy of this scene.