5 Things to Do While You Stay the F#ck Home
Stay home and indulge in the ultimate self-care routine.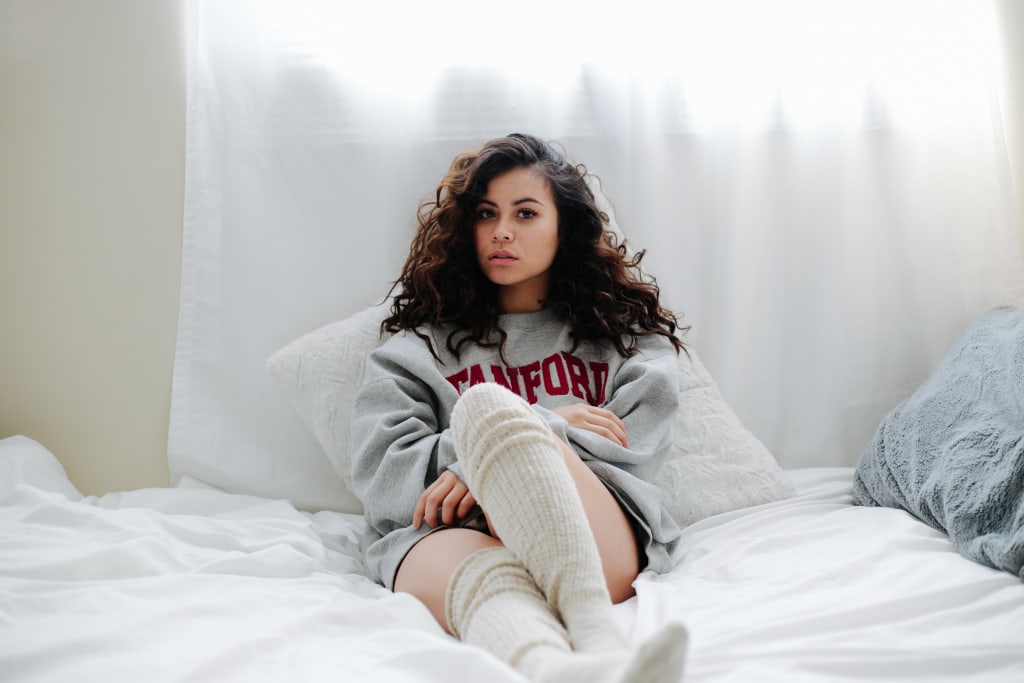 On my toughest Mondays, my coworkers could always count on me to say, "I just need one more day on the weekends." It always felt like another 24 hours for me-time would give me the relaxation and reset that I needed to be my best self. Sometimes I'd even find myself daydreaming of all the things I could do with a week off. Hello, sweatpants!
In a strange and tragic twist of fate, I'm working from home indefinitely. Although I know that I am incredibly lucky that this pandemic has not significantly affected my life personally, I have to admit: I. Am. Bored. The first week at home, I poured all of the time I'd normally spend commuting and running errands to do more work. By that Friday, though, I realized my 12-hour days were less productive than my 8-hour ones. I was burnt out already.
So the second week, I did a 180: I did the bare minimum while working from home, and spent the rest of the day lounging in bed and binge-watching TV. I watched five seasons of Schitt's Creek and ate so many chips that I'm ashamed to disclose the number of bags in my trash can. Although for different reasons, I still felt like garbage at the end of that week.
By week three, I figured it out: I had to find the perfect balance of productivity and self-care. After some soul-searching and a few too many influencer posts on Instagram, I made a list of things I've always wanted to do, but never had the time to accomplish.
You might (rightfully) be wondering: "Why should I take advice from someone who's been struggling?" Well, my fellow homebodies, my fourth week was a sheer success. I rocked this whole stay-at-home movement. I can't remember the last time I've felt this amazing-- and I mean amazing.
It's a good thing that we're not secretly scrolling through blogs at the office, because this list is NSFW. It is, however, the ultimate list of ways to maximize your physical and mental health. You know what's known to rejuvenate both at once? Orgasms. Yep, we're going there.
Hold on to your seats, because I'm about to rock your world. Here are 5 things to do while you stay the f#ck home.
Step 1: Lighten the Mood
It's okay to feel sad, stressed, or anxious right now. We all are. However, we do not have to sulk in these feelings. Acknowledge them, accept them, and try to move forward from them.
This is not a time to traumatize ourselves more than we have to. We should be finding ways to make our time at home memorable for positive reasons, too. Let tomorrow be the day that you had ice cream for breakfast, or didn't put pants on all day. If you're one of the chosen few who actually like to run (bless your heart), try to hit a new personal record! I'll cheer you on from under the covers.
You should find different things to do at home every day that give you a reason to smile. Don't get sucked into a robotic schedule. I'm a personal advocate for dancing in my underwear, painting every nail a different color, and jumping on the bed. Although many aspects of this time are very serious, allow yourself to smile, too. There's no harm in lightening the mood, and having fun doesn't mean that you aren't doing enough.
The best part of social distancing is that you can keep your guilty pleasures all to yourself. Even if you're not living alone, your bedroom is always a no-judgement zone.
Step 2: Build Yourself Up
Humans are social creatures. We crave communication, and we crave touch. Even as a self-proclaimed introvert I still miss coffee talk and happy hour. I miss hugs. Hell, I even miss handshakes.
Without socialization, it's easy to become very lonely. Oftentimes, loneliness and boredom become the concoction that rips our self-esteem to shreds. Now more than ever, it is important to practice self-love.
Write a list of all of your best qualities. Take a bubble bath and maintain your usual grooming and skincare routines. Recognize all that your body does for you, and love it for keeping you healthy and strong.
This is also the perfect time to get your flirt on-- let's be honest, nothing boosts the confidence quite like flattery. If you have a SO, send them some sexy messages to remind them that they're on your mind. If sexting isn't your forte, a simple "Wish you were here ;)" opens the door for flirtatious follow-ups. If you're like me and single AF, download a dating app, be bold, and message first. It's sometimes nice to remember that even strangers find you attractive, and your perceived confidence will certainly spark interest. Plus there's no risk, because you literally cannot meet up tonight to "watch a movie"!
Step 3: Get to Know Yourself
This is where it gets good. Once you've lightened the mood and built up your confidence, it's time for some self-exploration, one of the most rewarding things to do at home. There are many different levels to this-- Where do you see yourself in five years? What are you most proud of? What's your deepest fear? You can only truly take care of yourself if you are in-tune with what you need.
In this stage of revolutionizing my stay-at-home experience, I realized that addition to exploring my emotional needs, I also was long-due for some physical exploration. Female masturbation is so stigmatized that many women are really afraid to explore and understand their bodies, even in private. Studies show that women touch themselves significantly less than men do-- perhaps those disparities are inflated because of the social shame, but either way it's a tragedy. After all, who better to know what feels good than yourself? Are we really meant to believe there's an entire section of our body that is off-limits, even to ourselves?
Light a candle, play some mood music, and explore. Find and embrace every one of your curves. Start to figure out what you like. You deserve to be in-tune with all of you.
Step 4: Indulge
Once I felt that I was beginning to understand my body a little bit better, I wanted to take things a step further.
Before this stay-at-home mandate, I owned one run-of-the-mill vibrator that has collected dust in a box under my bed. I realized that if I was going to really get to know myself, I was going to need better than that. This was when I discovered my favorite brand to ever exist, LELO. LELO is a body-positive company that makes sex feel natural and sex toys feel luxurious. My quest to find the perfect toy to practice self care led me to their Stay Home campaign, which aligned perfectly with all I was working to achieve.
It didn't take much to convince me to make a few purchases. I first took a turn with the Sona 2 Cruise, which seemed like the perfect toy to start my journey. Its cute, sleek design seemed like something a beginner like myself could handle. Even better, its technology enhances the vibrations based on the pressure you apply, meaning that the experience is completely in control. After one use, I was hooked. I'd given myself orgasms before, but I didn't know they could feel like that.
I adore my Sona 2 Cruise, and wanted to dive a little deeper, if you know what I mean. I then turned to my other purchase, the GiGi 2. The GiGi2 maximizes g-spot orgasms unlike anything I've ever felt before, with it's intentional design to guarantee that the tip will feel just right. With all this time at home, I was soon having no problem indulging in multiple orgasms (sometimes in one session!).
Step 5: Challenge Your Boundaries
We're constantly being told to push our limits and keep moving forward; I think those mantras should apply to our sex lives, too. Just because you've found something you like doesn't mean it's the only thing you like.
After my LELO purchases, I found myself alternating between my two toys, and wishing I could use both at once. I then decided to indulge and purchase one more toy (for now), and chose the Soraya 2. It provides both clitoral and g-spot stimulation, meaning you can have your cake and eat it too.
Even if you're lucky enough to be living with your partner, there's no reason to stick to the basics. Toys can be fun for both parties, and can help you get to know each other a little bit better. I love that LELO offers both female-friendly and male-friendly toys (yes, those exist too). There are bundle options, and even luxury condoms to make sure that every experience is better than before.
Taking care of yourself means taking care of all of you. It's time for us to start realizing how intertwined sexual health is with physical and mental health. More importantly, it's time to realize that we don't need to depend solely on others for any of these parts of our lives.
There's no better time than right now to explore your boundaries, and then push them a little bit. I promise you'll surprise yourself, and be so glad you did. If you thought your self-care routines were already sigh-worthy, get ready for the ultimate release.

Trish Gilmore
I'm a creative writer, blogger, and IT person from Charm City, Maryland. If you're not from around here, that means Baltimore. If you see someone in Fells Point pouring over a tiny Windows laptop that's a bit too old, you might just have spotted me.
See all posts by Trish Gilmore →