21 Sexy Gifts You Need Under Your Christmas Tree This Year
Your ultimate holiday adult gift guide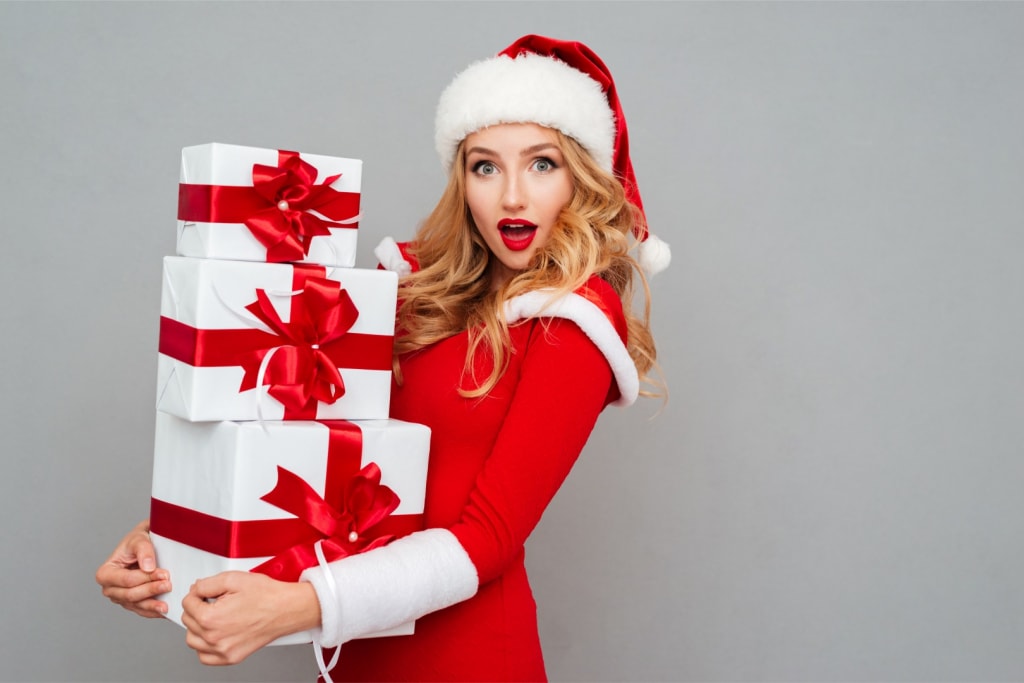 Last year, my husband and I started a new, very adult holiday tradition.
We enjoy all of our usual Christmas celebrations. We decorate the house with splashes of red, stuff presents under the tree, bake an unreasonable amount of treats, and let the kids stay up late.
But something was always missing from those long, wintery days. We weren't giving ourselves the opportunity to get frisky and intimate.
So, we decided to start celebrating Sexmas.
The idea was simple. We would buy each other sex toys and other adult gifts, unwrap one every evening, and play with them before the night was done.
It played itself out perfectly.
It highlighted the sexiest parts of the holiday season. Deep in December is a time to get warm and cozy, to wear soft sweaters and cuddle closely. The long nights and the twinkle lights are the perfect atmosphere for getting naughty.
It also gave us an excuse to grow our sex toy collection, which kept us both extra happy and satisfied for the rest of the year.
And the best part is that we got to do exactly what we did as kids on Christmas — open up our presents and play with them immediately.
We had to spread our celebration over the course of a week because it would've been too challenging to use everything in one night. But that just made it even more fun.
Every couple should celebrate Sexmas or something like it. Adding a few more fucks and masturbation sessions to your holiday is the perfect way to make it extra special.
All you need to do is make a little time for each other and pick out the perfect Sexmas gift for your partner. That takes a little imagination, some awareness of what they're into, and enough adventurous spirit to experiment and try something new. If you want a bit of help drafting your naughty list, these are my personal Sexmas gift recommendations.
Stock ing Stuffers
Okay, so I didn't actually hang Sexmas stockings or anything like that. But exchanging small little gifts alongside the bigger ones is a lot of fun. It gives you a few more things to unwrap and get excited over and you can use them on the same nights as your bigger presents.
The most obvious choice for a sexy stocking stuffer is lube. You can never have too much lube, and this is the perfect opportunity to try out some new ones.
Gifting some water-based lubes alongside silicone sex toys is a really thoughtful match. My go-to is Sliquid Sassy. It's made for anal sex but it's pussy safe and I use it for just about everything.
If you don't already have silicone-based lubes, add some to the gift pile so you can see how great they are for pussy massages, penis massages, and penetrative sex.
As great as those are, the best kind of lube to get for Sexmas is flavored lube. I just love tasting different ones and having a lot of options to choose from when I'm giving oral.
The best flavored lubes I've tasted are by JO. Specifically, JO Cotton Candy and JO Gelato Mint Chocolate. They're the ones I keep on my nightstand.
Massage products are perfect little Sexmas gifts, too.
Sensual massages are basically the most perfect kind of foreplay, and using good massage products makes it even better. Natural oils work fine and so do silicone-based lubes, but I've found it much more enjoyable to use scented massage oils and massage bars.
You also can't go wrong with a massage candle. It took me a long time to try one. I found them a little intimidating, because I find most things that involve open flames intimidating. But I just love them. They're smooth, warm, and feel amazing when it drips on your skin.
Tenga Eggs are great, too. They're compact sleeves that you can lube up and use to stroke your partner's cock. They're disposable, but I've managed to get about three or four uses out of each.
I discovered them when my husband had agreed to try a sex toy for the first time. Because he wasn't sure if he'd enjoy it, neither of us wanted to spend a lot, so this was the perfect option. After using it, he was a complete convert and has been using sleeves ever since.
I also really enjoy arousal oils. They're meant to get a lady turned on or to intensify the arousal she already feels. I use them when I'm sort of kind of in the mood but wish I was a lot hornier.
I also really like them as part of a power exchange dynamic. The way they make me hornier, make me lose a bit of control over myself, and make me more suggestible really plays into my sexually submissive side.
On Arousal Oil is a great choice and it's the one that got me into using arousal products. It gives a nice warm sensation on the clit, which keeps your mind focused on sex.
My personal favorite, though, is the Buzz Liquid Vibrator. Instead of warming, it tingles, throbs, and feels highly stimulating.
Sexy Outfits
Last year, the first Sexmas gifts Mr. Austin and I opened were some sexy outfits we could wear while doing our gift exchange.
Dressing up for each other was a really playful way to start the night (even if the hat that came with Mr. Austin's Sexy Santa outfit looked a little ridiculous).
This is one of those times when you can gift your partner something that you'll be the one wearing.
Buy some lingerie you know will turn them on. Wrap up a sexy costume that will make their geekiest sex fantasy come true.
It doesn't have to be traditional lingerie, either. If you're both into roleplaying, you can get some outfits that help you sell it. Get a plaid skirt so you can play the shy schoolgirl role or a tight dress so you can be the subservient secretary. Or get a blazer so you can be the demanding boss or the professor who might consider changing an especially keen student's grades.
Pussy Toys
It's not Sexmas unless you're getting a few toys to pleasure her pussy.
There's an endless selection of toys you can choose from, but some really are better than others.
I find wand toys especially appealing, but I'm very particular about them. They can't be too intense, too awkward to use, and they have to be shaped in a way that makes them comfortable to ride.
It took me a long time to find a wand that I could completely fall in love with, but I did. It's now, hands down, my favorite sex toy.
It's the Sultry by Pillow Talk and it's kind of perfect.
First, it works incredibly well as a wand. The rounded vibrating head is the perfect shape and size. The material has a soft and really pleasant texture. And the toy has a bit of bend to it, which makes it easier to use in a lot of various positions.
But it's also really versatile, which is part of what makes it such a great option for a Sexmas gift. In addition to the vibrating head, it also has an insertable tail that can warm and rotate for some really unique penetrative play.
No matter what kind of stimulation your lady's into, chances are this toy can give it to her.
Another great option is a high-quality dildo.
A lot of women fall madly in love with vibrators and don't really give dildos a second thought, but that closes them off to a lot of ways to get off.
Even if she's really into clit stimulation, using a vibrator or masturbating while using a dildo at the same time can lead to some really intense orgasms. It can be really exciting if you use it on her, too — especially if she has some threesome fantasies she'd like to roleplay.
King Cock dildos are my current favorite. I'm a simple gal, so I can't get enough of a toy that looks realistic and has a similar feel to a real dick.
Some of the King Cock toys are absolutely massive, though, so be careful when you're choosing your options. If she's a size queen or loves a challenge, that might be the perfect option. But most women will prefer something a lot more manageable.
Another amazing option is the Thruster Mini Teddy by Velvet. It's a thrusting dildo with a suction cup base, which means it's basically a compact sex machine.
A toy that can fuck her will open up so many possibilities. She can enjoy some hands-free thrusting action while she takes care of her clit. She can relax and enjoy a lazy self-fuck instead of making her arms sore working a dildo. And if you stick it to the headboard while you're fucking, she can find out what it's like to get spitroasted.
Anal Toys
If your partner's curious about exploring anal play, you can give her a few toys that will help her get more into it.
Every girl should have a really good buttplug. Wearing one is a great way to train your ass, get anal stimulation, and intensify all the other kinds of pleasure you're getting.
I absolutely love the Candy Hearts Butt Plug. It's silicone, so it's not too firm and the size is easy to manage and not too intimidating. Compared to some other ones, I also find it works really well during sex or when I'm double penetrating myself with a dildo.
Plus, it's cute as fuck, which isn't always the case with buttplugs.
I'd also recommend getting a slim jelly dildo for anal play. Because buttplugs can be a lot of fun, but sometimes a lady just wants to feel like her ass is getting fucked.
I never saw the point of jelly dildos because their soft, floppiness just made it seem like they'd be harder to play with. But that texture is a big advantage for anal play. It's so much more comfortable than using more rigid toys.
The big downside with jelly dildos is that they're usually made of porous materials like PVC that aren't safe for use in pussies. But they're perfectly fine for her ass, so if that's something she's interested in, it can be a good addition to her toy box.
Cock Toys
Sexmas is for the guys, too. It's the perfect time to buy a quality sleeve for him to fuck on his own (privately or while you watch) or to enhance the handjobs you give him.
I have to recommend Fleshlights. They're really high quality, reusable, and from what Mr. Austin tells me they feel absolutely incredible.
I'm really into the visual element, too. The fact that it looks like a pussy makes watching my husband use it really fucking hot.
And they're housed in a plastic canister that makes it easy to hold when you're stroking it over his cock.
I'm also extremely fond of Tenga strokers. Instead of being pocket pussies, they have creative, unique, and vaguely futuristic designs that are really fucking cool (and stimulating).
I find their Tenga Spinner series especially cool. Like the name implies, the Spinner sleeve rotates while you stroke it, which is just awesome. I mean, just look at that thing!
If you want to splurge a little, you can get your guy a torso doll. They're basically like sex dolls but instead of the full body, they only have the parts you need to grab onto and fuck.
Those are a little controversial. I think they're fucking great and I play with one myself, but some people think they're a little weird. So maybe try to feel out his attitude before putting this one under the tree.
One thing that's great about torso dolls is that they can simulate sex a lot better. Instead of stroking a pocket pussy over his cock, your man can fuck it in missionary position or grip the doll's hips and thrust into it doggystyle.
It's also really hot to watch and see him not only having fun with a toy but seeing the way he moves when he fucks.
And it's another way to enjoy some threesome roleplay. If you ever fantasize about watching him fuck someone else or you want to know what it's like to eat pussy while he fucks you, a torso doll is a fantastic way to explore that.
Couples Toys
Sexmas is all about pleasure, intimacy, closeness, and having as many orgasms as you can handle. Couples toys are a fantastic way to embody that.
I'm absolutely wild about remote controlled sex toys. I love the thrill of never knowing when my partner is going to turn it on and stimulate me. I also get incredibly turned on by the feeling of having literally given over complete control to him.
And it's an amazing toy to have when things get too busy. When you don't have time to be together, you can still get naughty and stay in the mood by wearing the toy and playing around with it throughout the day.
I've found a lot of remote controlled toys disappointing because the remote control is spotty or it can't handle much distance at all (in some cases, Mr. Austin goes out of range even though he hasn't left the house). There are still great ways to play with them (like having him stand over me with a cocky grin while he turns on the toy and makes me squirm), but they're not ideal.
The one that has never let me down is the Lush 2 by Lovense.
It uses bluetooth and can be controlled through the Lovense app, which means it can handle literally any distance. And swiping the screen to control the patterns is more fun than pressing buttons on a remote.
Close range couples toys are also great. They're meant to be worn on the cock during sex to give vibrations and extra clit stimulation while fucking.
These can be a little hit or miss, too. But I've tried two that have been really fucking spectacular.
The OptiMALE Rechargable Silicone Cock Ring is a really simple but effective toy. Getting fucked while my husband has it on makes the whole thing feel so much more intense and delivers on some really strong orgasms.
I've also had a lot of great times with the Tryst Multi Erogenous Zone Massager. It's more versatile than a standard vibrating cock ring — it can be worn in several ways and it's the first vibrator I really enjoyed using on my nipples.
Kinky Stuff
If one of you is a little more dominant than the other, I recommend exploring that dynamic a little further.
Maybe you'll realize that you're still really vanilla and just tend to lean toward dominance or submission.
Or you'll have the kind of experience I did and realize that getting tied up, paddled, playfully humiliated, and very gently choked is exactly what was missing from your life.
The best way to explore this is by getting some really good restraints. A restraint set is a lot easier (and safer) than using rope and it doesn't have as steep of a learning curve.
The best option is the Under the Bed Restraint System by Sportsheets. It doesn't require any special setup (just a bed and a mattress), it's adjustable, comfortable, and you can use it to strap down wrists, ankles, or both. It's also incredibly discreet — you can just tuck the straps under the edges of the mattress when you're done and pull them out again when you want to get your bondage on.
And if your partner's at all into spanking (or you love to be on the receiving end of it), definitely consider getting them a paddle.
Paddles used to intimidate me because I love getting spanked but I'm not at all into pain. I imagined the minute you bring tools into it, you're increasing the pain factor. That's definitely the case for some toys (like paddles with holes in them to decrease air resistance or those with studs and other materials to double down on the pain) but not all of them.
A basic paddle doesn't actually hurt. It just feels intense, the way a good spanking does. What's nice about it, though, is that it varies up the sensations you get. It's cold, rigid, and has a lot of surface area — all of which feel incredible when it's slapping against your ass.
If you don't know where to start with paddles, I recommend the Saffron Vegan Leather Square Paddle by Sportsheets. It's comfortable to hold, has a great shape that covers a lot of area, and feels great against the skin.
Porn Subscriptions
Okay, so you can't actually wrap up a porn subscription and put it under the tree. But you can at least get creative and make a card to announce it.
Real author here
Watch full here