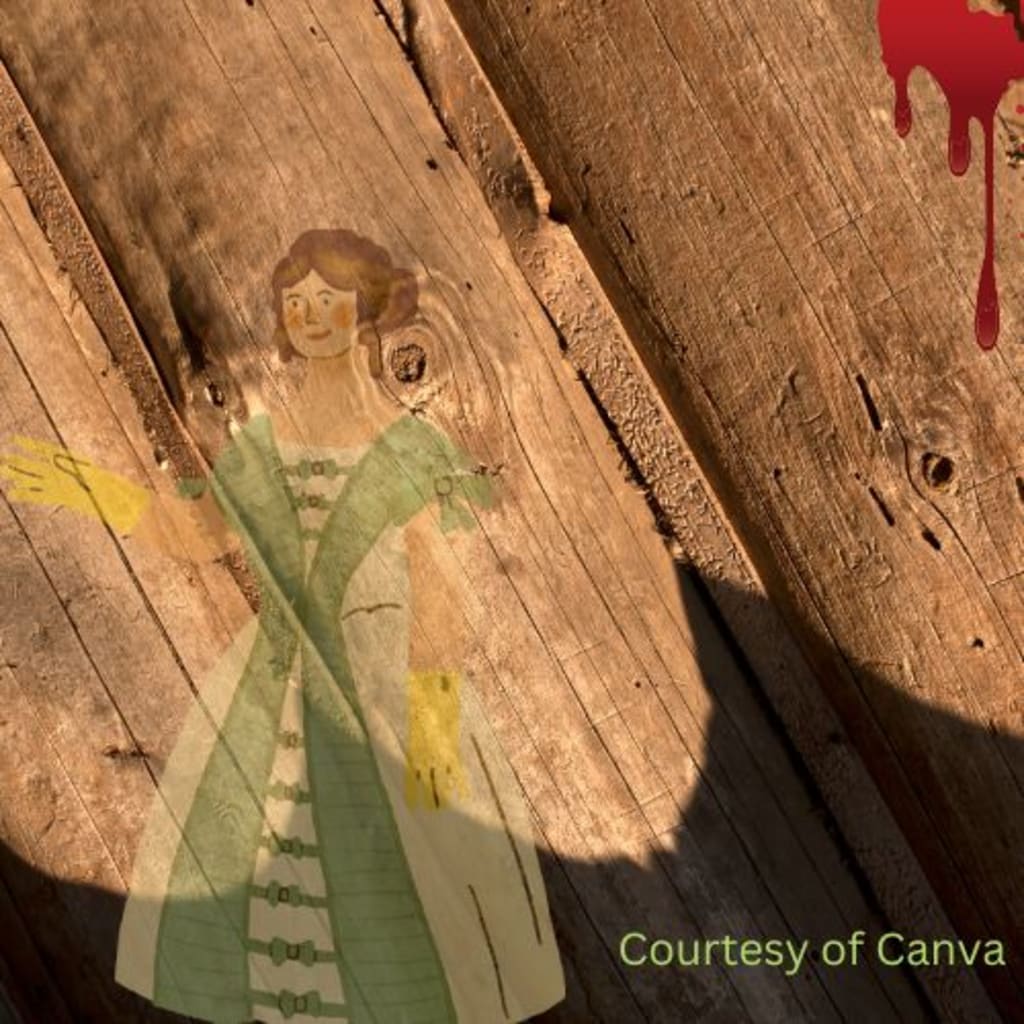 If walls could talk is such a cliche human saying. No one talks to a wall and expects it to answer. Where I exist, walls are dead trees. Although some walls can telepathically communicate with certain sensitive people, it would only confuse or scare them. But, sometimes, that can't be helped. Though I can't speak for what goes on outside this log cabin, here in this forest, we are very aware. We may have been cut from our source, mother earth, but her gift stays with us, even in this sterile place called home.
This log cabin has been here since they found that gold. I was ripped from my beautiful forest habitat when one of the successful prospectors wanted to live by the lake. I no longer had roots, needles, or cones, but I had my essence or thoughts, like what humans call a soul. Once placed on this wall, I observed.
A sweet woman named Mary, who I swear could hear my thoughts, came to live in the house. She smoothed the raw edges of the tree killer, and he treated her like the precious jewel she was. I enjoyed the two small boys running through the house and playing silly games until they joined their father in his logging efforts. Life slowly crept away from this family, and the boys moved out to the city. Later, they sold the house after their parents had both died. The house stood empty for three seasons except for my now constant ghostly companion, Mary.
She floated through the house like the upkeep was still her responsibility. I communicated to Mary that it would be best to move on to that bright light they all go to next. The ghostly being ignored me like she couldn't hear, but I knew otherwise. She stayed, and soon a new family arrived. As the town expanded around the cabin, and it went from horses to cars, the families that lived in the house thrived with Mary watching over them.
That all changed last night when a cruel man broke in and took the current residents' lives away with malicious joy. I can barely think about it, but I must, or the house will never heal and find happiness again.
Today I need someone to hear me. Luckily, a person here is receptive to my thoughts like Mary used to be. Will they be able to understand what I'm trying to tell them? I'm not sure. Over the decades, all I've gotten across to the residents is a feeling or, as one used to call it, her hunch. But this is important, not the little insights I sent in the past. This is life or death. That killer will continue killing under their beady eyes because they have no clue.
So, here goes. I'm sending my thoughts and pictures of the killer going up the stairs. The woman called Officer Jones' face paled. She sat down. Good, it's working. Pay attention, Officer Jones!
Here is what happened.
Yesterday had been a hot summer day, and some windows were left open to usher in the cooler night air. One of the many ways this young family tried to cut corners on spending.
Then evil arrived. He was covered from head to toe in black. Only his cruel eyes shone out of the ski mask. Sweat dripped on the mask, but he didn't bother to wipe it away. He quietly cut the screen and jumped soundlessly onto the polished hardwood floor. He was inside.
A gentle snore drifted down from where the family slept. Mary tried to hit the intruder, but her arms only went through him. He had to feel her chill, but maybe it felt good with all he was wearing.
"Stay away from them!" Mary screamed, but no one heard her except the walls.
"Wake them up," I suggested.
Mary looked around, narrowing her eyes at where I called from. At least she didn't ignore me this time as she floated up the stairs. The man was right behind her. There were no sounds until a loud crash and screams ended in silence. I felt life leave the house. The parents were gone. My only hope was that the children hid and this man wouldn't search for them.
"Hide them, Mary!" I tried.
But that wasn't to be when two more shrieks came from the other side of the house or where the kid's room was.
Time passed slowly until Mary floated down the stairs. I'd never seen her look so dejected. She sat in the corner and sobbed.
The man stomped down the stairs without his mask, and although blood covered his skin, I saw every detail. Death-splattered gray hair was cut close to his scalp. His broad, pleased face with dark, lifeless eyes radiated cruelty. The hunt was complete, and now he had his trophies. I searched his mind and only found a jumble of hatred. Nothing could explain what he had done, only the satisfaction of doing it.
"You will fit in nicely at the bottom of my well." He bragged to his trophies. "I have so much power now that I'll never die."
"Turn yourself in." I sent him.
"I know nothing is alive here, so this must be a haunted house. What a fun twist. I would enjoy burning you to the ground, but I can't take any chances of the fire spreading to my place. I will be back when conditions change, I promise. Until next time."
He went out the front door whistling and drove off.
That's what I saw.
His face, I thought to the young officer. He is right next to you, taking pictures of the scene.
"It's him!" I cried out.
The man stopped and looked around the room. He pulled out a lighter and held it up. I knew what he meant.
"What are you doing, Rodger?" Officer Jones frowned.
"Stretching out, I found this lighter. The poor family must have used it to start their fires. I'll bag it, though, just in case the killer dropped it."
Officer Jones nodded but kept her attention on the man after that. Hopefully, the suspicion was planted.
Many long nights passed after that event. Finally, a couple and a young woman pulled a cart of cleaning products into the house.
"I'm so relieved he's been caught, or I don't think I could have helped you with this job."
The grandmotherly woman smiled at the girl. "We're glad too, Kay. They found ten bodies in that well, including two missing hikers. Thankfully, those families will have closure now."
The gray-haired man grunted. "I always knew there was something off about that man."
Kay pulled on plastic gloves. "He only got away with it because he dealt with all the evidence. Good thing Officer Jones double-checked this evidence in another lab. They found his DNA right away."
"Yeah, it could have been any of us at the bottom of that well." The man shook his head.
The older woman shuttered. "I know. So glad she got that tip from the beyond."
He sprayed something smelly on the wood floor and started scrubbing. "Now, where did you hear that, Lisa?"
"Remember, our niece works on the force. She got a feeling in her gut or a knowing that pointed her in the right direction."
"You know I don't believe in all of that mumbo jumbo. Just good police work from our niece."
Lisa exchanged a smile with Kay. "We will start upstairs."
Mary silently continued crying in the hearth's corner as they removed all visible traces of death.
Six months later, a new family moved in just like nothing had happened. Mary looked up and wiped her tears away. A smile replaced her self-imposed sadness. Children's laughter once again filled the house with us walls and a ghost watching over our guests.
About the Creator
D. L. Finn is a multi-genre author. Her work includes the paranormal, poetry, memoir, romance, fantasy & children books. She is also a blogger, photographer & reader and encourages everyone to embrace their inner child.
Reader insights
Outstanding
Excellent work. Looking forward to reading more!
Top insights
Excellent storytelling

Original narrative & well developed characters

Heartfelt and relatable

The story invoked strong personal emotions

Expert insights and opinions

Arguments were carefully researched and presented
Eye opening

Niche topic & fresh perspectives

Masterful proofreading

Zero grammar & spelling mistakes

Compelling and original writing

Creative use of language & vocab

On-point and relevant

Writing reflected the title & theme

Easy to read and follow

Well-structured & engaging content
Add your insights