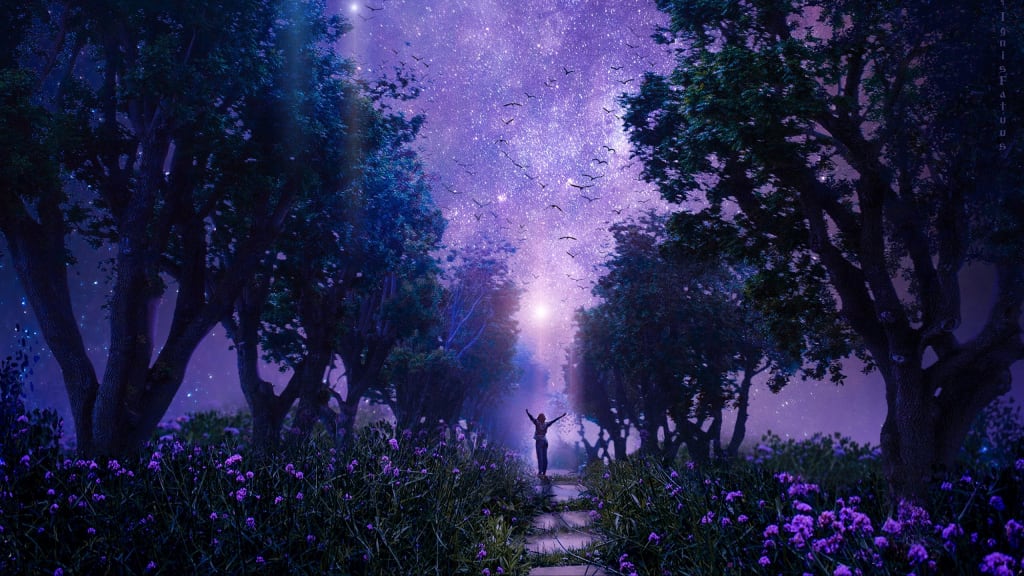 Nexus
Every night at midnight, the purple clouds came out to dance with the blushing sky. It began to capture the imagination of the entire world. Scientist and world leaders tried in vain to discover its source, while the ordinary people took to admiring the beauty. This went on for weeks, then months, the phenomenon eventually became nothing more than an average part of life. People went about their days with only the odd comment regarding the beauty in the night sky.
As the days marched into months, then years an interesting occurrence began to appear. It was this silent miracle taking place that captured my attention. The scientific world called me mad but I believed that what was occurring was real and if not realized would become the death of what we know as our civilization.
What did I discover? A dark secret hidden from us, something buried deep within our genes to hide a truth or to protect us, I wasn't sure. Now as the magenta haze filmed over our sky it activated a rebirth. I watched as our new generation of children became unique, the progress was slow to recognize as having anything to do with the purple cloud, until I could no longer ignore the signs. Not every child was unique, that was part of the reason it took so long to recognize.
Eventually, this new generation grew up, slowly integrating themselves in our society. How this went undiscovered was a mystery to me. If I could see them so should everyone else, if they chose. I was baffled by the lack of care or concern. But to some, a blind eye is safer then knowing the truth I guess.
It was the sightings of Dragons that grabbed the worlds attention, soon after unicorns were supposedly spotted. At first these were treated as nothing more than a bizarre hoax's, like the Yeti or Sasquatch.
I lobbied the government, worming my way into their system of trust until they could no longer deny that what I feared was really happening. I became the expert on this supernatural event. My word became law, my wish was followed to the letter.
Had I known that what I was doing was jeopardizing the natural order of things, I would have stopped. I forgot that humans are bestial by design and ruthless without compassion to any other than their own, even then it is only practiced with a minimalistic attitude.
I realized after the captures and testing done on these 'unique' individuals that only a few humans could actually see the transformation, me being one of them. They had this capability to hide amongst us, live within our world, and we never noticed. I developed a system for identifying and hunting these beings down.
It was during the time of their capture, I realized I had it all wrong. There was no evil lurking in their hearts or minds.
Being the expert I naively thought that I was still in charge, that my word held sway and power. Oh, how wrong I was.
The problem was I didn't know what we would do to them, I truly didn't realize how barbaric we humans are. They began a mass extermination, a genocide, and I was the one responsible.
I tried in vain to stop them, to tell everyone that they are not evil. I was once more dismissed tossed to the side as a quack.
I blogged, and voiced my opinion through every social media outlet, sharing my knowledge, trying to teach the world. It started slowly at first, a few individuals with good hearts, soon we were a larger community of like-minded individuals, intent on stopping this brutal annihilation of a new species. No, let me correct that statement, a dormant species, come back to live in our world.
We were on the move all the time. Setting up offices and safe houses throughout the world. Protecting and hiding them when we needed. We found safe haven in the vastness of the rainforest. There we sheltered and grew, planning for the day we knew would come.
Such it was for years, until that night when it all came to a head. I was reading maps looking for places to relocate these individuals. When there was a frantic rapping on my door. Not loud, but clear enough to know this was urgent.
Peering through the eye hole, and seeing who it was I flung open the door immediately.
Three forms spilled through, in panic. Their chests heaving as if they had just run a marathon.
Garrick spoke as he closed the door behind him, bolting it shut. "Professor, they're coming, they know where you are. We have to leave."
Keilai and Marnden both stood there in shock. Tall lean bodies shivering or trembling I couldn't tell. Their skin fading in and out vanishing into the background then remerging whole once more. They only fazed out of control when frightened. They learned to control their talents while still in their youth. In truth, the three of them looked to be in their teens but in actuality they were all in their mid thirties, aging slowly was another gift they had. But what else can you expect from Elves.
Garrick appeared to be calmer than the other two, with graceful steps he approached me, placed his hands upon my shoulder and said. "It has begun."
Before I could reply the entire house shook as the front door bowed by a battering ram, the noise was deafening.
I had no time to chastise myself for failing to protect them or curse my own stupidity. Instead my mind scrambled to figure a way out of here before the soldiers broke in.
The radio came alive with chatter, other areas were also under attack. Taking a deep breath to calm my aging heart I knew we were ready. Everything we planned for was now here.
Looking to my three wards I spoke. "It's going to be alright, Keilai, go send the signal, let the others know."
It was time the Fairy realm defended itself from the actions and foolishness of humans.
So began the new age and the downfall of mankind.
We were going to war.
******************************************************************
Thank you,
Jason
About the Creator
I have enjoyed writing for most of my life, never professionally.
I wish to now share my stories with others, lets see where it goes.
Born and raised on the Canadian Prairies, I currently reside on the West Coast. I call both places home.
Reader insights
Outstanding
Excellent work. Looking forward to reading more!
Top insights
Compelling and original writing

Creative use of language & vocab

Easy to read and follow

Well-structured & engaging content

Excellent storytelling

Original narrative & well developed characters
Expert insights and opinions

Arguments were carefully researched and presented

Eye opening

Niche topic & fresh perspectives

Heartfelt and relatable

The story invoked strong personal emotions

On-point and relevant

Writing reflected the title & theme
Add your insights