The Watcher In The Wind
A sentinel for change
Trigger warning: This story contains themes of hate crime and suicide.
Today
Before he died, Liam's father brought him to the pear tree and told him that trees never die of old age; there is always a secondary cause - rot, infestation, destruction by humans - but trees never just die because they are old. Liam wasn't sure what his message was intended to be. Maybe his father was trying to teach Liam about the vulnerability of humans in the scheme of things.
Liam lies on his back, squinting up at the sun, which bursts in golden flashes through swaying branches. He wonders exactly how old this tree is. A whisper ripples through the leaves in answer. He wishes he could understand.
Anyone who has ever walked barefoot on the grass understands the grounding power of the earth. Liam imagines that is how trees can survive as long as they do, rooted deeply into the nurturing ground. He kicks off his shoes and rubs his bare feet along the bark. Maybe next time he'll come back as a tree. He glances down at the rope hanging out of his bag.
1621
The Allan children line up in age order outside the farmhouse. The older children stand tall and proud. The smallest fidgets unsteadily from foot to foot, while his mother does her best to settle him. Their father, William, swings a wooden shovel over his shoulder and motions for his family to follow him. Across the field and down by the gateway, the brown earth has already been well prepared, so it takes William no more than half an hour to dig the hole, slide in the pear sapling and cover over the roots with a fine layer of soil.
He stands back to admire his work, mopping his brow with a linen kerchief, then turns to the children, "Behold our family tree. Let us hope that this tree will bear fruit to sustain our family for many generations. I pray that one day you come to enjoy these fruits with your own husbands, wives and children."
"I will not have a husband or children." Sarah, a sullen teen, mumbles to her brother Sam. Not quietly enough.
"That is a woman's purpose in life Sarah," her mother scolds, "In a few years you will marry a hard-working farmer and have a family of your own. You will be grateful for the Lord's blessings."
Sarah's mind reels IF THE LORD REALLY WANTED TO BLESS ME, HE WOULD GIVE ME THE FREEDOM TO CHOOSE HOW I LIVE MY LIFE. But there is no fight to be had so she lowers her eyes and replies, "Yes ma."
1721
The sound of breathless laughter pierces the air as two figures run across the fallow field towards the pear tree. Edward and Robert flop at its base, their backs to the tree. Two slender brown arms are draped across shoulders. They turn to look at each other, still heaving with laughter and their gazes are held a moment too long.
Robert jerks his head away suddenly, embarrassed, "We can't."
"I know. You're engaged to be married and I am just a farmhand," Robert turns back to him, an amused expression on his face and Edward strokes his cheek gently, "I just wish things were different."
"Me too." They stare out at the field for a long time.
"Come here, I want to show you something," Edward pulls Robert to his feet and helps him up onto the lowest branch of the tree. There, freshly carved into the trunk are two intitials, surrounded by a heart.
R and E.
Robert stares at Edward, twinkling eyes full of love, "My love."
They lean into each other. A shot rings out.
"Father!" Robert cries. He turns to Edward to urge him to run, but sees that he has slumped to the ground, lifeless. He takes him into his arms and sobs.
His father approaches, "I caught him stealing. We shall never speak of this again."
1821
Alice runs with all her might across the field to the old pear tree, swinging up the branches with ease and hiding herself amongst the dark green leaves and pale blossom. She lies still, nose to branch for a few seconds to see if she has escaped, but the unmistakable sound of her two brothers' angry voices grows louder and eventually ceases directly below the tree.
"We know you're up there Alice!" James cries, "You want to be a boy, well come on down and fight like one then."
"Leave me alone you monsters!" Alice cries.
"I'll drag you down myself if I have to!" James begins to climb, grabbing at the ankle of the grubby green trousers Alice is wearing. He reaches too far and with an almighty crack the branch snaps below him. He hits the ground with a thud.
"James!" their brother Peter shouts, running over to him and helping him up.
"Look what you've done now Alice!" James dusts himself off.
"Look what you've done James! You've damaged the tree." Alice's face flushed crimson with rage.
"You care more about this tree than your own family." Peter snaps up at her now, "Why can't you just behave like a nice girl and make ma and pa happy?"
"Should I be miserable for the whole of my life then, just to please other people?"
"You should stop being so weird and then maybe you would be happier," James sneers.
"I can't change the way I feel, it's how I was born you idiot."
"That does it," James snarls angrily and starts swinging on another branch in an attempt to make it snap.
"Stop! What are you doing?" Alice scrambles back towards the trunk. Peter joins in too and soon several branches are laying on the floor, broken.
Tears run down Alice's face as she watches them destroying the tree, wishing that life was not so cruel but having no power to change anything.
1921
Henry decided to walk the four miles from the train station back to the farmhouse. After the war, he had delayed his return for as long as he could, so if he could grab a couple more hours now, he was going to take them.
In service, Henry had fought bravely. He had seen terrors that nobody should ever have to witness. He had lost so many friends and companions, shot by an enemy army of young men not unlike themselves. His dreams were still black, orange and red and filled with gunshots and screams.
In service, Henry had also discovered the truth about himself. He had formed the deepest of connections, a love greater than any he had known in his whole life, and experienced for the first time what it was to give his heart away. He loved Charles with all his heart. Their love was a comfort in the darkest days and a bond that could never be broken, but now he was to return and marry a local girl, Ada. Even if it killed him.
He reached the old pear tree and paused. Better dead than living a lie? He wasn't so sure any more. Ada was a nice enough girl, with a gentle and quiet demeanour. She would be a dutiful wife, but would she understand why he couldn't perform his duties as a husband to her?
His was the sort of secret that could land him in prison, beaten or dead. But to live in misery for the rest of his days? He wasn't sure he could do it. Had he really come through so many battles just to give up now?
His heart sank to his feet. He dropped his backpack to the ground. His journey would end here.
Today
Liam startles at a noise from behind.
"Liam," his mother speaks quietly. He turns around and her eyes fall to the rope in his hands, "What are you doing?!"
"I'm sorry Mum, I've tried but I can't be who you want me to be."
"Who I want you to be?" his mother's voice shakes and she puts her hands out to him, "I want you to be you. I want you to be happy. I want you to be who you want to be."
"But I thought…?"
"I'm so sorry for what I said. I've thought about it and I love you regardless of who you want to love. There is nothing you could ever do that would make me stop loving you." His mother reaches out to him and he slowly allows her to hold him, "You do what you need to do and we will work out the rest together. Me and you against the world."
Liam sobs as she folds him into her arms. The rope drops to the ground and for the first time in forever, he feels at peace.
THIS STORY WAS INSPIRED BY A RECENT PRIDE EVENT, WHERE I GRASPED FOR THE FIRST TIME, THE SUFFERING THAT LGBTQ+ PEOPLE HAVE TO ENDURE ON A DAILY BASIS, EVEN IN MODERN TIMES. IT MADE ME THINK ABOUT THE GENERATIONS BEFORE US WHO HAD TO SUFFER IN SILENCE AND THE PROGRESS THAT HAS BEEN MADE, ONLY VERY RECENTLY.
ALTHOUGH WE ARE FORTUNATE ENOUGH TO LIVE IN A COUNTRY WHERE GAY MARRIAGE IS ALLOWED, PREDJUDICE AND HATE CRIME ARE STILL PREVALENT HERE. IN HALF THE COUNTRIES IN THE WORLD, BEING LGBTQ+ IS ILLEGAL AND IN 11 COUNTRIES IT IS STILL PUNISHABLE BY DEATH.
WHERE WILL WE BE IN ANOTHER HUNDRED YEARS?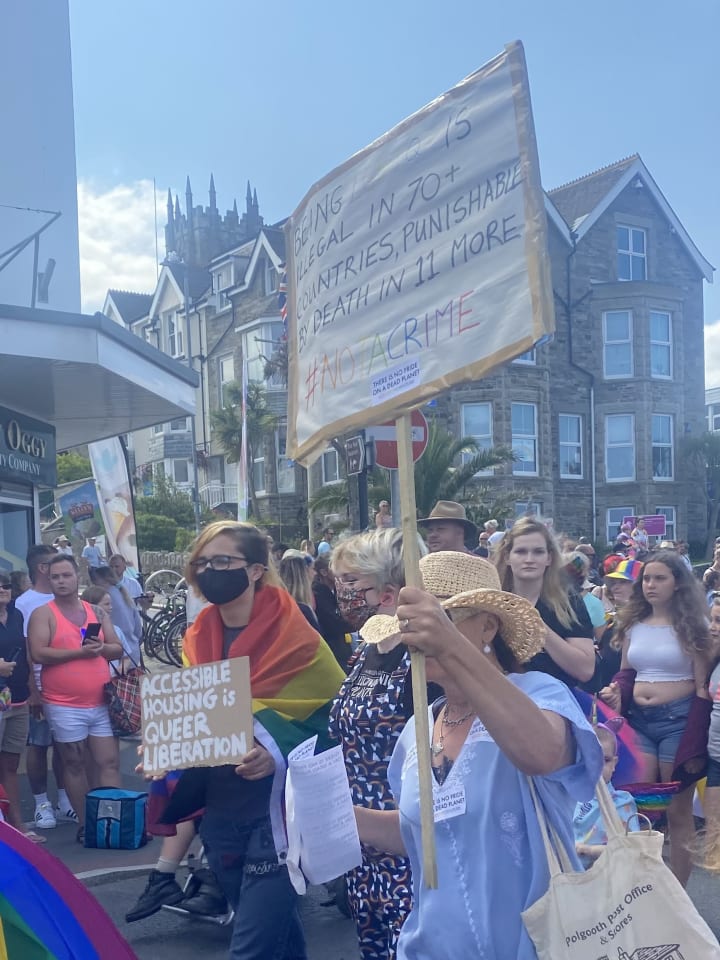 Short Story
About the author
UK based writer and avid reader who aspires to create work that is both beautiful and meaningful.
Sustainability advocate and green ally.
I am working on a children's novel.
Find me on Twitter: @WriterElissa