The Visitor
A man among shadows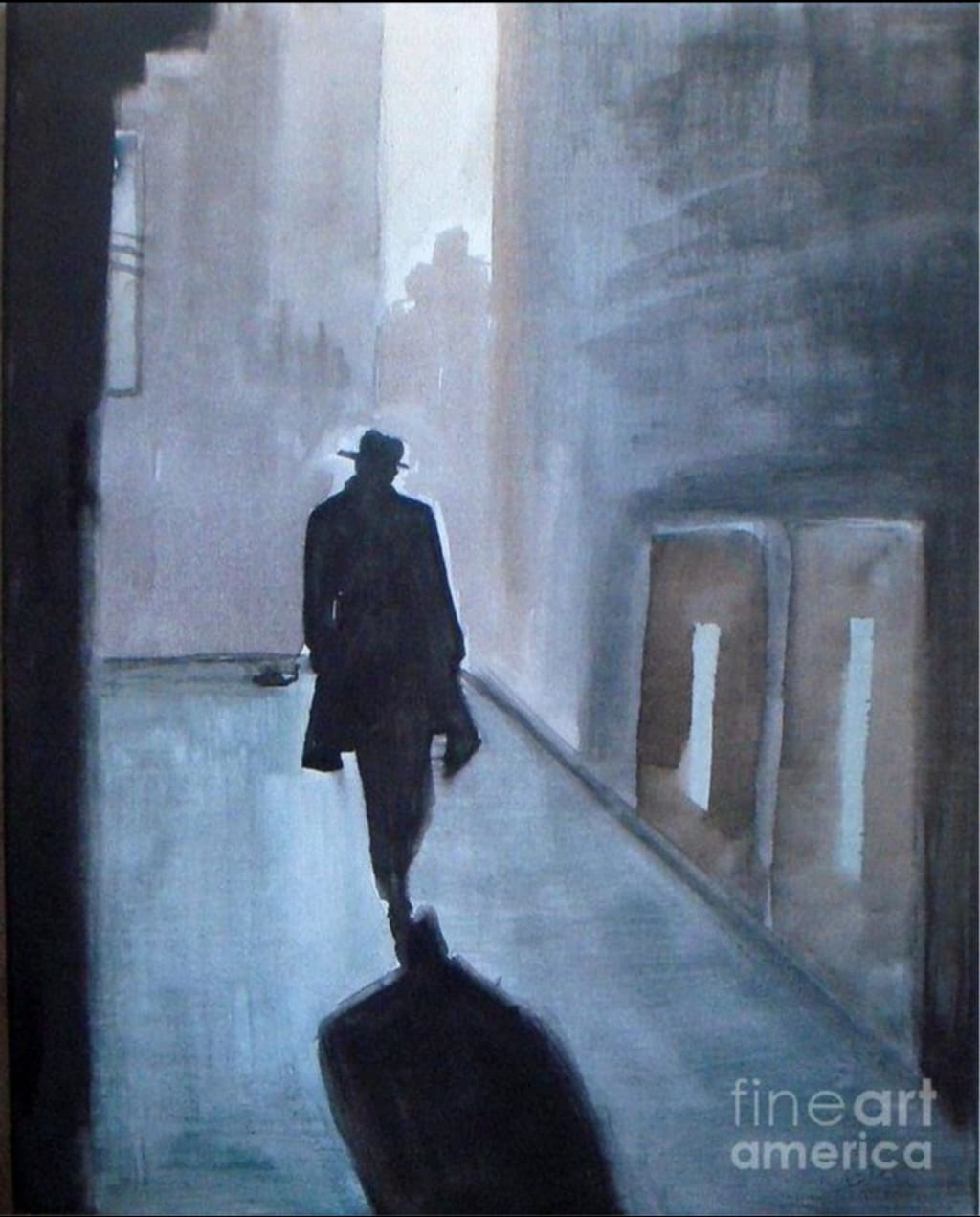 A man who walks in shadows
John R. Osborne was born in Philadelphia, PA to Lenny R. Osborne, an educator, and Kelli Osborne, a primary schoolteacher. His father passed away soon after he was born, leaving him and his mother.
Lenny was, by all accounts, a good and honest man. That also meant that when he passed away not much was left for Kelli and her son to survive on, apart from a house on Liason avenue. She had to work two jobs to take care of John, considering her primary schoolteacher work didn't pay much.
Kelli worked at a local bar as a bartender, giving little John to the neighbors, Aunt Elisa and her husband. They were good folks and John remembers them fondly, but they passed away before his 7th birthday.
That's when it started. Kelli dated this man named Howell, a ne'er do well who used to frequent her bar. At some point he started living in the house with them, spending the days in the couch watching tv and the nights at the bar.
At first he wasn't bad to John, just indifferent. But as time went by, Howell started becoming abusive, both towards Kelli and the kid. He would get agitated at small things, and at odd times. Also he would demand money from her, for booze or whatever, and if he wasn't given that then even beatings would ensue.
Situation, however, got worse for little John. Howell began coming into his room at odd times and touch him funny. It escalated from there to full violence, where Johnny's scream could be heard. Once the cops were called by the neighbors. When they arrived, they saw his condition but due to Kelli's reassurance that nothing had happened, only that John hurt himself, and John being just a kid didn't know how to react his mother's lies.
Another time the school called upon her, asking what was going. Kelli promptly replied that he was beat up by some kids on the block. The schools didn't care that much, it was just some black kid getting pummeled by the neighborhood boys. They advised Kelli to lodge a police complaint.
John's torment kept going on, and it seemed everyone had turned a blind eye to it. Someone was, however, watching this. Their house on Liason St, which they lived in, was said to be haunted. And it was the demons of that house who stretched out their hands to him.
Howell was trying to get into the room one midnight, but John had locked the door. The evil man tried to break the door, as the boy hid in the corner of the room. Suddenly a hand grabbed him from behind and pulled him. Before he realized, he was in the demon world.
Time moves different in that world than ours, so no one knows how long he had stayed there for ( some estimate for 17 years) but only one hour had passed in this world. When Howell entered the room, he couldn't find John. Thinking he had escaped, he woke up Kelli and, in rage, asked her where he was. She couldn't answer , so he started hitting her savagely.
A noise came from the room, unnoticed by both. It was John, the same but different. He charged at Howell, and with his bare hands punching him in the face, killed the old bastard. The boy then looked up at his mother and he saw tears. But as she grabbed the dead body of her torturous lover, John realized those tears were for the dead man.
With both pity and anger, anger for a mother who felt more for her son's abuser than her victimized son, and pity for what a sad creature her situation made her. John took a step, and in a single punch killed Kelli.
The crime scene made headlines all over America, and John was a wanted man. Not that they would have him for death penalty, but any boy his age that can do that was danger for the society.
But he couldn't be found, as he had learned the art mixing in the shadows, something he learned from the demons. He also could walk both to and fro our world and the demon world. That made his capture impossible.
With his newfound powers, he began to vanish certain people, folks who were abusing their kids or spouse, those who preyed upon the weak and the innocent. John also vanished money from drug lords and criminals, and gave that money to the needy families.
So there walked John Osborne, like a phantom of death, through shadows and the dark, striking fear in to the heart of evil and hope in to the innocents'.
About the Creator
I am a guy from Jersey who is trying to put down in words what nightmares afflict him, hoping that will somewhat sweeten the deadly ordeal.
Reader insights
Be the first to share your insights about this piece.
Add your insights