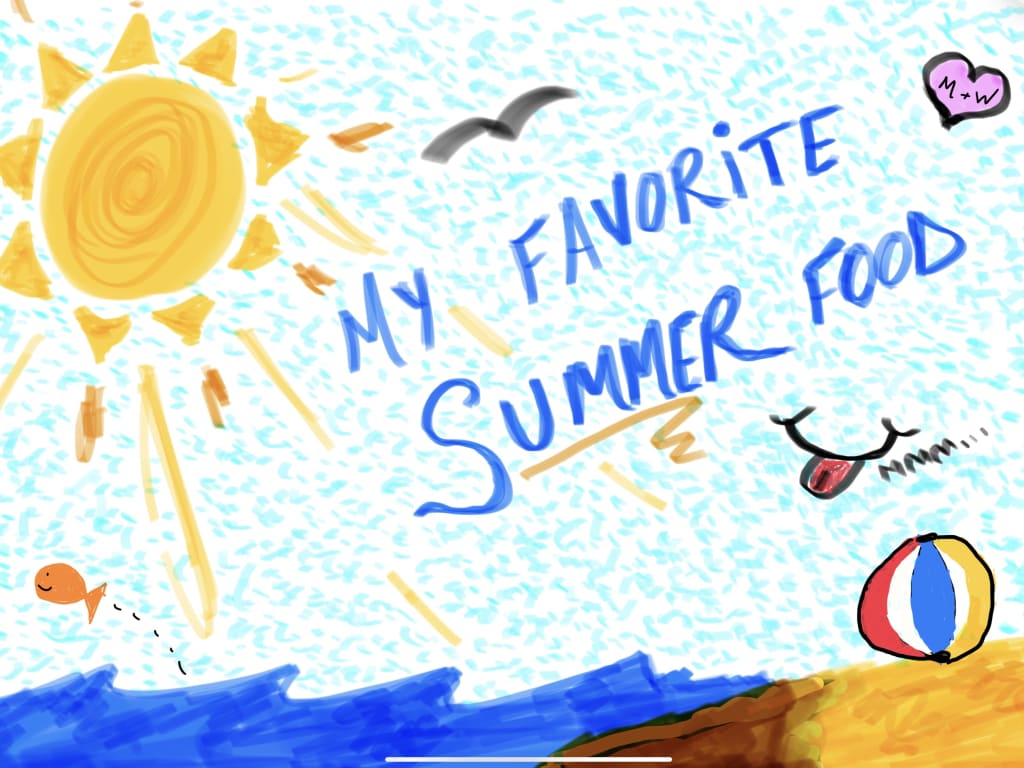 BOOK I: WATER
The source of all life. Points for that!
Also, consumption-wise, refreshing, thirst-quenching, vital. (Also, less-relevant-wise, cleansing, powerful, tidal.)
Makes up most of Earth. Most of us. Most of everything. From icebergs (completely) to water bugs (ironically).
In every single thing really, there's water.
BOOK II: MELON
So sweet. So tasty.
BOOK III: ON THE UNION OF WATER AND MELON
All melons hold water. This is no great or unique achievement. (See Book I). But one melon holds more water than the other more melon-y melons.
The cantaloupe, for instance, has a water/melon ratio that can only be described as unnecessarily melon-heavy. (Still tasty.)
(Honeydew? Don't even. Mealy light green pablum! Still tasty.)
A certain melon, however, has the perfect water/melon ratio. So much so that precisely half its name is 'water.' That's 50% name-wise! Impressive, right?
(Just wait until you learn its actual water/melon ratio.)
Can you guess which melon?
BOOK IV: SEEDS
Seeds are a melon's worst attribute. (Necessary, propagation-wise; but just nasty, consumption-wise.)
While it's true that the melon with the best water/melon ratio happens also to have the most, biggest, darkest seeds, this is more than made up for by its more pleasant and outstanding attributes.
(Note: there is a seedless variety.)
(Note: the seedless variety has seeds. But they are not as big or dark.)
BOOK V: ITS ACTUAL WATER/MELON RATIO
Its actual water/melon ratio is 92/8. 92/8! Perfect! So refreshing!
(Though for marketing purposes, 50/50 is an appropriate water/melon ratio name-wise.)
Have you guessed yet?
BOOK VI: MARK TWAIN
"When one has tasted it, he knows what angels eat," Mark Twain once said of the melon with the best water/melon ratio. I have no idea who this fellow is, but that sounds about right.
You may be thinking, wouldn't angel food cake or angel hair pasta make more sense, angels'-favorite-food-wise?
But you forget, those foods are made of angels, not for angels to eat and enjoy.
BOOK VII: ITS MORE PLEASANT AND OUTSTANDING ATTRIBUTES
It is a symphony of flavor, my champion fruit.
It refreshes and rehydrates, my paragon of perfection (water/melon ratio-wise).
It pairs really well with other summer foods like cole slaw or corn on the cob, my oh-so-favorite summer food.
It is also all these things:
- A good source of fiber
- Widely available and reasonably priced
- Stoic
- Easy to cut (sliced, diced)
- Undisputed King of the Ovoids!
- Easy to eat, digest, etc.
- Easy on the eyes
- Benevolent, as far as undisputed kings go
- Filling but not in a bloat-y way
- A serviceable replacement for a medicine ball (in an emergency)
- High in Vitamin C
- A good friend…just when you need one
BOOK VIII: MELON II
A melon gets worse every day it is not eaten. PSA: Buy fresh melon, and eat it as soon as you can/desire to.
(Note: This advice applies to all melons, not just the one with the best water/melon ratio, AKA For Sure the Biggest Fruit.)
BOOK IX: GET THIS
Get this: one time this one guy in Tennessee grew a for-sure-the-biggest-fruit that weighed 350 pounds! Wow, right?
That's about the weight of:
- An average upright piano
- 1 Neapolitan Mastiff + 2 Adult North Pacific Giant Octopuses
- 1587 blueberry muffins
- William "Refrigerator" Perry, circa 1986, holding a bowling ball
- A 23-pound stone nestled atop a 327-pound stone
(Note: adding up the weight of things is a fun game you can play at home!)
(Note: it's not that much fun.)
BOOK X: FOR SURE THE BIGGEST FRUIT
Some people say the jackfruit is the biggest fruit. I despise these people.
Have you ever even seen a 'jackfruit'? Sounds made up, right?
And by the way, what combination of words strikes you as more refreshing? Jack + fruit, or water + melon? Have you ever been really parched on a sweltering summer day and thought to yourself, "man I could really go for some jackfruit right now"?
Anyway it can't be bigger. Logically and anecdotally, you know what's the biggest fruit. I, for one, have never seen a jackfruit that's bigger. Please.
(Full disclosure: I have never seen a jackfruit.)
Then there's always some guy in the room who's like, "well uh… pumpkins are technically fruits and um… that one time this one guy grew a thousand-pound pumpkin, so…"
A pumpkin? Really!? I'm talking about the food of the fucking angels, and you're gonna come back at me with a motherfucking gourd?
Fuck off man!
BOOK XI: DID YOU KNOW YOU CAN GET SOME THAT ARE YELLOW INSIDE INSTEAD OF PINKY-RED?
Well, you can.
BOOK XII: I'M SORRY ABOUT BEFORE
I shouldn't have said all those bad words. I've got a lot going on, I'm stressed out. That's no excuse. I apologize for my offensive remarks and the hurt they have caused.
(But that whole jackfruit-pumpkin crowd, you know? So sure of themselves all the time. Conceited little…Gah, they make me so angry.)
BOOK XIII: OK, JUST BREATHE
(…)
Better.
BOOK XIV: THE LEGEND OF MELAKAIA AND WATARI
Long long ago, in a small village lost in a faraway desert, a miracle occurred.
It did not come without great cost to our young heroes. Miracles seldom do. But to this day, the desert winds whisper their song of love, loss, and ultimate redemption to all who will listen.
The details are murky, but against all odds a great love blossomed between Melakaia, daughter of the much-loathed village warlord, and Watari, son of a lowly sweepsmith.
Every morning Watari set out on foot with his father to trek the seven miles that separated their mud hovel from the warlord's inner sanctum. For the next eighteen hours, Watari's father swept sand off all the marble walkways outside the main palace. Every few hours he would finish sweeping them all, but the wind and foot traffic made it so they needed to be swept again, and he started over.
"Such is the life of a sweepsmith, my son," Watari's father would say, his soft smile betrayed by the sadness in his eyes. You see Watari was not there simply to watch, but to learn. This was to be his lifelong vocation as well.
Again, we're short on specifics but Watari basically ran into Melakaia by the palace pond (rather haphazardly…it was quite a funny scene! Not that we know much about it.)
Ok, what else. They didn't like each other at first, but then they did. There was no doubt fierce resistance from the warlord, then they eloped or something but plans got thwarted. Someone betrayed them, that's almost for sure. There were dungeons and locked chambers atop palace towers.
But they would not be kept apart.
Undaunted, Melakaia and Watari found their way back to one another again and again, guided always by the magnetic, otherworldly force of true love.
"We should run away together," he said.
"But…"
"This time will be different. I have a plan."
"Watari…I am with child."
* * *
Again, we don't have a great record of things, but there was another daring escape, a thrilling chase, some unexpected twists. Some wizard and magic stuff happened, you know, raising the stakes.
They overcame a bunch of challenges. Great Forces of Darkness were vanquished.
Melakaia and Watari were greeted like royalty upon their return, and peace reigned over the village.
But the joy was not to last.
As the village shaman tried furiously to save her, Melakaia, weakened from battle, died in childbirth. Stricken with grief, an anguished Watari immediately drank the small vial of snake venom he always kept on hand for just such an occasion.
The villagers who'd gathered began to wail like tortured demons, crumbling to the ground under the weight of their sorrow.
Until the shaman turned around to face them. Tears welling in his eyes, he smiled and held something aloft…
The baby. Somehow, the baby had survived.
And that baby had a water/melon ratio of precisely 92/8.
* * *
The villagers danced and shouted with glee. Rejoice, rejoice! All hail the miracle melon baby king!
"To honour its brave parents," said the Shaman, gently raising his hand to hush the crowd, "this infant who will one day rule us all, born of our beloved Watari and Melakaia, shall carry the name Watamela."
The villagers cheered even louder, ecstatic, and finally free.
"WATAMELA! WATAMELA! WATAMELA!"
BOOK XV: MY FAVORITE SUMMER FOOD
As mentioned above (Book VII), WATAMELA goes really well with corn on the cob.
Any kind: pinky-red, yellow, seed-y, "seedless." They all go great with corn on the cob.
This is no unique or even noteworthy achievement. I mean, what doesn't go great with corn on the cob, right? Corn on the cob is delicious! So juicy, so buttery! Delicious!
And that is why, as mentioned above, corn on the cob is my favorite summer food.
Thank you.
(Note: in the summer I also enjoy popsicles, burgers on the BBQ, and watermelon.)
Reader insights
Be the first to share your insights about this piece.
Add your insights