The Devil Said
1: Oh Hell No!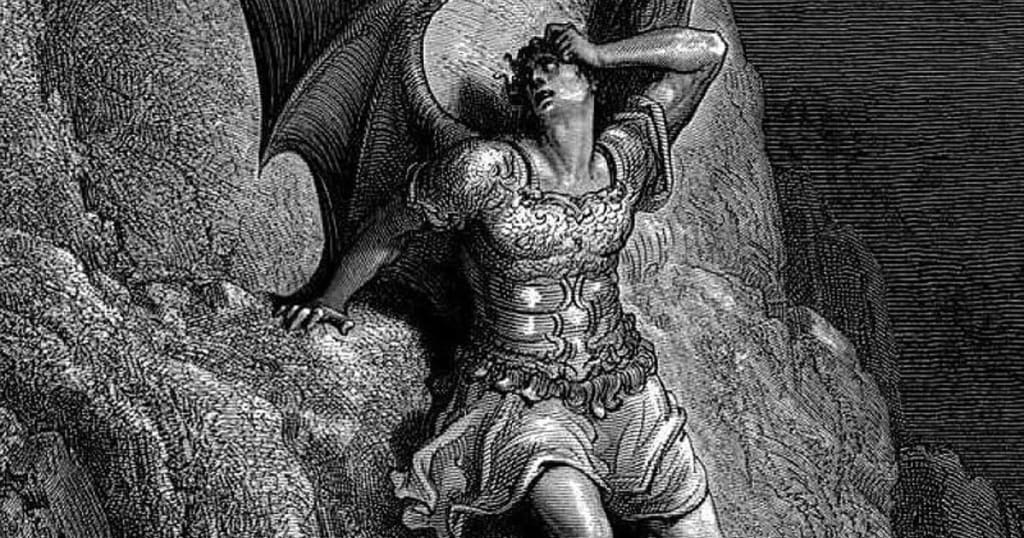 This story is inspired by my grandmother, who died a few weeks ago. Don't worry she was resuscitated after a grueling 30 minutes or so. When she came too, she said she saw no bright lights at the end of a tunnel, nor did she see any of her family members welcoming her to the other side. This leads us to believe she might not be destined for heaven. I am not saying she is a terrible woman but sometimes....
Gale was dead for a total of 6 minutes; and, in that time, the devil panicked as the soul made its way to its final resting place. There was no way she was going to heaven. He knew that. Still, he waited, with bated breath, and prayed liked he hadn't been kicked out of heaven himself. "Dear Lord," he prayed, despite himself, "Please accept Gale into the gates of heaven. She has been your faithful servant throughout her life and will always be a devout Christian."
The devil didn't know what to say beyond this point and did not want to highlight her attributes for fear God would remember and instantly reject her. An evil soul was easy to predict, but Gale was something else. She was like the ultimate spiritual Karen. She was both righteous and evil, and the devil had never feared someone that greatly since God. Gale made him wish he had never left heaven. He wished he had never given Eve the apple. If only he had known it would lead to her...! Dear Lord, the devil had found/created his own personal hell millenniums in the making.
You might ask, "What is so wrong with a little old woman? What is so wrong with one person in general that an old, aged angel-turned-devil would quake in fear?" Well, Gale had a superpower, and that power was that she was an unwelcomed visitor. It didn't matter what relm she was in, she had an affinity for making her hosts so miserably uncomfortable that they would gladly defy the laws of hospitality and face the pits of hell before they let her reside with them a moment longer than they had to.
A soul's Journey to its final resting place is not instantaneous. It is a personalized experience. Some souls linger on for years. Sometimes, they mutate and morph as they struggle to stay in this tangible yet ever-changing relm we know as the mortal world. Others, not realizing their egregiousness, try to ascend to heaven, only to find the gates locked. Gale had been one of those souls; and, on that day, God turned out the lights and pretended he was not home.
"Huh?!" Gale puzzled over what to do. She hated change and was not malleable enough to mold back into the world. If she were being honest, she really didn't feel like going back anyways. There was clearly some kind of mistake, but there was no one on heaven's doorstep to complain to about it, so she followed a tugging sense that led her to hell.
The devil never greeted his guest personally. He preferred to stay an ambiguous threat that his minions lorded over their tortured souls. When Gale arrived, though, he knew meeting her was unavoidable.
When he got to hell's door, she was already talking to a guard at the gate. The guards were not posted to deter entry. No, they face the inner pits of hell and insured no one escaped. The guards back had been to her when she piped up, "Excuse me," tentatively, at first; then, more insistent, "EXCUSE ME!"
The guard looked over his shoulder, "Come in, lady," he said in a monotone, "No one is stopping you."
If the devil could die, he would have right then! He didn't want to look weak, but it took everything in him not to call out "Lord, God, Jesus! Don't not let it in!" To his horror she walked boldly in, so she could face the man. The devil sucked in a squeak and choked on the words he wanted to utter. He was going to make that guard's sojourn in hell extra special when he was finished dealing with this mess.
According to the rules set out by God, once a soul entered the gates, it was forever there until God deemed the punishment fulfilled. Escapees were an occasional occurrence, but hell had been escapee-free a quarter of an eon now, despite what the church and movies would have people believing. Hell was not an accident-prone enterprise. The devil thought back to the last incident; and, while it was not a good time for him, he found that instance was much more agreeable than the creature he was about to face. He thought about just pushing her out the door and baring the gates, but God had put limitations on him.
"Can anyone tell me what's going on here?" Gale asked the guard in a sickly-sweet tone that always left people wondering if she was a kindly old woman or if she was being judgy.
Before the guard could do any further damage, the devil stepped in. "Your soul has been judged and you have been found lacking, so you will now be a resident of hell." He hoped that would set the tone as he held his breath and waited for her response.
She was notoriously good at blaming things on others or circumstances, and she had a way of delivering these excuses that made the most uninspired guy sound interesting. She sucked in air, and the devil quaked. Here it came!
"Well, I was wondering about that. So, I have been barred out of heaven, and why is that?" Her voice was a pitch that would grate on anyone's nerves.
"Part of your punishment will be to figure that out," the devil said.
"Um, I wonder," she started and began a long-winded story of see what had happened was. It was filled with details that had no point to the rest of the story, but she continued to bring them up, adding more and more to the duration. If he tried to dismiss her, though, she would add a pivotal detail that would leave him on a cliff hanger, so juicy, so titillating that it gnawed at his sanity. The devil, much to his chagrin, would be awake for Mellina, wondering how that story ended.
He interrupted her awful tale, "Madam," he said, establishing authority, "No amount of talking will save you."
"What if I said a quick prayer? I am sure this is a mistake," and again she delved back into her twisted tale; this time, directed at both God and himself.
There was a clap of thunder from heaven that brought on a gnawing headache in the devil's mind. He rubbed his temple. "I don't care about your stupid story!" The devil shouted, already feeling exasperated by the woman's presence. "You clearly aren't getting into heaven! Now stop talking! I am the torturer; you are the torturee; and that's how this is going to go down," he said to establish clear healthy boundaries for this forced relationship.
"I was just getting to the good part, you see," and the guard behind Gale nodded as if he had been enraptured by her tale.
Rage filled the devil! "Cut out her tongue," he ordered, not wanting this mess to go on any longer.
"But I have to know what happens," the guard pleaded already under the woman's spell.
Un-fucking believable! The guard was right, though, it was getting very interesting. "Fine!" the devil bellowed. He looked Gale right in the eye and said, "Finish your story," and, turning to the guard, added, "Then cut her tongue out."
Time is purposely slowed down in hell, to add an extra layer of torment. The devil felt each exacerbated second as Gale droned on. He was both intrigued and bored, but he just wanted it to stop!
That guard never got the opportunity to cut her tongue out, as the cunning usurper Gale began to relax into an extended stay in hell. She liked the break from her regular life, and these men seemed both accommodating and easily subdued. Death was turning into quite the vacation!
What will happen to Gale? What will happen to the Devil? Find out next time on "The Devil Said."
About the Creator
I am new to the writing community but hope to publish a novel one day. I am simple minded and sucker for romance.
Reader insights
Nice work
Very well written. Keep up the good work!
Top insights
Compelling and original writing

Creative use of language & vocab

Easy to read and follow

Well-structured & engaging content

Excellent storytelling

Original narrative & well developed characters
Eye opening

Niche topic & fresh perspectives
Add your insights