THE BROOCH
A Family Keepsake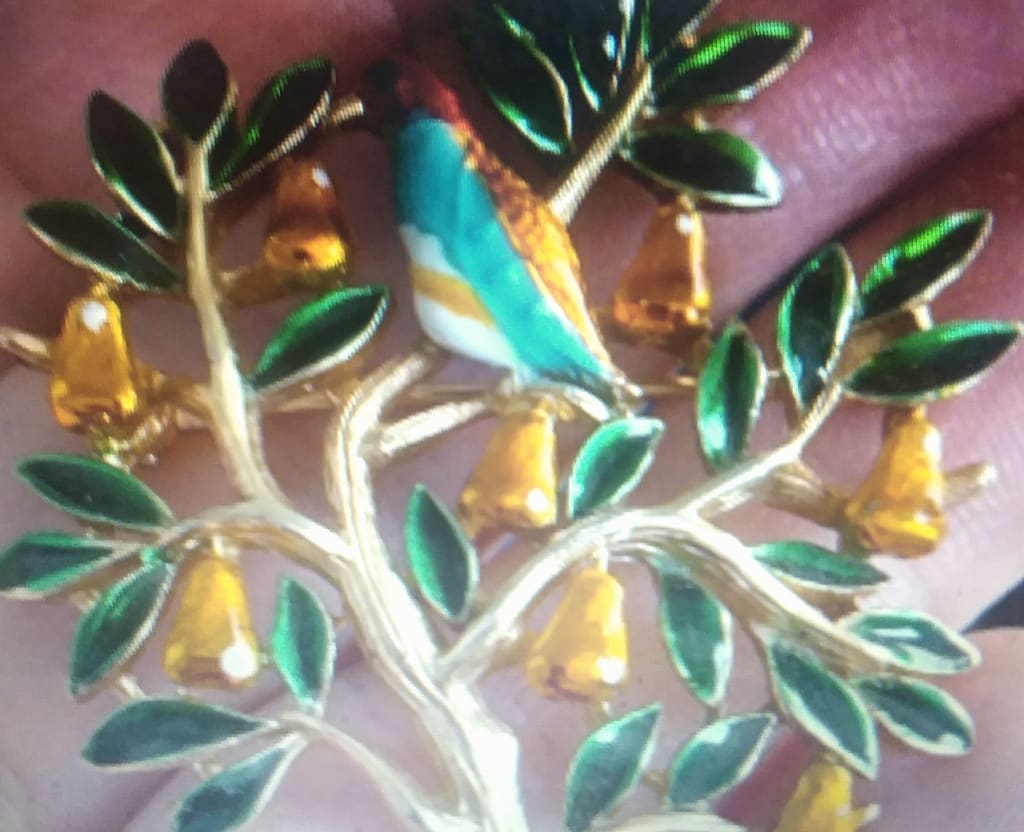 The Brooch
While stars twinkled brightly in the dark sky, the snow silently fell. Inside the school auditorium, the Christmas Program was coming to a close. The girls' junior-senior choir's final number was The Twelve Days of Christmas!
Watching Carol sing one of their favorite Christmas songs, Claude's chin dimple was noticeable as he smiled. At that point, Claude was lost in thought. Recalling when they sang The Twelve Days of Christmas in elementary school, he was in fifth grade and Carol was in the fourth.
On the first day of Christmas...
***
After graduation in 1939, Claude, who stood a good six feet tall, went to work at his dad's hardware store. He loved helping customers find the items they needed. His customers loved him for his positive attitude and can-do spirit.
While Carol had five more months before her graduation in May, Claude and Carol planned their September wedding.
Quickly time passed, the wedding became a town event and the couple couldn't have been happier.
Naturally, it snowed for Christmas. The celebrations were cheerful, merry and bright. Claude surprised Carol with a Partridge in a Pear Tree brooch. Carol had a surprise for Claude, too. With the news, he was going to be a father.
That year as husband and wife, they attended the town's school Christmas Program, their favorite song ended the festivities.
On the first day of Christmas
my true love sent to me:
***
Broadcasting the news of the attack on Pearl Harbor, families were worried and concerned that their loved ones could be drafted.
Bitterly, the ominous clouds formed. The U.S. entered World War II. Consequently, Claude was drafted. He was scheduled to report for training at the Army base on the 3rd of March 1942.
After Claude was sent overseas, Caroline was born on the 4th of July 1942. Naturally, Carol's parents helped Caroline. Unfortunately, Claude's parents didn't help. Claude's mother didn't approve of Carol's name choice for her granddaughter. Unfortunately, a family feud began.
While getting a good night's sleep became a real problem, Caroline suffered from colic for over a three-week period. Her family's help was invaluable. Carol knew that without her family's help and support she won't have survived. Nevertheless, Carol regretted that Claude's parents ignored their only granddaughter.
Truly, the letters sustained Carol. Claude wrote positive and encouraging letters. Carol did the same. While Carol keeps her letters in a nice shoebox tied with a yellow ribbon, Claude keeps his letters in his haversack.
Sporadically, the letters arrived and were read. Carol silently cherished every letter from her one true love. On June 10th, 1944, she had an uneasy feeling. However, her feelings weren't shared with her family. The letters stopped coming. Time slowly passed. It seemed like an eternity.
On a cool crisp September day, an olive drab green army vehicle parked directly in front of Carol's home. The stoic Army Chaplin and a smiley Junior Officer walked to the front door and knocked. Carol answered, seeing who stood in front of her. She fainted. The next few months were a blur.
***
On the 4th of July 1958, Caroline happily celebrated her sixteenth birthday. The celebration was super spectacular. Claude's mother attended the party. Feuding had ceased years earlier, Claude's mother made peace with Caroline's family after the loss of her son and five years later the loss of her husband.
After the party, Carol presented Caroline with a small box wrapped in recycled yellow and green paper. Caroline's eyes widened! Tears welled up in her eyes. Gratefully, Caroline appreciated the story behind the brooch. She heard the story numerous times over the years. Chocking up, Carol retold the story about the Partridge in a Pear Tree brooch being given to her by her late spouse on their first Christmas as husband and wife.
***
With Autumn, the leaves were falling. Sunny days were followed by cooler evenings. Fifteen years earlier, Carol had passed away. As a matter of fact, Charles, who was a professor, had moved to South Carolina. While his daughter, Cathy, attended college, he shared his home with his mother Caroline.
As luck would have it, Charles came home early. Hearing water running which was coming from his guest bathroom, he quickly ran and turned off the flow of water as it was nearing the top of the bathtub. Charles' face was etched with emotional pain and relief.
Responsively, he called out for his mom. But, there wasn't a reply. Charle',s throat and stomach tensed while searching the house for Caroline. Then, he hurried outside. Finding his mom sitting in her favorite rocking chair that was next to the Koi pond, she was surprised to see Charles. When questioned, Caroline hung her head and couldn't recall turning on the water. At this point, he knew it was time for his mom to live in an assisted living nursing home. Previously, he had been given several recommendations. Reluctantly, Charles selected the Elm Tree Manor.
For extra security, Charles planted a camera in a white teddy bear which was strategically placed in Caroline's room. Luckily, he took security matters into his own hands. The video feed captured Vicki, posing as a nurse and stealing Caroline's jewelry box, containing the special brooch. Immediately, Charles contacted the police. Swiftly, Vicki was apprehended and taken into custody. According to the police, Vicki had been stealing prescription drugs and jewelry over several months from nursing home residents in the area.
***
Christmas decorations and lights sparkled, on the 10th of November 2012, the Elm Tree Manor sent out invitations with RSVP for their Christmas celebration. According to the invitation, entertainment would precede their holiday dinner that would be served to all residence and their guest.
Clearly, the scent of evergreen and cinnamon wafted through the nursing home. On the day of the Christmas celebration, Charles and Cathy arrived early. Cathy wore a dress for a change, tugging nervously on her sleeves. While Cathy acted coy and shy, Charles was in a holiday mood, smiling broadly and looking distinguished in his new blue suit.
Before the program began, Cathy finally had a chance to spend time with her grandmother. On the nightstand next to the bed, a small box sat under a mini Christmas tree. Trembling, Caroline placed the small box into Cathy's youthful hands. Surprisingly, Cathy was stunned and amazed to see a Partridge in a Pear Tree brooch.
This time, Charles retold the story that his grandmother, Carol, and his mother, Caroline, had shared with him through the years. With deep love and affection, the brooch was given to his grandmother by his grandfather on their very first Christmas as husband and wife. Then on Caroline's sixteenth birthday, she was given the keepsake. Today, the brooch is passed down to you.
Ultimately, the entertainment from the College Bell Choir was about to begin. Cathy, wearing the brooch, Charles, assisting his mother, and Caroline using a cane, slowly walked down the wide hallway towards the activity room. As they neared the room, the Christmas music permeated the building as the handbells played. Playing the song...
On the first day of Christmas
my true love sent to me:
A Partridge in a Pear Tree.
Short Story
Barbara J Iversen, also know as Babs Iverson, lives in Texas and loves her grandkids to the moon and back. After writing one story, she found that writing has many benefits especially during a pandemic and a Texas size Arctic Blast.