The Bachelorette – Michelle Young's Final Rose
Did you watch Michelle Young's season? Do you think she made the right choice?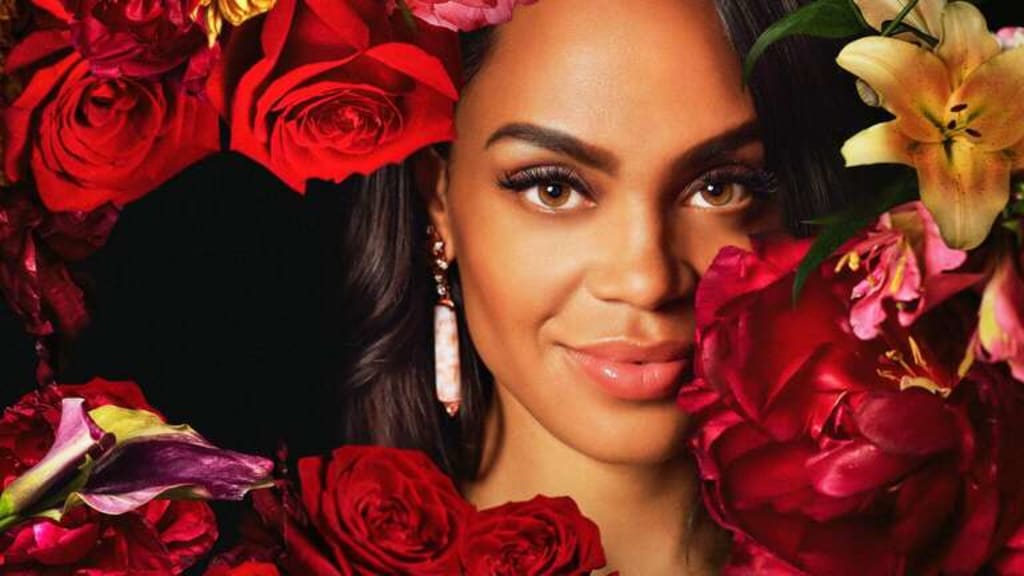 So, The Bachelorette – Michelle Young's final rose was last night. To read about Michelle's journey to find love; be sure to visit my Michelle Young – The Bachelorette Spoilers October 2021 post.
The Bachelorette – Michelle Young and Other Bachelorettes
Michelle comes across as someone confident and who knows what she wants; however, personally, I wasn't a fan of her final pick.
Over the last several years, many of the prior Bachelorette's haven't ended up staying together.
In fact, on Katie's Thurston's season, she gave her final rose to Blake Moynes. To read more about Katie's final rose; visit my Katie Thurston's Final Rose – The Bachelorette, August 2021 post. Since the final rose; Katie and Blake ended their relationship and Katie is dating another contestant from her season who was eliminated early on.
Before Katie, Tashia Adams was the one handing our roses. And, it was announced on Michelle Young's "Men Tell All" that she is no longer with Zac Clark who received her final rose. To read more about Tayshia's journey; check out my Who will Receive Tayshia Adams Final Rose on the Bachelorette Season post.
And, before Tayshia; Bachelor Nation cannot forget about Clare Crawley's short season. For more information on Clare's shake-up; be sure to visit my Tayshia Adams Replaces Clare Crawley in Biggest Bachelorette Shake-up post.
In my opinion, the last several seasons of The Bachelorette haven't been about them finding forever love. Hence, it has been about them being in the spotlight and having a career in the media.
The Bachelorette – Fantasy Suites
After fantasy suites on December 14th; we saw Michelle choose to send Joe Coleman home. Because Michelle and Joe were from the same area and both had a love of basketball; I thought Joe was the right match for her. Even on their last date, they seemed to be on the same page. But, I was wrong!
Of course, the fans may not see everything that happens; and ultimately it is Michelle's decision on who she chooses to hand out her roses too.
With two men remaining; who will Michelle give her final rose to? Will it be to Brandon Jones or Nayte Olukoya?
Michelle's Young's Final Two Men
When the show begins, it once again alternates between the live audience and the last date with both men. Kaitlyn starts the live portion by letting the audience know she will be hosting the show by herself; since Tayshia wasn't able to be there due to her exposure to Covid-19.
So, the first date was with Brandon. Since Brandon met Michelle's parents earlier in the season; it was clear they picked up where they left off last time they were in each other's company.
Next, Nayte meet's Michelle's family. Throughout his conversation with Michelle's dad, sister and mom; they all have the feeling that he may not be ready for marriage.
After Nayte, the show goes back live. Are Michelle's family right about their concerns? Though, Michelle seems to be listening to their concerns; it also comes across that she is leaning more towards Nayte.
Finally, Michelle has her last date with each man. It is clear, Brandon has won over her family; but has he won Michelle's heart?
Ultimately, Michelle has said she was falling in love with Brandon; but doesn't tell him until their last date, she is no longer falling – she is in love with him.
Next, Michelle has her last date with Nayte. Though their date came across as awkward; I realize there was much more footage that wasn't shown.
When their date ends, Michelle says that Nayte is her person. As she heads back to her room; there is a special card from Brandon. But is it enough?
At the end, Michelle says a dramatic goodbye to Brandon.
Next, Nayte arrives and proposes. She accepts and hands him her final rose.
Michelle Young – After the Final Rose
So, after the final rose, Kaitlyn brings Brandon out to talk about his feelings. Though Brandon thought he would end up marrying Michelle; he wished her and Nayte the best. Michelle comes out to join Brandon and they speak on a high note to each other.
Next, Nayte joins Michelle on stage; and their parents say they have become close through their journey.
Kaitlyn gives the couple a Gingerbread house with a check for a down payment for their first home.
In summary, Clayton is brought on stage and introduced as the new Bachelor. So, stay tuned as Clayton's journey to find love begins on January 3rd. Will you be tuning into next season?
About the Creator
Hi - I'm Lynne Black, Founder of Fashionista Bombshell Whims!
I'm a Freelance Writer/Blogger and Published Author.
My stories and posts offer a peek into my life.
Of course, my goal is to inspire you through my books and articles.
Reader insights
Be the first to share your insights about this piece.
Add your insights