Orphaned Son
"Choose your friends wisely, they will make or break you." J. Willard Marriott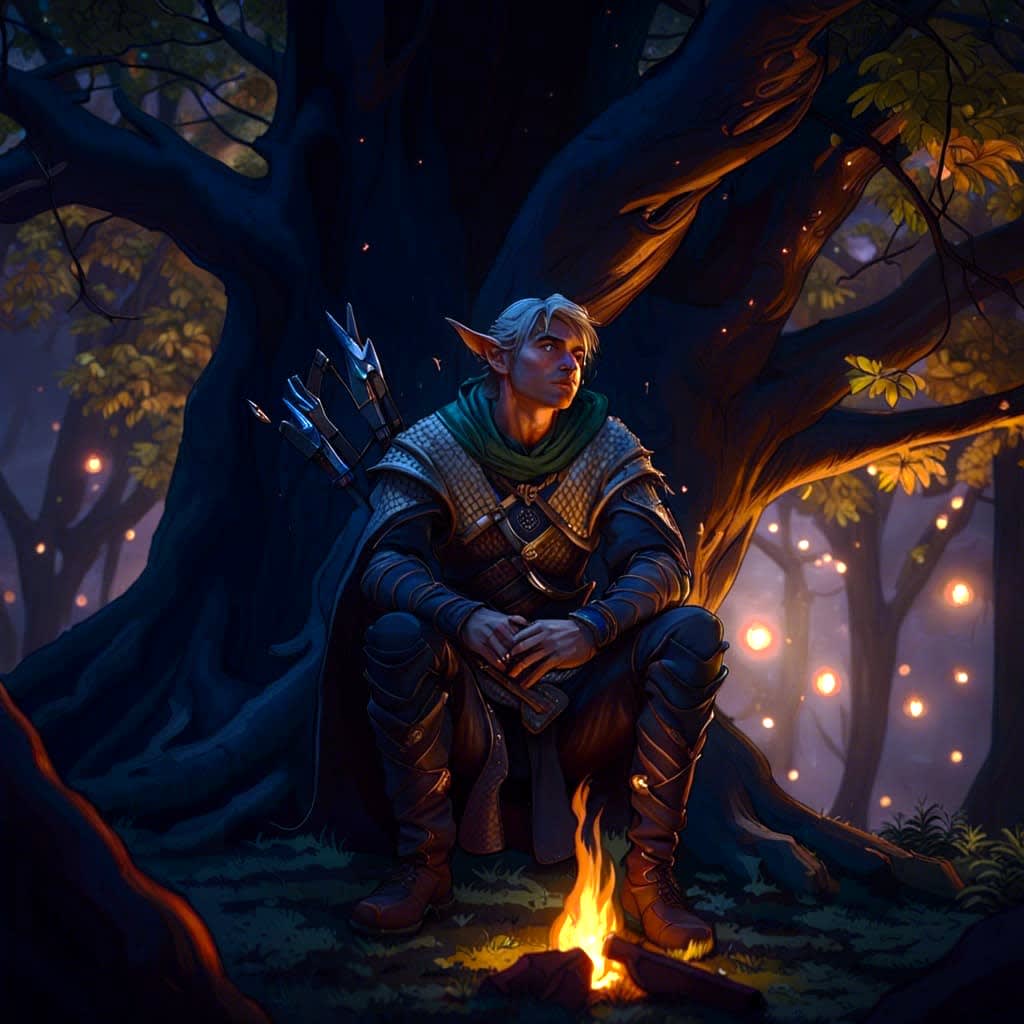 Artwork created in mixed mediums for this challenge
Written for the Matthew Fromm High Fantasy Challenge (500-word limit). Win prizes!!! Find all the details here.
~~~~~~~~~~~~~~~~~~~~~~~~~~~~~~~~~~~~~~~~~~~~~~~~~~~~
Wick watched the goblin men, faces flickering merrily in the firelight as they ate.
They'd undoubtedly use the bounty on his head to forward their next campaign. Even so, they'd treated him well after his escape attempt. Cross-country travel was difficult, and his escape failed. Wick was relieved when the leader, Ragdran halted them to make camp. One of them said he was grateful they'd already eaten because they wouldn't have to hunt. This angered Ragdran.
"Then you'll take the night-watch and the morning hunt. Just because your belly's full doesn't mean we won't meet starvation tomorrow."
Wick expected a complaint, but nothing happened. These men served without question, even during reprimands. The goblin-men weren't beautiful or even-tempered, however fair minded they may be. Thinking then how fast Ragdran was, he unconsciously shook his head.
"Do elves not direct their men harshly when they err?" Ragdran asked.
"It's not that, Lord." Wick answered. "I wondered where you learned to ride so well."
The men laughed, remembering how hard it was to catch Wick, but rushed back to eating when Ragdran glared a warning at them.
"I might ask you the same." He grumbled.
Wick smiled over at his horse. Hugo's black and white coat shone in the dark woods like a half-shadowed specter.
"Hugo's face is the only memory I have from before I was orphaned. We've been friends so long, we're practically one."
"So it is with us. A man should not ride a beast he cannot love and respect. From that union arises obedience… synchrony."
"I've never heard it put quite that way." Wick replied as the man handed him a cup of cider.
"You know, your skills could be of some use to us." Ragdran remarked, arms folded across his chest.
"My skills are what keep me in trouble with the High Council. Apparently, just because I can do something… doesn't mean I should."
Ragdran's laughter filled the woods, which surprised Wick.
"Why don't you stop running?" He asked. "Join us."
"I thought you had to be born Vulcour to join the Rhun' Hye?" Wick replied.
The camp fell silent as Ragdran leaned down, eye-to-eye.
"Because it has not happened, doesn't mean it cannot happen. You'd be in good company, and no one would dare come for you. We're willing to accept your frailties in exchange for your bow, of course." He winked.
Campfire smoke wafted before him as he looked at the men, all eyes on him. He actually liked them, and knew what the High Council wanted. There was a benefit to being himself without elf law and proper living getting in the way.
"I am an impatient man." Ragdran reminded him.
"Done!" Wick replied standing up and putting out his arm to seal the deal. "You shall have my bow."
With the clasping of their forearms, the night erupted in sounds of cheers from the men as Ragdran cut his bonds, and Wick... was an orphan no more.
~~~~~~~~~~~~~~~~~~~~~~~~~~~~~~~~~~~~~~~~~~~~~~~~~~
Fantasy fiction is full of characters like Wick who never step outside the norm. I wanted to create something where my elf could make his own decisions and be who he wanted to be, rather than what the world painted him to be. I spent as much time if not more on the artwork. I love working in graphic programs almost as much as I love writing! I hope you enjoy meeting Wick. Maybe one day, he'll have his own story for me to write. ;)
Special thanks to Matthew Fromm for this fun new challenge, and to Lamar Wiggins for introducing me to Matthew's work, via his interview linked below!
~~~~~~~~~~~~~~~~~~~~~~~~~~~~~~~~~~~~~~~~~~~~~~~~~~~~
If you liked this story, you might also like this one!
About the Creator
I'm a mild-mannered project accountant by day, a free-spirited writer, artist, singer/songwriter the rest of the time. Let's subscribe to each other! I'm excited to be in a community of writers and I'm looking forward to making friends!
Reader insights
Be the first to share your insights about this piece.
Add your insights