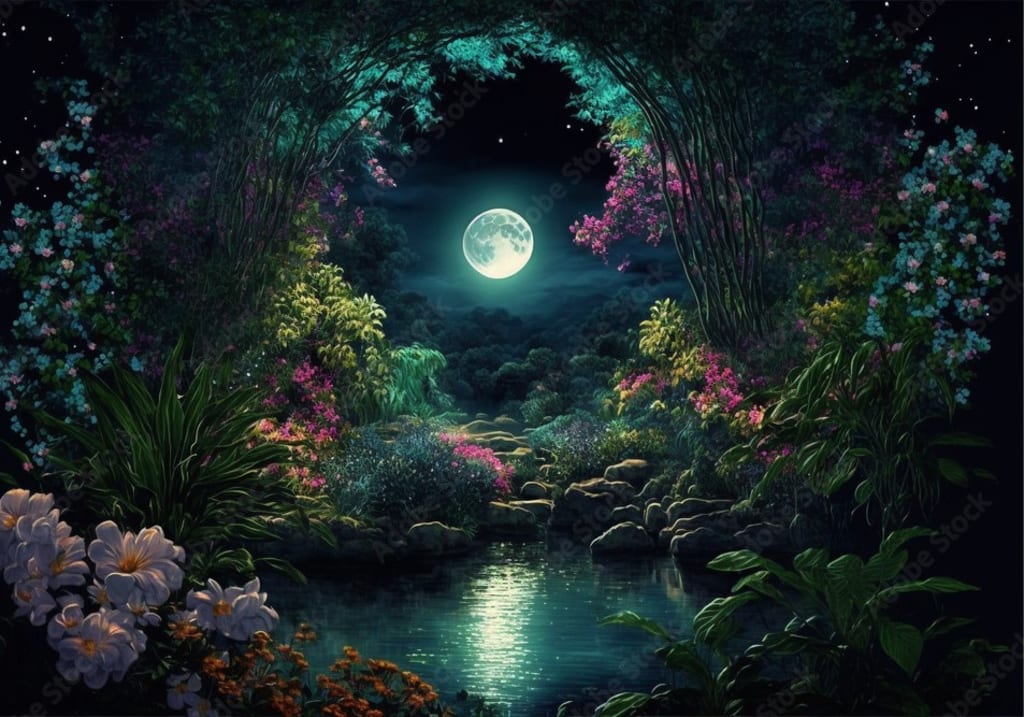 On a tranquil moonlit night, in a small, sleepy village nestled at the foot of a towering mountain, a young girl named Luna sat on her porch, gazing up at the silvery orb in the sky. The moon, in all its luminous glory, bathed the world in a soft, ethereal light. Luna felt an curious connection to the moon; it was as if it held the answers to all her questions.
Luna lived with her grandmother, an old and wise woman who had seen many moons come and go. Her grandmother would often tell her stories about the moon and its magic, stories passed down through generations.
"Did I ever tell you about the Moon's Secret Garden, Luna?" her grandmother asked, her eyes twinkling with mischief.
Luna's eyes widened with anticipation. "No, Grandma! What's the Moon's Secret Garden?"
Her grandmother beckoned Luna to come closer. "Well, my dear, the Moon's Secret Garden is a place that only reveals itself on the most enchanting moonlit nights, like tonight. It's hidden high up on the mountain, where the moon's rays touch the earth, creating a path to a world unknown to most."
Luna's curiosity ignited like a spark in her heart. She listened intently as her grandmother described the garden, filled with radiant, otherworldly flowers that glowed like stars, and trees whose leaves sang a gentle, melodic tune when the wind rustled through them.
"But the most remarkable thing about the Moon's Secret Garden," her grandmother whispered, "is that it holds the answers to the questions that weigh heavily on your heart. If you go there with a sincere heart and pure intentions, the garden will reveal what you seek."
Luna's heart raced with excitement. She knew what she had to do. Without another word, she slipped away from her grandmother's side and began her ascent up the mountain. The moonlight guided her path, and every step she took felt like a step into a dream.
After what felt like hours of climbing, Luna finally reached the summit. There, beneath the watchful gaze of the moon, she saw it—the entrance to the Moon's Secret Garden. It was as her grandmother had described, a place of wonder and enchantment.
As Luna entered the garden, a sense of calm washed over her. She found herself surrounded by the luminous flowers and singing trees. She closed her eyes, took a deep breath, and whispered her most pressing question into the night air.
For a moment, the world stood still, and Luna's heart beat in rhythm with the universe. Then, slowly, the answer began to unfold. It wasn't spoken or written; instead, it manifested as a profound understanding in Luna's heart.
Tears welled up in her eyes as she realized that she had found the clarity she had sought for so long. With a heart full of gratitude, she left the Moon's Secret Garden and descended the mountain, feeling lighter than she had in years.
When Luna returned home, her grandmother greeted her with a knowing smile. "Did you find what you were looking for, my dear?"
Luna nodded, unable to hold back her tears of joy. "Yes, Grandma. I found my answer, and it was more beautiful than I could have ever imagined."
From that night on, Luna treasured her connection to the moon even more. She knew that on the most magical moonlit nights, she could visit the Moon's Secret Garden and find solace, wisdom, and the answers to life's most profound questions. The moon had become her guiding light, illuminating her path through the mysteries of life.
Reader insights
Be the first to share your insights about this piece.
Add your insights