LONDON SHARK
The incendiary London Underground serial killer thriller that announces Vocal to the world
London___^__
Shark_______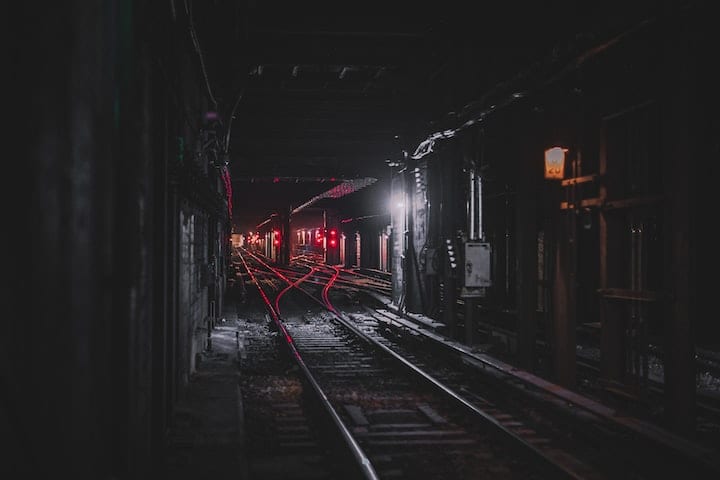 Under the city a predator has risen .
One who has sat by you. Opposite you. Stared at your reflection. Looked into your eyes.
Summed you up with that one, lingering look.
Of all those who stare.
His was the one you dared not return.
He is the one to fear -
When the light goes out.
And he is ready to hunt.
PROLOGUE
HANNAH
1998
I WAKE WITH MY LOVE NEXT TO ME, but when I reach for her there is nothing to touch. Nobody to gather and hold. Just a cold stale duvet for company. I slide my hand in its folds, searching for my love. But she, Hannah, is missing. I wonder if she has gone to the bathroom to beautify herself before a long day at work.
A rumbling from above ushers reality into my fantasy as I come to, alone, on a sofabed that barely supports me, let alone Hannah too. The flat's only other occupant, Ben, is in the bedroom above me. Ben is a copywriter and has no need to be up as early as me – it's 5am. But Ben likes—or at least, is prepared—to brave the February cold and run through London streets each morning. What I can hear now is his pre-run regime. Stretches, a little running on the spot. Particular care is taken with his left hamstring. Ben has explained this little warmup to me enough times that I can envision each stretch of his long bendy thighs as he grunts and loosens. He has the dog end of the Radio One pre-breakfast show on, too. As usual. That's the real crime.
Ben's bedroom door opens. A cocky-sounding DJ announces Sexy Boy, a swatch of tinny instrumental music gets itself going. The door closes. Ben stomps over to the bathroom and pulls the door shut; my signal to rise. I need to be out before he comes downstairs, whistling, clad in tight, ridiculous Lycra, having washed his face and shitted out last night's meal (a Korean mess he munched while laughing at one of his Only Fools and Horses DVDs, shovelling forkfuls of fat noodles and sprouts and pork into his mouth like a savoury, faux-Asian Cookie Monster) and lollops into my de facto bedsit. Feeds me a fake smile and calls me dude or bud or mate.
I pull on a t-shirt and walk to the kitchen sink. I have been sleeping on Ben's sofa for three months now, and the kitchen sink is my bathroom. I shit and piss at work, and I shower and occasionally piss upstairs in the evening.
I turn on the hot water tap. I accept its initial offering, a weak spurt of cold water and lather cheap soap onto my face. Wait for the warmth to slide along the pipes. I then rinse my face. There is no mirror down here, which is a blessing. I open the freezer and pull a slice of bread – white, cheap – from a dwindling loaf in the top drawer. I feed it into the toaster and press the defrost button. I can't afford bread that isn't either supermarket own brand or heavily discounted, and what I do take home can't go mouldy. My lifestyle is supported by my dedication to parsimony. I don't want to take from Hannah. All I want from her is her love. I think she knows this. When I see her – soon, so soon – I will tell her how much I missed her this morning. I look back at the sofa and remind myself that I will have to push the bed back inside the sofa this morning and stow my duvet and pillows behind it. Ben gets a little off with me if I forget. Mate . . .
The toaster shunts out my slice. It has barely browned, and I slam it back down as I get my cheap margarine from the fridge and knife a curl of spread onto my toast. It is February and it is cold, and I wish for tea, but the kettle is so loud in the stark silence of the kitchen I can't stand the idea that it will cover the sound of Ben descending the stairs earlier than usual and joining me in the kitchen. No no no no no. I will have tea soon enough, at work. I actually feel apprehensive about all the things I have to do this morning—be with Hannah, attend work. And I need to urinate very much. I pop the toaster, smear jam and butter on the almost-adequate toast, wolf it down. Then I down the water from my night glass and brush my teeth in the kitchen sink. I hear Ben flushing the toilet. Likely there'll be a couple more flushes needed to get rid of the Korean food. I pull on my underwear and a white shirt and a grey tie, add my ageing, pinstripe suit, pull on my tired leather shoes and my overcoat and a thick woollen hat that I pull over my shaved head, which I buzzcut once I could deny my baldness no longer. It will be even colder outside than it is here. I open the door and click it shut and get on my way, walking to Holborn station. I pass dozens of empty cars, parked and lined up like unsold carriages of a train.
As I approach the corner of Bedford Row I get a tingling. It is Hannah-related, that's for sure. She wasn't in my bed this morning, nor had she stayed the night. But I think she'll be on the train. Second last carriage. She has worked fifty-three of the last fifty-five weekdays. She is regular! She is committed!
I do worry that she is due a holiday. She looked a little jaded last week. Only two days off over eleven weeks is too much for my love. She deserves a holiday but I don't want to lose her. She knows this. I've read it in her eyes. I got that close.
The Underground sign is in sight. I check my wristwatch. The tube will depart in fifteen minutes. A minute on, past the Asian-ran newsagent and I am at the threshold, where a homeless man I don't recognise is slouched by the entrance. I don't like this. There are a few faces and bodies milling around, slipping into the station and each carries a point of familiarity with me. But the homeless man, wretched in his cargo trousers and lank hair and thick sleeping bag coat has installed himself here as if he belongs. London is full of homeless people that have found shelter in the doorways and alcoves of the street. I try to wither him with a look as I walk past him, but his eyes and focus are elsewhere. I walk on, pull my wallet from my inside jacket pocket, extract my annual pass, and tap it against the turnstile sensor. I take a look, around and then behind me. Hannah is a special girl and I know I have rivals for her affection. As I look behind me, the sun creeps out from behind a dreary building, dazzling me. Startled by the power of the light, I reach for the sides of the entrance, looking back inside the station and blinking the fire from my eyes. The light recedes and the station innards reform; the escalator, the ticket barrier, the ticket machines to my right.
I'm inside Holborn Underground and close, closer to Hannah, whose train is only five minutes from sliding into northbound platform two.
My Hannah will be waiting for me, second carriage from the back. I move towards the barrier, nearer her.
Then Hannah appears on the escalator taking people to the exit.
Hand in hand with another man . . .
Chapter One will follow soon . . .
Series
Horror
About the author
Novelist (writing as LJ Denholm) - Under Rand Farm - available in paperback via Amazon and *FREE* via Kindle Unlimited!
Short story writer - Mr. Threadbare, Farmer Young et al
Humour writer - NewsThump, BBC Comedy.
Kids' writer - TBC!
Reader insights
Outstanding
Excellent work. Looking forward to reading more!
Top insights
Compelling and original writing

Creative use of language & vocab

Easy to read and follow

Well-structured & engaging content

Excellent storytelling

Original narrative & well developed characters
Expert insights and opinions

Arguments were carefully researched and presented

Eye opening

Niche topic & fresh perspectives

Heartfelt and relatable

The story invoked strong personal emotions

Masterful proofreading

Zero grammar & spelling mistakes

On-point and relevant

Writing reflected the title & theme
Add your insights