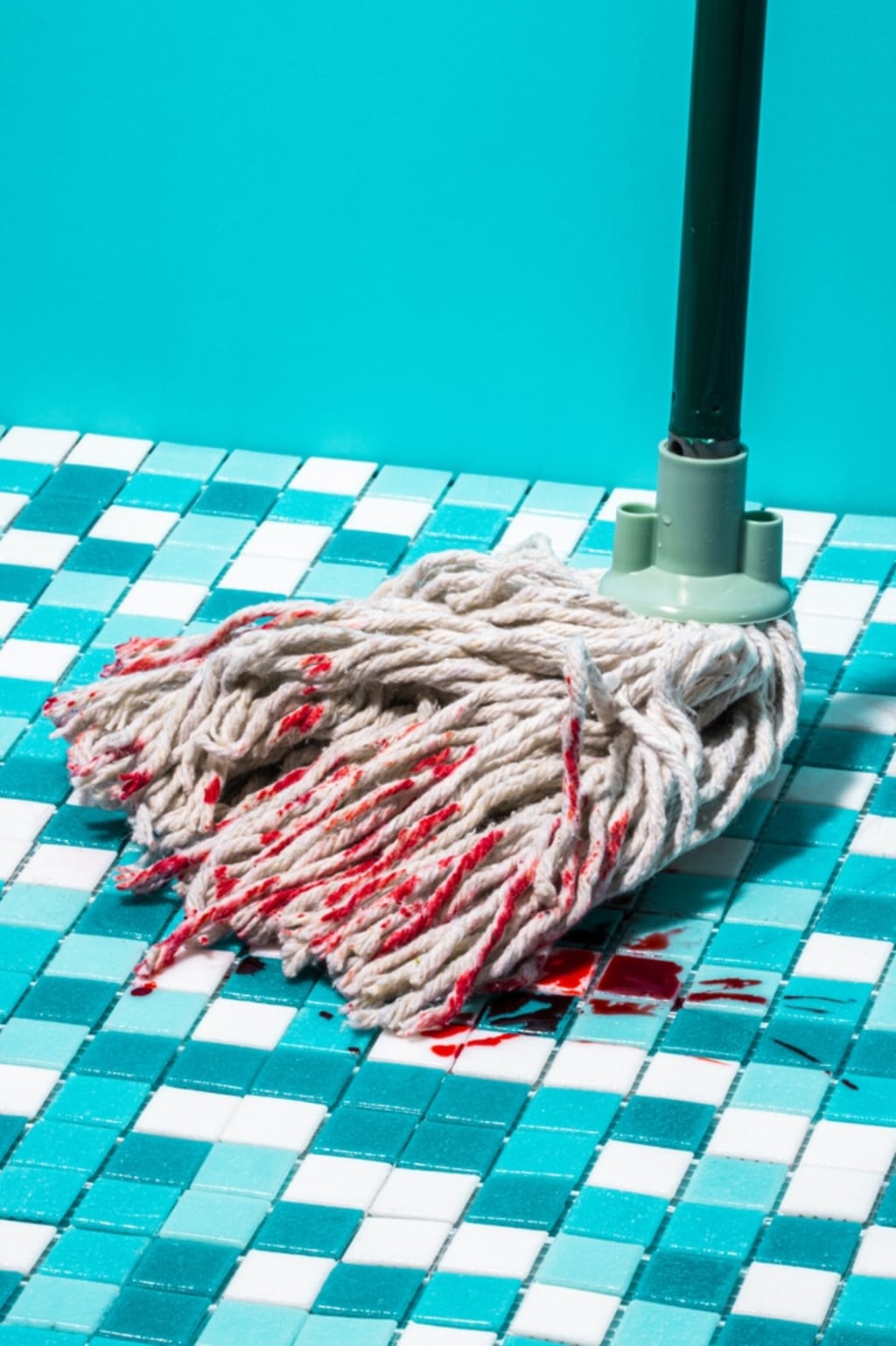 Image credit: https://www.shutterstock.com/g/Rodobot
Do you know what smells? A vaporized human body. I mean you think "vaporized" would mean that it all disappears right, sadly that is not the case. It leaves a reddish-brown sludge on the floor. It's slippery and smells like Surströmming, you know that Swedish tinned fish with the foul odor. The first time I had to clean it up I couldn't stop vomiting. But now I've learned that if I wear a face mask and smear the inside with Vaporub it doesn't smelly anywhere near as bad.
So, you're probably wondering why I'm cleaning up vaporized humans. Because that's my job. Well, it's one of my jobs, as the Director of Response Operations at the Fluffy Puppy Corporation.
Allow me to back-track a little…
About a year ago, having reached the end of my tether with my former boss I handed in my resignation. Now that was fine, I am well educated and I've got a robust CV with lots of meaningful experience, so I didn't think I'd have any dramas landing a new job. It turns out I was wrong. I must have interviewed for about a dozen jobs, and I kept getting either knockbacks or told "You came second so we have put you on a merit list in case any new jobs come up".
I was at the three-month mark since resigning, and I was getting a bit concerned, that my savings were running out, then I saw the following job advertisement:
Fluffy Puppy Corporation is looking for a new Director, Response Operations. We are a family-owned and run company with diverse interests looking to hire someone who loves a challenge and is keen to work for a supportive employer that values its people. Must have relevant experience in leadership and be willing to travel interstate and overseas, sometimes at short notice. Excellent pay and conditions for the right candidate.
Now, a company called Fluffy Puppy already sounded nice. I mean, I like dogs, especially fluffy ones. I've been in a heap of management roles in the past and I like excellent pay. I didn't really stop to ask what the job involved, and that's kind of on me. But I figured I had nothing to lose, so I clicked the "Submit Application" button and within two days Charmaine from HR was on the phone asking me to come in for an interview.
I met with Norman, a slender-faced, bald man who spoke with an accent I couldn't really put my finger on. The first three questions were standard, "What skills do you bring to this role?", "Tell us about a time you made a mistake and what you learned from it?", "What is your leadership style and how do you manage underperformance?" I was nailing it, and Norman nodded along with my answers and wrote notes on a yellow notepad.
The last question though probably should have given me an indication that not everything about this place was, normal shall we say.
Norman put both his hands flat on the table, on either side of the notepad. He leaned slightly forward and gave me an intense glare. I thought maybe this was to see if I'd blink so I leaned forward and stared back. Then as he started to speak, his nostrils flared slightly as he asked, "Have you ever been exposed to high doses of Gamma radiation or come from another planet or dimension that might give you a level of superpowers?"
I let out a chuckle and leaned back in my chair. Norman, however, continued to glare at me, and asked in the same monotonic voice, "Do you need me to repeat the question?"
Ok, he wasn't joking. "Ummm, no, definitely not" I stammered.
His grimace changed to a pleasant smile. Norman picked up his pen and scribbled on the piece of paper in front of him again, but this time in much larger letters than his other notes. I could make out what he wrote in capital letters "NOT A SUPERHERO". To add emphasis to it, he underlined the words twice.
He stood up, shook my hand, and said, "Thanks for coming in Samuel, we'll be in touch before the weekend".
Within a day, Charmaine from HR rang again to offer me the job. We discussed starting salary, and I threw out a number I thought was reasonable, $110,000. But Charmaine responded, "Oh, that's very low for this role. How about we put down $250,000".
I learned that the Fluffy Puppy people aren't jokers, and even though I would have normally thought it was a joke, I just responded, "Ok, that sounds great".
The following Monday I started work, I like to appear keen, so I got there five minutes early. The security guard at the front desk remembered me from the week before. He called Norman, who soon came down to meet me and take me up to my office.
I stepped into the lift and halfway through my conversations with Norman I noticed a photo on the wall of the elevator. I recognized the person immediately. It was Jarrod Rancine, but he's better known by his supervillain's name 'Bright Lens'. A billionaire who had been sponsoring all types of military research when a freak accident meant one of his eyes turned into a powerful laser, that he could use to vaporize just about anything he looked at.
I pointed to the photo and said, "Hey Norman, is that…" Before I could finish, Norman replied, "Oh you know Mister Rancine, yes he'll drop by your office later on".
Fluffy Puppy Corporation is a front for the World's most feared supervillain.
But hey, most of my work involves managing a team of dedicated professionals to arrange transport of gold bullion, hostile acquisition of nuclear weapons, and yes, sometimes cleaning up the occasional vaporized body.
On the upside though, I've gotten to travel to some unique locations, like a remote part of an African country to collect a bribe from a warlord, and a spot in the Antarctic to oversee an operation to find an alien spacecraft with some tech that we're looking to weaponize.
I'm also in line for a bonus this year and my health cover means that I can finally get that tooth I chipped back in college fixed.
Plus, once you get to know him, Mr. Rancine is a fun guy. At our Christmas party, he got up to sing karaoke, and he adapted the words to a song so that he was singing "I light up your life". We all laughed (because we knew what was good for us).
**********************************************************************
Thank you for reading. If you enjoyed this story, please like or comment, or even tip, all interactions are greatly appreciated.
About the Creator
Amateur storyteller, LEGO fanatic, leader, ex-Detective and human. All sorts of stories: some funny, some sad, some a little risqué all of them told from the heart.
Thank you all for your support.
Reader insights
Nice work
Very well written. Keep up the good work!
Top insights
Easy to read and follow

Well-structured & engaging content

Excellent storytelling

Original narrative & well developed characters

On-point and relevant

Writing reflected the title & theme
Add your insights