Fishing Spot
A summer with my aunt in the woods.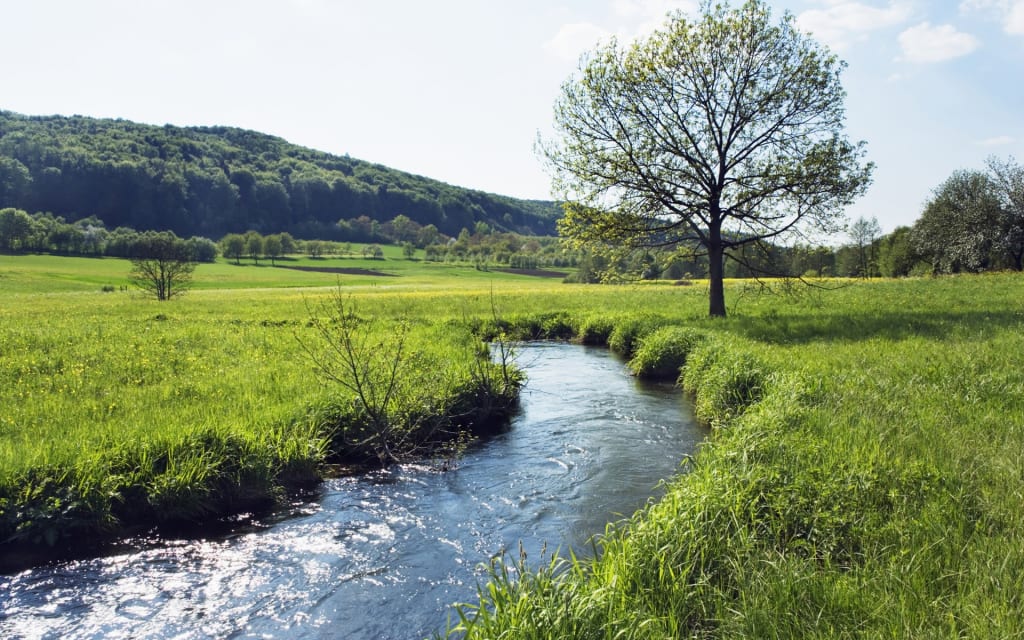 His song rang through the hillside.
"I'm a man with a rod and by golly by gee! I'll catch a trout, or a phony I be! Hey diddle dum, hey diddle hay day! Come out little fishies come out now to play!"
I would always run to the window to watch him, this skinny old man in blue overalls, as he walked through the meadow where we lived. Nearby was a fishing spot, his favorite in the whole river, my aunt once told me, where the trees opened up and the mountains could look down on him like old friends.
Daily, without fail, I was drawn to this passerby. It was as if his out of tune sea shanty was actually a siren song for someone desperate for something dependable in their lives. After all, he was nothing if not dependable. Come rain or shine, hail or sleet, he bore his big toothy grin and swung a yellow fishing bucket back and forth, all the way from the old barn where he lived to the water.
My parents were getting separated at the time, and I had been sent to live with my black-sheep aunt in her lean-to in the hills. She was an artist, not of any specific medium, but of life. She had a brave and vulnerable heart, and the wildness of the landscape reflected in her eyes, like you would expect from the eyes of a jackal. I'm not sure she paid her taxes or had running water, but it was a lifestyle uniquely and willfully hers.
When I think back to that time, I remember only fleeting watercolor images of dark trees and canned peaches, and the song of the old man who lived in a barn down the way.
One day, I recall, the man did not arrive with his song. I sat at the window holding my breath, long after he should have gone past. My throat grew closed and tears filled my eyes as I sat there, angry at myself for trusting someone, again.
Finally, full of rage, I flew out the door, water flowing down my face as I ran against the wind. My feet disappeared beneath me as I catapulted forward, followed closely by my bewildered aunt who panted, screaming my name. I would not stop and I would not respond. I was despondent, betrayed by life once again.
Soon the old man's barn came into view. It was an ancient, white-washed building that looked like it could blow away with the wind. Desperate not to get caught, I hung a sharp left turn around the corner of the barn, only to slam straight into the singing fisherman. He didn't seem to notice the impact.
I peered around him to see a small cross that had been pounded into the earth many years ago, the mound of dirt in front of it blanketed in freshly plucked wildflowers. My aunt came hollering after me a few seconds after, only to grow quiet as she saw what I had.
We three stood there a long time, hearing the sounds of the birds around us, and feeling the sun grow warm on our backs. When the sun started to set, the old man kneeled down, knees sinking into the damp soil, and sang a tune I hadn't heard before.
"O sweet Anne-Marie I won't forget ye, how could I darlin, the years that had we? I wish I could hold you again in my arms, I wish I could witness your sweet southern charms, But I trust and I hope and I pray and I beg, that I'll see you again my sweet Anne-Marie. Happy Birthday, darlin."
As his song trailed off he became silent for a few moments, before turning around to face us, eyes big and shining. Then, I heard him speak for the first time.
"It always seem, only the good things go away, don't it? Well what a gift, I think. To have somethin' so worth missin'."
I don't remember leaving the old man and Anne-Marie that night, but we must've wandered back home at some point, because I woke up the next morning just in time to hear him singing as walked down to his fishing spot.
I didn't get his name that day, and when I tried to ask my aunt about it a few years later, she was too far in the grasps of dementia to know.
For a while, I thought he was a dream, or a ghost, or an angel, but when my aunt finally died, I realized. He and his old barn and his fishing spot, and that heart-wrenching summer not knowing what was going to happen with my life or the people I loved most, even my aunt, it's all just something worth missing.
Short Story
About the author
I write funnies, creepy crawlies, and psychedelic wah-wahs. You can catch me crying on TV sometimes. @casadill67 @grownupbedtimestories
Reader insights
Be the first to share your insights about this piece.
Add your insights