EARTHBORN
PART ONE: TO THE STARS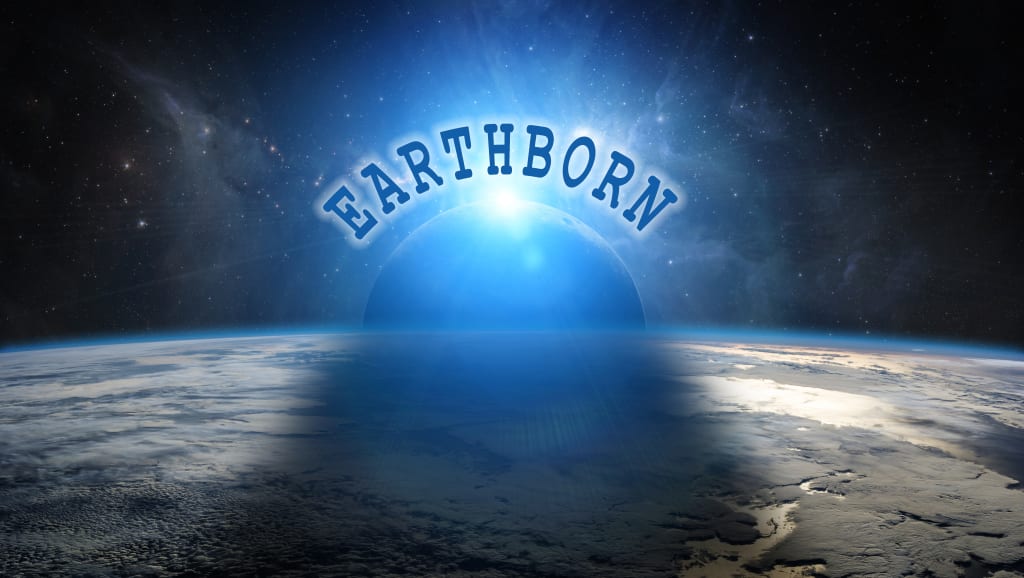 Written by George Kelly & Louis Cruz Jr.
EXT. CHARON - PLUTO ORBIT - SPACE
A small camp, complete with auto-domes lies crystalized in the barren ice-land. A trawler, decal-ed with "ZAMANI PROPULSION" on the side, bi-wheeled along it's X-axis with small rounded cockpit suspended between each massive wheel, CRUNCHES it's way down into a smooth-bored tunnel.
VICTOR (V.O.)
Gold Digger Actual, this is Gold Digger One. On board is Dr. Jessica Kilmarnock and myself, Major Victor Thomas.
INT. MINE SHAFT - CHARON - CONTINUOUS
The tread on the trawler's massive tires grip the ice and flood lamps shine off the slick walls of the shaft, making the trawler a massive dark spot in the shimmering shaft.
GOLD DIGGER ACTUAL (V.O.)
Copy that Vic, if you're going to the store, get me a coffee.
INT. ZAMANI TRAWLER - CHARON - CONTINUOUS
The cockpit of the trawler is darkened, despite the brightness of the flood lamps outside the vehicle. The only light coming from the multitude of screens lining the terminals in front of the two occupants.
VICTOR (laughing)
I'll be sure to do that Gold Digger Actual. Decaf?
VICTOR THOMAS(37), brown hair, blue eyes, glances over at his companion, completely hidden behind her helmet's faceplate, silent as a ghost. Shaking his head, he reaches over and flips a few switches.
GOLD DIGGER ACTUAL (V.O.)
Wha? Decaf isn't in my vocabulary.
VICTOR
We're going to get eyes on this cavern the bore-head opened up against. Doc says the density readings don't match the video feed.
INT. MINE SHAFT - CHARON - CONTINUOUS
The Trawler grinds to a halt in front of a jagged, but small, barely-human sized, opening in the slick, melted, tunnel wall. Steam FWOOSH-es from external vents, instantly crystalizing in the insanely cold atmosphere.
VICTOR (V.O.)
Well Doc, I don't think we'll fit. Did you bring your hiking shoes?
INT. ZAMANI TRAWLER - CHARON - CONTINUOUS
The Doctor doesn't verbally respond, she just nods and gives the thumbs up, still faceless behind her reflective faceplate. Victor grabs his helmet off it's storage hook and bolts it on with a HISS.
EXT. MINE SHAFT - CHARON - CONTINUOUS
PSSSH! A ramp lowers from the rear of the spherical cockpit and the two depart, their shoulder lamps illuminating the way. Ducking to get through the jagged portal of ice, the two stop short.
INT. ICE CAVERN - CHARON - CONTINUOUS
The other side of the small hole extends out into a medium sized cavern. The two explorers, helping each other through the portal, stand up to their full heights. Victor gasps. Among the stalactites of ice, what appears to be a craft, sleek, wedge-shaped, lay frozen, gripped by this moons death grasp.
VICTOR
Great holy hell.
Smiling, he taps his wrist and static in his ear.
VICTOR (CONT'D)
Gold Digger Actual, this is Gold Digger One. I think we found it.
GOLD DIGGER ACTUAL (V.O.)
Say again!? You found it!?
Victor looks over at Doc, still faceless, her attention taken by the craft.
VICTOR
We found it! It looks just like the Black Knight.
Victor bounces closer to the craft. As he gets closer, running lights along the edge of the craft react to his presence and glow a soft orange.
DOC
Except this one has power.
GOLD DIGGER ACTUAL (V.O.)
Oh excellent! See if you can get inside. The spike should work, we wrote it in the code we found aboard the Black Knight.
She taps the terminal attached to her wrist and a low WHINE emanates from the craft, causing them to take a step back in pause. The running lights turn blue. A door on the side slides open and the interior lights up. Doc let's out a WOOP!
VICTOR
Let's see what we can see. Ladies first.
Victor and Doc bounce up to the opening in the hull of the craft and enter.
INT. DERELICT SHIP - CHARON - CONTINUOUS
The inside of the small cabin glows a faint orange and blue, the source indiscernible. Ancient holographic terminals spring to life, startling the duo again.
VICTOR
Ha ha! Ok now, that's somethin' alright.
Doc walks right up to one of the holographic displays and opens her wrist mounted screen, she begins tapping. There's a hum, and a blast of static, then a modulated voice in an unknown language.
VOICE (V.O.)
Blee-khestro. Algarran Axa.
VICTOR
Uhhh.
DOC
Hang on, let's try this.
She presses a button on her wrist and panels begin to jump to life, flickering. Towards the back of the cabin, a panel slides down to reveal a floating, pulsating, gyrating, levitating orb of unknown material.
DOC (CONT'D)
Uploading linguistic database. Hopefully it'll speak our language now.
Victor is staring at the floating orb, almost transfixed. It's silvery light casting an ominous(or exciting?) glow on his face.
VICTOR
Never mind that. What is this beauty?
VOICE (in english)
Power source, navigation storage.
Doc approaches Victor from behind, raising the reflective faceplate to reveal a cold looking woman, black hair, brown eyes, sharp features.
DOC
A power source?
Victor looks back at Doc, her face awash with the silvery light.
VICTOR
Doc, this changes things...
The orb pulses and gyrates.
EXT. DERELICT SHIP - CHARON
The ship sits frozen in the ice.
VICTOR (V.O.)
...this changes everything.
SUPER: EARTHBORN: PART ONE: TO THE STARS
EXT. NEW BOOTPRINT WAYSTATION - MOON - MORNING
Nestled in the sea of tranquility, New Bootprint Waystation is the central hub of off world traffic from earth. Massive geodesic domes surround a huge star port. Freighters line up, waiting for their authorizations to land and offload their wares. It is the nerve center of humanity, serving as mission control for off-world activity and entertainment.
ZACK (V.O.)
Unity. Even in this new "Age of Peace" it seems like such a foreign word. We are a decade removed from the Belt War and I'm told that tensions are escalating, that they are at an all time high.
INT. NEW BOOTPRINT WAYSTATION - MOON - MORNING
Massive crowds thrum through the man-made tunnels and domes like Black Friday shoppers trying to get to the next deal. It's Times Square on crack.
ZACK (V.O.)
Classism...greed...selfishness, are driving these tensions and threaten to bring our society to the brink once more. Unity must be more than the thing of dreams. It must be real. It must be tangible.
Entire crowds stand in packed causeways watching public vid screens, all tuned to the same signal: Zack's broadcast. ZACK MEYERS(33) sandy brown hair, brown eyes stands in front of an iridescent opal podium with gold trim, emblazoned with the rounded logo of SOLAR MINING COMPANY. His image is being broadcast on the system wide public access network.
EXT. MARS - SOL SYSTEM
Patches of green marble with red as Mars is now terraformed.
ZACK (V.O.)
Remember what ended that war? A tangible promise.
INT. MUCK'S TAVERN - HOLDEN CRATOR - MARS - NIGHT
The rustic tavern glows with an earthly orange created by butane lamps, furs from various earth animals line the walls as decoration along with skulls and antlers of all sizes. Behind the bar, Zack's face looms on the large flat vidscreen.
ZACK
When my father uncovered the treasonous acts of Ichiro Toriyama, former CEO of Zamani Propulsion Technologies. To hide a discovery the way he had, a discovery that could have put an end to the war. What a shame.
Zack looks dead into the camera, staring out at the patrons of Muck's Tavern. The screen shimmers and cuts to a small fleet of science vessels suspended in Pluto's orbit. Charon suspended in the background.
ZACK (V.O.)
However, I didn't pay for this screen time to give a history lesson. No, today, I bring you the tangible promise of that discovery made reality. BEHOLD!
EXT. PLUTO - QJMP TEST FLEET - TEN YEARS AGO
The words "ARCHIVE FOOTAGE" appears on the bottom of the screen along with a timestamp showing a date ten years prior. The image zooms quickly and focuses on a small craft, wedge shaped, with blue running lights along the angled edges. A spacewalker clings to the side of the craft, a monkey wrench floating next to it.
VICTOR (V.O.)
Ground control, this is Major Victor Thomas, all checks are green on my end. Ready to make history, fellas?
INT. QJMP PROTOTYPE SHIP COCKPIT - CONTINUOUS
Touchscreens bathe Victor in a green glow. The Zamani Propulsion Technologies logo spins lethargically on one of the screens while gauges, sliders and stats run across the others.
GROUND CONTROL (V.O.)
That's a copy Major Thomas, waiting on confirmation from your guest there and we'll let 'er rip. You've really made the grade Vic. We're proud of you.
SPACEWALKER (V.O.)
I'm just recalibrating the inertial dampening system. Ya know... just in case. We don't want your guts splattering all over the controls.
EXT. QJMP PROTOTYPE SHIP - PLUTO
VICTOR
Oh. That makes me feel really comfortable. Will you at least tell my wife, I love her very much?
GROUND CONTROL (V.O.)
Ok, Major Thomas. Please check ignition. We're commencing countdown and launch in two minutes.
An explosion on one of the ships in the fleet catches Victor's attention.
GROUND CONTROL (V.O.)
What was that-
Victor's ears fill with static.
EXT. PLUTO - QJMP TEST FLEET
More ships explode as W.A.S.P.(Weaponized Aerial and Space Platform) Fighters and boarding ships bearing the Solar Mining Company logo launch a surprise attack on the small fleet. Ship after ship blow apart.
EXT. QJMP PROTOTYPE SHIP - PLUTO
A W.A.S.P. Fighter buzzes close over the ship, close enough for Victor to see the pilot giving the strange craft a quizzical look.
INT. QJMP PROTOTYPE SHIP - COCKPIT - PLUTO
Screaming and gunshots burst through the static on the radio. Victor presses buttons, panicking.
VICTOR
Ground Control? What the fuck is going on?
More screaming and gunshots. A gurgle.
VICTOR (CONT'D)
Ground control!? Ground Control, this is Major Thom-
Ground Control's voice cuts him off with a harsh whisper.
GROUND CONTROL (V.O.)
Victor... Victor listen. They're killing us all. It's over.
The Spacewalker's terrified face plasters against the glass, peering in.
VICTOR
Killing us!? Who?
SPACEWALKER
Those are SMC snub-fighters.
GROUND CONTROL (V.O.)
It's Solar Mining. They've found us. Victor, we have to get rid of the evidence.
VICTOR
Evidence? The ship? Give me control, I'll get it out of here.
Victors touchscreens lock. Klaxon alarms begin to sound in the ship, warning of imminent launch.
VICTOR (CONT'D)
Ground Control, what just happened? The circuits dead, something's wrong.
SPACEWALKER
Are you fucking kidding me!? They're launching!?
VICTOR
Whoa, whoa, whoa!
He begins to jimmy the controls back and forth. A dead stick. He tries the screens. Nothing. A humming sound is heard, getting progressively louder.
VICTOR (CONT'D)
Oh shit... Here we go.
EXT. QJMP PROTOTYPE SHIP - PLUTO
The W.A.S.P. fighter rounds about and locks onto the QJMP ship, peppering it with bullets.
INT. QJMP PROTOTYPE SHIP - COCKPIT - PLUTO
The Spacewalker is hit in the back, spraying her blood all over the cockpit window. Victor stares in horror as the W.A.S.P. launches an explosive.
EXT. QJMP PROTOTYPE SHIP - PLUTO
Space distorts, folding in on itself with a visual POP and the explosive warhead hits nothing. The image freezes at the tail end of the distortion.
INT. NEW BOOTPRINT WAYSTATION - NOW
The crowds are frozen in place, watching the various vid screens plastered all over the walls of the tunnels and domes, all tuned in on Zack's speech. The footage they just witnessed enrapturing them all.
ZACK (V.O.)
Amazing isn't it?
Zack's handsome face returns to the screens, seemingly looking down on everyone system wide.
ZACK
What you just witnessed was the instant transmission of that ships mass across light years of distance.
Zack's image switches again to be replaced by an image of the engine of the ship.
ZACK (CONT'D)
The Quantum Jetless Mass Propulsion System, or QJMP. A technological miracle that would have ended the war had Toriyama done the right thing. Now with our recent acquisition of Zamani Propulsion, we have been hard at work and, after rigorous testing, we are ready to bring this technology to the public.
EXT. COLONY 3D3N "EDEN" - SPACE
The vid screens shift to show an M class planet, with lavender and blue instead of green and blue. One star floats in the distance.
ZACK (V.O.)
Eden, a myth. Now, a new world.
EXT. EDEN'S SURFACE - DAY
Rolling fields give way to a small, but beautiful, prefabricated city being constructed. Work drones and some technicians are roaming or driving about, working on their respective tasks.
ZACK (V.O.)
My father died trying to bring this gift to you. Now I have given his dream life. I wonder if he imagined how this would change everything. How it would unify humanity.
EXT. PLUTO ORBIT - SPACE
The image shifts again, this time to a massive fleet being fitted with QJMP engines. Space-walkers and drones zip about. A massive undertaking.
ZACK (V.O.)
Our birthright, our place in the Galaxy is within our reach. This fleet will be the first of many to bring our species to explore and colonize, to meet new peoples.
Zack's face returns to the screen.
INT. MUCK'S TAVERN - HOLDEN CRATOR - MARS
A man in priest's robes, Father GABRIEL GRAZIANO(52) black hair, brown eyes, sits at the bar, sniffing loudly, he leans over a tall beer watching Zack's speech.
ZACK
Brothers and sisters, today, we're on the cusp. Our path, our birthright lay before us. Our place in the Galaxy will soon be realized. It is with this in mind that today Solar Mining Company announces the "Work to Ride" lottery program. Offering anyone who signs up, a chance to be the one of the first to live on Eden, the first representatives of humanity in the greater galactic community.
INT. SOLAR MINING COMPANY - MOON
Zack leans on his podium, holding up two fingers. His excitement showing across handsome face.
ZACK
Two years. Just two short years and we will be ready. The doors are open and now is the time. Together, we will rise up! Together, we will journey...TO THE STARS!!
He throws his hand straight up, head thrown back, pointing to the ceiling.
SUPER: TWO YEARS LATER - TWO WEEKS TO LAUNCH DAY
EXT. DETENTION FACILITY 1781-B - VENUS ORBIT
The gyroscopic prison rotates on a long spindle of metal, the rings of the prison pods encasing it. It slowly rotates above the marble green/gray of Venuses poisonous atmosphere.
ZACK (V.O.)
Are these the guys?
INT. DETENTION FACILITY 1781-B - WARDEN'S OFFICE
The gleaming white room looks more medical facility than warden's office. Not one inch of warmth or decor, all cool whites and hard plastics. Zack holds a tablet in his hands, looking at a dossier with several photos.
WARDEN
Yes sir! These are the "guys". Captain David Adams, Staff Sergeant Lucy Shiver and these last two -
ADMIRAL BLAKE
Yes, yes, Priest and Bard, we know all about them.
ADMIRAL BLAKE (CONT'D) (To Zack)
Sir, I have to advise against this. We have plenty of security officers that aren't mass murderers.
Admiral ROBERT BLAKE(56), salt and pepper hair, blue eyes, mustache, stands at ease as he speaks to Zack. The WARDEN(45), balding, brown suit, sits at his desk across from the two men.
ZACK
That's the story anyway.
Zack feeds the tablets screen to the large vid-screen adjacent to the Warden's desk. Images of three men and one woman, barely an adult, all frozen in cryogenic stasis appear side by side.
ADMIRAL BLAKE
Sir, permission to speak plainly.
ZACK
Of course Bob. You don't have to ask. I'm just a civilian.
Blake's military demeanor drops and exasperation fills his face. He waves an arm at the screen.
ADMIRAL BLAKE
Sir, these are the soldiers responsible for nuking Old Bootprint. Adams himself has the blood of millions on his hands. Not to mention his squad. Those butchers kill without remorse.
Zack straightens up, the Warden just watches their interaction.
ZACK
Well, I mean, what would you do if your home station was vaporized to oblivion? Wouldn't you retaliate?
Blake slams his fist down on the wardens desk, an involuntary reaction. His eyes full of anger.
ADMIRAL BLAKE
They did retaliate! They wiped out millions of civilians Zack!
Zack ignores Blake's violence toward the desk and looks him dead in the eye.
ZACK
And the ones you annihilated first? Weren't they civilians?
ADMIRAL BLAKE
That station was riddled with sleeper cells and collaborators, that's a known fact.
ZACK
And Bootprint was the launching point of a massive military operation against the stations in the belt. Also a known fact.
ADMIRAL BLAKE
I had no choice.
ZACK
I'm sure Captain Adams and his squad feel the same. Weren't they EDF before?
Blake lets out a heavy sigh and crosses his arms, looking at the vid screen displaying information about the prisoners.
ADMIRAL BLAKE
The best of the best. Adams' decorations were so thick, he could barely stand up straight in his blues.
ZACK
Then why wouldn't I want the best of the best with us on this mission? Scouting or not, we still have no clue what's really out there.
Blake doesn't budge.
ADMIRAL BLAKE
No sir, I will not have those murderers aboard my fleet. Absolutely not.
Zack is taken aback by Blake's unmovable resolve, but smirk s at Blake's gusto and stands to his full height, looking down at the older man.
ZACK
Well, when you've bought and paid for your own fleet, Bob, you can have whoever you want on it's security detail.
Admiral Blake snaps to attention, knowing his place. Zack turns to the warden, pointing up at the screen displaying the frozen bodies of the squad.
ZACK (CONT'D)
Warden, make it happen. Give me Bravo Squad. The Admiral will fill out the paperwork.
With that, Zack turns to walk away, the door of the gleaming office sliding open. The young CEO shoots a relaxed two finger salute to Blake over his shoulder as he leaves.
ZACK (CONT'D)
See you at the launch, Bob!
EXT. NEW BOOTPRINT WAYSTATION - MOON
SUPER: TWO WEEKS LATER - LAUNCH DAY
A fleet of ten massive ships, all retro fitted with the alien looking QJMP engines, looms over New Bootprint waystation nestled into the lunar surface. Shuttles dot the space between the waystation and the fleet, ferrying passengers and supplies to the ships. The logos of various corporations plastered all over the small shuttles.
EXT. MUCK'S TAVERN - NEW BOOTPRINT WAYSTATION - MOON
Muck's Tavern, a famous "rustic roadhouse" themed franchise stands out like a sore thumb among the other plain, modern stores in the entertainment dome. Father Gabriel Graziano stumbles out of the bar and looks down at the small tablet in his hand.
GRAZIANO
Fuck. Gotta get going.
He totters into the alley between the shops, passing three men gathered around a steam vent, cooking some sort of meat. They watch Graziano and when he goes into the alley, they follow.
CARDINAL BYRD (V.O.)
Try not to think about it as exile, Gabe. Hell, you're lucky they aren't defrocking you.
INT. VATICORP INC. FIELD OFFICE - NEW YORK - EVENING - FLASHBACK
Graziano stands in front of a large oak desk, staring at the fat man in red robes, CARDINAL BYRD, wobbling slightly, back turned, looking out the window at lower Manhattan, a wine goblet in his hand. Hover taxis, freight movers, and personal vehicles zip past the window in the sky lines outside.
CARDINAL BYRD
Think of it as...missionary work.
GRAZIANO
Missionary work, my ass, Richard. Here I thought that we preached forgiveness of sins.
The fat Cardinal wheels about, red wine splashing from the goblet onto his red robe, fading into the scarlet color.
CARDINAL BYRD
And faith without works is dead, Father Graziano.
The Cardinal puts his ringed free hand to the bridge of his nose, sighing heavy.
CARDINAL BYRD (CONT'D)
Gabe look, they told me to offer you this new assignment, or be defrocked.
EXT. MUCK'S TAVERN - ALLEY - NEW BOOTPRINT WAYSTATION
The three men attack Graziano as soon as they are out of view of the main thoroughfare.
MAN ONE
We'll take that tablet Old Man!
Graziano doesn't even turn around as he sidesteps MAN ONE's fist, letting it sail over his shoulder as he grabs the man's wrist and yanks down, snapping his arm at the elbow on Graziano's shoulder.
GRAZIANO (V.O.)
Defrocked!? C'mon Richard, we all have a past.
He spins, still holding the mans broken arm, careening Man One's rag-covered body into MAN TWO, bowling him over.
CARDINAL BYRD (V.O.)
Be that as it may, it looks bad if one of the priests in our most prominent congregation is a former enforcer for the Kappabala Mafia.
In one fluid motion, Graziano spins low, sweeping MAN THREE's feet, crashing him to the ground.
CARDINAL BYRD (V.O.)
For Christ's sake Gabe, you've got murder charges attached to your DNA imprint.
Graziano's booted foot crashes down on MAN THREE'S face, crushing his jaw. He stands to his full height, facing Man Two, the only one unharmed. Man Two holds up his hands in surrender, then runs.
INT. VATICORP INC. FIELD OFFICE - NEW YORK - EVENING - FLASHBACK
Cardinal Byrd places his goblet down on his desk and spreads his hands.
CARDINAL BYRD
You don't have a choice, if you're defrocked, VatiCorp can't offer you legal protections.
Graziano stares hard at the fat man standing in front of him, his fist and teeth clenching.
CARDINAL BYRD (CONT'D)
Just take the assignment Father Graziano. It's your best chance at finding peace.
Graziano steps forward, hand outstretched. Cardinal Byrd takes a step back, but Graziano just grabs the goblet and guzzles the contents, wine splashing down his chin.
GRAZIANO
You got it. Disappear into the new frontier, don't embarrass the church, if I don't, I die without the protections of the Corp. See you in the next life, Dick.
Graziano flips up his hood,-
EXT. MUCK'S TAVERN - ALLEY - NEW BOOTPRINT WAYSTATION - PRESENT
-turns and walks towards the launch site.
INT. NEW BOOTPRINT WAYSTATION - LAUNCH SITE - MOON
The crowds THRUM along the packed corridors of the launch site. Families and loved ones saying their goodbyes to the ones going on the voyage, not knowing if they'll ever see each other again. Large cargo crates, peoples entire lives in a box drift by KORI ICHIKAWA(13), long black hair tied back in a tight bun. One long train of cargo boxes passes in front of her and she's gone.
INT. CARGO BOX - LAUNCH SITE - CONTINUOUS
Kori slides between large boxes of luggage stacked haphazardly inside the large cargo box.
ROBOTIC VOICE (V.O.)
Scan initiated!
She curls into a fetal position, covering her ears, clenching her eyes closed, terrified.
ROBOTIC VOICE (V.O.)
Three biologicals found, commencing identification.
EXT. CARGO BOX - LAUNCH SITE
The cargo crates hover pad glitches and the massive tram skips, like hitting a pothole.
INT. CARGO BOX - LAUNCH SITE
Kori yelps as a box slides on top of her, hitting her head and then black.
EXT. SMC SCIENCE VESSEL - TESLA - MOON ORBIT
The oval shaped vessel floats among the other ships in the QJMP fleet, it's reinforced windows large and magnificent.
INT. SMC SCIENCE VESSEL - TESLA - PRESIDENTAL SUITE
SAMANTHA DEMOPOULUS(25) short brown hair, brown eyes stares a hole into the woman on the vid-screen. The room around her is extravagantly decorated, a tell of Sam's very expensive taste.
SAM
He isn't controlling my life, Peg. You've met Zack, you know he isn't like that.
PEG DEMOPOULUS(33), brown hair, green eyes is wide eyed, she leans in close to the screen, speaking quietly.
PEG
Yeah, but isn't he Triumvirate now? Don't they have to mind-move into a synthetic?
Sam shakes her head.
SAM
Oh my god, Peggy. It's not like he's going to become a kill-bot. He'll still be Zack, just better...
She looks away.
SAM (CONT'D)
I guess.
Peg's stern look is amplified due to her booming visage on the screen in front of Sam. She takes Sam's hesitation as a submission.
PEG
Come home, Sam! We're your family! He's just a spoiled trust fund kid. Family first!
Sam sit's up straighter and snorts.
SAM
Family first? Where the hell were you when I got "ring flu" filming out on Titan and almost died? Spending time on Zack's Yacht!
She stands up, pointing at the screen. Peg pales on the other side.
SAM (CONT'D)
Where were Mom and Dad!? Blowing through the stipend I give them on the slots before dipping into my personal account for more.
Peg clears her throat and gets angry.
PEG
Look at how much that fucking "Belt Rat" has brainwashed you. Please! Come back to your family. Don't go... lord knows where that thing will take you!
Sam picks up a small remote, pointing it at Peggy like a gun.
SAM
Belt Rat!? Fuck that! Zack is my family and best of all, he doesn't need my fucking money! And now, neither do you!
She smashes the button on the remote just as Peg is reeling up to yell some more, but the feed cuts off, turning the panel into a news reel of the historic outbound launch.
SAM (CONT'D) (to herself)
Fuckin' bitch.
Taking a deep breath, she sits down on the edge of the king size bed, focusing on the news.
INT. ELEVATOR - SMC MARCO POLO - MOMENTS LATER
News drones hover between a small pool of reporters and Zack as they ride to the bridge of the massive flagship of the SOL System Fleet. He smiles his pearly whites at the myriad of floating lenses pointed at him.
ZACK
Here on the Marco Polo, our state of the art flagship, we will lead the exploration of new and exciting places.
A YOUNG REPORTER, left eye glowing red with a recording augmentation raises a finger to get Zack's attention.
YOUNG REPORTER
How exactly does this, uh... Q Jump engine work?
Zack smiles warm at her, enthused at her question.
ZACK
Excellent! The QJMP's utilize the phenomenon of Quantum Entanglement to-
He does air quotations.
ZACK (CONT'D)
-"latch" onto subatomic particles at coordinates of our choosing and then through a miracle called Quantum Tunneling, we transmit physical "data" to that point.
The reporter nods and types into her personal tablet.
ZACK (CONT'D)
It's really a revolutionary technology.
Another reporter jumps in:
REPORTER TWO
How exactly will the ships coordinate?
ZACK
Each ship houses a central, independent A.I., all slaved to the bridge here, on the Marco Polo.
REPORTER TWO
And is there an A.I. on board this ship? Or is it run by human error?
Zack smiles at him.
ZACK
Say "Hi", Marco.
A thickly accented male voice chimes in from seemingly everywhere.
MARCO POLO (V.O.)
Ciao amici miei. How are you this fine day?
The reporter pool chuckles.
REPORTER TWO
Ok, fair enough. Hello Marco.
The door of the elevator slides open.
INT. SMC MARCO POLO - BRIDGE - CONTINUOUS
The bridge of the Marco Polo is a technological wonder. State of the art panels, holograms, and consoles line the large wrap around windows.
MARCO POLO (V.O.)
Five minutes until launch. Please find your seats.
The reporters are met by a liaison who ushers them to their seats. Zack strides forward to stand next to Admiral Blake, gleaming in his white service uniform.
ZACK
Ready, Bob?
ADMIRAL BLAKE
Ready Zack. You?
Zack takes a deep breath.
ZACK (to Blake)
I am.
ZACK(to Marco Polo)
Marco, put down the cards and gather the team. It's time to take us to the stars.
INT. MARCO POLO'S INTRANET - VIRTUAL WORLD
Ten personality constructs, all based off of their respective ships names, mill around a virtual pilots lounge. A man in Italian attire circa 1265 A.D. sits at a poker table with constructs in the likenesses of TESLA, DAVINCI, and MAGELLEN.
MARCO POLO (to Blake)
Pronto, signore.
They all sit up straight, their neural networks getting the green light to launch.
MARCO POLO (CONT'D) (to the other A.I.)
Mettiamoci al lavoro, signori.
One by one, the A.I.'s vanish from the pilot's lounge, not a single one of them noticing the small, black, blurry figure melt out from behind the construct of a decorative plant and into the construct of a ventilation shaft.
INT. SMC MARCO POLO - CARGO BAY 17 RELAY HUB
Kori sits sleeping, huddled against a relay panel in the small hub, it's lights flashing a soft red, reflected onto Kori's forehead.
ROBOTIC VOICE (V.O.)
Upload complete. Resume primary objective.
The flashing on Kori's forehead perfectly match the blinking lights, she stirs and turns her body.
ROBOTIC VOICE (V.O.)
Primary objective incomplete, continuing secondary functionality.
INT. SMC MARCO POLO - BRIDGE - CONTINUOUS
Marco Polo, looking comically out of place amongst the modern dressed flight crews stands next to Zack and Admiral Blake. Blake looks in awe at Marco.
MARCO POLO
Ammiraglio, it is hard to concentrate when you're staring at me like that.
Blake looks at Zack.
ADMIRAL BLAKE
It looks so real.
Zack pats Marco on the arm.
ZACK
Feels real too. Hard light projectors. Top of the line, spared no expense.
ADMIRAL BLAKE
Ah, the fancy toys and trappings of the ultra rich.
Zack laughs loudly.
ZACK
Damn right, Admiral! Ok, let's do this. (to Marco) Marco... TO THE STARS!
Flashes from the news drones assure Zack that his moment will definitely go down in history. Marco closes his eyes, a digital gauge on the panel in front of Zack and Blake begins to fill up.
MARCO POLO
Priming.
The gauge increases.
MARCO POLO (CONT'D)
Tunneling nel Cinque-
INT. SMC MARCO POLO - CARGO BAY 17 RELAY HUB - CONTINUOUS
The flashing light on the relay panel and the reflection on Kori's forehead increase in tempo.
MARCO POLO (V.O.)
Quattro-
INT. SMC SCIENCE VESSEL - TESLA - PRESIDENTAL SUITE
Sam watches the news feed from the bridge of the Marco Polo, gazing at her lover with pride, the remote control clutched in her hands, a huge diamond attached to a gleaming band on her left hand.
MARCO POLO (V.O.)
Tre-
INT. SMC MARCO POLO - CARGO BAY 17 RELAY HUB
The flashing on the panel and Kori's forehead goes solid.
MARCO POLO (V.O.)
Due-
ROBOTIC VOICE (V.O.)
Primary Objective located.
INT. SMC MARCO POLO - BRIDGE - CONTINUOUS
MARCO POLO
Uno!
Alarms blare, the bright white lights of the bridge turn a deep red. Consoles across the entire bridge begin to shut down. Everyone aboard looks around, worried.
ZACK
What's going on!? Marco!?
MARCO POLO
Malfunction! Malfunc-
EXT. NEW BOOTPRINT WAYSTATION - LAUNCH SITE - MOON
With an unceremonious visual POP! The entire QJMP fleet, the first human civilian pioneers to extrasolar adventure, are gone.
EXT. UNKNOWN SYSTEM - SECONDS LATER
Another visual POP! and two stars bathe the Earthborn fleet in fresh, yellow light, brighter than SOL. A brown/red planet floats below the ships.
MARCO POLO (V.O.)
-tion!
INT. SMC MARCO POLO - BRIDGE
The lights go off, cloaking everyone in darkness before emergency power begins restoring the ships systems.
ZACK
Marco? What the fuck was that!?
MARCO POLO
Unsure, Capo.
The lights flicker back on and panels power back up.
BLAKE
What the fuck is that!? Oh fuck.
Blake slams his fist down on a large red button on his command station.
BLAKE (CONT'D)
Battle stations! This is Admiral Blake, this is not a drill-
Zack looks out of the forward facing window.
ZACK
What the-
A massive fleet of ships, alien, angular and sharp loom before the human fleet, moving in the way of one of the suns. Blake is virtually screaming into the console.
BLAKE
-all security forces report to battle stations! W.A.S.P. wings Alpha, Bravo, Delta report to fighter bays for defensive deployment. Prepare for battle!
Before them, various weapons batteries rotate to turn their red hot barrels directly towards them.
CUT TO BLACK
Script
About the author
Co-creator of "Earthborn", "The Strange life and Times of Justin Cayce", George lives for creating realities and writing the stories to fill them.
The Los Angeles Film School(Bachelor's)
iNLP Center(Master's)
Reader insights
Be the first to share your insights about this piece.
Add your insights