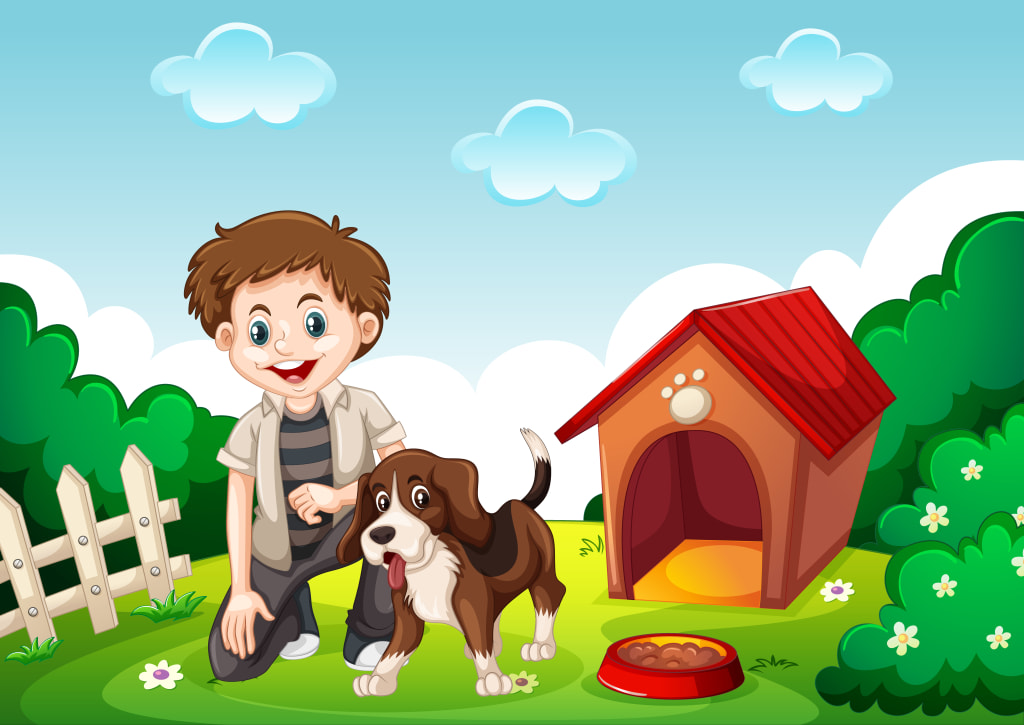 Lucy is a cute dog that was golden retriever, and Lucas was a young boy who lived alone in a small apartment. They met one day when Lucas was walking home from work and saw Lucy sitting alone on the sidewalk, looking sad and lost.
As Lucas approached her, he noticed a small tag on her collar with her name and contact information. He called the number on the tag and was relieved to hear from Lucy's owner, who explained that she had run away from home and he had been looking for her all day.
Lucas offered to keep Lucy with him for the night and take her back to her owner the next day. But as he spent time with her that night, he found that he didn't want to let her go. Lucy was gentle, affectionate, and always eager to please. Lucas had never felt such a strong connection with any other living being.
Over the next few days, Lucas and Lucy spent all their time together. They went for long walks in the park, played fetch, and cuddled on the couch while watching movies. Lucas had never been a dog person before, but he found himself falling in love with Lucy's sweet and loyal nature.
As time went on, Lucas came to the conclusion that Lucy was an essential part of his existence. He was aware that he needed to discuss the possibilities of keeping her permanently with her owner. On that particular day, as Lucas was cooking, he brought up Lucy and went to the owner's home. He abruptly turned to gaze at the dog, who was acting incredibly friendly and playing with him. Owner was overjoyed to realise their love connection.
And One day afternoon, Lucy's owner called Lucas and explained about the dog's likes and dislikes. To his surprise, Lucy's owner was moved by Lucas's love for his dog and agreed to let him keep her. While at the moment Lucas really happy and he was thinking that he would keep Lucy safe and healthy.
From that day forward, Lucy and Lucas were inseparable. They went on adventures together, explored new places, and played food ball together. Lucy was a great food ball player who could run faster than Lucas. Both shared countless memories. They were the best of friends and the most devoted companions.
Lucas knew that his life would never be the same without Lucy. She had brought so much joy and love into his world, and he was grateful for every moment they spent together. He realized that sometimes, love can come in unexpected forms and change our lives in the most wonderful ways.
Following their morning walk, they chatted for a while, took a brief break, and then Lucas took Lucy to the bathroom so she could have a shower. This was one of their morning rituals. Cleaning up after his adorable dog Lucy made him extremely happy. Following a bath, the two start singing and dancing together as well as shooting pictures to post on social media.
The majority of Lucas' fans and followers were Lucy's. Every day on social media, Lucy's followers excitedly anticipated her gifts, and her fans also gave her outfits and upscale, hygienic delicacies. Lucy enjoyed eating the items a lot. As requested by her followers, Lucas dressed Lucy, fed her meals, and broadcast all of this on social media.
Lucas felt a deep sense of peace and happiness and was very famous. He knew that he had found a love that would last a lifetime.
About the Creator
I love to read stories and write stories and also get more views and motivations comments.
Thank you
Reader insights
Be the first to share your insights about this piece.
Add your insights