Changeling; Chapter 3
Chapter 3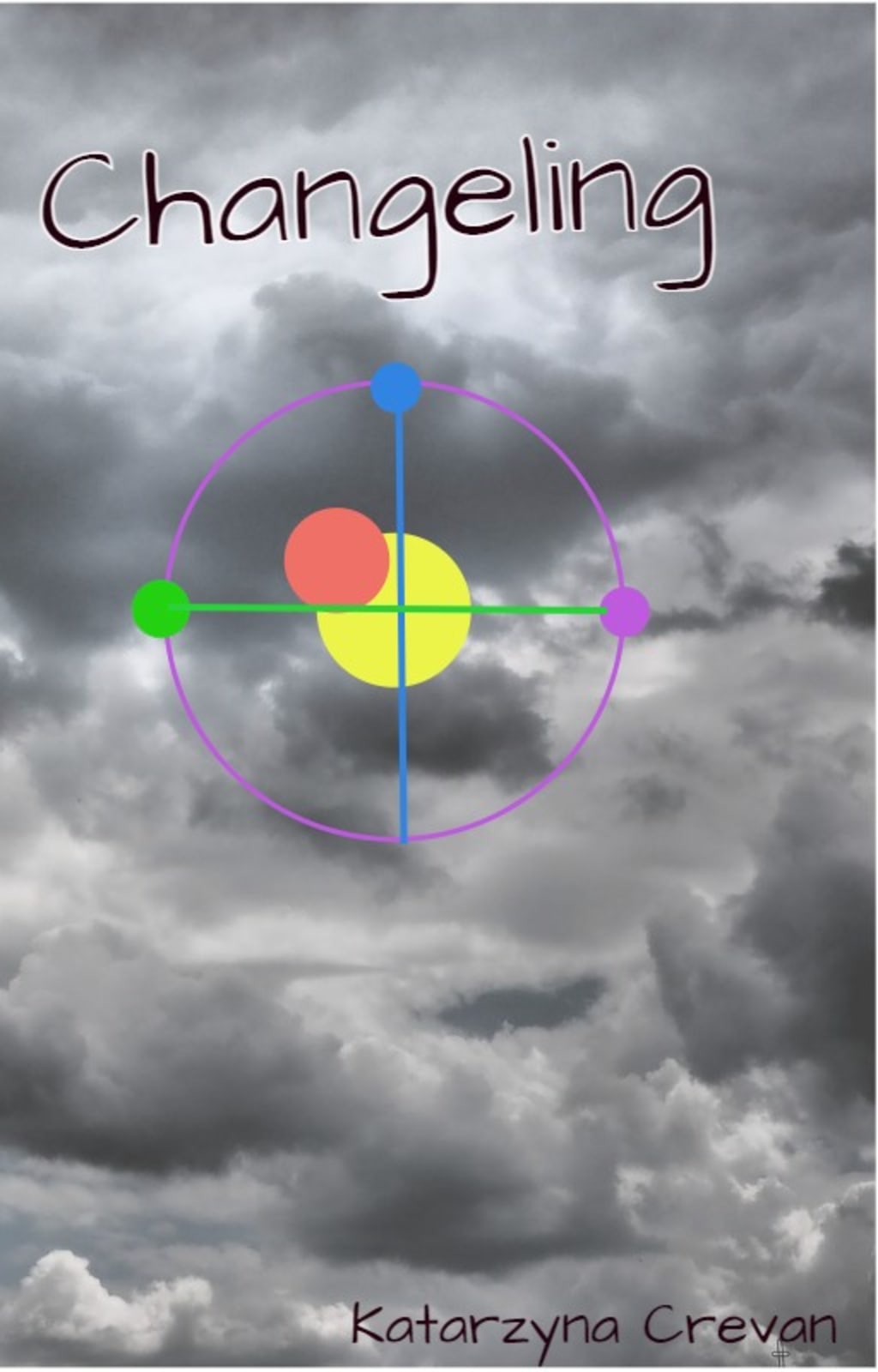 By the time we pull up, the small parking lot in front is nearly filled. Any later and we'd have had to park in the lot across the street. As soon as she's out of the car, Ava is working on calling Fin. He finally answers as we're walking through the door.
"Where are you?" She asks, looking around the packed bar.
She pauses, turning right. Another pause, then a turn left. I follow her line of sight when she lifts her hand. Fin stands by a table, one hand in the air waving at us, the other holding his phone to his ear.
"We see you," Ava says and lowers the phone to hang up.
I can see Fin sit back down as we begin to pick our way through the crowd. He crosses his arms as we sit.
"You insist I come and then take forever to get here? Do you know how many dirty looks I've gotten for holding this table?" He demands.
Ava reaches out, patting his arm. "You poor thing."
"Thank you, Fin," I tell him. "It was greatly appreciated."
The annoyed look melts from his face. "You're welcome, Kaelynn." He looks over at Ava. "I guess you're welcome too."
Ava rolls her eyes. "Fine. Dinner is on me, happy?"
Fin blinks in surprise. "Wait, what? No. I was gonna pay for dinner."
"You can't get mad at me for not saying thank you and then not let me do what I was going to do to say thank you. That's not how it works, Fin. Pick a lane."
Fin's eyes narrow.
I quickly hold up my hands. "You guys do know we can split the tab, right?"
They both look at me and then at each other. Ava tilts her head, giving him an almost expectant look.
"I mean, uh, yeah, sure, totally," Fin agrees, scratching at the back of his neck.
Ava rolls her eyes. I give her a questioning look. She shakes her head. Alright then.
"I'll take the orders up," Fin offers, rising from his chair. "What do you guys want?"
"A burger," Ava answers first. "Their signature burger. I never think I want it till I'm here."
"I'll take their club sandwich," I tell Fin. "And to drink-"
"Water and a strawberry lemonade," he finishes. I give him a look. He quickly looks away. "It's what you get every karaoke night."
"Tell Barry I want a coke and rum, hold the coke," Ava cuts in.
Fin gives her a look. "I will not order that for you."
"Oh, come on. I always ask Barry for one."
"Then you go ask him for that," Fin responds as he turns away.
"You're no fun!" Ava calls after him.
I turn to look at her. "You know you have to come here on your twenty-first birthday and order that."
She gives me a look. "I do that, and Barry is for sure going to kill me." Her head tilts to the side, "But it would be worth it for his reaction." She smirks. "I think I will."
By the time Fin returns from placing the order with our drinks, the official start of karaoke night has been announced and the first singer is up. By the time our food is delivered, we've more or less narrowed down what songs we want to sing to two or three. I'm halfway through my food when Gina finds me, demanding a song together. Ava immediately encourages this, and I'm being dragged off to the stage.
The emcee nods to us as we stop by him, asking what song we want to do.
"Telephone," Gina answers immediately giving me a knowing smile.
I can't help but smile in answer. The coach for show choir hadn't been able to decide which of us should have gotten a solo, so she made us split the song. Two new freshmen both talented and vying to be the lead female soloist. I don't think she had expected us to end up getting along as well as we had.
The emcee looks at me to confirm it's what I want to do as well, and I nod. He nods back, turning to his computer to plug it in.
"Alright, you girls are up next. Know the drill?" He asks. We both nod. He nods again, holding out one more mic. "Once the stage is clear it's yours."
Gina accepts the mic and is of course the first one up on the stage. I accept the mic from the guy coming down off the stage. It's been a while since we performed this together, but once the music starts, the choreography comes right back.
When the song is finally over, we're met with loud applause. We're both laughing as we step off the stage, surrendering our mics to the next couple doing a duet.
Gina is quick to hug me. "You killed it, as always."
"Don't sell yourself short, you did great too," I say, hugging her back.
She laughs, releasing me. "Let me know if you want another duet."
I give her a look. "You'll have to find me. I obviously have to do my solo and Aves would kill me if she didn't get a duet."
Gina laughs again. "So true. Well, I guess we'll see where the night takes us." She gives me a mischievous wave as she turns away.
I head back to my table alone. Ava is still eating, but Fin has finished. This leads Ava to prompt him to go do his solo. Fin objects, pointing out that he never went for solos in show choir, not really being a great singer, having only really come tonight because we wanted him to. After a bit more back and forth, Ava gets him to at least agree to a song with us.
I've just finished when Ava suddenly points at me.
"Here's to us," she says.
I blink. Fin reaches out, grabbing his glass to lift it. Ava gives him a look and he lowers his glass.
"The song Here's To Us. That's what we should sing. We always wanted to duet it in show choir but we never got to. We should do it now."
I glance over at the stage. "There's no line right now."
Ava is up in a split second. "Let's do it!"
"Hold on." I grab my glass taking down the last of the strawberry lemonade. "Alright. Now let's go."
Ava grabs my hand, almost knocking me off balance when she starts for the stage.
"Ava!" I half-heartedly object with a laugh.
"Knock 'em dead!" Fin calls, giving me a supportive wave.
About the Creator
Hi! I enjoy writing and have been writing for some years now. You can find me on Instagram (@katcrevan_writes). I hope you enjoy my writing!
Reader insights
Be the first to share your insights about this piece.
Add your insights