Bree, I'd Like to Meet You
"What if she wants someone rich and successful?" David thought to himself. "I'm a regular guy," he continued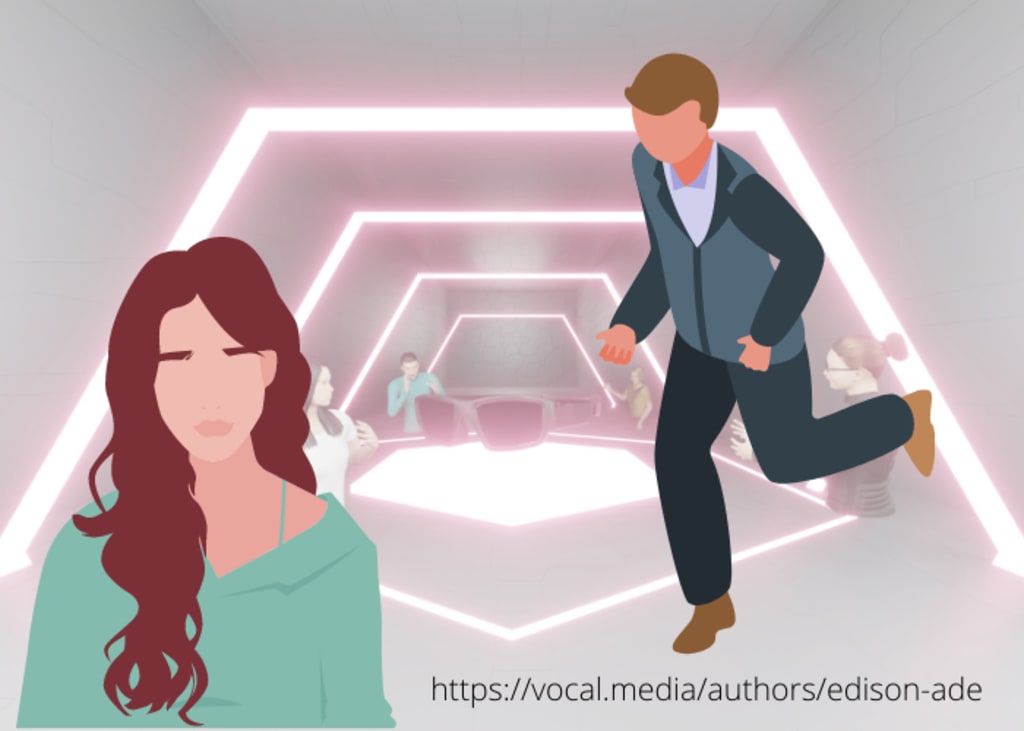 Check out Part I here: Bree the chatterbox
David never thought he would end up at this age, living in a small apartment all by himself in London. He had always dreamed of a life full of adventure, and yet here he was, staring at his twenty-ninth birthday and feeling like it was already over. He had been trying for years to keep things interesting, but the truth was that he had never really been able to meet anyone who made him want to stick around.
But then there was Bree. She lived in New York, and she seemed to be just as adventurous as David himself — and she certainly had a better sense of humour than anyone else he'd ever met. They were always laughing together and having so much fun that it felt like they could barely get anything done.
He wanted to tell her how he felt about her, but something held him back. He wasn't sure if she felt the same way about him, or even if she was interested in a relationship at all. But tonight, he thought, tonight I'm going to do it — tonight I'm going to tell Bree how much she means to me, and I'm going to ask her if she wants to start dating me.
David had been talking to Bree for months now online. She was so sweet, and she was also really funny. He spent many nights fantasizing about the two of them together, maybe even living with each other. But it seemed too good to be true — and his track record with relationships wasn't great.
"What if she wants someone rich and successful?" David thought to himself. "I'm a regular guy," he continued, "I don't have a corner office on the top floor. I don't have a butler to make me breakfast in bed. I live in an apartment above a fruit shop, for goodness' sake! Why would she want anything to do with me?"
He sighed, sinking his head into his hands and letting out another deep sigh. This was driving him crazy. He was worried about how things were going to work out, wondering what would happen if they met up in real life, worrying that she'd think he was boring or ugly or both — not the kind of person she'd want to date at all.
He closed his eyes again and leaned back in the chair, trying to calm down. He had to let go of these feelings so he could focus on the project at hand — the presentation tomorrow. But it wasn't easy. He was excited and nervous about seeing Bree, but also really worried that he wouldn't be able to say anything interesting or intelligent about the company's new product line when it came time for his part of the presentation…
But David couldn't really concentrate on the product presentation. I need to see Bree, he thought. If I'm going to do this and make it work, I need to be there with her.
He had been saving up money to buy a new car, but he decided he would use it to go see Bree in New York instead.
David was having trouble concentrating. He knew what he needed to do, but he couldn't bring himself to do it.
He picked up his phone and dialled Bree's number. "Hey, Bree," he said as she picked up. "I need to see you."
"What's going on?"
"I'm coming to New York," he said. "I have a few things to take care of, but I will be there in a few days."
"David, what's wrong?" Bree sounded concerned.
"Nothing," David said. "It's just… I need to see you."
Bree paused for a moment and then said, "Okay. I'll see you soon
David dialled the travel agent and made all the necessary arrangements. After that, he went to a clothing store to get a suit. He looked at himself in the mirror, smiling. I need to look like the perfect gentleman for her he thought to himself.
Then, he went to a gift shop to get a bag he was going to give to Bree when they met.
He then went home, put his purchased clothes on his bed and put on his pyjamas. He wanted to sleep early so he could get enough rest before going to New York tomorrow.
David's alarm rang. He reached out to hit the snooze button but realized that today was the day he was going to New York. He jumped out of bed and hurried into the shower. As he lathered himself up with soap his phone rang. Could that be Bree? He wondered as he rinsed off quickly and hopped out.
David picked up the device and answered it, sounding more than a little groggy. "Hello?" he asked as he rubbed his eyes.
"Hey! Did I wake you up?" said the voice on the other end of the line.
"Not really" David replied through a yawn, "I was actually in the shower"
There was a pause on the other end of the phone. "Do you know who this is?" David couldn't recognize the voice — it sounded suspiciously like his mother's but with a deeper pitch.
David scratched his head, still trying to wade off the soap in his eyes. "Bree? Is that you? Are you ok?"
"It's me!"
David heard a quiet sniffle on the other end of the line. "Bree, what's wrong?"
There was another sniffle and then a long pause. "I'm so sorry, David. I might not be able to see you if you come to New York."
David felt his heart drop into his stomach. "What? Why? This is all so sudden — are you ok?"
Bree responded in a quivering voice: "Oh, a lot going on around here… I am not feeling too good, not sure it is a good time for you to come"
David tried to stay calm as he asked: "What's going on? Is there anything I can do to help?"
Bree said nothing for over a minute. David could hear her breathing and knew she was still there so he waited patiently for her response.
David could hear the tears in her voice. He wanted to comfort her, he wanted to know what happened, but he also knew that she would tell him when she was ready.
Bree sighed deeply. "No, no, nothing right now," she said softly. "I'll call you when I'm feeling better."
David took a deep breath and tried to think of some words of encouragement but found himself at a loss. He knew how hard it was to be far away from the people you love, and he didn't want to make Bree feel worse by being insensitive or coming on too strong with the advice she might not be ready for yet.
"I understand," he said finally. "But I'm here for you — always. Let me know if there's anything I can do to help with your situation, whether it's coming over or just talking on the phone."
David felt a wave of sadness wash over him as he sat gently on the couch, alone in his apartment, staring at his flight ticket to New York. What if I told Bree I already got the ticket, would that change her mind? He was about to say something when she hung up. David sighed and set the phone down on his lap. He looked at the ticket again and knew it was useless. The trip wasn't going to happen without Bree. The thought of not seeing her made David's stomach turn.
(c) 2022 Edison Ade
You may also like:
If you missed Chapter 1: Bree the Chatterbox ...
Reader insights
Outstanding
Excellent work. Looking forward to reading more!
Top insights
Excellent storytelling

Original narrative & well developed characters

Expert insights and opinions

Arguments were carefully researched and presented

Eye opening

Niche topic & fresh perspectives
Heartfelt and relatable

The story invoked strong personal emotions
Add your insights