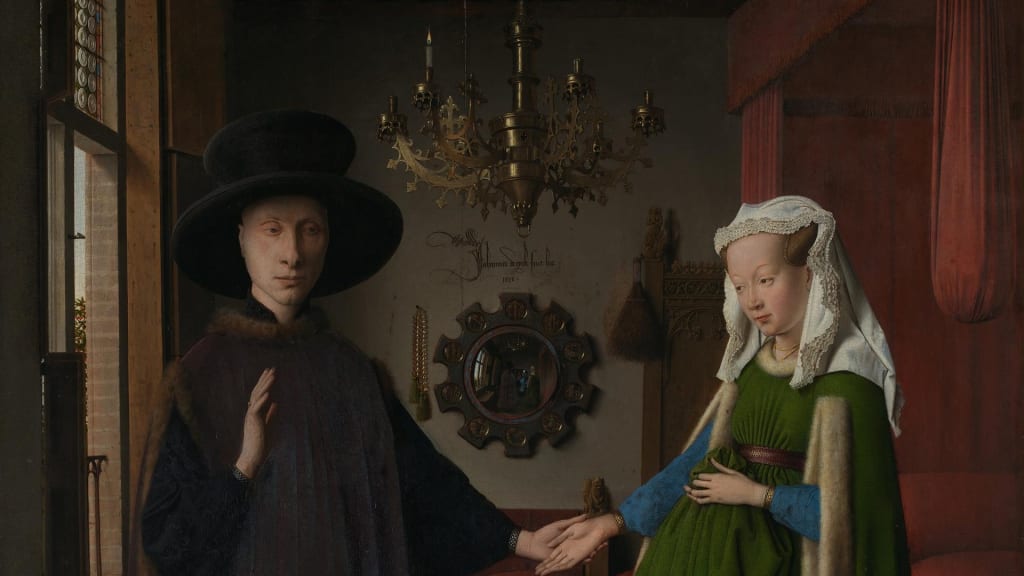 "The Arnolfini Portrait," by Jan Van Eyck. Image from nationalgallery.org.uk
"Catherine, stay close."
Catherine and Eliza followed the natural pace of the crowd, the one set by museum and travel tour guides, by tourists, by art fanatics, and by students doing their assignments. The two girls were all and none of those things. They loved art, were tourists, were students, but they were not there for assignments. They were there for jobs.
They came early to get familiar with the setup, the artwork, the feeling of the place; to learn all the terms and sections; to take in the buzzing, the rhythm of the place.
"Are you okay? You seem lost in thought."
"I'm fine, I'm fine. I just – there was something about that painting that I just can't put my finger on."
"The couple with the expecting woman?"
"She's not pregnant, but yeah."
"It's just one of so many portraits from the Renaissance. I don't see why that one and not another one captivated you that much."
"It wasn't just captivating, it just – I don't know. It was different."
"Tell that to M. Shumer. You'll impress him for sure."
Catherine was about to graduate in art history. At twenty-three years old, almost twenty-four, she had explored every career opportunity and applied to hundreds. This one, a chance to be an assistant curator for the National Gallery in London, was her first choice.
Eliza, her little sister, only nineteen, followed her big sister anywhere. She never enrolled in college, did not know yet what career she would like to pursue, but wouldn't mind a fresh start in a new country either. Whatever it took to get away from her – their – past. She hoped to get a position in the gift shop, anything to stay close to her sister.
"Catherine, look at this one."
"Oh, it's a Botticelli."
"You know it?"
"Are you really surprised?"
"Point taken."
Catherine had studied most of the paintings that hung in the gallery, especially those in the Renaissance section. She even knew the portrait that puzzled her: it was Jan Van Eyck's Arnolfini Portrait. She studied it in nearly every one of her classes: Art History, Renaissance Classics, Evolution of Techniques and Technology… She was too familiar with its particularities: the way the painter added depth to the painting by achieving an exact reflection in the mirror on the back wall of the room, the surprise being that Van Eyck excluded himself from the reflection, and instead painted in another couple.
Today was the first time Catherine saw the portrait in person. And it bothered her. It seemed changed. It felt different to see it on a canvas instead of projected on a screen, but that was not it. The size was not a problem either.
"Are you sure you're okay? Is it because you're nervous? 'Cause you'll do great. I know it. And I will too. I've got my lucky suit on so it can't go wrong."
Eliza swirled and struck a pose, but Catherine did not react. She kept gazing at the artwork.
"Cath?"
"Uhm?"
"You're going to have to put a smile on your face if you want to impress M. Shumer."
"I know, I know."
The sisters were back at the main entrance. Catherine's interview was in seventeen minutes, and all she was instructed to do was advise the staff member at the front desk of her arrival. While Eliza got them some teas at the café, Catherine informed the receptionist of her arrival and that she would be in the seating area whenever M. Shumer was ready to meet her.
Catherine pulled out her chair, sat down, took a sip of her tea, and breathed out.
"Feel ready?" her sister asked.
"More than ever."
"Tell that—"
"To my face. Yeah, I know."
"No, but really, what's bothering you? Are you thinking the move would be too much? That you would prefer staying at home?"
"No, that's not it."
"Then what is?"
"It's nothing."
"Cath, come on."
"It's the Arnolfini Portrait."
"The what?"
"The portrait of the man and the woman in green."
"You're still hung up on that? Haha, see what I did there? 'hung,' like the portrait!"
Sensing her sister wasn't in the mood, Eliza refocused the discussion.
"Anyway. You're bothered by it, why exactly?"
"It's because I studied it so often: I knew about this painting since before I even started college. You have to be familiar with it to consider yourself a professional."
"And?"
"Well, I know it inside out. I know it by heart. I know the colour of every single inch of canvas. I know where Van Eyck's signature is. I know the man and woman's first and last names. I even know the dog's name! I know the fabric of the dress the woman was wearing. I know why the guy's hat is so odd."
"Okay, so you know a lot about it. Why is it getting to you? You know a lot about every painting."
"It's getting to me because, well, they just don't look happy."
Eliza didn't say anything.
"I've spent all these years focusing on all the details. I've studied not only what we can see in the painting, but everything outside of it too: the time period, the symbolism of each element, the whole history behind it. And I know that they are probably supposed to look serious, like they have 'gravitas,' but in those years, I never noticed that they don't look happy."
They both took a sip.
"They are married," Catherine continued, "they have a home, a dog, they're wealthy, they've been painted into a masterpiece… they're just not happy."
"It's almost," said the man at the table beside them, "as if people always pay attention to what others have instead of focusing on the people themselves."
The two girls turned to the speaker. Eliza didn't look impressed that this man had been eavesdropping on their conversation, but Catherine thought his comment was beautiful.
"I couldn't have said it better myself."
The man stood up, folded his newspaper, and tucked it under his arm, then spoke again: "Marcus Shumer. Nice to finally meet you, Miss Fortin."
***
Want to read more of my work? Visit my Instagram (@n.m.blom), my Facebook page (Noémi Blom – Writer), or of course, my Vocal page!
Young Adult
She/Her
Student @Sheridan College
Honours Bachelor in Creative Writing & Publishing 2023
I love reading, writing stories, giving feedback, and helping other writers with their creative work. Once I graduate, I want to teach, write and edit!