Bailiwick
It's a thin line between work and social life.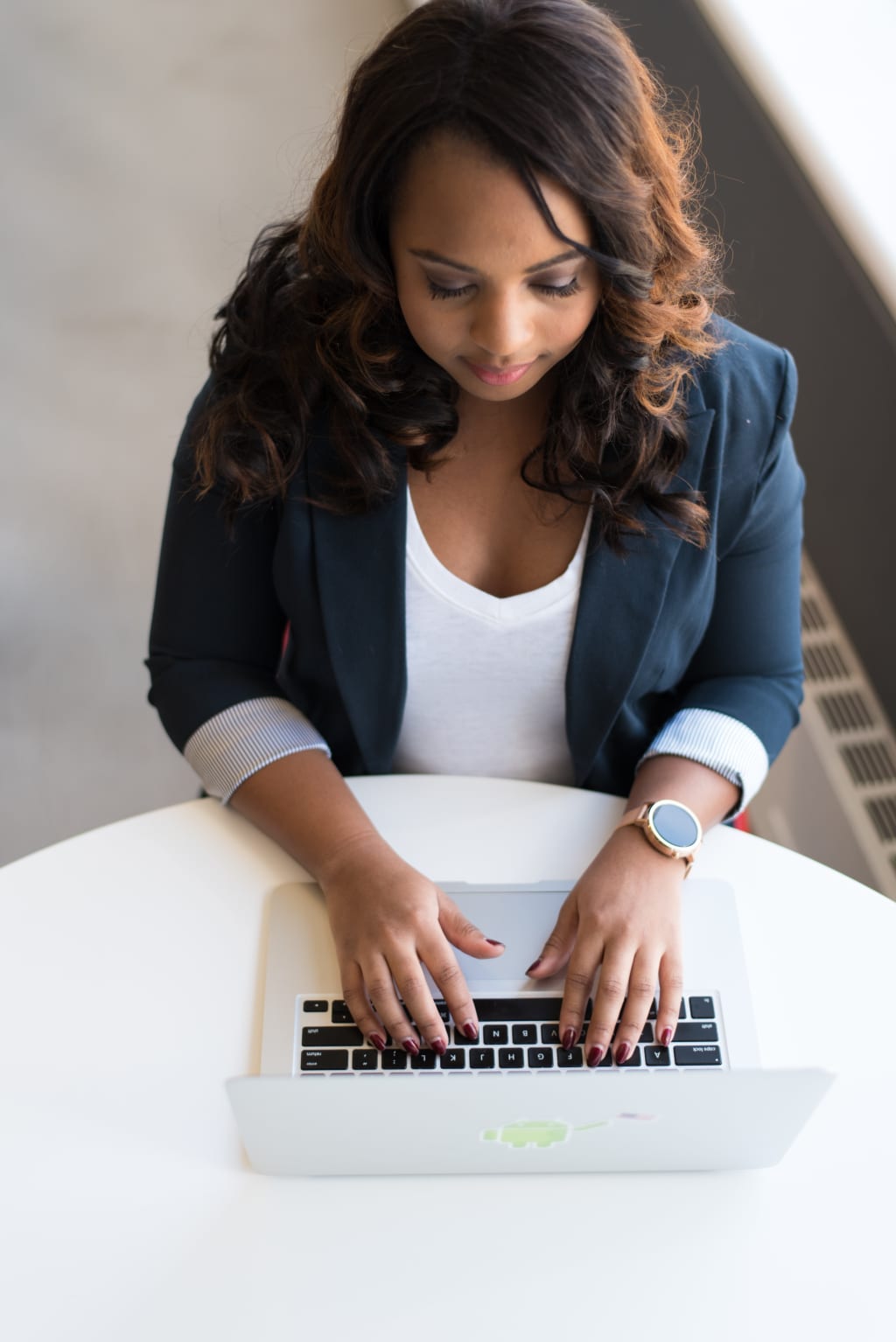 The rain was falling vicariously on my head. The night breeze smelled of clean air and the moon shined so beautifully in the sky. The sound of cars passing by didn't deter me. I just imagined them as a symphony. The night was warm, but the rain gave it a refreshing touch. As the water gently caressed my arched back, all I could think of was, "Why are you doing this Amorous?"
I was holding the car door and Wayne moved in and out of me. My newly done hair didn't seem to matter as much at this moment. To feel him grip my hips and thrust back and forth seemed to be all worth it. It felt so good; I forgot we were on the side of the express way. Fortunately, the cop who just passed by had flashing lights which made us an unimportant investigation.
Wayne wasn't just some thug I picked up. He's married and the CEO of Donnishing Financial Services which is one of the Fortune 500 companies. He comes with great sex and cash. The married part comes on its own. I would prefer not but it seems men aren't honest. It seems they like to dig in you, then mention while tapping your undercarriage, "You know I got a wife, right?" Happens all the time.
I am Amorous Taylor, a mother of one and newly divorced. My daughter Tade is 12 and spends every other weekend with her father Timothy. Those are my days to get it in. I look forward to those weekends. Everyone at the bank I work for knows when it's coming. I start singing a Mary J. Blige tune and I don't eat lunch. Because later that night, I am always dining at a 5-star restaurant complements of my gentleman friends.
Don't get me wrong. I hold the position of Chief Director of Client Services of Oak Lake Bank. I have my own, but there is much more pleasure in spending theirs. To play with me comes at high prices. I must be wined and dined. Then laced somewhere around the wrist and neck. Then we can talk about how you want it. I have no limits to sex. I am usually gamed for whatever.
I kept my married name as a red badge of courage. I requested that with alimony and child support. I wasn't walking away from 15 years of marriage with nothing. Tim was happy to oblige because it meant he was rid of me forever. I swear his girlfriends look like they go in high school.
This weekend, Tade is leaving, and I am with Morgan. Morgan is dark with a clean-shaven head. His beard is white, and his body fit for a 45-year-old. He is about 6.5 in height and about 12 and to the left down. I am never disappointed with Morgan. He has decided we will take a moon lit walk downtown by the lake after dinner.
With this information, I am standing in my closet trying to figure out appropriate attire. I think I am going with a beautiful red knit dress. It is summer and I don't want to sweat a lot. The dress flows elegantly all the way down to my ankles and leaves room to show my manicured toes. The dress hugs every curve I have and presents them well. At this point, I decided to go with no under wear for the evening.
Morgan has a chauffeur. When he pulled up to the front of my condo, he got out and said, "My love, how lovely you look. Are you coming back home tonight"?
"The only cumming, I am doing is with you Morgan".
The night was great, but Morgan is just another one on my list of many. He has great qualities and assets. He isn't married. I am not interested in any long-term affairs, just entertainment. I ended up going home after dinner and Morgan accompanied me.
Before I could reach the bedroom, he had picked me up and pinned me against the living room wall. I couldn't stop him; it was happening too fast. No under wear was a good idea because if I had worn them, he'd ripped them off!
His bald head is between my legs and I can feel every flicker of his tongue on my pearl. My body was in shock from his actions that I couldn't even enjoy the process of my dripping nectar. I came in his face and down his throat quickly. The sound of him gorging on the juices is equivalent to sopping up a biscuit with gravy.
Now we are on the bed. He better had found a Magnum or there was no nectar tonight. He slipped it on with perfection as if he'd copy righted the method. In and out he thrust tapping my G spot every time.
I embraced his body, rub his back and bald head every chance I got. My hands were all over him. He flips me over and now I bottom up, face down, my favorite. As he strokes, so does his fingers as they enter my love plug. I holla, I scream, I let all that out because there's just me here and I don't have to hide my pleasure anymore!
He reaches his climax and so did I AGAIN. We both sink into the bed; sweat beading off our skin as we hold each other. I finally say, "Enough of this! You got to go!" And he does but not before asking can he come back!
I have a slight hang over from last night's date with Morgan. I need to clean up the house. I can't have the scent of sex lingering when Tade gets home. She's everywhere as if she doesn't have a room.
Tonight, is girl's night out and I am so looking forward to it. My girlfriend Rya has a friend that host parties every week at her home. The summer months is especially perfect because her backyard was design for partying. I love the deck she built and the sheer drapes that fall from the sky. The furniture is wicker with brown and beige pillows. She has a cedar wood grill and a full bar on the side. I look forward to these little escapes.
Miami is beautiful no matter what, but I covet the summer months because I am from Chicago. June through August is our only taste of warmth, so I still celebrate that here. I miss home and have no plans of going back. Well, maybe to visit family but only in the summer. I don't miss that damn snow!!
I met Rya here and she has been my best friend since. I don't have a wide circle of female friends, so I rely on her contacts to broaden my list. Her friend, Priscilla, has a beautiful house and is a divorcee as well. Once she cut loose from her ex-husband, she decided to enjoy life to the fullest. She travels on a regular and has these parties on a regular. I love it all.
As I am vacuuming my carpet, I barely hear the phone ring. I leap over the cord and pounce on the couch just to pick it up on the 5th ring.
"Hello!"
"Hey Amorous!"
"Hey, Rya, what's up?"
"You coming to Priscilla's party?"
"Yes, I need to clean house first. Give me about an hour, I will be ready."
"Ok, be ready, I will be in the front in one hour and don't keep me waiting like you always do!"
"I won't heifer bye!!"
I decide to go with a spaghetti strap yellow dress. I have matching wedge espadrilles and a white hobo bag. I also decided to pin my hair up so my big azz silver hoops can be seen. Now for a squirt of Vera Wang. Yes, I still wear it even though it came out decades ago. It still smells good!!
I can hear the horn honking from Rya's drop top Lebaron. The car is old but in immaculate condition. I hurry to set my home alarm and grab my purse. Just as I am closing the door, I realize, I forgot my Gucci sunglasses on the counter. As I re-enter the house, all I can hear is, "Don't go back in the house, forget that shit and let's go!!"
Ugh!!! She is such an embarrassment! In front of my neighbors, she is plain ignorant. But without her, I would not have adjusted to life in Miami, so she stays.
We finally make it to Priscilla's house and there is no parking. We end up a block and a half away. I have on my wedged espadrilles so I can manage this hike.
"Damn, these stilettos aint gone make it", Rya whines in pain.
"That is what happens when you over dress for a back yard party you!"
"Well hell, I thought there would be a park in the front. Besides, Priscilla invites all kinds of people and I don't want to risk it. My future husband may be here."
"Yeah, wishful thinking. You will do better finding a husband on your own and at a normal place like church, a mall, hardware store, or the beach."
Once we make it to the front door, Priscilla's brother Jon opens it for us. "Hey ladies, welcome, especially you, Amorous."
I blush because with him, it's purely genuine. He's been coming at me for 5 years and I won't budge. I guess I see Jon as my brother too. But I do like his compliments. Even though, I am full of myself on every level, it feels good when someone else notices your beauty too.
"Hey Jon, what you got to drink?" As I say this, I am making up my mind to stick with tropical drinks like Malibu and cranberry or Peach Ciroc with mango juice.
"I can make whatever you want baby, say the word."
"I'll take a Hennessy and coke please." Before my mind could filter it, the words flew out. I need to take it easy tonight because I over did it last night and I have to get up and go to work!!!
I took the drink and decided to sip on it all night. The music was great. There was a mix of 90's music with some deep 80's house music. I danced with Jon and Rya danced with EVERY man there. All the men were jocking Rya and I until THEY walked in.
Rya has this friend named Sira who brought someone else with her. I've seen Sira plenty of times but not this chick she had with her. One thing about me, I will give a woman her props.
She was 5'8, size 10 with bulging boobs and an ass to match. She wore a fitted sleek blue dress which outlined her body well with 6-inch matching stilettos. She was light skinned with hazel brown eyes. Her makeup looked effortless with a brown smoky eye flare. Her lips shined and her long sleek black ponytail ran down the small of her back with the tip touching the top. Flawless!!!
I had already embedded in my mind to ignore her. Yes hate!! That's what I will do.
"I don't like her!" Rya says with no shame.
"I mean, I am going to find out why Sira bringing her around messing up the ambiance!!" Before I could grab Rya, she stormed off in their direction.
All the men are drooling and looking a mess. I decided to go around with paper towels. I start handing them out and they looked at me like I'm crazy. Jon says, "Amorous, what is this for?" I reply sarcastically, "To wipe your mouth sweetie, spit all over the place!!"
All he could do was laugh while crumbling the paper towel up and throwing it at me. They were all fools. But the more I surveyed the audience, I realized Rya, and I seemed to be the only bitter females. All the other ladies including Priscilla flocked to our new guess and welcomed her with open arms.
Misha Arlington. That was our new guess's name. I overheard someone call her name. I didn't feel comfortable standing in the background, so I dared myself to be cordial. Before I could get my hello out, Priscilla rushed in.
"Hey Misha, I would like for you to meet Amorous."
"Hello Amorous, it is nice to meet you."
"Thanks, same here."
Priscilla tried to get Rya to come around, but she refused. She kept muttering something about Misha messing up her flow at the party. She gets crazy like that. This is when I know it's time to let Rya be.
I decided to go sit on the beautiful patio furniture and watch the crowd. Everyone was friendly and enjoying themselves. Sira and Misha blended well. The music was great, and the air was warm and crisp. Before I realized it, they walked up on me.
"So Amorous, tell me about yourself," Misha asked with a subtle grin.
"There isn't much to say. I am newly divorced and the mother of one. I moved to Miami to enjoy my life. It is too short, and I don't intend to spend the rest of it in regrets." As I say this, I question my response. Why am I telling her anything? I don't know her.
"That's great. I'm a divorcee too. I lived here all my life. I agree with enjoying life. I have no kids, so I am free to what I want. How is that working out for you?"
"How is WHAT working out?"
"Needing to find a babysitter every time you want to enjoy yourself?"
As bothered as I was about the question, I needed to vent. It has crossed my mind that being a single parent can be a hindrance to your social life. I often wonder what it would be like without Tade but reality sets in. I couldn't live without her.
"I am doing fine. My ex has Tade every weekend. He also takes her for the summer. I guess I hadn't given "baby sitting" much thought because I don't need one. I work during the week, often sixty or more hours. So, I am too busy to worry about small stuff, you know?"
"Hmm, I know. I am glad you got this situation on lock."
What the hell does she mean? Who is she? As hard as I am trying to like her, her mouth pushes me away. Get to know a person first before you sucker punch them. Have the decency!!!! I am feeling a little agitated, so I better find Rya and get home.
"It was nice meeting you Misha, have a good night."
"You do the same Amorous."
Rya is by the bar getting her last drink. I soon feel like I am the designated driver, and my couch will have a partner tonight.
"Let's go Rya."
"Where are we going?"
"I am going home and apparently you are coming with me. Jon, poor that drink out. You've served her enough."
Jon says, "Don't get mad at me, she's a grown woman."
As I carry Rya to her car, I start to think about my life. Yes, I agree, this is a weird moment to think about oneself, but this is what I do. I wondered what really makes me happy. I can't come up with an answer. I am so happy to have finally left Tim. He was an over baring man. He was too old fashion. He wanted me barefoot and pregnant while manning the farm. NO!!! It's not my style.
"I currently have no new prospects. I date a lot but none of them I consider to be a life partner. I am not interested in meeting their family and pretending to like their momma. I just want to be left alone. I did that song and dance for over fifteen years and I am retired. I just want to take life for what it's worth and enjoy day to day. This is one moment in my life where I am choosing to not think about my future. Is there something wrong with that?"
"What are you fucking talking about Amorous?" Rya screams.
"My bad, I think out loud sometimes. Ignore me with, you drunk."
I finally make into my garage and assist Rya to her feet. Once inside, I put her in a chair near the bathroom. "If you need to throw up, bathroom is right in front of you, don't throw up on my carpet or furniture!!"
"Yeah, yeah just get me some sheets please!"
I head to the basement to get some bed sheets for the couch and a T shirt gown for Rya. I get upstairs and fix her makeshift bed. I pass Tade's room, and she is sound to sleep. She uses the spare key to let herself in.
I am so tired. After taking a warm shower, I disappear into my wonderland of a bed. Anticipating what the office holds tomorrow. This is my life. Work, Tade, and men. When you say them out loud, the joy of all three diminishes. Tomorrow will be better. My life will only get better.
My CEO is on my butt about new accounts. I explained to him that until he fills the position for Chief Director of Marketing, we are at a standstill. I have worked both positions in the last year and I am slipping in both departments. At this point, I must handle the major accounts to keep our bank afloat. Instead of him cheating with Mary from Accounts Payable, he could use that time to get Oak Lake the additional help needed.
Christian in revolving loans has been asking for a date. He's handsome but I don't want to date I guy I work with. I decided that it would be ok for us to do lunch. But a quick lunch due to a meeting.
The meeting started on time as usual. I am listening but not listening. My boss right now sounds like, "Wah Wah Wah." I can't stay awake, and his voice is monotone. I perk up when I hear him mention the marketing position.
"We are pleased to say HR has identified seven potential candidates and will make our decision in two weeks."
I was elated with joy!! That was one less job I had to worry about. Now I could concentrate on reconciling my major accounts. This news put me in a great mood. All I can think about is how I am going to spend my weekday time with Tade and get ready for my weekend date with Christian.
I was more excited than I expected. It's like getting a new outfit. I guess it isn't right to compare Christian to new clothes but it's how I feel. I'll get up on Saturday at 5:00 a.m. to get my hair done. I swing by my favorite nail shop. I run over to Alexandria's to try on some new jeans with Jessica Simpson stilettos. Jessica didn't have the best acting or singing career, but her accessories, shoes and sunglasses are hitting!!!
When I get home, my kitchen is a mess.
"Tade!!! Get your butt in here!"
She enters the kitchen in her pajamas and an "I'm sick" look.
"Mommy, I don't feel good."
"What? What did you eat? Do you need some Pepto Bismol?"
"No, I took some already, but my belly still hurts."
Oh, I am so mad at my 12-year-old. How dare she get sick!! I got my weekend mapped out and things are going well at work. I knew it couldn't last. Not only that, but she has also ruined my kitchen trying to make chicken noodle soup on the stove!!
After an hour in the kitchen, I check on Tade and she is fast to sleep. She needed to rest and let the medicine work. I turned off her computer, television, and closed her Nook. How on earth could this little girl do three things at one time all while being sick. By morning, Tade was groggy. My child is sick, and I need to get in and out the office fast.
By the time I reach my desk, Christian is standing there.
"What Christian, I am in a rush. Need to grab some files and dash. What is it?"
"Are we still on for Saturday?"
"Yeah, uh huh". And then I waived him away like a fly. Such a turn off! You hear I am out today, and your only concern is our date!! You don't see why or if I am ok. I can't take this. When I go downstairs, I will call the date off myself. What was I thinking?
As I run downstairs, I hear Christian call, "Amorous, Amorous".
"Whaaaatttt!!!"
"I know you are in a rush but is your daughter, ok?"
Wow, I didn't see that coming. He saves his date with that. But I could see in his facial expression, he was genuinely concerned.
"Yes Christian, she is semi-well. I am sorry I yelled at you, but I really need to get back to her. I look forward to seeing you Saturday. And thank you for asking."
"No problem, see you Saturday."
I took Tade to the doctor. Dr. Reynolds comes in and immediately says, "You have a stomach virus young lady. It's going around. We can't fight a virus with antibiotics. You need Gatorade or Pediasure. Mom, keep her hydrated. As for the slight fever, give her 1 teaspoon of Motrin every four hours. Make a follow up appointment with me in one week. Take care."
She walks out. What the heck!!! She just walks out. I can't believe this. I am going to have to ride this virus out with Tade until the end of the week. It's only Tuesday. I hate for work to pile up but what choice do I have.
We stop at Walgreens to get the Motrin and Campbell's chicken noodle soup. I get home and pump Tade with both and order her to lay down with the bucket next to her. I take all electronics. She doesn't understand the meaning of rest.
I then sit down to my laptop to work. I want to put in at least two straight hours of work. I need to feel productive. I need a balance. I need to feel that I've taken care of her and work. They go hand in hand.
The next few days weren't bad. I was able to complete some projects and nurse Tade back to life. She feels much better and is returning to school today, Friday. I missed a lot at work and received an email about the new hire for the Director of Marketing position.
Everyone is in the conference room when I get there. My boss welcomed me back to work with a bouquet of Krispy Kreme assorted donuts. There goes that diet. I've never seen my boss so happy. He seemed like he found the perfect employee.
He brings the meeting to a start and gives a brief background of the individual he has hired. He goes on to say, "This individual has over 20 years marketing experience from agencies all over Miami. We were able to snatch them up because their contract with Neombi Shan Incorporated ended last week. I would like to introduce to our new Chief Director of Marketing, Misha Arlington."
The coffee flew out my mouth on to the table and on to my friend Pam. Misha walks over to me and says, "I'm glad to take marketing off your plate, it's not your bailiwick", pats me on the back and walks away. She has one strike from the Priscilla's party, and she just received a second one. A third strike eliminates her period. Hmm, I don't even know what that word means!
Short Story
About the author
Be jealous or be something GREATER!!!! I love to write about life, fantasy, current events, legacy, and change all with a twist of Chi. It's quite therapeutic.
Reader insights
Be the first to share your insights about this piece.
Add your insights