An artist discussing his painting with an acquaintance at the exhibition.
2019. Oil on canvas.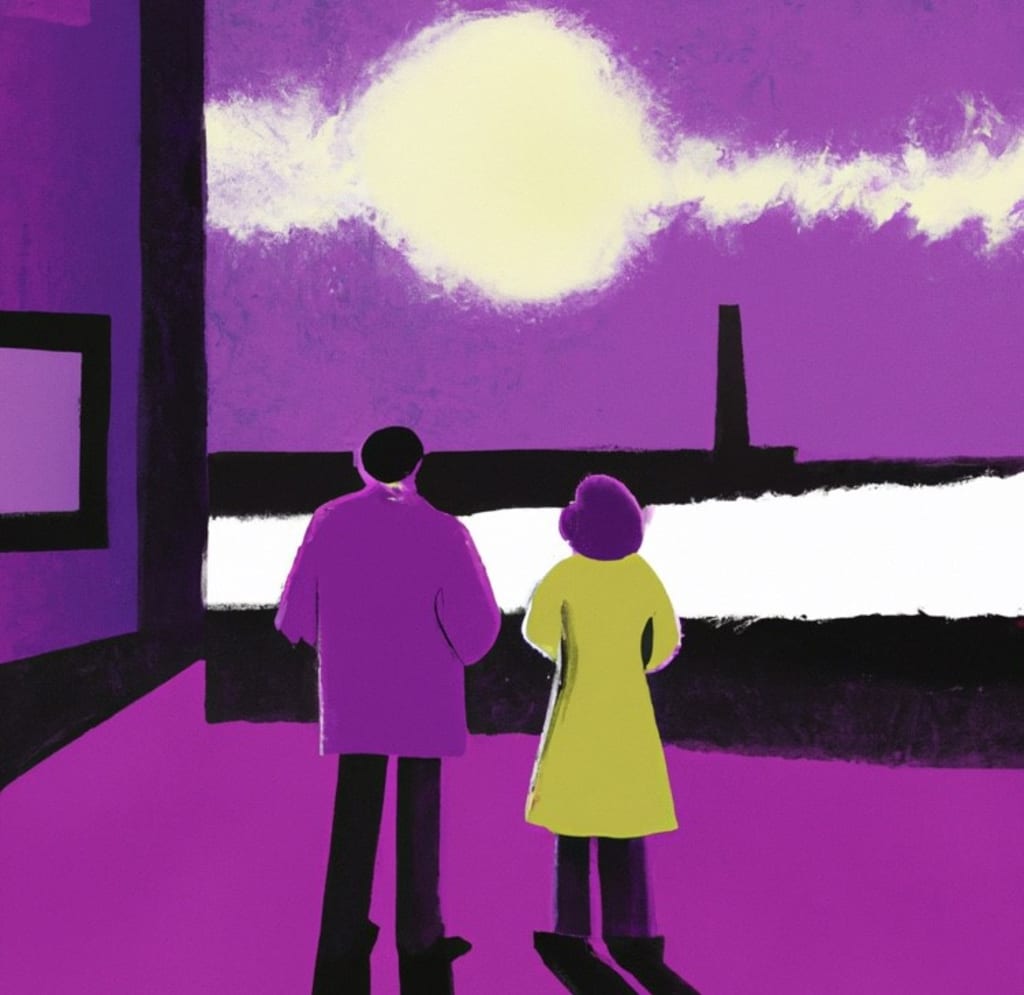 Created with DALL.E 2
"Every night at midnight, the purple clouds came out to dance with the blushing sky. The smell of smoke filled the air permanently and the faint clamour of machinery buzzed softly and enduringly in the background of life like a drone.
Despite the lateness of the hour, there were several people dotted around the square, drifting either to or fro; here or there - depending on their own daily schedules, their hunched shoulders an indication of the loads they carried. The slow pace at which they all seemed to move denoted their lack of will to arrive, wherever exactly it was they were going.
A line of chimneys jutted upward and into the sky, belching out clouds of soot that mingled with the sunset, disrupting the swirls of mauve and boysenberry; dirtying its brilliance. It settled on drab, grey buildings, and filled and marred the lungs of the residents. The buildings were lifeless: grey shadows that showed no sign of life, their smoky tone masking a stark contrast to the vivid colours of the world beyond.
Everyone he passed was attired in sombre hues and as he walked through the square Williams noted that each face seemed to be etched with deep lines of weariness and resignation. The world in which he walked was monotone – everything on the spectrum of black to varying shades of soot and ash: the factories; the buildings; the air; the people. The sky a deliberate contradiction, blazing; casting endless colour over a dull and tedious existence.
Williams came out at this time deliberately, night after night, because the violet haze of sunset was his favourite. He harnessed its power, ultilised its ability to remind him what it meant to be human. In such times it seemed so easy to forget.
He looked around at the others in the square with sadness. He had not so long ago walked among them: in the world of burning furnaces and fourteen hour days; in the world of soot and exhaustion. Williams knew full-well the luck in his inherited fortune, and understood with wisdom the freeing consequence of it. He had been granted the gift of walking out to marvel at the sky, and whenever he did so, sent a silent prayer for those around him who did not have the time or motivation to look up at it themselves as they made their commutes."
***
"The artist stares, astounded by what he has just heard. His companion notices this and laughs cordially. She takes his hand. They are standing beside a perfectly white-washed wall, his piece de résistance at perfect eye-level. Magnetic, hypnotic, imposing.
"Monsieur." She says softly, "It is beautiful. The story tells itself, it came from you. I just stood here and read it, chapter-by-chapter, like a book."
"I thank you Caroline but I have to disagree."
The lines above his eyes furrow downward and the tone of his voice conveys that he is speaking in absolute earnest.
"You have taken my work and embellished upon it ten-fold! You have told stories I had not even considered; noticed details that my conscious mind had barely been aware of; you have brought it to life – what I tried to envisage in the depths of my mind's eye! It is absolute magic, your interpretation."
She holds his hand still and he unconsciously holds hers back.
"I am truly astonished."
When incidentally he feels the gold band sitting around her ring finger, he pulls his own away. She continues, undeterred.
"What is magic, Julien, is your painting. Truly, I am astonished. Surely this, this is why we create – and why we crave to feast on the creations of others. I adore the irony. You have taken the drab, monotonous path life can so often impose upon us, and lifted it to become something more; a burning message to retain the mystique, to hold onto, with all of one's might, the magic that appears each day so often to be ignored".
Again, he is astounded by her words. She was right though, this was exactly why he had chosen to make art his life. With a blank canvas and a selection of oil-based colours, he had created something through which this woman could read his soul. This was where the magic lay."
***
He finished his speech and Jenna smiled wryly, one Converse-sporting foot wrapped around the back of the opposite leg.
"I like what you did there, what you have taken from this one."
"I do try, I like to consider myself quite the connoisseur."
She laughed at his whimsy, neither one of them quite comfortable in the environment, nor the company. A first date, and entering the exhibition was an impulse when they happened to pass by.
For him, an opportunity to make jokes, to express himself. Something to bounce off – and perhaps some dark corners. For her, a test – of his imaginative power and intuition. Neither one of them into art per se but both were impulsive and also knew that whatever they discovered could be used as one hell of a sounding board.
Until they saw this one, the two companions had not lingered long enough at any of the works to engage with them, aside from the odd remark, usually delivered in a devious, somewhat snide tone. They were flexing.
Jenna was captivated by this one though, and in particular by her new friend's funny – but oddly perceptive – analysis of it.
"I think you're right, you know."
Andrew raised an eyebrow.
"Right about what?"
"About this man – this artist."
She indicated once more to the painting by angling her half-full champagne flute back toward it.
2pm on a Tuesday, barely anybody else was in attendance but the glasses lined up on the tableclothed counter next to the entrance should be drunk by someone. There was no sign of the artist.
"And what exactly was I right about?"
Andrew raised an eyebrow – amused, and impressed with the way she held herself; with the mischievous glint in her eyes.
"I understand what he is saying here."
"Mhm?"
They were both sipping continuously on their second flutes. She moved closer to him before she delivered her observation. Both were speaking truths concealed within delicious, dripping irony.
"He is saying that anything you imagine, anything you dare to conceive of in your mind's eye, in some strange way, well - it becomes reality."
Andrew raised his eyebrows.
"Is that so?"
"Uh-huh."
Another sip.
A nod of cheeky defiance.
It was his turn to move closer. Perilously close now.
"In that case," he whispered, "I won't even mention the realities you have been ensconced in these last few months."
She spluttered on her drink with the laugh that followed.
"Is that so?" she retorted with faux-innocence.
Then, "You're funny."
They stared at one another in admiration and affection for a moment until the look became too potent. The wine had made them a little hazy. Tuesday-afternoon-date hazy. Anything-is-possible hazy.
"Perhaps," Jenna suggested boldly, "We should get out of here and explore some of those realities you have alluded to."
Andrew's eyes widened. Then he remembered himself.
"You don't need to ask twice," he simpered.
They put down their glasses, and hand in hand, left the exhibition.
Reader insights
Outstanding
Excellent work. Looking forward to reading more!
Top insights
Compelling and original writing

Creative use of language & vocab

Easy to read and follow

Well-structured & engaging content

Excellent storytelling

Original narrative & well developed characters
Masterful proofreading

Zero grammar & spelling mistakes

On-point and relevant

Writing reflected the title & theme
Add your insights