A Conversation with Abigail
Oh Dear. Somebody Please Help Me
Princess Abigail
I was excited to see Vocal's Talking Tails challenge, as I felt it would be a good opportunity to have some fun with a quick piece, and once again highlight my adorable cat, Abigail. I woke her from a nap, thinking she would share my excitement and boy, was I in for a surprise. Below is my conversation with the self-appointed princess:
Cathy: Hey Abigail, you're not going to believe this. Vocal has a new challenge for animals. Isn't that exciting? It's not just for dogs this time. It's for any animal who can talk.
Abigail: When are they sending me my money?
C: They're not just going to send you money. We need to win the challenge first.
A: Obviously, I'm going to win. I'm Abigail. Everybody loves me.
C: That doesn't matter. It's a writing contest. We need to submit a story that's good enough to win, one that stands out above the rest.
A: Of course, it matters. I'm adorable. How could I not win?
C: The best written entry will win the challenge, Abigail. That won't necessarily be yours. There will be a lot of worthy competition. All we can do is attempt to craft an enjoyable story and hope for the best.
A: Well, listen to you being all practical and stuff. You do know that if I don't win, it's only because you're a lousy writer, right?
C: Excuse me?
A: You heard me.
C: That's mean. I demand you apologize right now!
A: Fine. I'm sorry that you're a lousy writer.
C: Ugh. That's not what I meant. Anyway, we have to write a fiction story about talking animals. What do you think the plot should be?
A: I think it should be about me, about how perfect I am and how much you love me, even though you never give me enough treats.
C: Sounds good, except it has to be fiction.
A: Excuse me?
C: The talking animal story needs to be fiction. Your story is real.
A: Are you off your meds?
C: What? I don't take meds. What are you talking about?
A: Well you should, if you think this conversation is anything but fictional.
C: Oh dear. Somebody help me, please.
A: Yeah, you need help all right.
C: Why are you being such an ass right now?
A: I have to. It's a mandatory course in the cat school curriculum.
C: Cat school? You went to school?
A: Of course. It's home schooling. We are taught by our mommies that we must be mean to survive. It's a cruel world out there, you know. I had to chew nips off my brother's ears to even get a spot on Mom's tit.
C: Eww. That's nasty.
A: Yeah, for sure. He didn't taste very good. He learned not to mess with me though. Hey, maybe I'll start chewing nips off your ears so you'll give me more treats.
C: Don't even try it. You don't need more treats anyway. You're already getting chunky enough.
A: Pot - kettle, blah blah blah. Besides, do I look like I care.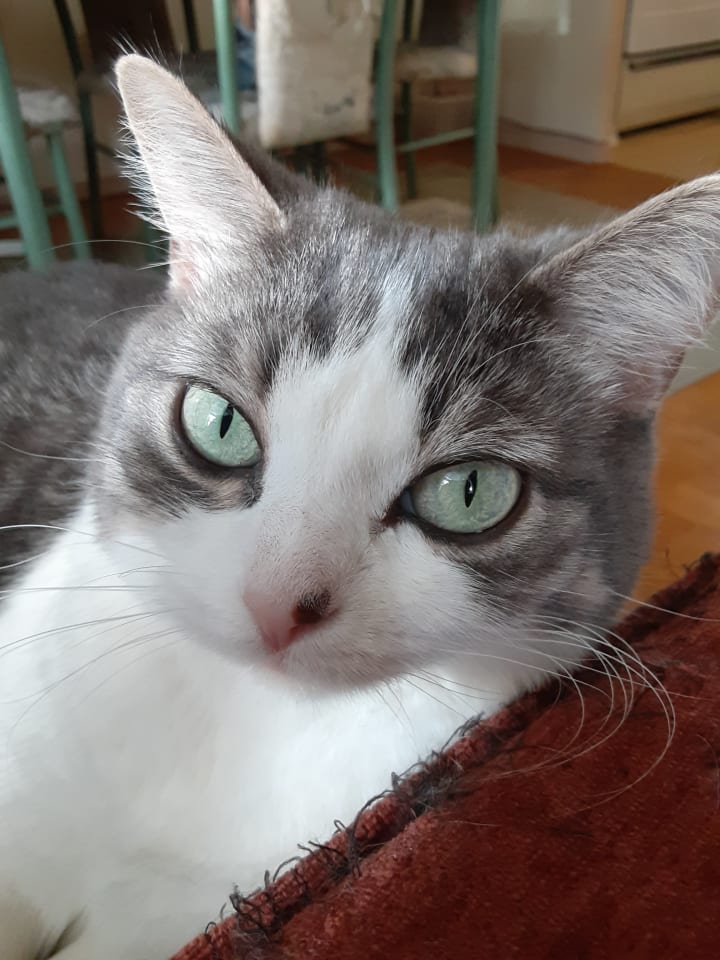 C: Seriously, we need to write this talking animals story. Do you have any ideas, other than how perfect you are? Think about something that's not you, for a change.
A: That's impossible.
C: Why?
A: (Rolls eyes, exhales deeply and mumbles something about needing God's help.) Why do you keep forgetting that I'm a cat? I meow in your face in the middle of the night. I grab your toes to wake you up because I don't want to be alone. I run around the house one hundred miles an hour. I scream at the balcony to get out, only to demand to be let in again thirty seconds later. Then I do it again. I'm a cat, you knob. It's not possible for me to think about anything else but me.
C: Why are you so grumpy? People are not going to like you anymore if you continue to speak to me like this.
A: Ha-ha. People love me. They know it's your fault and you deserve it.
C: What did I do?
A: You woke me up to tell me about the talking animal challenge, then you told me I might not win. Why would you do that? I was having a nice dream about mousies and my brother's ears, and you ruined it. You got my hopes up, then you dashed them. Just like that fly that slipped out of my paws yesterday, I am left with nothing but broken dreams. How could you do this to me?
C: Dramatic much?
A: Is it working? Can I have treats?
C: No, you cannot. I gave you some this morning.
A: hmmpf! Fine then. I'm going back to bed. Don't wake me again until you have good news or more treats.
C: Ok, Princess. Enjoy your nap. Hopefully you'll be less grumpy when you get up.
A: hisssssss
About the Creator
Canadian family girl with a recently discovered love for writing. Other loves include animals and sports.
Reader insights
Outstanding
Excellent work. Looking forward to reading more!
Top insights
Excellent storytelling

Original narrative & well developed characters

Heartfelt and relatable

The story invoked strong personal emotions

Easy to read and follow

Well-structured & engaging content
On-point and relevant

Writing reflected the title & theme

Compelling and original writing

Creative use of language & vocab

Masterful proofreading

Zero grammar & spelling mistakes

Expert insights and opinions

Arguments were carefully researched and presented

Eye opening

Niche topic & fresh perspectives
Add your insights