You're No Psychic, Pop
How can a simple sandwich bring together father and son?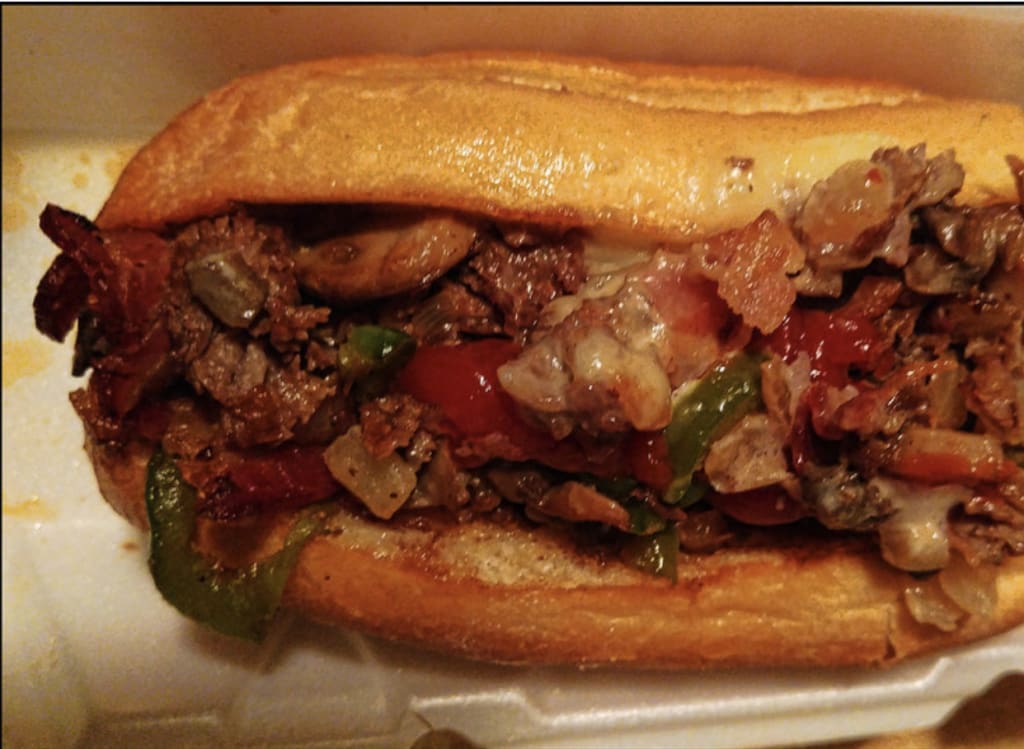 Onions sizzle and provolone cheese bubbles atop red strips of beef and gray tiny slabs of chicken. Like a surgeon performing work on a patient, a young lady flips over the contents of the grill with precision and ease. The scent of a cheesesteak and a chicken cheesesteak waft through the store. It is replete with a panoply of colorful chips, cookies, potato salad, macaroni salad, and potato salad. This is Casapulla's in Newark, make that Glasgow, Delaware.
The rolls remain fresh as they unravel from the loaves that the young ladies pull from the back. Those onions are for me. That chicken steak sandwich is for my dad. He stands over six feet compared to my 5"10' frame. He has salt and pepper hair, slim figure, and a stately disposition. The beef cheesesteak is for me. We both ask for mayonnaise and extra ketchup and salt and pepper. Like two champions waiting for our edible medals, Dad and I crave the sandwiches.
Once the ladies finish up the sandwiches, we take the brown paper bag with the goods. We share this moment as we move over to the counter to pay. I withdraw my credit card and proof that I'm a veteran to receive a discount and a free drink. The young female cashier is a bit gangly but pretty. She has brown eyes and blonde hair tied back into a ponytail. She hands me a cup for the soda, flashes a smile, winks and says, "Thank you for your service." My patent reply is, "Thank you for your support."
I grin. My Dad grabs the bag and we depart. But what amazing service did the cashier and food preparers perform? Their professionalism stands as a testament to the glory that is the state of Delaware. And while this location is technically Newark it is known as a place in Glasgow. This is my home. My Dad raised me here with my step-mother and sister. I fill up my cup with cola.
Casapulla's represents the meal plan for many a Saturday evening after cutting through green grass that my dad manicured just a few hours prior. The sub and steak shop known only to Delaware stands as the chief architect at solving the problem of hunger and flavor banality.
But it's more than that. My dad and I talk over the steaks sharing wisdom and advice. We enjoy each other's company and take in the meal. The morsels go over our tongues and we savor the banana peppers that we order on the side. Our ability to satisfy our appetites is in line with our chance to speak between bites, remembering to chew and swallow first!
Casapulla's permits Dad and me the opportunity to talk where we may have remained silent. The cheesy, greasy, tangy victuals provide a balm to whatever disagreement we may have had before chowing down on some steaks. For Dad and me, Casapulla's is a jewel that affords us both splendor of body and mind.
Homegrown in Newark, Delaware is actually closer to home than Casapulla's. This is not geographically speaking but spiritually. In a business meeting, I catch up with a social engineer from Wilmington, Delaware. He shows up a few minutes after I arrive. We exchange pleasantries. He shows me his keenness as a young businessman. I order him a beer and he remains focused despite the amber tinged liquid spilling from the bottle into his mouth. We discuss multiple plans for establishing our names in the electric atmosphere. While I entertain the young man's acumen, I sense that we are not connecting on an enterprise level. It's like a talk with a hungry fighter who excels at shadow boxing but wishes to never step in the ring. I never order anything. I look around as he tells me bits and pieces of his struggling brand. I take notice of the splashes of color, red, yellow, and gold. I see the space for live entertainment to rock out on given occasions.
My attention returns to the young man. I offer my hand and we raise up from our seats. My truck is in the shop on this day. Dad is at the wheel. He picks me up and he can tell by my expression that things didn't play out the way that I had envisioned. He takes a few looks at my sullen face. He then grins.
"Do you want to get some cheesesteaks from Casapulla's?"
I look at him with a glint in my eye and say, "you're no psychic pop, but close."
parents
I am a forever young, ego-driven, radical hipster from Delaware. Investor. Objectivist for life. Instagram: @skylerized
Twitter: @SKYLERIZED
Receive stories by Skyler Saunders in

your feed