With Love, There's Always a Place to Land
This week, we learned timing was everything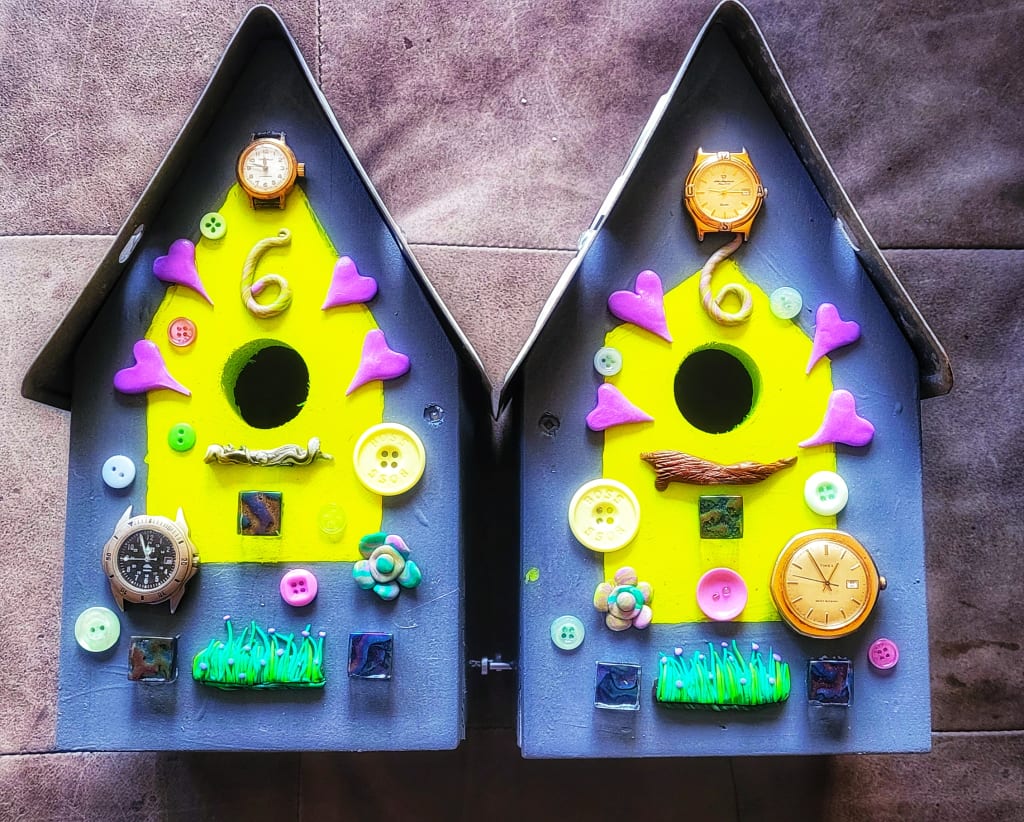 Our creations: "Ma and Pa's Place" and "Home"
It all started with an email from my cousin Suzie's daughter Raven.
On a Sunday evening, I read:
"My father (Dave) is very ill, and I am hoping if I get his old license plates to you with some small watch faces you could make two small birdhouses. I want them to look like my parents' house, with the same bright green door. I know you're busy. As long as one gets done for my parents, mine can wait. I'm hoping if it gets done my dad will come back as a type of bird to visit them."
Without hesitation, I replied, "Of course. We can get this done immediately. I'll begin sculpting and painting, and when the plates and watches get here, I'll be ready to go."
The next morning when I stepped out the door for work, there was a small bag from Suzie on our porch. In it were a pair of license plates and four watch faces. The plates had been used and were a little grubby; the watches were of differing vintages—two looked like they were from the 1960s or 70s. Treasured mementoes to call a beloved husband and father home.
I let Raven and her mom know that I'd received them, and told Raven, "We can work together to put so much love into them. What a wonderful notion that your dad will come back and visit as a bird. The items I received will draw him near for sure."
I painted and sculpted and carefully designed each house; they were to end up being mirror images of the other, with two watch faces on each. Each house was painted grey (like the family home) with bright green doors. As Raven requested, I made eight lavender hearts: four for each house, representing two parents and two children. Dave grew up in a tiny hamlet called Lavender, and Raven asked that I reflect that. I created 'grass' with lavender flowers, and a number six to go on each, to represent the street number of the family home.
All of this took place while the clock was ticking; I didn't understand how ill Dave was, but Raven's message felt to me like a daughter's loving and desperate plea. Raven is a beautiful, spiritual woman who I believe has a sixth sense akin to my own. I understood the urgency, deep in my heart.
By Friday, the two houses were complete. Because the watch faces were heavier than most of the items I use for decoration, I took extra time and care—and love—to ensure they were secure, and an extra coat of protective seal added another day of production. But they needed to be perfect—my heart and soul comprehended that.
Friday night, I sent pictures to Suzie.
On Sunday morning, I received another message from Raven:
"Thank you very much, the birdhouses look lovely! Do we need someone to come down there and get them? What's the best course of action…my dad is very ill so I'm just trying to get them sooner rather than later. I'm ever so grateful."
On Monday morning, I drove up to Collingwood to deliver them to Suzie. It's about an hour's drive, and I had the day off, so the road trip was a welcome idea. The sun was beaming, but there was a cool breeze; what I would call a perfect early-summer Monday.
When I pulled into the driveway, I took in the grey house, the bright green front door, the stunning gardens my cousin Suzie has tended over the years. Immediately, I was reminded: this is a house of love.
I smiled. I was pretty sure I had captured that love. And when Suzie opened the door, she laughed, "Oh. It's just you. I thought you were the nurse."
And of course, I laughed too. That's how our family rolls. With love and sarcasm, and more love on top.
Suzie asked me to come in, and I handed her the two birdhouses.
"Here, give this one to Dave," she said, directing me to the living room.
And there was Dave. I hadn't seen him in almost 20 years, since our last family reunion. To explain that he looked different would be an understatement; he'd been gravely ill for some time. But remarkably, he still carried the sparks of humor and goodness that I recall from all those years ago. Dave's nickname was Swanky Dave, and while I was too young to know that as a child, I do recall Dave and Suzie as being very cool 'adult' cousins…way back then.
I walked over to him. His eyes lit up when I handed him the birdhouse that was to hang at Number 6. Dave held it, turned it over in his hands, and marveled at it. I pointed out the house name on the bottom: it read "Ma and Pa's Place". Raven had given me that name to use. And I couldn't help but grin.
We visited for about an hour; Suzie and I sat out on her bucolic back deck and gabbed non-stop. It was glorious. The entire house was full of light and love. Raven and I chatted, and we thanked each other for being part of something special. She joked that he'd better not come back as a bald eagle, because he'll never fit into the birdhouses we created for him.
Meanwhile, Dave's nurse had arrived, and tended to him. His hands were stiff, and when he waved goodbye to me, his middle finger involuntarily stood proud. So of course, I waved my middle finger back at him, and told him to behave himself.
Later that evening, Dave passed away. He's at peace. And he knows where to land…just look for the little grey house with the bright green door.
Two days later:
We are fortunate to have many species of birds visit us; it's common to see cardinals, blue jays, finches of all colors, chickadees, wrens, juncos… we have a forest of trees and several birdhouses for shelter. We find feathers all the time, and when we do, we make a wish for our parents or other beloved friends who have passed away. In six years, I've only found brown or white feathers, and I've always asked myself, why do we never see blue jay or cardinal feathers?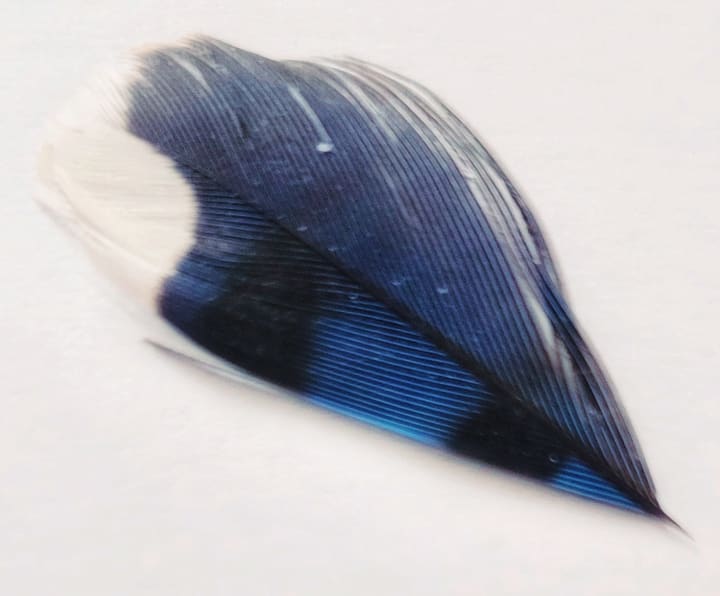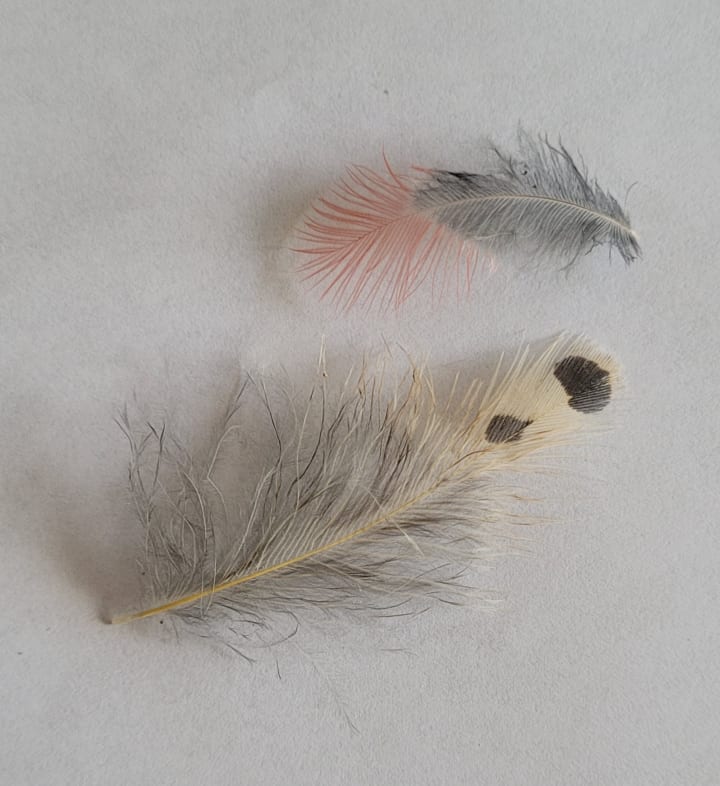 On Wednesday, I walked into our back garden. Part of a nest had fallen to the ground, and I peered closely to find these feathers lying near. I was astonished. I'd never seen anything like them before.
grief
About the author
I live with a broken brain and PTSD--but that doesn't stop me! I'm an author, artist, and qualified mediator who loves life's detours.
I co-authored NOT CANCELLED: Canadian Kindness in the Face of COVID-19. I also publish horror stories.
Reader insights
Nice work
Very well written. Keep up the good work!
Top insights
Compelling and original writing

Creative use of language & vocab

Heartfelt and relatable

The story invoked strong personal emotions
Add your insights