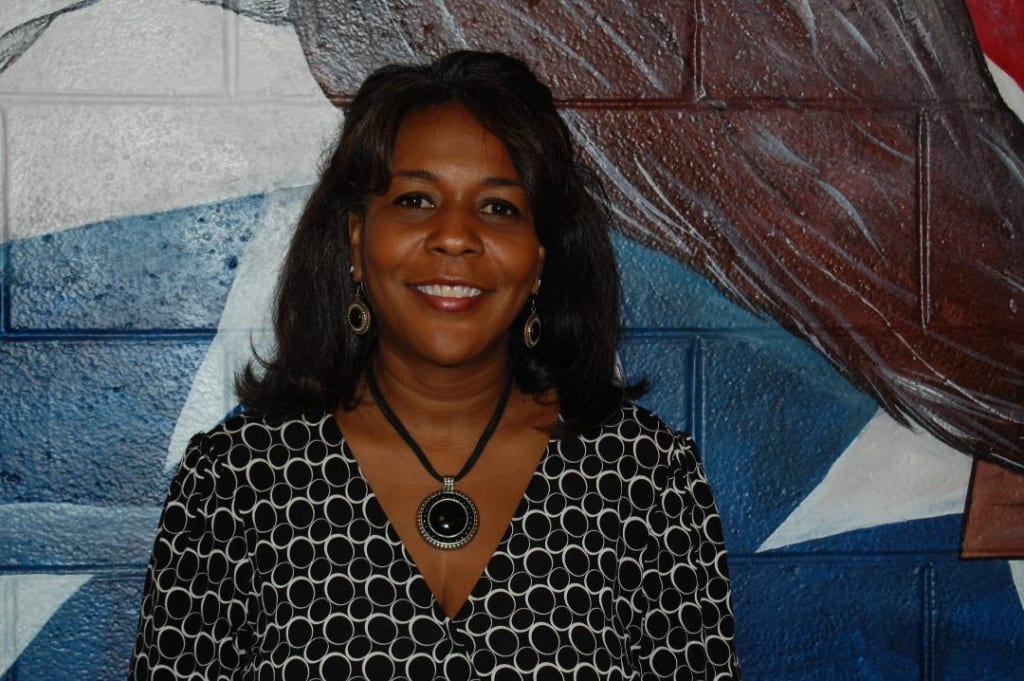 Hello, how are you? I am a middle-aged African-American woman with a super-power, successful vision. We all have a story, a purpose, and a mission. Some might say "what does your story do for us?" Does it entertain us? Does it inform us? Does it support us? Does it inspire us?
Well, you tell me. I can't believe I am over the age of 50. As if 40 wasn't quite an adjustment. However, I had my daughter at the age of 34, so I was more so interested in becoming a first time mother during that timeframe. It was my distraction.
I was fortunate to grow up with both of my parents. My father had been in the military. He retired from the Army. My family was able to be stationed in Nurnberg, Germany in the early 1970s. I am the oldest of my siblings from both of my parents. We grew up in the South. I was able to be actively involved and engaged in a variety of things. I was somewhat popular. I won or acquired a few awards. I participated in a few organizations and extra-curricular events. To name a few things, I was a Flag Girl and a Banner Girl for my high school band. I was a Sub-Debutante. I was placed in "Who's Who Among American High School Students in a Foreign Language." I was selected to be one of the youth congressional scholars representing my state. This opportunity allowed me to go to Washington D.C. and visit the United States congress and the White House. I stayed at Georgetown University campus. Upon my return, I was accepted to attend Florida A&M University, a historically, prestigious black university in Tallahassee, FL. I majored in Journalism (Magazine Productions) and successfully graduated with a B.S. Degree in 1993.
Following this stage of my young adult life, I was able to get hired for a position in the Atlanta Metropolitan area. I embraced the Summer Olympics held in the city I now lived in, HotLanta. Although I did not attend any sporting events held there. I engaged in social activities held. I was a young woman in her early to mid-twenties. It was an exciting time.
Throughout my period of living in Atlanta, I didn't have an opportunity for my writing career to take off into a permanent position. I did get a chance to work for a local black newspaper in Augusta, Ga. I also worked for a well known black magazine, Upscale, as a fashion/beauty editor. I edited the Board of Trustees meetings for Morehouse College. I helped two African-American women with their start-up magazines. I assisted writing/editing for a new neighborhood paper. And, I was the editor for a writer whose book was titled "How To Manage Your Parents."
I loved life in my younger adult years while living in Atlanta. I was appreciative and grateful to have become an educated woman of color gaining professional experience in the workforce. I had no children and really nothing else slowing me down except me from engaging in other opportunities for advancement and professional, financial growth. I was just living my life.
Of course I lost loved ones near and dear to me during this time like my father and grandmother. Corporate America woke me up with its games of getting ahead or just staying afloat. I acquired genuine friends, a male best friend and a few female friends I consider my sisters to this day. The dating scene was a book itself. I engaged myself with quite a variety of men. Some men were "in the meantime" while others were hopeful aspects.
Motherhood hit me at its final stages of life. And the father of my child was an experience in itself. I became involved in an interracial relationship with a white man. He was from another country in Europe. He was 12 years older than me. He caught me off guard. I had been in between jobs, but was able to obtain employment at one of my closest friends places of employment. We lived in the same area, so we commuted to and from work. On Fridays, we would visit our routine sports bar for beer and wings. At this sports bar, Friday nights were Karaoke nights for singing. Not that I am a great singer or that it was a favorite past-time. It was this particular night I wanted to partake in this activity for fun. Well, this is the story of how I was privileged to become a mother of my now, 16-year-old daughter. Her father pursued me. I decided it was time for me to become openly engaged to a man outside of my culture and race. I think he and I would still be together if he had not been sent back to his home country.
We became involved after dating quite frequently. His work allowed him to travel within the United States especially during the Summers. When my body allowed me to entertain the notion that pregnancy might be a reason for my delay with my menstrual cycle, I put finding out on hold until after my travel with him to New York when he had work.
Upon my return, yes it was confirmed after a doctor's visit that I was indeed pregnant with child. For those nine months, I never knew if my child was going to be a boy or a girl. When I went for my ultrasound, her legs were crossed. So my baby shower consisted of a lot of yellow and green items as opposed to pink for a girl or blue for a boy as traditional items.
Funny how I wanted my daughter to be born in December. She came on December 1, 2004. It was quite an experience. Her father, godmother, and godmother's friend were all there as we embraced her natural birth.
Life was pretty good for me and my new family. We lived in nice luxury apartments. My mother moved from Augusta to Atlanta soon after her birth. She was my caretaker for my daughter. So, I did not have to resort to immediate daycare upon returning to work. Mother got paid, but I saved on additional expenses daycare might have charged and she was family. Even when my child attended daycare right before PreK, it was close by my place of employment. I loved the company I worked for in Human Resources. The company had been around for years in which people retired. When we were acquired by a universal company, my pay scale went up and our new beginning seemed positive as well with this change. I even went back to school for my Masters' Degree in HR Management because of the company's 100 percent tuition reimbursement program.
My daughter's father and I did get married at the courthouse. Our daughter was our ring bearer. It was also exciting to travel out of the country to visit his family in Europe twice. Our visits there also allowed us to go to other nearby countries, France, Luxemburg and Germany. It seemed like the good life. His family was kind to me. Being American more so than being African-American was a topic of discussion.
Changes in our comfortable lifestyle occurred after our return to the United States from Europe during our second visit. The Atlanta airport would not let my husband through even showing a copy of our Marriage Certificate. He was given no arrangement or timeframe to support his stay in the country. Following this experience, I could only remember walking around the very large airport parking lot looking for our car. My daughter was asking questions about where and when her father would be coming home. Over a period of time reality set in that no conditions or any kind of arrangement had been provided that he would return. Instead the phone calls and financial contributions ceased after a few months. Month after month, reality set in about my marriage and about our family.
As my child continued to grow up, I was appreciative I had family around to help and to relieve us of our pain. I moved on with my life. I became involved again with a new man. He was my neighbor's brother. She introduced me to him. We got together following her get together. He moved in and my daughter and I were fortunate to have someone who was a neighbor's family member. My daughter knew him before I did because she was friends with his niece, my neighbor's daughter. She played big sister to my child. During our time together, we worked out our plans. From obtaining employment to utilizing the government's assistance programs to working with programs to maintain and stabilize our living arrangements. However, it came to an end when my home was foreclosed. Fortunately, my daughter and I were able to move in with my mother and he was able to make other living arrangements with his family, a good friend, and weekly inns.
My child and I became acclimated in another city in the same county we were living in. My child got involved in their school system. I acquired full-time employment within that county's elementary school system. We maintained our stability.
In the midst of these changes, a few additional things occurred that impacted our lifestyle. I was in an accident walking across the street from where we live. I was hit by a vehicle which hospitalized me. My youngest brother would tell me I was a "miracle." The doctor had communicated my walking and my memory status might not improve. When it did, my youngest brother reminded me of what I overcame. He also told me how fortunate I was to have my close friends. They were there for me and supported me the whole time I was working on improvement. From my friend who is also in the school system insuring my health coverage was implemented correctly during this time to my other friend paying for my out of pocket expenses for my neurologist to release me to return to work when my medical coverage was exhausted. All of their support was genuinely and gratefully appreciated with much love.
After my return to work, shortly after the Covid-19 virus pandemic hit. My vehicle stopped running after many mechanical repairs. I needed a new engine on a 2000 vehicle and would rather invest in a newer, more reliable and dependable vehicle. We went virtual at school, so no one could go back to work in our county within the school system. In the midst of the pandemic, I took an interest in meeting potentially decent, good men on dating sites of interest. I didn't have any luck on the 50+ site with the two men I entertained. One in Birmingham, AL who completely stopped communicating and the second man in the Atlanta area who removed himself once I reached out for some kind of assistance for a rental vehicle to get to and from work when I would not be able to pay him back until I got paid at the end of the month. I thought I had given up on the idea to meet someone this method even though I chose this way since the social life for me had become null and void.
I have since reached out to my school that I work in to find someone who lives nearby that I can ride to and from work. So far, I have had a few people that have helped along the way. I have inquired with a few dealerships about potential leads with used affordable vehicles. I have sought out financial assistance with our educational system's retirement program. I have also met someone else online through another dating site. I enjoy my new friend. Although he does not live close by, he is in the Atlanta metropolitan area...one day at a time.
My youngest brother passed away in the midst of the onset of the Covid-19 pandemic in May 2020. It was unfortunate that I could only follow the ambulance to the hospital he was sent to for his health condition unrelated to the Corona virus. I was saddened that I could not sit in the lounge area to find out and follow up on his condition. I had to leave the medical facility. The next day he passed away. He was cremated so we were unable to have a funeral service for him during this pandemic. I am thankful that family members honored him who live out of Georgia. I am forever grateful.
Right now, my focus is on obtaining a decent vehicle to get to and from work and any other places we may venture. I can no longer allow Lyft rides; payment arrangements to a coworker I ride with; or take unnecessary time off if finances or others are unable to get me to and from work. My daughter is 16 and has her first job close by my mother's apartment. We are thankful that it is only a five minute walk for her to work. I am happy that she is acquiring her own income to support her personal needs as a cheerleader or clothing and items she may want. I am seeking part-time employment close by as well to support us financially. I am also seeking other career opportunities in accommodation to my vehicle need to assist in better living arrangements. I enjoy and appreciate working in the school system and am set on taking the state test since I have a Bachelor's Degree to have the opportunity to work as an educator in the school system. And, I seek a place to live and to provide financial offerings for my mother to obtain her own place with my other brother. I want my daughter to have her very own room and that the living room and its sofa will be a thing of the past for her as we move on at this time.