What Is Positive Parenting?
Dr Lachlan Soper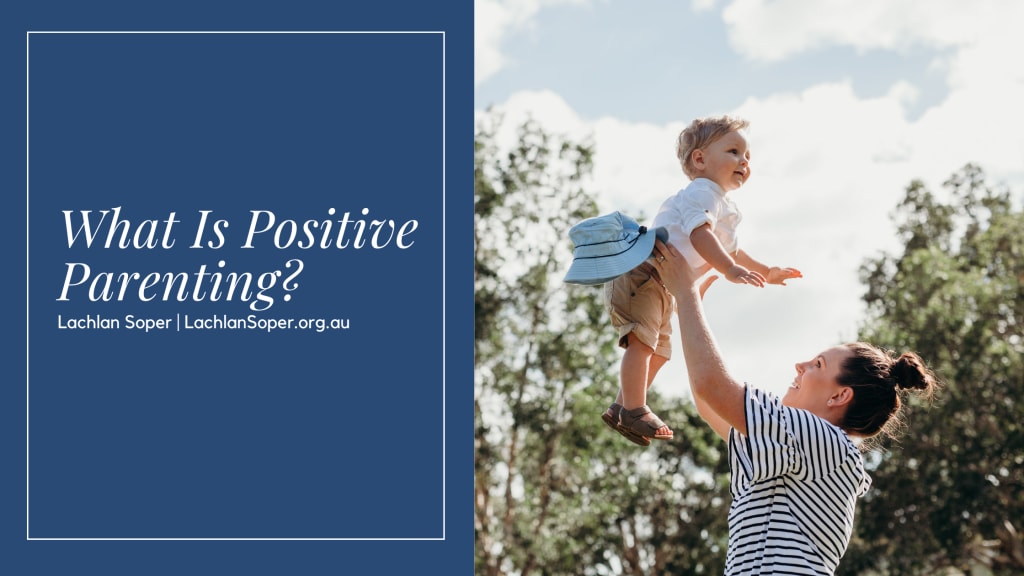 To say the least, parenting can be extremely challenging. No matter how many tips and advice you receive from friends or family, parenting is not an easy feat. Luckily, there are now numerous research-supported tools and strategies that parents can utilize. Dealing with the common challenges of bedtime issues, independence, picky eating, or tantrums can be made a little easier.
One of these strategies is called positive parenting. This is a term that has become quite popular in recent years, and for good reason. But what is positive parenting? Positive parenting is teaching good behaviour through kind and firm parenting techniques. Positive and gentle parenting techniques are based on the idea that children are born with the desire to do the right thing and emphasize mutual respect between parent and child. The focus of this style of parenting is to teach children proper future behaviour instead of punishing past misbehaviour.
Benefits of Positive Parenting
One of the biggest benefits of positive parenting is fewer behaviour issues. When done properly, positive parenting will lead to ​​positive outcomes with a child's behaviour and emotional growth. The opposite, which is harsh or punitive parenting in early childhood usually results in more behaviour issues. A child's behaviour is further exacerbated when a parent is too hard on them or uninvolved.
Positive parenting also builds a stronger bond between parent and child. A more positive approach to parenting helps to build trust with children because they're able to have more positive conversations with their parents more often. Combining these positive affirmations and interactions with an optimistic outlook will build a stronger relationship between parent and child. This kind of bond will encourage children to go much more willingly to their parents with any problems or questions they have in the future throughout childhood and adolescence.
Positive Parenting Techniques
When practising positive parenting, it's imperative to focus on the reason behind the behaviour. Before reacting, try to think of why they may be acting this way and their emotions behind the action. Address the cause of the misbehaviour directly so the child feels their needs are acknowledged, even if they aren't getting what they want. Giving them emotional support is much more essential than having thier actual request met.
By acknowledging them and their feelings, they're able to move on from the issue and no longer misbehave. Start by asking them questions to get to the core of the problem. Actively listen to your child to better understand the reason behind their behaviour. When it comes to discipline, it's important to be kind but firm. By doing this, you're showing them what it is to be kind and respectful, which they will likely mirror in the future.
ABOUT DR LACHLAN SOPER
Dr Lachlan Soper, based in Mosman, Sydney, Australia, is many things to many people—a caring general practitioner to his patients, a committed cyclist to his biking companions, but, most importantly, a father to his three beautiful children.
Of all the roles and responsibilities he's taken on, being a father is the most rewarding for Lachlan Soper. Nothing is as beautiful of a sound as his children giggling and laughing or the warm feeling of cuddles at the end of a tiring day. The responsibility of raising a young human being, moulding them and helping them learn how to make their own decisions, isn't one that Lachlan Soper takes lightly. He feels honoured and blessed to have the opportunity to share his life through authentic conversations with his children through that very moulding process.
Authenticity is, above all, the foundation of his parenting philosophy. Lachlan Soper believes that it is essential to model authentic behaviour to his children, making sure they know he is a flawed human being just like them.
About the Creator
Dr Lachlan Soper, based in Mosman, Sydney, Australia, is a General Practitioner at Avenue Road Medical Practice. Lachlan Soper is a caring general practitioner to his patients, a committed cyclist, and a father to his three children.
Reader insights
Be the first to share your insights about this piece.
Add your insights