What I learned during COVID19 lockdown
Mind shifts take place when you're forced to stop and listen. Spending time with my family gave me insight into something I've never considered before.
When COVID19 hit the UK in March, I was forced to spend an unimaginable time with my parents. I love them dearly, but I think anyone in their 20s and after returning home from the freedom at university, would feel the same way. It just requires a lot of patience from all participants if you know what I mean…
After an incalculable number of chats during coffee breaks, I was astonished to find out what an incredible woman my mum is. Kicki has eighteen years of experience in the birthing world and has supported over 200 families leading up to and during the birth of their babies as well as in the postnatal period. Of course, I knew she had worked as a doula for many years however, I never seemed to be able to give her the time of day to share her knowledge and experiences. Mind shifts take place when you are forced to stop and listen, and I was shocked at how consumed I had become with my own life problems. It was not until I was forced to press the pause button on my own life and spend time with my family, that I got an insight into their lives and the important work they do.
After just one conversation with my mother, I learnt about the treatment some women received during the birth of their child. This really struck a chord with me and when I was shown research with statistics that showed that "nearly two thirds of women (63%) felt their baby's birth affected how they felt about themselves. Of those women 55% felt the impact was positive and 41% felt the impact was negative". This really opened my eyes to the impact a woman's birthing experience can have on her both mentally and physically.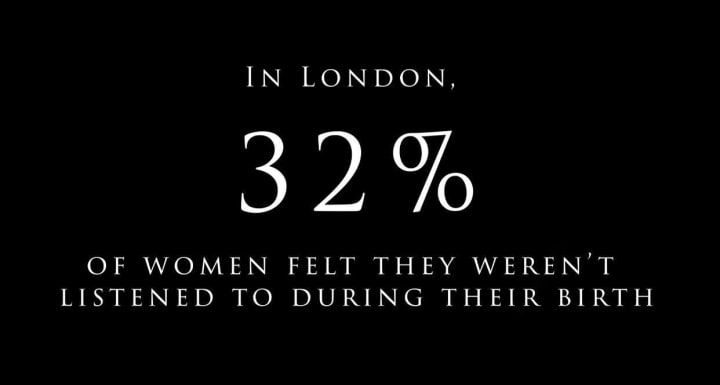 I was quite shocked by some of the statistics and surprised that this is still not talked enough about even though many women will at some point have children. Of course, being a classic filmmaker graduate, I saw this as an opportunity to make a film to spread the knowledge I had recently acquired.
I knew filming was not going to be easy and I wasn't sure if I'd even be able to collect enough footage for the film to work and to have any kind of impact. What made matters worse was that my younger sister had been furloughed from her job, which meant filming turned into a bit of a nightmare. She insisted that she had something to say on the matter and begged to be in front of the camera, classic little sister syndrome.
Her persistence finally broke me, and I suggested that she could answer some questions, thinking that the footage would probably never be used. However, once you have seen the final film, you will notice that she actually completely proved me wrong. Including her point of view was powerful and it brought a youthful aspect to the film. It has helped to make the film appeal to women of all ages.
I think it is so important to spread this knowledge about childbirth so that everyone can learn and gain a better understanding on one of the most magical times in our lives. The only reason birth is displayed in films so incorrectly is because I think there is not enough information out there for everyone and perhaps not enough interest to get it right. I hope this film can help with the eradication of irrational fears around childbirth. I also hope it reaches a wide audience so that future women giving birth can understand their rights, power and control they have over their own bodies. It's important to get well educated so that informed choices can be made about the care they want, whatever that might be.
I made this film so that I can share with the world the realisation I had when I was given the time to stop and listen to the people that are closest to me. Spending time with my family gave me an insight into something I had never considered before.
I now look forward to our coffee breaks at dinner or when we sit down together to eat in the evenings.
I will be forever grateful for this time I had to learn and then given the opportunity to share the knowledge. I genuinely believe that there is a massive need for further education on childbirth and the powers of the female body.
Please see film below.