Using the Cricut to teach how to match outfits.
How one mom hopes to teach her seven year old how to match outfits, using personalized t-shirts and a Cricut machine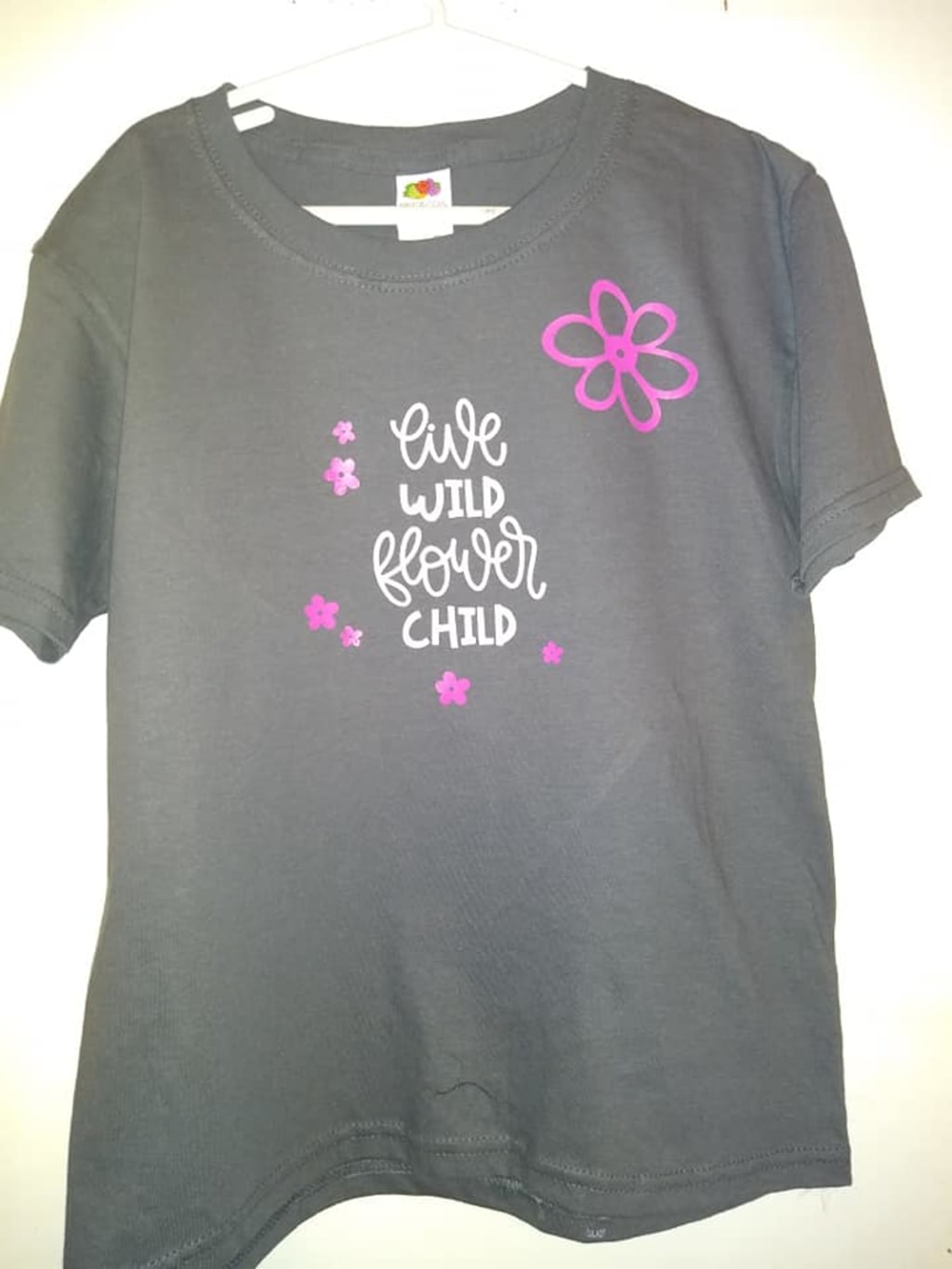 We have a seven year old who loves patters. However she hasn't quite mastered how to make an outfit match using a pattern and a solid. She probably has fifteen different pairs patterned leggings, and shorts.
She had been asking me to make her some shirts for awhile. So I decided to make her ones that would match her crazy leggings and shorts. That way hopefully she will learn to put them together and stop thinking that her pink plaid button up needs to be worn with her cheetah print leggings.
She has four shirts so far. Including the one pictured, all of which I made and designed the iron on's for with my Cricut machine.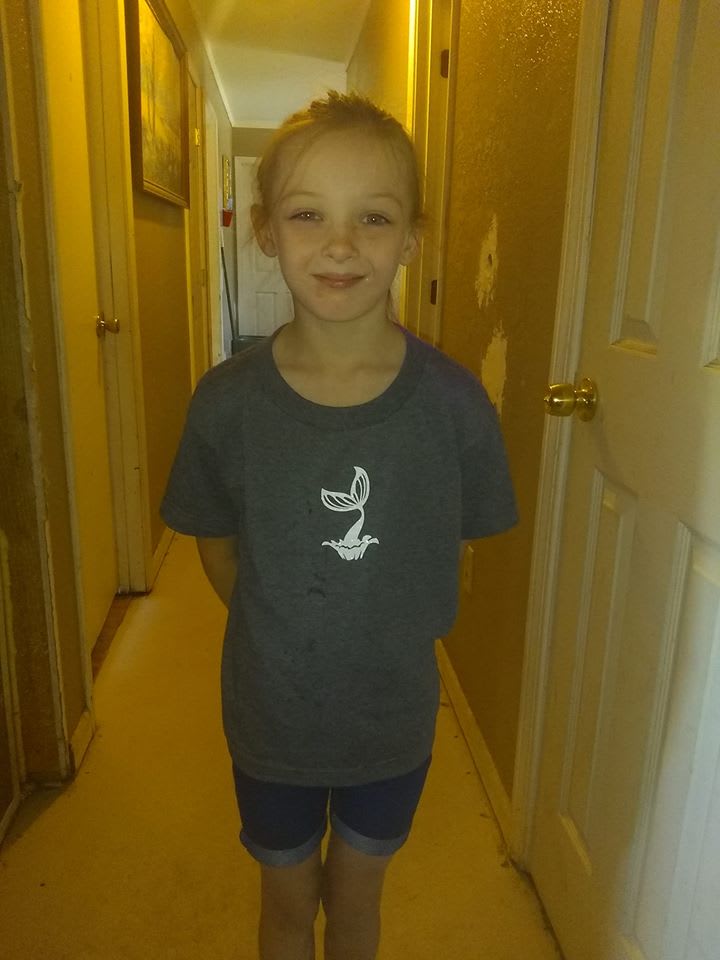 The first one I designed for her was simple, just a mermaid tail splashing into the water. It was of course glittery. Because nine out of ten times if glittery is an option, that is what she will choose. Just like a billion of other girls her age. I have gotten to where I use transfer paper to make sure I whatever iron on/vinyl or whatever is a little easier to transfer onto whatever I am making at that certain time. In fact after I finish this story up, I will probably go work on the mermaid for some art work for her room.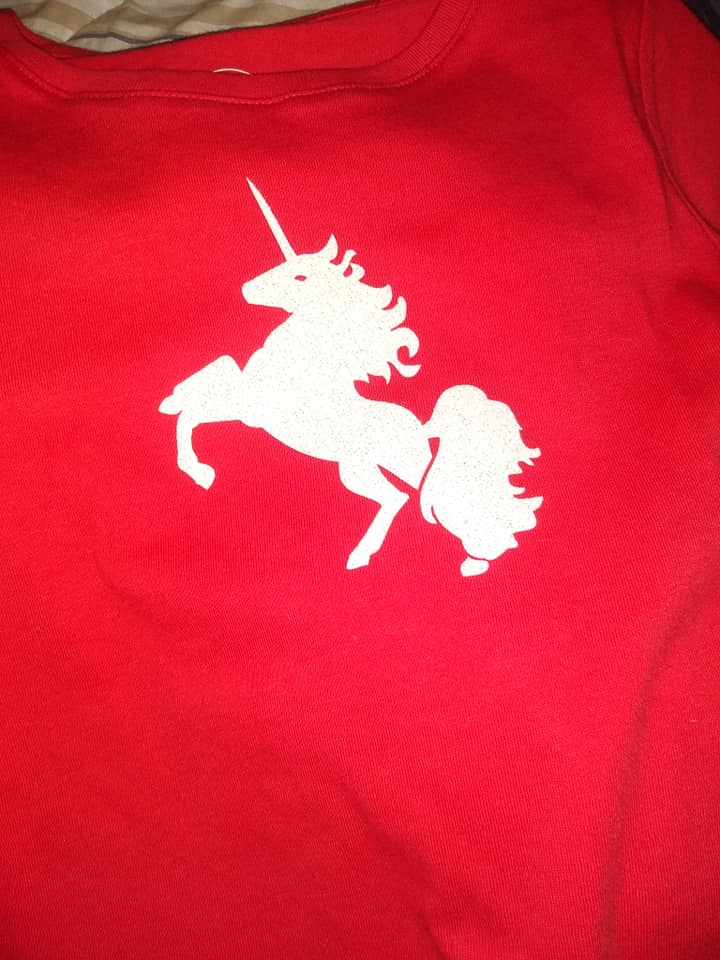 What seven year old doesn't love unicorns? Cause if you meet one, they might in fact be a unicorn themselves. We have unicorn purses, stickers, bath bombs, slime containers, pain brushes and even unicorn poop lip gloss at our house. So needless to say, I knew there needed to be a unicorn t-shirt made at some point. Especially since she has a pair of unicorn leggings that I got in her Kid-Pik box, that have so much going on in the pattern, that it was frustrating to find her a shirt that matched.
Cricut, and a dollar tree plain t-shirt to the rescue, and now she has a complete outfit. I even got her a hoodie that has unicorns and white sequins on it, that really complete her unicorn fanatic look.
Being that she is seven, her attitude flares out more sometimes than others. The other day it was a particularly rough day. Talking back, not listening, flat out telling me no. Just a bad attitude. So that gave me the idea to try to find a crab shirt to match her nautical/anchor leggings. I think I can safely say that I knocked the ball out of the park when I made this one. It's not the traditional colors that you think of when it comes to crabs. But I think it makes the shirt extra original and cute. Plus she loved it as soon as she saw it, and has actually worn it twice since I finished it.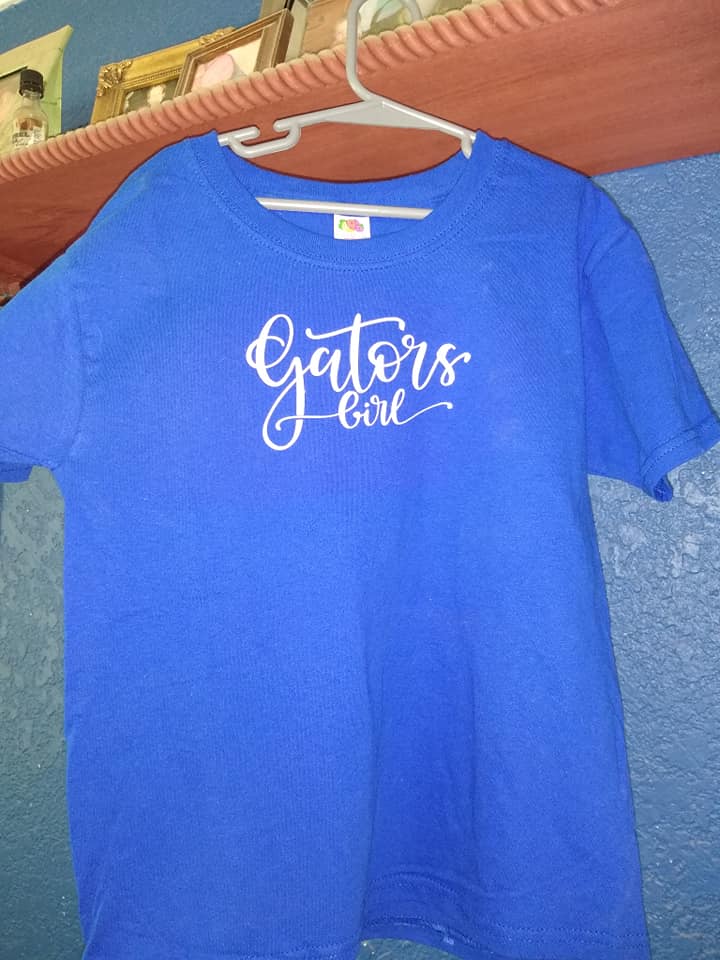 We are not sports fans. Not in the way that most of y'all think of when you think of sports fans. But we are Florida Gators fans. Hardcore. She was the only one out of the four of us, that didn't have a Gators shirt. I originally had planned on making the lettering orange, but the orange vinyl I have isn't iron in. It's for decals. So I used up some of the last white glittery iron on stuff I had. She's got a few different pairs of shorts, that she always pairs the weirdest shirts with. So I figured this one would be heavy in the rotation, and maybe I could sneak some of those shirts out that she insists on wearing that don't fit her, or are stained so much, I just don't want her wearing them out in public anymore.
The t-shirt that I used as the main story picture, is one I made to go with the pair of flowered leggings I got her off eBay, but she ended it up wearing it with some flowered shorts yesterday. So I guess she kind of got the idea. Maybe it will be a baby step in the right direction.
I think I have three blank t-shirts left in her size in the craft corner at home. I want to make her another mermaid/aquatic one. But I am really hoping that this idea pans out like I want it to, and she can start putting he own outfits together.
About the Creator
A lot of ramblings about kids, art, food, pets, life and work and trying to make it all make sense.
Feel free to laugh at me and the dogs on Insta @dirtfloorfamilyliving
Reader insights
Be the first to share your insights about this piece.
Add your insights