To my parents with school aged children: How YOU doin?! No, seriously...
Georgia law states that if your child suffers an injury or DEATH due to COVID 19, the schools they contracted it in assumes none of the risk... So let's discuss our REALISTIC options.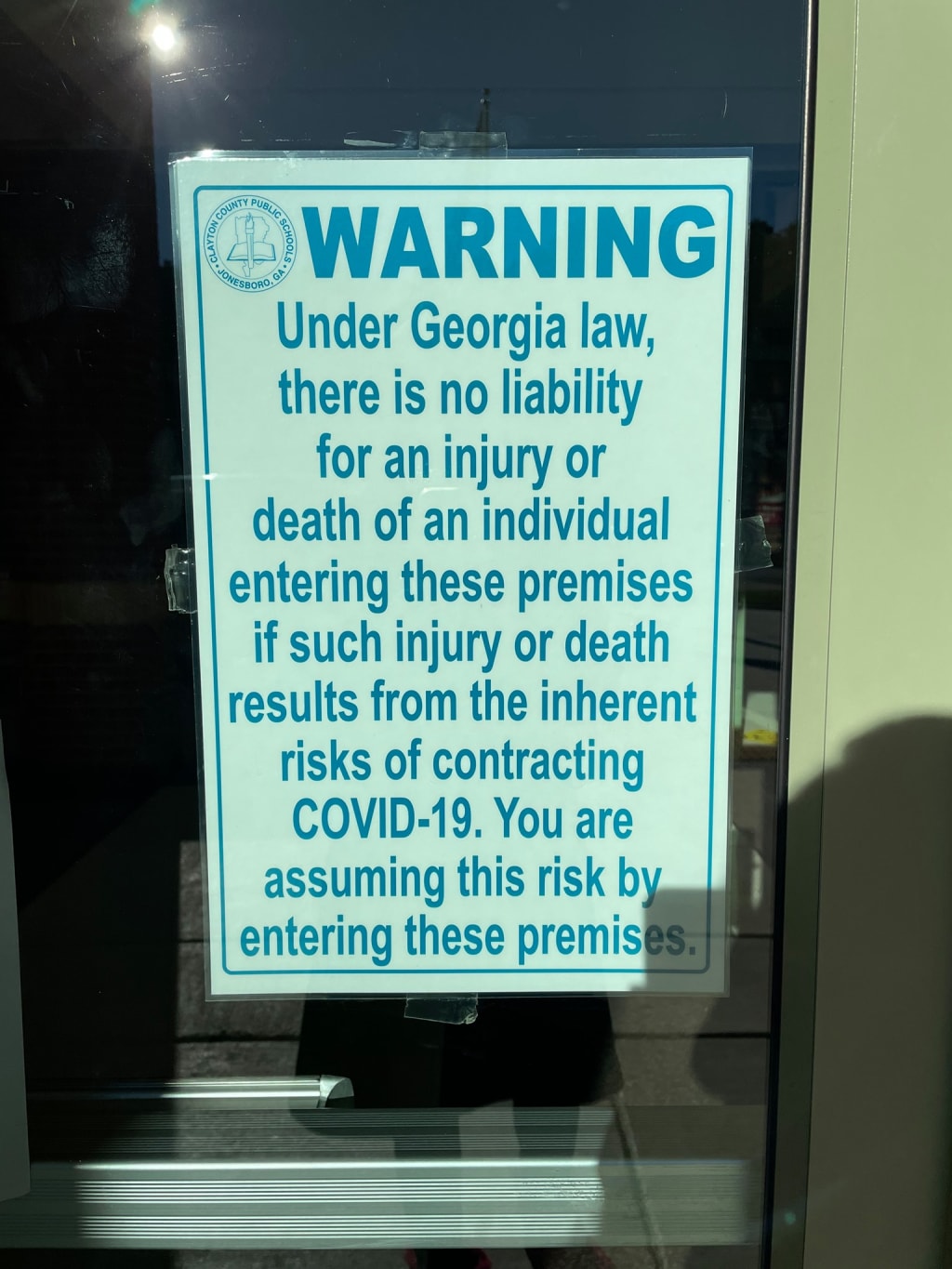 This is America...
So here we are, in the later days of 2021 and COVID-19 is still ruining our lives. To those of you thinking I'm being dramatic, must be nice being childless. I mean, I assume you ARE childless because every parent I know has been negatively affected by this pandemic UNLESS they are wealthy. Childless Americans are screaming, "Parents have it easy! They get stimulus checks and more money on their taxes!", "Why do they pay you for being a parent? I get nothing for being a single adult with no children." Or my personal favorite, "Your children are your responsibility. It's not the governments' fault you can't take care of them!"
My oh my, where do I START?! Although it is not our governments' job to take care of our children, we do expect them to take our children's safety and education amid a global pandemic seriously. Furthermore, the stimulus checks and/or tax breaks we receive are for expenses we incur due to idk, PARENTHOOD maybe? Have you ever thought that MAYBE they gave parents more money than single adults because we are responsible for more than just ourselves? But before I get sidetracked, allow me to bring this around to what sparked this post.
My daughter started first grade 2 going on 3 months ago, since then she has had to quarantine 3 times. Every time they send her home, they don't send any work and by the time they've "switched her to virtual", her quarantine was up. After the second mandatory quarantine, I lost my job. The last time she was asked to quarantine, I decided to switch her to virtual permanently. She cried for days, and my heart wept for her because I hate that coronavirus is ruining her first year in school. We only get this experience once and unfortunately; she will not be in the building. Not only does it take the school 2 weeks to switch her over (this is after several calls and visits to the front office), they then fail to provide her a login and tell me to wait until next week. At this point, I could scream.
Not only am I not able to hold down a job, but my daughter is also being robbed of her education because these teachers and administrators either do not care or are overworked and/or misplaced. I sympathize with the educators being forced to teach virtual and in person classes along with the ones teaching subjects they are not familiar with due to a shortage of instructors.
So please, somebody, anybody, riddle me this:
What is a parent to do when their child cannot go to school and the parent cannot go to work due to coronavirus, but the national eviction moratorium has expired, bills are PAST DUE, and they never qualified for unemployment? Work from home you say? Tried that and my children being in the background in virtual school was a problem. Go to a different room you say? Did I mention I have a two year old? Pay someone to look after them while you work? Have you saw the requirements and pay for these "jobs" recently? (I have been a HR director for 7+ years so $15 an hour will not cover my bills) Apply for assistance you say? I have and over the last year and a half there have been CRICKETS! Apply for a loan, you say? Ok, but how do you propose I qualify for one or pay it back without a job? I am so open to other ideas!
Enough of the pessimism, let's discuss the fact that side hustles and working from home doing things like drop shipping and consulting have sky-rocketed. To my not-so-entrepreneurial parents that are in need of another stream of income, feel free to email me for me free list of 50 Proven Ways to Make Money While Home ([email protected])!!! To those of you like myself that have tried everything and are still in desperate need of help, I offer my prayers and I hope that your situation improves drastically and expeditiously. If not, do it like it's your bday and work like h*ll until the very end!
Best Regards,
*Queen A*