To All Mothers Past, Present & Future
A gift written in the words she wrote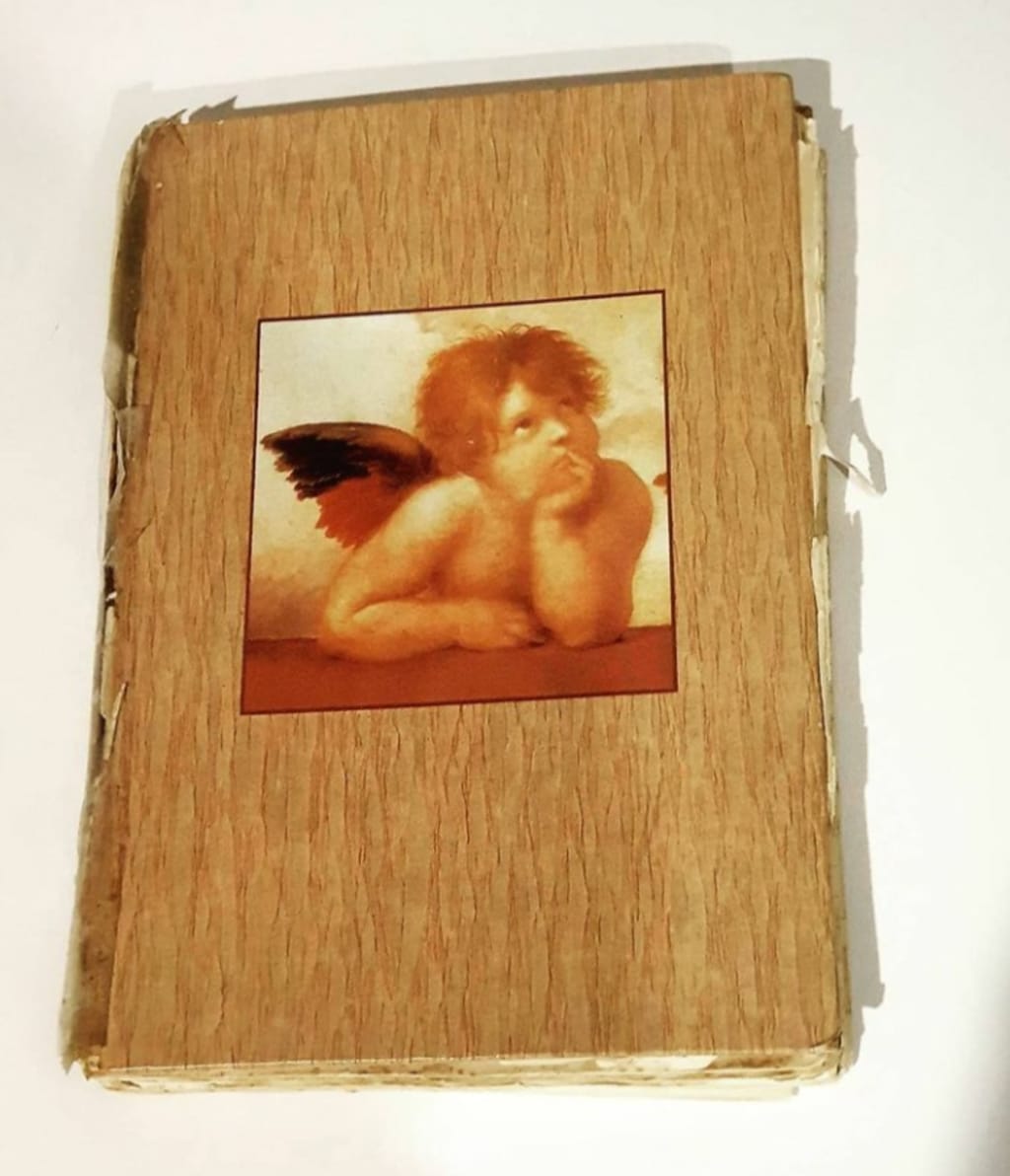 My Mother's Poetry Book, it has a special place in my heart
I would like to honour ALL mothers: our mother Earth-Gaia, mother-figures past, present and future and my own Mother; Susan. While our time together was only a short interlude; as a seven-year-old child, losing a mother to cancer is never easy. I believe she has never left my side and is still guiding me on my own journey. Her legacy comes in the form of a book of poems she had written before her untimely passing – her hopes, loves and dreams shine through with each word she wrote.
I held my favourite blanket tight; still half asleep, when the deep baritone voice of my father whispered, "It's time." It's fascinating what the child mind remembers, and mine will never forget the silence within the room and the strong, familiar smell of my mum's favourite flowers as they hit my nostrils. As I peered over the rails of the bed, I saw my mother. She was so tranquil and still, like one of my cherished Barbie dolls tucked neatly in their bed. I remember moving over to the corner of the room and huddling together with my brothers and hearing my father in tears tell us, "She's now in heaven kids." As a seven-year-old, how was I meant to comprehend what I was witnessing? It didn't make sense. Time did not seem to go in a straight line from then on, instead it swept me up in a whirlwind, twisting and twirling this child without a mother.
As the song "Kiss from a Rose" was playing and her wooden casket was being lowered into the earth, I remember crying my little heart out. At that moment I understood my mother was not coming back home. For many years as a child, I would cry myself to sleep, I yearned for a sign she was here with me. I think of the time in primary school; when the whole class went roller skating and I heard my mother's song play again. As I stopped in my tracks, a wave of sadness came over me; a feeling of longing for my mother's presence and a disappointing realisation; I would never get to know her, as she would never get to know me. This was the beginning of a dark cloud of sadness that surrounded me like a cold winter's day.
Throughout high school this dark cloud remained constant. My father re-married and I felt like Cinderella; forgotten and alone. As a young lady, I wished my mother was there to guide me through all the special milestones. Thankfully I had the most wonderful grandmother who taught me the word 'Gratitude'. My fondest childhood memories were with her. She lovingly taught me all the things my mother would have; cooking, cleaning, crochet, empathy; and how to smile again. At 12, she sat me down and explained "The whole world smiles with you and if you cry, you cry alone". And it was up to me if I wanted to take the easy road or the hard road to happiness. Just as I was starting to enjoy smiling again and felt as though the dark cloud was dissipating, it was all cut short when I was 14. I lost my closest connection to a mother once again and the sadness grew. Far removed from the blossoming "Rose" in Bette Midler's song which played at my grandmother's funeral. I was more like a seed in the deepest, darkest soil, while there was plenty of rain, my self-esteem and happiness were piled under snow. This haunting cloud was now at its darkest, I was a seed that could not seem to find the light.
Lovingly, my father saw this light was dimming and gave me my mother's poetry book. He said once more, "It's time… it's time to get to know your mother". It was the start of this little seed coming to the surface, the little spark of life it needed to melt away the snow. Through my mother's words; I discovered her thoughts, feelings and her hopes and dreams which became my own to follow. Reading her poem "Mother" for the first time left a lasting impression on my heart. As I looked at the date, my eyes could not help but swell up with tears knowing she too had already reflected on her own fate; of a mother not seeing her children grow up, as she would not survive that very year. While this was like a dagger through my heart, I knew the only way to overcome this sadness was to remember what my grandmother had taught me; to keep smiling with the world.
Having my Aunt take me under her wing was another reason to smile. As I completed high school and graduated from university to become a nurse, it was her kindness and love that helped this little seed really start to wiggle and move towards the light. Ironically, the universe works in mysterious ways; I nursed at the same hospital and oncology ward where my mother was diagnosed with cancer all those years ago. I even found references to this very hospital in her poetry book, which made me appreciate; things always happen for a reason. After a few years of nursing I had an inner yearning to travel the world at large, I felt there was something missing, there was something bigger and better to discover.
Like the hopes and dreams my mother left in her legacy, at 24, I was on a quest to travel to a distant land, far removed from all the bad weather and plant a new seed. Discovering true love and being rescued by a knight in shining armour was the fairy-tale I had imagined. Unfortunately, this picture-perfect fantasy fell through and it rained down once again on this little seed. Returning home prematurely made me feel all hope was lost, I failed my mother, my grandmother and myself. I thought, why must this dark cloud follow me everywhere I go, until it all clicked. I got myself a pen and piece of paper and I wrote my little heart out. I discovered I found more overseas than I ever thought possible. I found myself. More powerful than any talent, skill or fairy-tale, it was a gift only a mother could wish for her child. More astonishingly, I realised all this time I was looking for myself to love and carry home. At last, the dark cloud had dissolved. This little seed had learnt how to poke through the surface of the deepest, darkest soil and finally feel the warmth of the sun's rays. This little seed had all the vital ingredients to blossom and grow.
The most profound gift my mother's legacy left behind was the inspiration and courage to openly express my own heart and soul through pen on paper, just as my mother did before me. And I realise now, after all these years, though our time together was only a short interlude, my mother had guided me all this time. We are ALL little seeds when we begin our journey; a gift planted by our father and nurtured by our mother. And through life's changing cycles, spring, summer, autumn, and winter, we continue to grow, no matter what life throws at you. And like all things that grow, with a little help from others, we end up reaching up to the light. It is the miracle of creation that we come to life and bloom - LIFE is a continuous stream of miracles.
The following poem is her legacy and I hope you find comfort and strength as I did the first time reading it. May this be a gift to share for all mothers, past, present and future and touch your heart, because from beginning to the end, mothers and their children, are never far apart.
"Mother"
Is there a sweeter person
On this Earth
Who have us Birth
From the moment of conception
We are affected by her
Whatever she thinks or does
Developing in her womb~ we can only purr
And then we are born
Finally, our eyes we meet
Falling in Love
Is so sweet
She nurtures, nourishes, comforts and consoles
All through our growing years
And guides us with her Soul
A labour of Love one must conclude
It's so sad some of us
Are only with her for a short interlude.
Us Females may one day be Mothers too
Gaia our Mother Earth
Don't forget she's another important clue
To the miracle that is life~ Our Virgin Mother Mary.
Written by Susan Mary Louise Dallinger Bryde on 22.03.1997, Rested Tranquilly on 05.06.1997
immediate family
30something, Nurse, Crochet Lover, My Mother Inspired My Poetry, Always Follow Your Heart