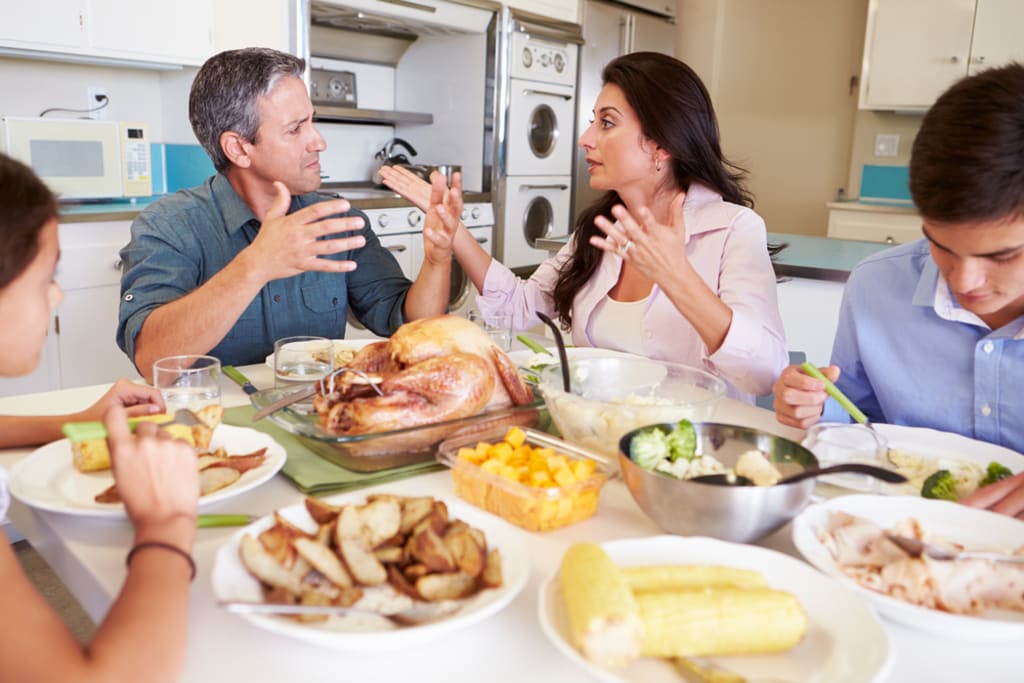 Prior to meeting my wife, for most of my adult life, I hadn't had Christmas with my family. There were several reasons:
When I was at university, I was a casual and Christmas Day paid double time and a half,
When I finished university, I joined the police and this meant I was working most holidays, and I was stationed away from my hometown,
I have found my family to be painful to be around at Christmas.
Now that last point probably sounds a tad harsh, but my mother would get all flustered about sorting the meal for the day, she'd then bark at Dad who would get grumpy, then they'd both direct their anger towards their children. Every year I would expect my family to behave on Christmas Day, even though they had shown they couldn't behave for the 364 other days of the year, and I'd get disappointed that they wouldn't. As I grew older, I just wanted less of the grumpy and more of the happy. This was when I discovered the joy of an orphan's Christmas.
The concept of Orphan's Christmas is simple, everyone that isn't around their blood family would gather and celebrate. It was an amazing practice because everyone would bring food and drink and you wouldn't have any of the tension that came from being near your family.
Fast forward a few years, I'd left the police force, and moved across the country where I didn't really know anyone. I met, my now wife, and things were going well. I started dating her in October, so I had a couple of months before Christmas. I think because I was still new to the family, her family was on their best behavior that first Christmas, it was nice to be around a family at Christmas time, they had some quaint traditions.
But over the next year or so I saw what they were like and realized quickly that they weren't the sort of people I would want to be choosing to spend time with if I didn't have to. Fortunately, my wife was aligned with this thinking.
So just before the next Christmas my wife came to me and told me that her friend whose husband was a national park ranger was going away and would we like to stay in their house in the National Park. It was a large, old house that we'd stayed in before, I was keen to get away to the tranquillity and have a peaceful Christmas. She then said, "We could invite people out over Christmas". I cheerfully agreed.
The next day, however, my wife burst the happy bubble I was in when she told me that she'd spoken to all her family, and they were keen to come out to the house in the National Park for Christmas Day. I was shocked and said I didn't agree to spend Christmas with her family. She replied, "But I said we could invite people out over Christmas" to which I responded, "I thought you meant people that we liked".
My wife is very much a "sunshine and lollipops" kind of person. She believed that it would all be fine and that I had nothing to worry about. I was skeptical but was happy to humor her.
Well, Christmas Day came, and we started prepping the food and getting ready for everyone's arrival. My wife's parents arrived first, with her sister and niece in the same car. Prior to arriving my Father-in-law and Mother-in-law had apparently had a fight. I say apparently because they were still yelling when they arrived and had sufficient grace to say "Merry Christmas" before resuming their argument.
To help take the edge off, the Mother-in-law decided to start drinking at about 10 am, and the sister-in-law thought it would be rude to let her Mom drink alone. The Father-in-law considered himself an expert on, well, everything. He would start most conversations with a lie, that lie being "Do you know the interesting thing about that?" What followed was not interesting, nor had I struck up any conversation with him on that topic, it was just how he sought to insert himself into a conversation.
I was trapped by him talking at me several times, and my wife did nothing to save me. It turned out that my ability to feign interest had translated into her thinking I generally cared what her dad was saying and that there was no need to rescue me from his ramblings.
Just before lunch, my wife's brother arrived with his wife and her mother, and I mean JUST before lunch. He wasn't an amateur at this, he knew to minimize exposure to the madness he had to get there just before they were all shoving food in their mouths. Alas, it didn't stop the in-laws from bickering over everything.
Over lunch, my wife's sister kept complaining about how long she had to wait to open her presents. The family did a "Secret Santa" thing, and they opened the presents after lunch. Apparently, that was way too long for a 30-something-year-old woman to wait.
We finished lunch and opened the presents. I got a DVD of the Dark Knight, I was keen to just watch the movie, but you couldn't get people to stop arguing long enough to hear any dialogue.
After the presents had been opened the wife's sister went for a nap. That nap lasted until 9 pm. The wife's brother and his troop left about 20 minutes after the presents had seen the light of day. I hated that man for abandoning his future brother-in-law in the heat of battle.
This left me with the mother-in-law telling me how much she hated her husband and she wished she could divorce him. I helped by telling her about an uncle and aunt who had just divorced after 40 years of marriage, but she wasn't convinced and said she'd just learn to live with him.
Then I got the father-in-law telling me about the rock formations within the national park and the various wildlife. I kept sipping on my whisky and imagining pushing the father-in-law off those rock formations.
My wife was in tears by the end of the day, her family had put on the display I had been expecting and she had feared would happen.
But that was ok, at 9 pm the sister-in-law woke up after leaving us to deal with her maniac parents and then started babbling on about wanting some food. At that point, I directed my wife off to bed and left her family to their own devices.
I made the statement, "That's why I love orphan's Christmas".
The next year we flew to the other end of the country and spent Christmas with a friend of mine. We ate seafood, drank, laughed, and had the best time. From then on, it's been an orphan's Christmas ever since (even if we have had to lie to the in-laws that we had people coming over when we didn't).
About the Creator
Amateur storyteller, LEGO fanatic, leader, ex-Detective and human. All sorts of stories: some funny, some sad, some a little risqué all of them told from the heart.
Thank you all for your support.
Reader insights
Be the first to share your insights about this piece.
Add your insights