The Storm
My stillbirth experience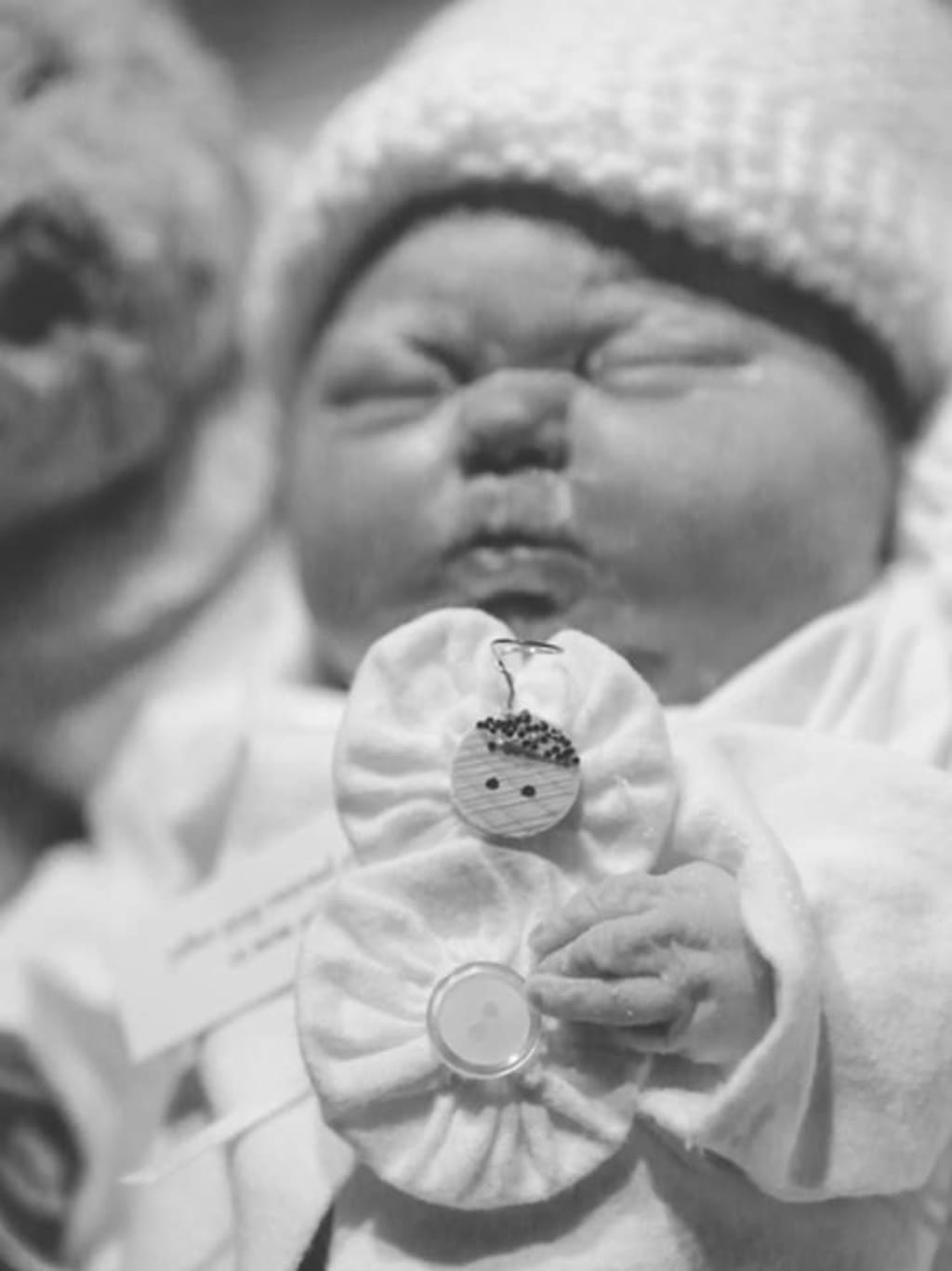 This story is in Honor of my daughter Kynslee Anne
So what happened?
In July 2015 I found out I was pregnant. Hailee was two years old. So many emotions went through me. I wanted to be a mom again but I felt like I was a horrible parent to begin with. Was I even ready for another baby??
As weeks past I became excited to be pregnant again. One thing I am great at is keeping my children safe. I went in for my first ultrasound and they tried telling me I was 13 weeks along. To remind everyone there is no way in HELL I could be that far along. I was on birth control and I had recently gotten my period. So a few weeks later I finally got into an actual doctor where they had said I was 9 weeks along. By this time that time frame seemed right (I had some insurance issues and it nearly took 2 months before I could get into a doctor). So as a regular normal routine I was having monthly doctor appointments. One day I got a phone call from my doctor telling me that I needed to get an ultrasound from Michigan university for a better ultrasound picture of my daughter. They didn't really give me a clear answer why they wanted a better picture. The only thing they told me was "her legs look short, its not a big deal it could just be a genetic disorder but we just need to double check.
So just like the doctor said I didn't worry about it. Since I was 15/16 weeks along and knew I was having a girl from an early gender detection ultrasound I had a few weeks before I was ordering girl clothing, a swing and a baby bed from amazon and discussing with Terry about how we were going to decorate her room.
A month later I went in for the ultrasound at Michigan University, I just knew that everything was fine and my doctor was overreacting.
I laid on the table and watched my baby move on the screen. I noticed that the ultrasound tech was making worried like faces. I asked her several times if everything was okay. She mumbled a few things which I couldn't hear what she was saying… Maybe it was because Hailee wouldn't stop talking or singing on top of her lungs in the room. Finally I got tired of the tech looking at my baby's arms and legs and NOT giving me any answers so again I asked, "Is there something wrong?"
She looked at me and said very calmly, "Her arms and legs are coming up short, but everything else is measuring just fine." I Instantly burst out in tears as I didn't want anything to be wrong with my child. She then explained that my baby could be "a small person" aka have dwarfism.
Even if she was going to be small I would love her no matter what. I went home that day thinking everything was going to be okay. I went back to getting things ready for her arrival.
Two weeks later I received yet another phone call from my doctor saying that I now needed to see a specialist as they were going to do yet another ultrasound and either confirm that my baby had dwarfism or that she had something else.
At this point I started to get worried that something was seriously wrong.
They could not get me in right away so it was several weeks before I went to see the "specialist."
A week before Christmas Eve I finally had my appointment I again laid on the ultrasound table and watched my sweet baby move around safely inside me. It took the ultrasound tech over an HOUR to do my ultrasound. I asked her several times if everything was okay but the only thing she would tell me is "When the doctor looks this over she will come and talk to you."
After the ultrasound was done and I was waiting on the doctor to come talk to me I looked at terry and told him, "I think there's something wrong."
After 45 minutes of waiting the doctor came in and started another ultrasound pointing out things that were wrong, "Her legs are very short along with her arms. Her chest is very narrow and shaped like a bell which means it's not big enough for her lungs to develop. Along with her legs are bowed inward. YOUR BABY has thanatophoric dysplasia. She will never make it past birth."
Thanatophoric Dysplasia : (Death baring) (thanatophoric dwarfism) is a severe skeletal disorder characterized by a disproportionately small ribcage, extremely short limbs and folds of extra skin on the arms and legs
Babies 1 and 10,000 are diagnosed with this and many doctor's have never even heard of it. Less than 1 percent of babies who have this survive more than a couple hours after birth.
I obviously lost it. I could't believe that this was happening to our family. The doctor tried to get me to do some testing which I refused to do along with having a late term abortion which again I refused to do. She wasn't GOD so she didn't know what was going to happen.
I went home that night and prayed, "If my baby wasn't going to make it just take her now, don't let me or her suffer any longer."
That next day I started Facebook searching and came across a support group for parents who either had or have children with the same disease and met some amazing people in there and I am still friends with them to this day.
Terry and I decided that we didn't like the doctor and that we needed to have a second opinion. Christmas came and went along with New Years Eve and day. I finally saw the second opinion doctor where he confirmed that my baby in fact had TD. His bedside manner was so much better than the previous doctor that I decided I was going to continue to see him for the rest of my pregnancy.
A few months later I had a team meeting with several nurses and doctors to come up with a birthing plan. Terry and I decided that I was not going to be hooked up to any monitors, and that NICU was not going to intervene unless it was pain medication to keep Kynslee comfortable until she went to heaven. They also explained that day that my body would start producing extra fluids as it was my body's way of trying to reject the baby.
After the meeting I started going to the doctor weekly to make sure I wasn't showing any signs of labor or any signs of becoming sick since I was carrying enough fluid for 3 pregnancies. My due date was April 1st.
Flash forward to Feb 28th, 2016, my water broke and I didn't really know what was going on because it was not a full blown break later that night I went to the hospital to find out that I was in labor. Because I was a horrible person at the time and I may get into this at a later date Terry was not there when Kynslee was born. At 5:59 am on Feb 29th Kynslee Anne was born sleeping
My Mom, Dad, Step mom and Hailee got to spend time with her until 2 pm when the hospital pretty much told me I had to go home.
That following day I went to the funeral home and signed paperwork for Kynslee to be released into their care so they could cremate her.
And that is that. That is Kynslee's journey.
I still cry daily over her. I often blame myself thinking it was something I done wrong. I have full blown meltdowns. I don't understand why I deserved to lose a child.
The thing is doctor's don't discuss that things like this can happen to anyone. I hope someday they do as this kind of thing shouldn't be the unspeakable. They should be talking about things like this to get the awareness out there.
To anyone that is currently reading this and is either currently experiencing child loss or has experienced child loss just know you are not alone. If you need someone to talk to I am here.
If anyone would like to talk I am here to listen! I encourage all of you to please share my post to slowly break the silence of infant loss.
Thank you so much for reading!