The Shelves That WOULD Go Up
Determined to finish before the baby got here, why not pull out the power tools? Just drill between contractions.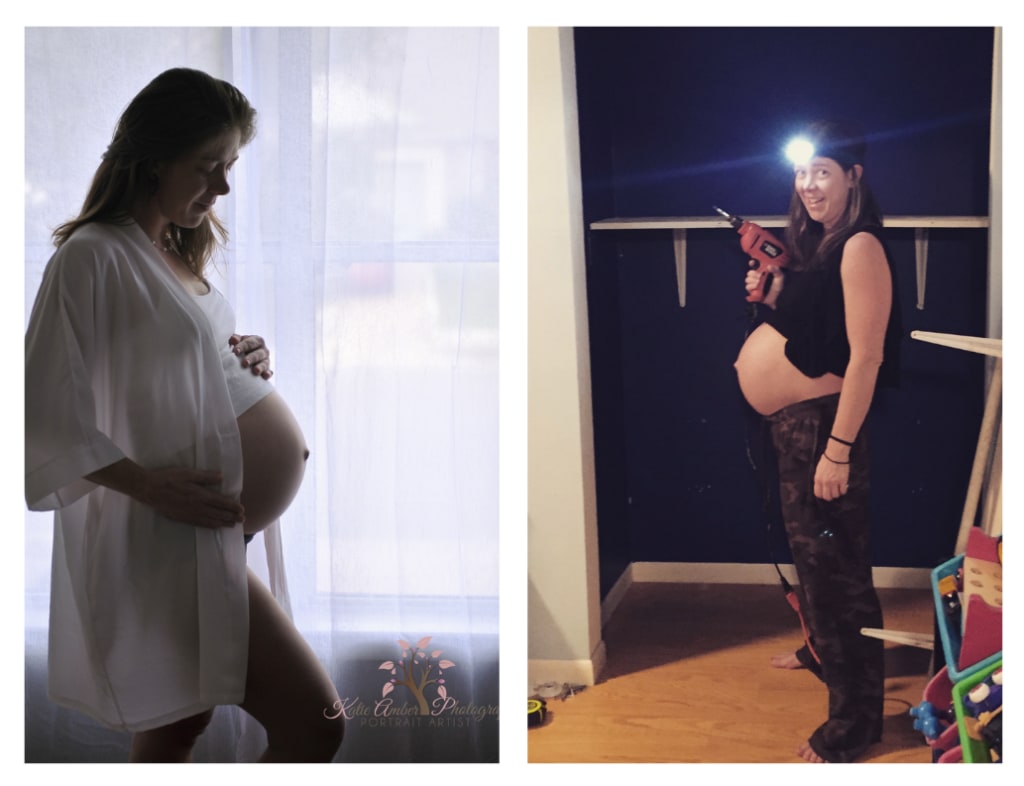 Left photo by KatieAmber Photography. Right photo by Nate Tingley.
I watched the first really real contraction ripple over my belly, squeezing both me and my baby with a hug of imminent change. It was a relief to feel the transition towards birth starting to happen at last. My back ached from the past few days of carrying the baby so low.
I was more than ready to let little girl out into the world to start her own journey as a human.
My husband watched me bemusedly as I lay on the bed at the beginning of early labor. Then he reached a hand out and laid it on my belly, just like he had done so many times over the last 40 weeks.
***
We had captured the beautiful image you see above on the left a few days prior to labor starting. The sanctified image of the gravid mother in white silk, peaceful and serene as her belly bursts with new life.
You know how the behind-the-scenes of these shots goes. My husband was holding my squirming son in his arms, muttering shush, while I tried to follow the goofy posing instructions from the photographer. Shoulders back. Extend your chin. Look peaceful!
Is it a facade to manipulate ones image like this? Or is it art? Either way, I'm about to tell you how the image on the right was created.
Because as much as I love the pregnant madonna version of me clad in white silk, I'm so much more comfortable in sweats wielding a drill while wearing a big grin. That's who you'll see when the REAL me comes out.
***
Had you told me five years ago that not only would I be a mother, but a mother who had two babies naturally with no drugs, I would have laughed in your face.
I remembering being terrified of pregnancy and birth since I had been old enough to realize how it worked. And at 35, I had still been telling my Mom not to hold her breath for grandkids. I had NO plans to procreate. In fact I was still sketching out earthship designs for my off grid commune in Mexico when we got pregnant with my son.
But when it came to pass that a baby came knocking at the door - shockingly, I was ready. And so was my husband. We knew nothing.
I was an eco-conscious, mindful human here to work on changing the world! That plan did not at ALL include parenting. In hindsight, I look back at my life's path and think, duh! Then I chuckle.
Immediately upon my son's appearance in my womb, all fear about giving birth dissolved and I set about making a plan for a midwife assisted natural birth. Something changed inside of me, and all thoughts of epidurals or c-sections were summarily tossed out the window. Unless something went very wrong, I was having my babies the way women had always done it. Dammit.
I don't know when the primal art of motherhood took over within me, but I guess it really started when both babes were little beans in my womb. I started eating really well. I was already athletic and moving my body. But once I realized I was really going to have a baby, the only way I really wanted it to happen was naturally.
My son's birth was a beautiful and moving experience. I think it might have had something to do with the endogenous DMT in my system, but it was pretty awesome. All during the later stages of labor, I was in the big circular birthing tub, completely visiting other realms via totally natural hallucinations.
I have to say, it was an epic experience. It totally changed what I thought about my own personal capabilities as well. People coming into the world through you tend to change your perspective. At least they did for me.
So here I was poised on the edge of a second birthing experience, and I realized amidst all the wonder of birthing... that I was NOT going to get these shelves up in time to use them, if I did not put them into the wall right now.
***
As I lay there waiting for the next contraction. I concentrated on being present with my body and listening patiently for the next cue. A few minutes passed and nothing happened. A second contraction passed through, and then nothing again.
Based on past birthing experience, I recognized that this was the very bare beginning of labor, and I was going to have a few hours left before any serious pushing would happen.
And there was just one last thing that WASN'T ready. The new shelves and baskets I wanted to install in the closet in the kids' room before the baby got here. Darn it!
Fine, I thought to myself. I've got plenty of time to put those shelves up. I'll just pause when the contractions come, and I should be fine. It won't take that long.
Gently, I removed my husband's hand from my belly, and grabbed the fleece sweatpants and black tank top from where they lay on the side of the bed.
"Where are you going now," he asked. "Are the contractions getting stronger? Should I call the midwife?"
"Nope." I replied cheerfully. "I'm just going to finish putting up those shelves in the kids closet before labor gets too strong."
He stared at me for a minute, blankly. Then he just shook his head and laughed.
I pulled my clothes on, pausing for a moment on the edge of the bed as another small contraction came and went. Then I was up and walking out to my tools to find my old drill, the level, and the shelf brackets.
***
It really took no time at all to measure for and install the two upright shelf bracket supports to the back of that closet. The headlamp was immeasurably helpful, of course. Six quick brackets into the bracket supports, and three premeasured pieces of wood later - my shelf system was up and running.
I went on from my closet installation to leave a few hours later for the birthing center. After a long and gruelling labor of about 12 hours, my daughter Alanna Jade Tingley was delivered on the morning of January 5th, 2016. She'll be 6 years old in a few weeks. Motherhood has done more to transform me and polish my potential than just about anything else in the world. My kids are the main reasons why I care about making the world a better place.
I think my daughter might have building things in her blood. Is it possible to give the lust for power tools and wood to a child by using them during labor? My son could give a hoot about the power tools. She's the one that always has to hold the drill and help screw things together. Maybe that came from her humble origins in the closet?
Stress and change are just the universe's way of challenging you to bring your truest and most authentic self to the table. When you're facing your biggest challenges, there really just isn't time to front, or maintain a facade. So find ways to be yourself that support you and the things you came for. Even if that happens to just be that set of shelves that REALLY wanted to go up.
About the Creator
Kaia Tingley is a writer, artist, podcaster, digital strategy nerd, and sometimes hot-tempered supernova with a wild, free soul.
Reader insights
Be the first to share your insights about this piece.
Add your insights