The Secrets That Explode Us
It's Freaky Friday, only with a stroke victim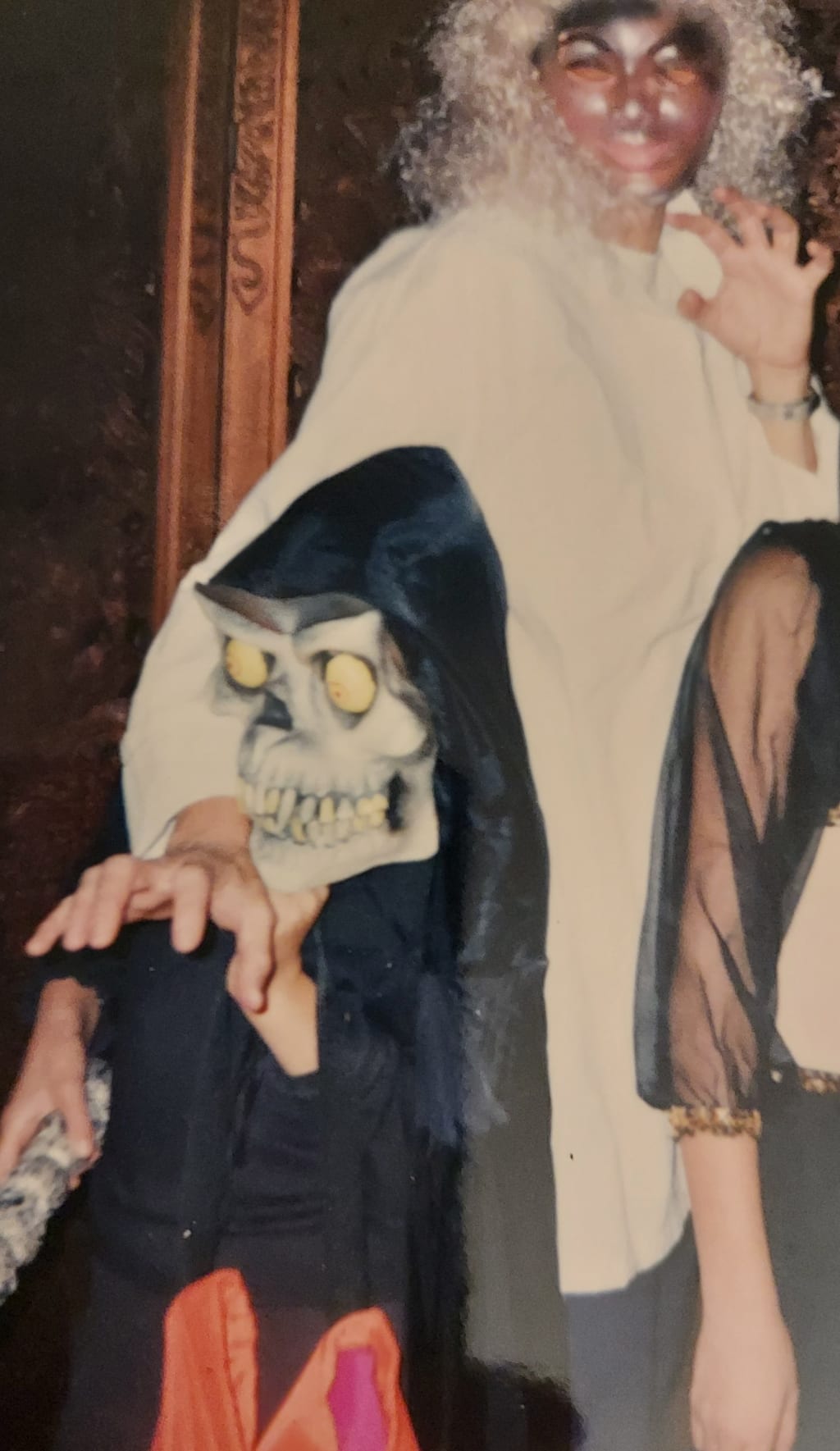 me and my mom, pre-stroke
"GET OUT OF THE HOUSE, GIRLS! THERE'S GAS IN THE HOUSE! GIRLS! GET OUT!"
My mother shriek-bawls, obliterating the silence previously stilling the house. The next moment, my mother is sobbing, huddled on the porch within her four family members, who didn't smell anything like a gas leak. Her senses are shaken, still interrupted by the smell of sulfide and a vision of our house exploding.
In about a week, there is a concrete cause for the imaginary gas leak: an olfactory hallucination produced by a brain bulb overtaken, positively swallowed up, by a benign (Thank God!) tumor the size of an avocado. It has engulfed a major artery.
My mother should've died about a month before my thirteenth birthday. But she didn't. For years I wished that she had.
This is a story about the things our parents teach us. Unwillingly. The accidental lessons, brought about by circumstance and maybe sometimes fate.
My mother should have died. In some ways, to me she did. But that's not really something that's polite to equate to people who have in fact lost their parents. You can say, "My mother had a massive brain tumor and a stroke on the operating table." You can say, "She was a vegetable for a bit and she is changed now in some ways." You also have to end with "But she's recovered a lot, and it's been a few years and she's made a lot of progress." You absolutely cannot say "It feels like my mom is dead, things would honestly be easier right now if she were." That's not a politically correct or exactly sensitive thing to say.
My mother taught me many things. Language, bravery, how to be compassionate and open to the world; how to draw, and how to wipe my own ass. She also taught me valuable lessons like how to be self-reliant, how to love myself, and how to ask for help. Although, she probably had planned an easier, if not better, way to teach those last three.
On February 18, 2002, my mother went offline. Then re-started with a few bug fixes and a mandatory update. My pre-teen self had asked the Ouija board a few days before the surgery if she would live, and I was startled out of my steeled resolve that she wouldn't, when we were lead to her post-op room, to find out that she had. What I encountered then was the loss of my mother.
At first, my seventeen-year-old big sisters assumed the role of Mom. But it was the middle of their Senior high school year, and they were off to college in the fall. I then found myself under the mantle they had taken on; but instead of a thirteen-year-old little sister, my charge was the fifty-five year old woman who had birthed me. Suddenly we were in a switcheroo: how very "Freaky Friday."
My workaholic dad and I watched the new woman grow. At first she was only able to lie on her back, mostly immobile, grasping at a language that she was able to understand, but not speak. After some time, she could hold herself into a sitting position, and it was almost clear what she was trying to say. Then came the day that she stood, and about a week after that she took her first steps in her new body. She could talk- somewhat. She was a medical miracle. The surgeon who had performed the surgery was a miracle worker. I was witnessing a feat of superhuman ability, and I was so lost.
The next five years became awash. Devoid of color, they link together in my mind as a gray scale blob of memory. Somewhere along the way I picked up some life skills, while my mom grew increasingly frustrated that she was no longer my mother. Somehow, by the time I was newly nineteen I had blossomed into someone who knew just about who they were, and liked that person. I had become a person who had my own back; who was resilient, and oddly hopeful.
The hows and whys of this transformation are too specific to detail here, suffice it to say, that just like my mother, what didn't kill me made me stronger. Despite the scars I had made on my body and the growth spurts that I had stunted; the masochism and self-starvation I inflicted on myself, I found a groove. I found a way to love myself.
But all that is strictly about me, and this story is supposed to be about my mom.
I said before that for years, I wished that she had died. But you probably already also noticed that that "wish" is in the past tense. My mother never came back to me as who she was before the surgery. The "Freaky Friday" switch never really snapped back. But the woman who grew out of her old body, I appreciate more than a mother who hadn't "died". Because, not only did she teach me lessons about self-reliance and self-love, she also taught me how to appreciate and embrace change. Even seemingly really shitty transformations such as the ones major strokes bring about. She continues to teach me all the time about unconditional love; that the deep well love a mother can have for her child can be untouched, even during such drastic metamorphoses. That we can heal, even if it takes a really, really long time.
Do you know about the phenomena of PostSecret? The forum for lost souls to anonymously send their deepest indiscretions via postcard to a guy named Frank, formerly located in Germantown, Maryland. In 2006, I went with a friend to one of his early book releases. After the talk, I approached Frank, as a sweating seventeen-year-old, with a folded and clammy piece of paper: My Secret, clenched in my hand. I managed to transfer it smoothly to his during our handshake, like a bribe. Of course, you've just read what it said. And more.
Sometimes I wonder who I would be if that "gas leak" hadn't invaded my mother's mind. If she hadn't had the tumor altogether, or if she had actually died, either while laying on the operating table or by the ticked clock of the tumor's inevitable growth. But I don't like the thought of that person. It's not me, and conversely, it's not Her.
My mother is alive and well, and still making so many strides forward, after the doctors had said she might never walk again. And spontaneously, while chewing on this prompt, I have realized something. That maybe this is the part of the movie when the magic dust twinklies descend and I switch back to being in my Lindsay Lohan (or Jodie Foster, if we're being vintage) body. Because, just like Annabel in "Freaky Friday", I have learned the vital lesson, and can go back to living the Beginner's Mind of the child role. Despite everything that changed for us when she had the stroke, my mother is still my mother, because she is still teaching me. The way you do when you're a parent, even if by accident. And as for this lesson, I can say that my mom has taught me well. I am proud to call her my Mother.
parents
Longtime poet residing in Virginia's Blue Ridge Mountains
Receive stories by Anna Cunningham in

your feed