The Prettiest Flower
The Last Writing to My Father (1945-2017)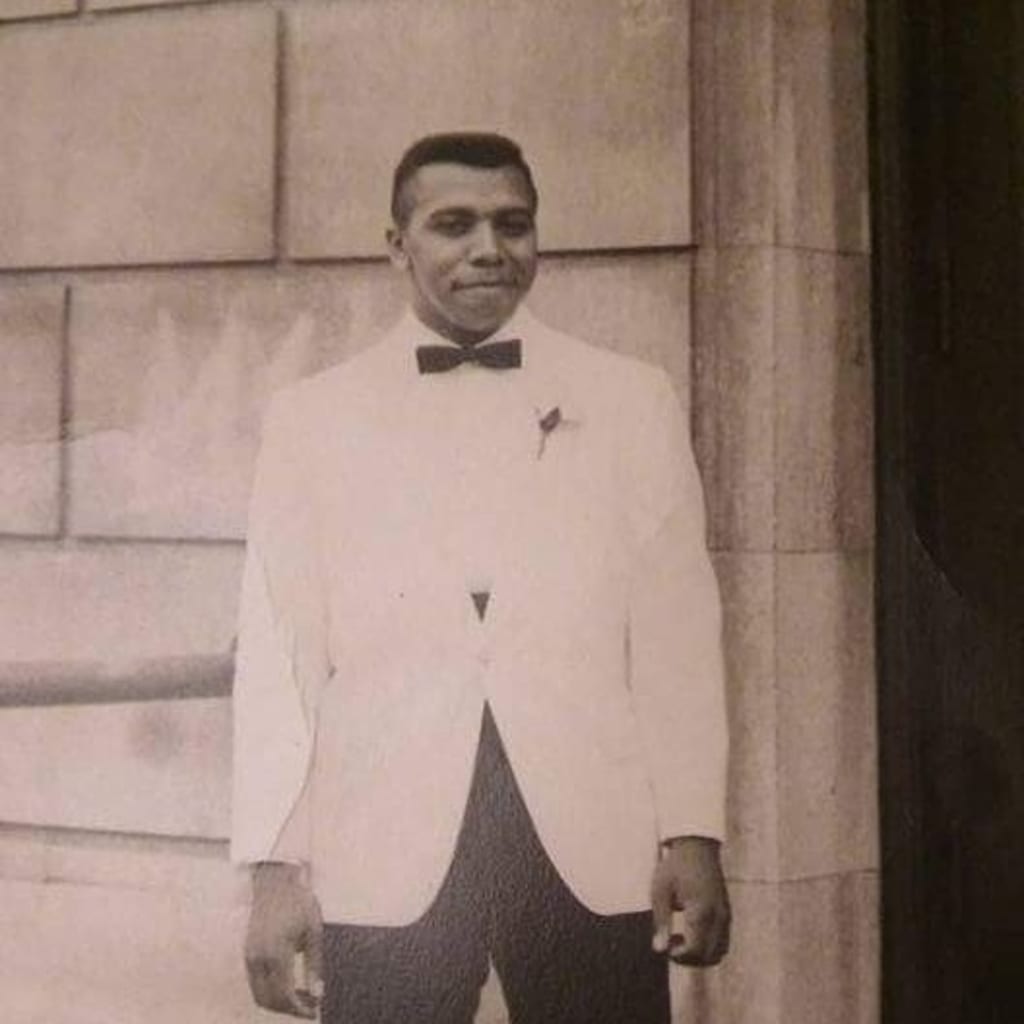 Daddy's Wedding Day
A mother watched her young daughter after the death of her father. Every day the young girl would sit by the flowers she and her father had planted together months before. One day the mother decided to sit down beside her.
"You come and sit here every day, wanna tell me why? Th e mother asked.
"I'm waiting." She responded.
"Waiting for what, sweetheart?" The mother said.
"I'm waiting to see daddy." The girl responded. Naturally the mother was not only surprised, but she was even more curious as to why her daughter thought she would see her father in a bed of flowers.
"To see daddy? Why would you think you'd see daddy in a bed of flowers?" She asked.
"That's what daddy said before he left us to be with God. I asked daddy why the people that are so good and loved had to die? He said because God always picks the prettiest flowers to sit at his table. So I'm waiting to see which flower is the prettiest and then I'll know why God chose to take my daddy to sit at his table, instead of letting him stay at ours." The mother smiled and kissed her cheek.
"One day we will both sit at God's table. Until then he'll wait for us to get there and we'll wait here patiently to see him there."
As the years passed, the little girl grew up. She went off to college. She fell in love. She got married and had a little girl of her own. She visited with her mother every Sunday and helped her tend to the garden she has planted so many years ago with her father. Every Sunday the little girl who was now a woman would listen as her mother recalled their talk that day, ending it always with Do you remember that my darling? And she saying in sweet reply, Yes Mom I remember. Her mother had grown old and eventually she too had passed away, joining her husband at God's table. The day of her mother's funeral she found her daughter sitting in the garden just as her mother found her that day. She sat down beside her daughter just as her mother had sat beside her.
"What are you doing out here sweetie?" She asked.
"I'm looking for Nana." The little girl said plainly.
"Why would you look for Nana in a bed of flowers?" She asked.
"Nana said that God always picks the prettiest flowers to sit at his table. And if I can find the prettiest flower that's how I know she made it to God's table and I don't have to be sad that she gone now. She said it meant that I would see her again one day."
She smiled as the tears filled her eyes. "We will see Nana again some day and you'll meet Papa there too."
"I hope so. Nana had so many stories to tell me about him. Do you miss him Mommy?" She asked.
"Every second of every day. He was my best friend." She said as a smile graced her lips.
So many years had gone by and she still hadn't found the prettiest flower in that flower bed. She hadn't stopped searching for it. She was old now and her health was fading. She knew she didn't have much time left with her daughter and granddaughter. She decided to go sit in the garden she planted with her father years before. As she gazed down and the flowers before her, she couldn't believe her eyes. Two flowers had grown up, their stems intertwined and attached at the buds. They had the most beautiful purple and blue hues she had ever seen and seemed to sit so gracefully within each other. Together they were the prettiest flower in the garden. She felt a hand over her own. She looked up to see her daughter smiling at her.
"You should be resting mom. Come inside and lay down a while" She said sweetly. She didn't make a fuss. She quietly went inside and laid down. As smile graced her face as she closed her eyes and took her last breath with her last thought, I can't wait to sit at God's table with my mother and father again.
~The End~
grief
About the author
Single mother of one, doting aunt and sister. I have been writing since the age of thirteen. I consider myself more of a poet of which my favorite is Elizabeth Barrett Browning. I am in complete love with English prose...
Reader insights
Be the first to share your insights about this piece.
Add your insights