The Meal I'll Never Have Again
There's one meal I'll never forget.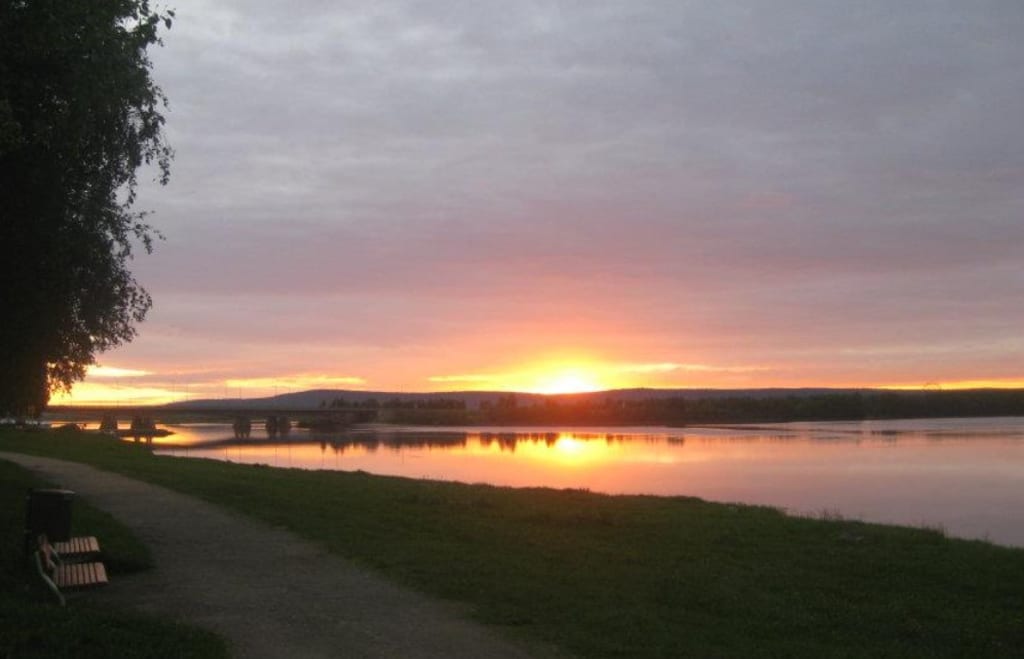 Midnight sun in Rovaniemi, Finland. Image by author.
There's one meal I'll never repeat, but will always remember.
It was a couple of days before Midsummer in 2012, and I was visiting my dad in Finland with my ex-boyfriend. We'd been living in Argentina for two and a half years then.
Dad was a fantastic cook, and he always prepared whatever food we wanted as kids. As adults, whenever I'd visit with my boyfriend, he'd pull out all the stops, preparing us five-course meals with every possible Finnish delicacy. Reindeer with lingonberry jam and garlic potatoes au gratin. Four different types of different fish in five different ways. And my favorite, cold-smoked salmon.
There are two traditional ways of making smoked salmon in Finland, with cold or warm smoke. Warm is easy and cheap to prepare, but cold-smoked is tricky. Getting in that deep flavor without cooking the fish takes time and a lot of detail and checking temperatures. But the reward is worth it: it's nothing like the cold-smoked salmon you can buy in a store, which is mostly just raw fish with artificial flavoring.
My dad's smoked salmon used to take 12 hours to prepare, but that didn't stop him. The night we spent at his place by the sea, he offered us fish in every possible way. Herring, eel, perch, but the best was the salmon.
This was truly intense. A feast worthy of kings and queens. Because my dad, while sometimes a difficult person, also always wanted us to have only the best.
Later that night, my dad confessed to me he had cancer. He'd just found out about it two days prior, and hadn't told anyone except his girlfriend.
"Don't tell anyone yet," he asked me, which only made it worse. Knowing I'd have to see my mom and sisters and keep this secret, knowing the only person I could talk about it to was my boyfriend.
And knowing that the next day, my boyfriend and I had a trip planned for the Midsummer weekend. We were taking the car and driving to visit my best friend in Rovaniemi in Lapland, about 450 miles north of my hometown. We were supposed to party, experience the famous midnight sun and visit the Santa Claus Village on the Arctic Circle.
I wasn't exactly in the mood for the drive or the party that was expecting me, but we made it. We left my dad's in the morning, went back to my hometown to get my mom's car, and began driving up north.
I spent most of that trip crying in the car. I'd stop for a while, and then start crying again whenever a song on the radio reminded me of the awful piece of news I'd just received. Looking out the window in silence, at the miles and miles of pine trees that line the road.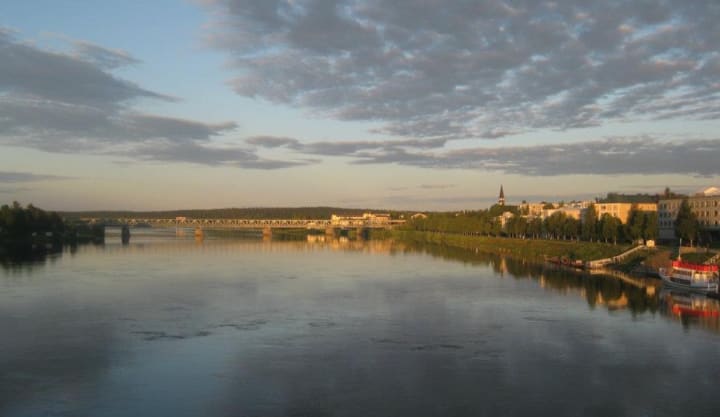 In case you've never visited, Finland is mostly forest. Over 70%, to be exact. The rest is lakes, especially the first couple of hundred miles north of my hometown. Finland has around 180,000 lakes, which makes it just about the most perfect summer travel destination. Whenever the sun is heating things up a little too much, you can just stop and take a quick dip.
My boyfriend and I got hungry at some point after noon, so we stopped next to a lake to prepare our lunch with the supplies we'd got from the supermarket, mixing them with the leftovers from my dad's feast.
We piled tons of slices of salmon on the soft rye-mix buns, with slices of Edam cheese, tomatoes and cucumber to humidify the bread.
The salmon slices were the most amazing thing you've ever seen. So paper-thin you could see through them. But still, more full of flavor than anything I've ever tasted since. Salty, and truly smoky. Tender, and easy to bite through. You'd have to dole out some serious cash to get that kind of a luxury meal in a restaurant.
Our lunch spot gave me life. I sat there by the lake, munching through my sandwich, wondering why it seemed that the sky was bluer in Finland, the green greener, the taste of the salmon so much stronger. Maybe I just realized how much life was worth then, the first time I was faced with the possibility of it being taken away from someone I loved.
I don't know if it's the trip to Lapland that made me remember this meal, or maybe how emotional I was at the time and how big of a relief the sandwich gave me. That's what food does sometimes. It's there for the happy moments, but it also gives you something comforting when you need it. It gives you an explosion of flavor so that for a little while, you don't have to think about anything else. It replaces feelings, takes their place until you're ready to go through them.
Or maybe anything that happened that day would always be etched into my memory because it was the moment when I was first struck with the idea of my parents' mortality. It was the moment I started realizing I could lose my dad. And I did, five years later.
I broke up with my boyfriend the next year. I went fully vegan the year after that. Dad died of cancer in December 2017.
I'll never repeat that meal. Never eat my dad's food by the lake in the countryside again. Life changed, and not always the way I intended it to. I can't control what happens.
But I'll always have the memory of the most delicious cold-smoked salmon anyone's ever tasted, and the memory of the green and blue of the Finnish countryside.
grief
About the author
Finnish by birth, porteña at heart. Recovering political ghostwriter. Fiction, relationships, politics, bad puns, popular and unpopular opinions. Occasional dinosaurs, because dinosaurs are the best.
Reader insights
Be the first to share your insights about this piece.
Add your insights