The Last Five Years
Time is Way Too Short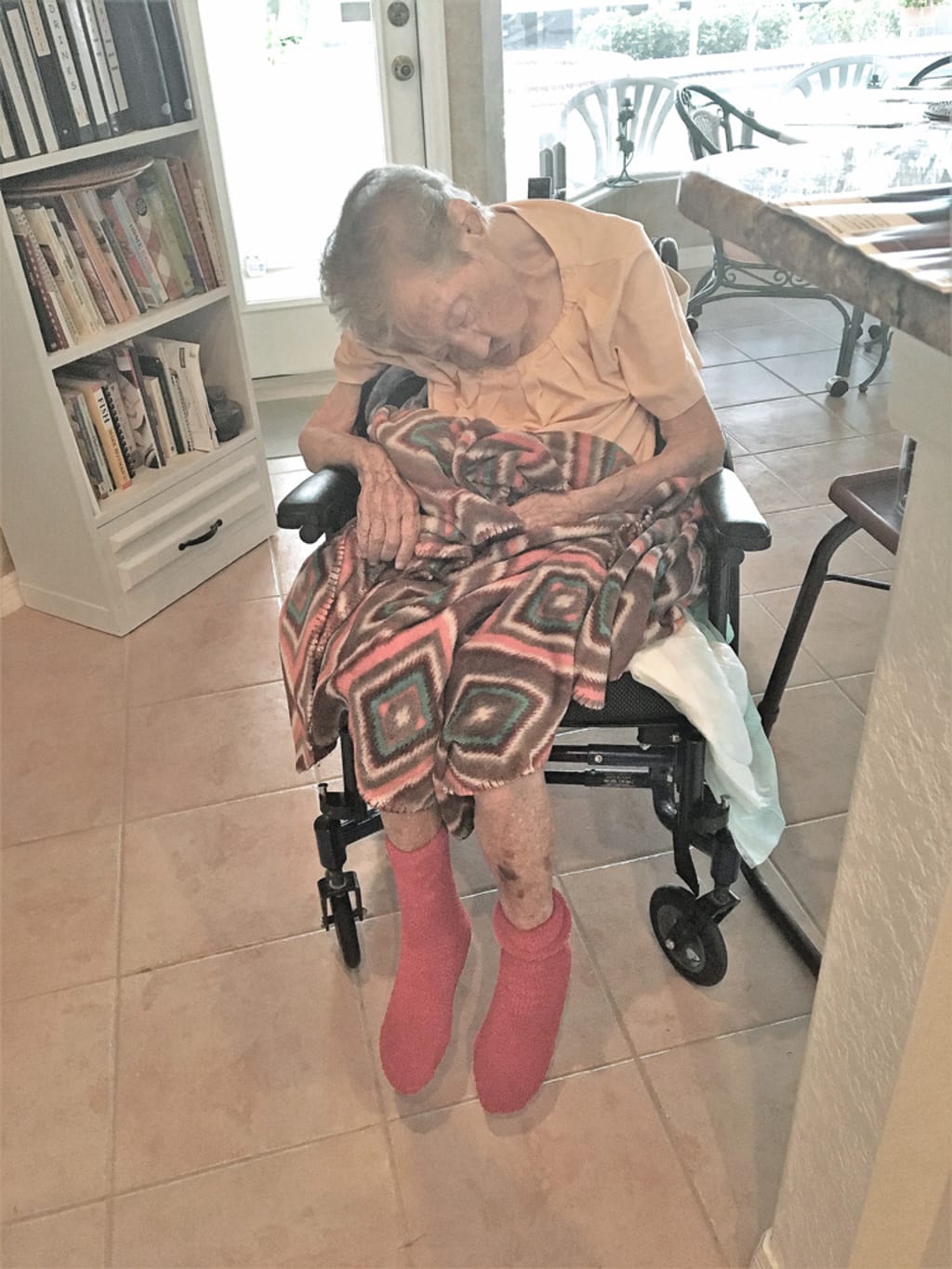 "Mom, we have plenty of room!" That seemed to have become my mantra for too many years. She always found a reason to decline our offer.
For thirteen years, my husband and I asked my widowed mom to move in with us. We knew she'd love our cozy Florida home. It would offer her a perfect view of our backyard canal and the warmth of sunshine almost daily. It would also be a move that would put my mind at ease and on a more selfish note, I'd have my mom to talk to whenever I wanted – face to face instead of a telephone. We could shop together, eat at our favorite restaurants, and maybe even just grab a hot dog or hamburger and eat in the local park. My husband and I agreed that it would be a perfect scenario having mom live with us. He tried so often to convince her that she was more than welcome.
Yet, Mom always declined mentioning her many reasons. "I love my home." "This was your father's and my first house." "I feel so comfortable in my own home." "I have friends here." One reason always exasperated me. "You father is in every room of this house. He built the kitchen cabinets; he rewired most of the rooms; he constructed the half bath in the basement. He's done so much. I could go on and on. How can I leave it all behind?" To which, I would always reply, "Mom, if your house was destroyed by fire, would you forget dad?" "Never!" she'd reply adamantly, "He's always in my heart."
"See, Mom? Dad goes with you wherever you go. You're not leaving him behind. But honestly, Mom, the house is way too big for you now. You're almost completely blind with macular degeneration. What would happen if you fell down the stairs?"
If for one second, I thought that begging would change her mind, I'd have gotten on my knees at once.
Mom, however, would still obstinately, refuse our offer adding, "I know every inch of this house. I know how many steps are in each staircase. I count them going up and coming back down! I'll leave my house when they take me out feet first!"
Once again, that Christmas, I almost cried all the way home. I felt so empty, lonely, and frustrated. Worry? I can't even explain the mountainous emotion of worry I felt.
My husband and I still visited her as often as our pensions allowed which came down to twice a year, once in the summer and then again around Christmas. Mom would fly down to see us once a year, usually around the fall months. She did this until her health began to fail and her sight faded more quickly than expected. The day came when she could no longer travel alone. Not having a traveling companion, mom relied on our bi-yearly visits and our daily telephone conversations. Emotionally, it still hurt me to leave her behind.
It had been not too long before when we found the reason for her declining sight; yes, she had been diagnosed with advanced age-related macular degeneration. According to her doctor, it wouldn't be much longer until her sight was gone completely. Mom was aware of this change in her life and adjusted to her declining site but because of her advanced age, walking was becoming an issue. She loved to walk around her neighborhood but with bad eyesight and an unsteady gait, her house seemed to have become her prison.
Mom at least had one wonderful neighbor who would take her to church every week, and together, they'd go to dinner following the religious service. Dianne would take mom grocery shopping and help her pay her bills. Yet, despite needing this help, mom wouldn't move. Her reasons began to change. "I won't be a burden to my children." To which I'd add, "So, it's ok to be a burden to your neighbor?" She ignored my sarcasm. However, what I felt went beyond sarcasm; I was losing my patience. My worry was getting the best of me and holding back my anger and frustration was beginning to take its toll on me.
Then the unthinkable happened. An image that will haunt me for the rest of my life.
It was 2011 and we were visiting mom for Christmas. My husband was finishing a few repairs in the basement, and I was tidying up the dining room table. Mom said she needed to use the bathroom but decided since my husband was working on the one in the basement, she climbed the stairs to the second floor which she'd done countless times a day, each day, each month for many years. I heard her footsteps as she approached the stairs to descend. Then I heard the thump. It happened so fast. Too fast! While I tried to run the three steps to the bottom of the staircase, I couldn't move as quick as she fell. I helplessly watched as her body rolled into a ball and bounced on every step finally landing at the bottom where she hit her head on the base of the newel post. There was blood everywhere and she couldn't move without severe pain. Shock and pain prevented her from crying, prevented her from even screaming in pain. All she could do was moan.
As I quickly approached the staircase, I knelt and lifted her hand. She was conscious. My husband wanted to pick her up and take her to the couch in the living room. Having received training to be a First Responder, I knew that was the worst we could have done. I advised my husband to hold her hand, try to keep a calm voice and talk to her to keep her conscious. I dialed 9-1-1.
I was never so thankful that the EMS station was only three blocks away. They arrived at mom's house within three minutes. Upon arriving, the EMTs checked her vitals and her wound, wrapped a pressure bandage around her head and then loaded mom in the ambulance.
Many people aren't aware that head wounds bleed severely. It's one of the worst wounds an elderly person can have.
Seeing my distress, they allowed me to ride with them to the hospital. Many EMT's don't allow this since it inhibits room they might need to tend to their patient. My husband followed in our car.
Mom was not just lucky that day, she was blessed. Her only injuries were a laceration in the back of her head that required seven staples, a broken foot, and a few other bruises. It could have been worse, much worse. Yes, she had a slight concussion but only a slight one. There was no brain damage, and her cognitive ability was still sharp.
My husband and I discussed the latest situation and agreed that now was the time to bring mom home. She no longer could live alone and with or without her consent, she was coming home with us. The problem we now faced was how to get her to Florida. She was in no condition to tolerate a two-day drive to Florida. Even if we stopped more often, the drive would prove to be too much for her.
My husband and I took the decision out of Mom's hands and made our plans. With the help of my son and his wife, we moved her mattress down the stairs to the living room. We moved some of that furniture to the enclosed front porch. After a trip to the local pharmacy, my son walked in her door with an easy-transport wheelchair and a rented beside commode. My daughter-in-law washed and sanitized the commode and my husband planned to leave as soon as we settled mom in her home. I would stay with mom until she was stable enough for a plane ride. My husband volunteered to prepare of our spare rooms for mom for our arrival in a few days.
Six days later, a local doctor checked mom's wound and confirmed that, yes, she was now stable enough for the trip. The wound staples would be removed within the week of our arrival in Florida. I called the airline and made our one-way reservations. Then I called my husband and gave him our flight information.
My son and his wife lived about an hour away but still found time to make the drive several times a week to mom's house and help me care for her. They also volunteered to take on the task of clearing out mom's house once we were gone. I packed mom's personal items and my son shipped them to Florida. What we deemed unimportant or too old, we either donated to Good Will or dumped in the trash. My son and his wife volunteered to handle that task.
When the time came for us to leave, we helped mom into the wheelchair. My son and some of mom's neighbors carried her in her new wheelchair out of her house – feet first! I told her she got her wish.
It wasn't until mom began living with us that I noticed her memory wasn't the same as it had been. I took her to a doctor who specialized in geriatric care and had her tested. The diagnosis was confirmed: the onset of dementia. The doctor warned me that she'd had it for some time but due to her age and physical condition, it would be about five years before Mom would lose her memory and ability to speak. I suspected mom had a problem but attributed her repetitive conversations to the desperate need for company.
Mom lived with us for just over five years, and yes, she did lose her memory with each passing day.
Still nursing a broken foot, I purchased two portable commodes, one to sit beside her bed and the second, minus the bucket would be in the shower which would bathing her much easier.
About a year later, I found was a lump on mom's back. Should I have had it scanned? Mom was by this time 92-years old. My doctor and I discussed the issue and decided since it didn't hurt her, we'd leave it alone. After all, if she did have cancer, would we really want to put her through chemo and radiation at her age? The answer was easy. No! I'd just make the best of what we had and make whatever time I had left with her, the best I could for her.
Mom's memory grew increasingly and rapidly worse and by 2016, her act of communication was completely gone. She could hear us but couldn't respond. Most often, she'd just look at us with a blank stare. Each day was spent reading magazines, books, the newspaper to her so he'd hear our voices. We'd turn on the TV to a science channel. She loved science and hoped that even though she couldn't respond verbally, she'd enjoy it. I gave her a pedicure each week and bathed her every other day. I often wonder if she every really knew. I hope so.
It was finally necessary to ask the doctor to call Hospice. Caring for Mom was no longer a one-person task. While my husband helped the best he could, he felt uncomfortable helping with the bathing, dressing, and changing of her adult disposable undies. Yes, I admit it; I needed help and will always be grateful that Hospice was there to supply that help.
However, in October of 2016, the lump in her back ruptured. Maybe exploded would be a better word because hours after the lump collapsed, a huge gaping sore erupted where the lump had been. The hospice nurse, upon examination, was honest and caring enough to explain what was happening. He said the odor alone was a tell-tale sign. The gaping hole and ruptured tumor caused the sepsis that quickly ravaged her body. The only thing left to do for mom was the many doses of morphine to ease her pain and make her as comfortable as possible. Mom died 2 days later.
While it's been extremely hard emotionally on me, I try to find comfort in believing that she's no longer in pain, her memory is back and she's now somewhere in Heaven and once again, dancing with my dad.
At least I know that the last five years of her life, she wasn't alone. She had company every day. For a while, she laughed and enjoyed her life in Florida. She even once remarked, "Why did I wait so long?" I still smile when I think of that.
While it still saddens me to not have her with me, I will always cherish the time we had together. In my heart, I know she did too.
grief
About the author
I am a 75 year old grandmother who loves to write, fish, and grab my camera to capture the beautiful scenery I see around me.
My husband and I found our paradise in Punta Gorda Florida where the weather always keeps us guessing.
Reader insights
Be the first to share your insights about this piece.
Add your insights