The Game of My Life
From Father to Son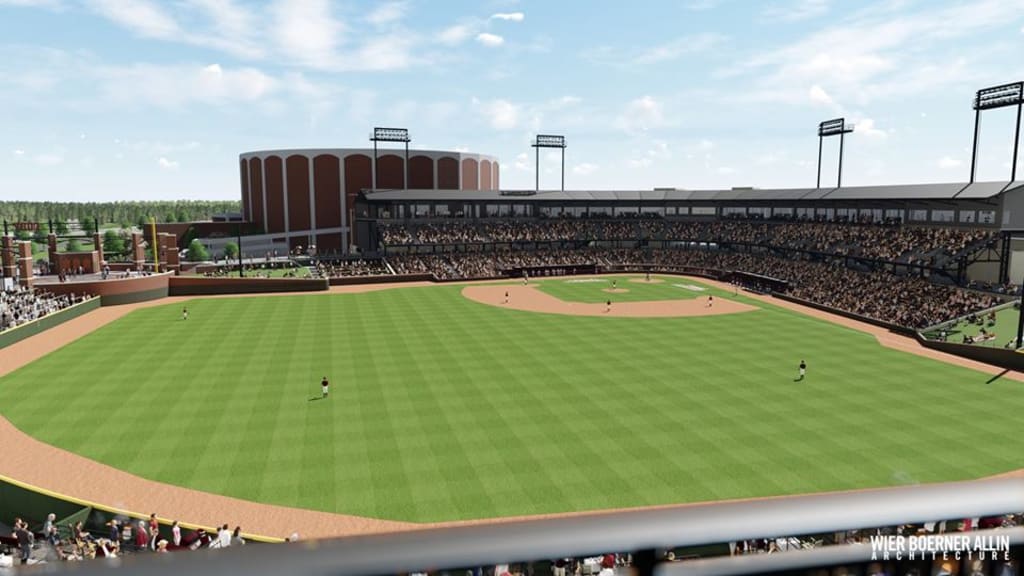 Dudy Noble Field at Mississippi State University, image from Ballpark Digest
I dug my cleat into the dirt on the mound and looked at my catcher for the sign. There were two outs and the tying run was on second in the tenth inning. The tenth inning of a high school game. We'd already played an extra half game of this district playoff on a hot, muggy summer night in Memphis. My team had no business being in this game, let alone being ahead with a chance to win. It was the end of a tumultuous senior year. Our team had struggled, practices and games ended up in us getting mercilessly berated by our head coach, and morale was generally low.
But here we were, still scrapping for a win over the best team in the state. Now I stood on the pitcher's mound with a chance to get the save in the biggest game of my life.
"Stay aggressive," my dad's words echoed in my mind. It was our constant refrain, even if it drove me crazy. Go after the opponent, put pressure on them, never let up, make the play happen. The advice served me well in the previous inning when I broke the tie with an RBI single to center. I shouldn't have swung. It was a curveball outside, and I had no business taking a swing at it. But my father's words had been in my mind and I took my ill advised hack and made contact. It wasn't anything special, just a 'dying quail' to quote Crash Davis of Bull Durham; but it fell to the grass in shallow centerfield, and the go ahead run scored from second base.
The catcher gave me the sign…fastball high. I wiped sweat away as I came set and checked the runner at second. The guy was fast and would be running on contact, any hit and he was going to score easily. Turning back to the plate, I kicked my leg up and let a 2-seamer fly with every bit of controlled aggression I could muster. It was a ball. He shouldn't have swung at it, but there's just something about a high fastball that entices even the most patient hitters. Contact! The ball was in the air…straight up in the air. I pointed it out like a star in the night sky as it drifted lazily over the infield before finding its way into our first baseman's glove. The game was ours! We celebrated on the field, before returning to our dugout and our cheering parents.
My dad wasn't there. He hadn't made it to what ended up being the biggest game of my life. Like so many familiar stories of fathers and sons, a work trip had called him away.
Unlike so many familiar stories, I wasn't upset. Some people might think that's strange, but they wouldn't know the whole story. In thirteen years of baseball, that was the first and only game my dad would ever miss. And he spent the bulk of the game on the phone with my mom getting what turned into an amateur radio broadcast. He had been there in the way that mattered most to a young kid just trying to do his best.
My dad had grown up on a cattle farm in Mississippi before going to law school and making the move north to Memphis. That's where he met my mom and started our family. We would make the two and half hour drive south a few times a year to the family farm to see my grandfather and cousins. My grandfather was a World War 2 veteran and a self-made businessman, and in my father's words, 'a hard man.' It was strange hearing the respectful fear my 6'4" father had for my 5'8" grandfather, but that's the only way I can truly describe it. He loved his father but there was a fear there that my younger self didn't comprehend.
Growing up, my dad made it a point to tell me and my sister that he loved us and was proud of us. It was appreciated, even when he was awkward about it which was fairly often. I never connected the dots until I was in my thirties. The reason he did that for us was because his father never did it for him. My grandfather was 70 when I was born, and the hard man my father had grown up with had softened around the edges, but you could still catch glimpses of the steel beneath the veneer. You could still see the man who had ruled his family with an iron fist.
Parents teach us important lessons. For young boys, their father is the first one they look up to as a hero. I know I did. I know my father did. But all too often, we find our heroes to be flawed and fallen members of humanity. I know I am. I know my father is, and his father before him. But the lesson my father taught me, and that I carry with me, is to be better than I was the day before. Take his example and surpass it. It's what he did by being there for me every day of my youth. Even missing that game, which in the grand scheme of things meant very little, his words were still there with me and driving me on.
Recently, I left the church I grew up in. This obviously didn't sit well with my parents and there were emotional 'discussions' with both of them. The one with my dad stands out though. When I told him my intentions to join the Catholic Church, he told me that when we talked about my conversion, "the conversation will begin with 'I love you' and it will end with 'I love you.'" Then through tears he told me why. Those were words his father had never told him. At least not until he was a grown man. My heart broke for him. My dad's the strongest man I've ever known, but I heard the boy just wanting his father to love him. I felt the decades of pain spill out as the unspoken truth finally came into the light. How much had he overcome to be the father he was to me?
When we had the conversation, he was true to his word.
I think that's the greatest gift I've ever received. There's never been a moment where I had to wonder if my father loved me. He made sure I knew it, even if he was an imperfect messenger. Two promises were made to me as a kid: "what's mine is yours and what's yours is mine" and "no matter what happens, you can always come home." I've never doubted either to be true.
Walking off the mound that night, I felt like I was on top of the world. And even though my dad wasn't physically there to watch me play, I knew he was 'watching' from afar. Imploring me to 'stay aggressive' and that win or lose, I was loved and he was proud of me.
parents
About the author
Engineer who wants to go pro at writing. Lover of all things sci-fi and fantasy.
Catholic trying to balance faith and reason in my work and build something beautiful along the way.
Reader insights
Outstanding
Excellent work. Looking forward to reading more!
Top insight
Heartfelt and relatable

The story invoked strong personal emotions
Add your insights