The Daily Struggle of Survival After Losing Your Child to a Tragedy
Diary of a Working HouseWife; November 19th, 2020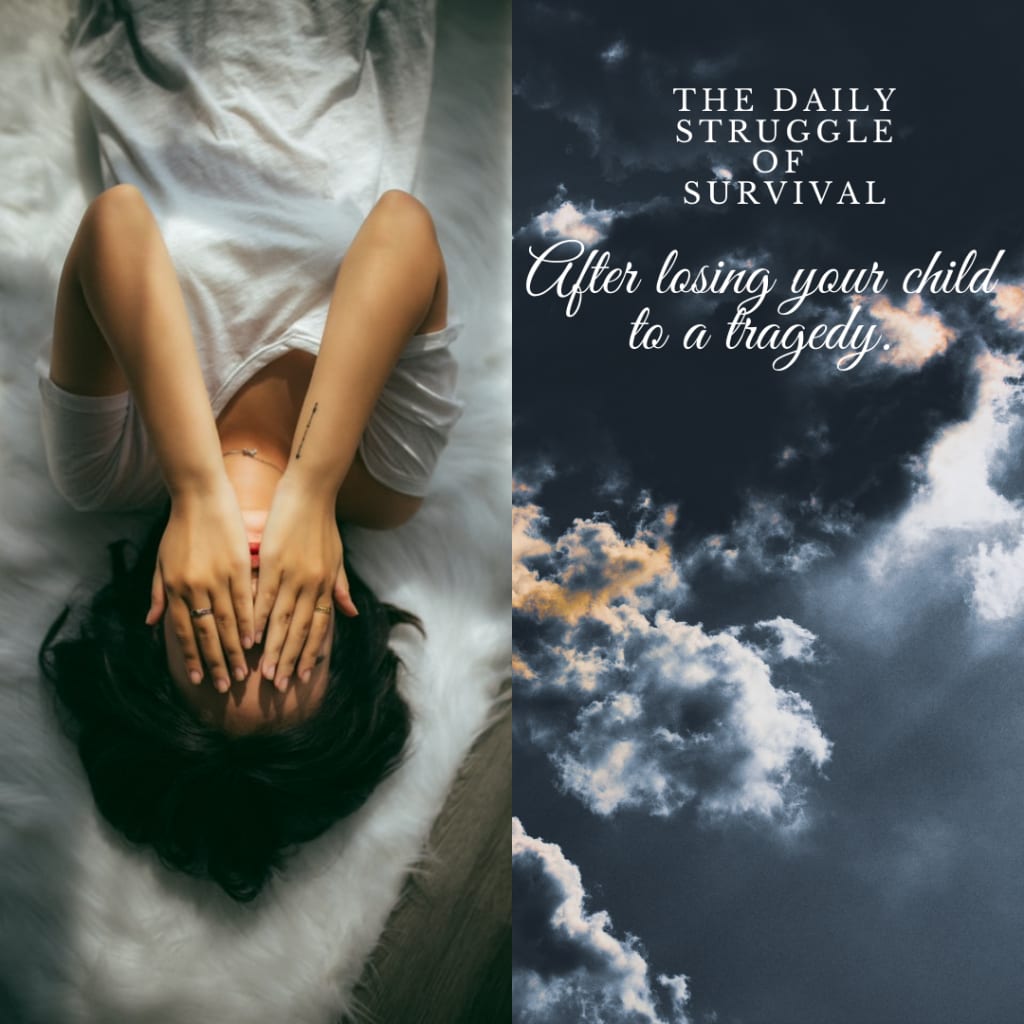 Every morning as I lay in my bed (for an hour or two) next to my three year old (waiting for him to wake up) I realize that I now exist between the realm of the living and the dead. I stare at the picture of my deceased son next to my bed and wonder if he sees me wake up. I begin to cry realizing that I wont see him again today. I toss and turn waiting for the smile of the little boy next to me, followed by his demands for either food, tv, or play. And it's at that moment that I am back into the realm of the living. Visually alive but somewhat dead inside. Let me take you to the morning my world split into two realities.
Saturday, June 13, 2020, 5:35 am;
A loud voice woke me up from a deep sleep, " BABE,WAKE UP! Michael is dead!" The phone conversation continued between my husband and my sister and all I could make out was "Motorcycle". This had to be a mistake. Michael didn't own a motorcycle. I sprung up from bed shouting back "WHAT DO YOU MEAN MICHAEL IS DEAD? WHAT DO YOU MEAN?" My husband rushed me to get dressed while trying to explain that the detectives said Michael was driving HIS motorcycle and lost control. I again repeated, "Michael doesn't have a motorcycle!" In my mind, I had already concluded this had to be a mistake. I immediately called Michael's dad who he had gone to see that night. The moment I told him they were telling me Michael is dead and that he was riding a motorcycle, he broke down. It was at that exact moment I knew my son was truly dead. Michael had bought his dream motorcycle 2 days before and was keeping it a secret from me.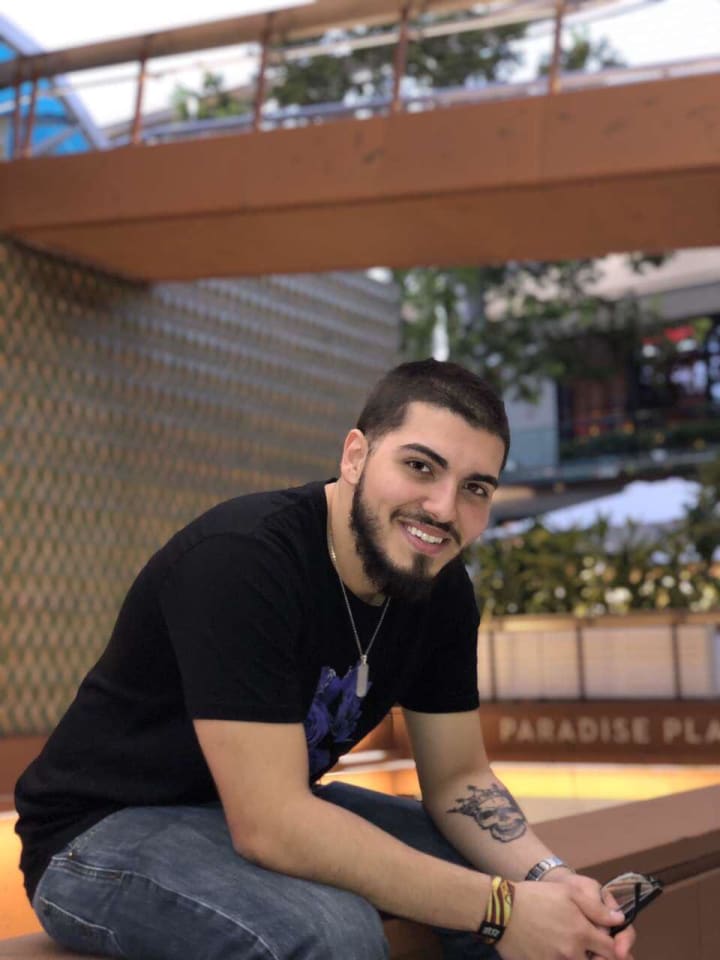 Michael was a Veterinary Technician, Licensed EMT, and was in the process of enrolling into the Fire Fighter Academy when Covid hit and put his orientation on hold. At the age of 21, this young man had an amazing work ethic, was a great brother, son, friend, and human being altogether. He was a helpless romantic who got hurt by girls who did not appreciate his good heart. And after months of feeling down with all that was going on, he decided it was time to commit to one of his biggest loves, a motorcycle. I remember arguing with him and telling him not to even think about it. That if he wanted to kill me, just to go ahead and kill me. Because If something ever happened to him all of who I am would die with him. He would call me dramatic and assure me that nothing was going to happen to him. He would say, "Mom, I'm not going to live in fear and sit in a glass box. I want to live happily. Motorcycles make me happy. And if It's my time to go then I'd rather go riding." Michael lost control of his motorcycle around 1:30-2 am that night. Not much is known about the accident.
Every day is a struggle. I have two young children at home who keep me busy. Though I try to go through the daily routines of housework, childcare, homeschooling, and working from home, I can tell you that I am not the same person I use to be. I am missing a large piece of who I use to be. He was my strength and my weakness. He loved me unconditionally and he always had my back. This is a pain beyond words, a feeling beyond any human emotion. If I could explain it to you in any way I would say that it's like if someone is constantly stabbing you in the heart. You feel like your heart is struggling to beat after all the stabbing, that you are attempting to breathe through every thrust of the knife but you keep on fighting through.
I light his candles every morning when I walk into his room and say, "Good morning Mike. Please give me strength today. I miss you. I love you." At night when its time to go to bed I blow out his candles and again tell him how much I miss him and how much I needed him today. I wish him a good night and ask him to continue to give me strength. I know my son and I truly believe he is around me as much as he can. He has sisters that he has to go check on so it would be selfish of me to have him just hang around all the time. I remind him every day who he needs to check on and I'm sure he rolls his eyes at me a few times.
I live between the land of the living and the realm of the dead. I will always share myself between these two worlds. My son guides me and gives me strength so I can continue to help his siblings. He has shown me signs that he's around and I look forward to every one of those signs. I joined a bereaved parents group on Facebook and I can tell you the signs from our children are real. Every day I read the messages these broken-hearted parents share with the group and I have realized I am not alone in how I feel. So many are struggling just getting out of bed. So many are questioning their existence. So many children gone before their time. A parent should never have to see their child die. So I ask those who want to share a word or two with a grieving parent, please remember this, there are no words you can say that will ease this type of pain. No, God did not want his Angel back. No, things just don't happen for a reason. No, it was not their time to go. They are children/Young adults. Their place was with their parents. They were needed here. They were wanted here. This pain will never go away and time doesn't heal all wounds.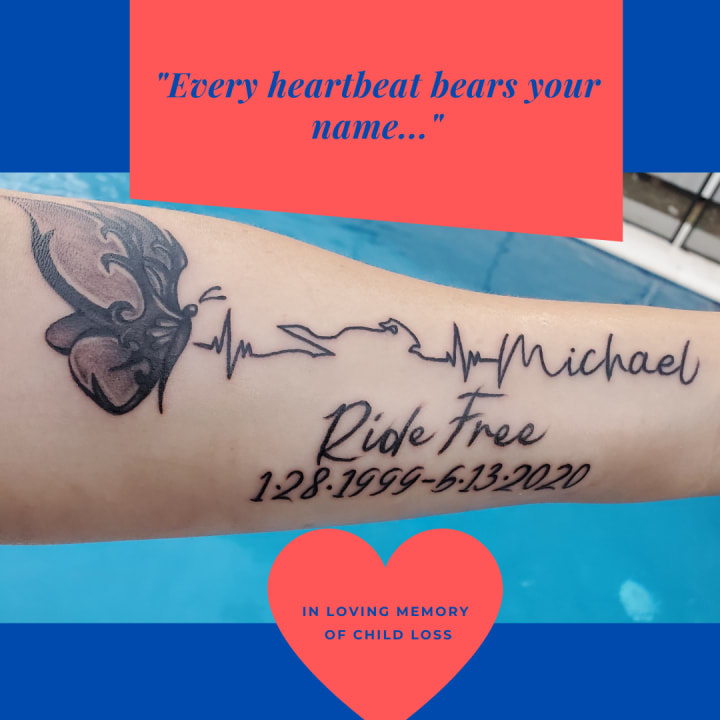 I have created a Facebook and Instagram page for parents who want to share their memorial tattoos with the world. It is a place where we can keep our children's memories alive by putting it in ink. In loving memory of child loss please like and follow Unbreakable_bond_tattoos on Facebook and Instagram.