The Bird and the Pearl
Believe what you will.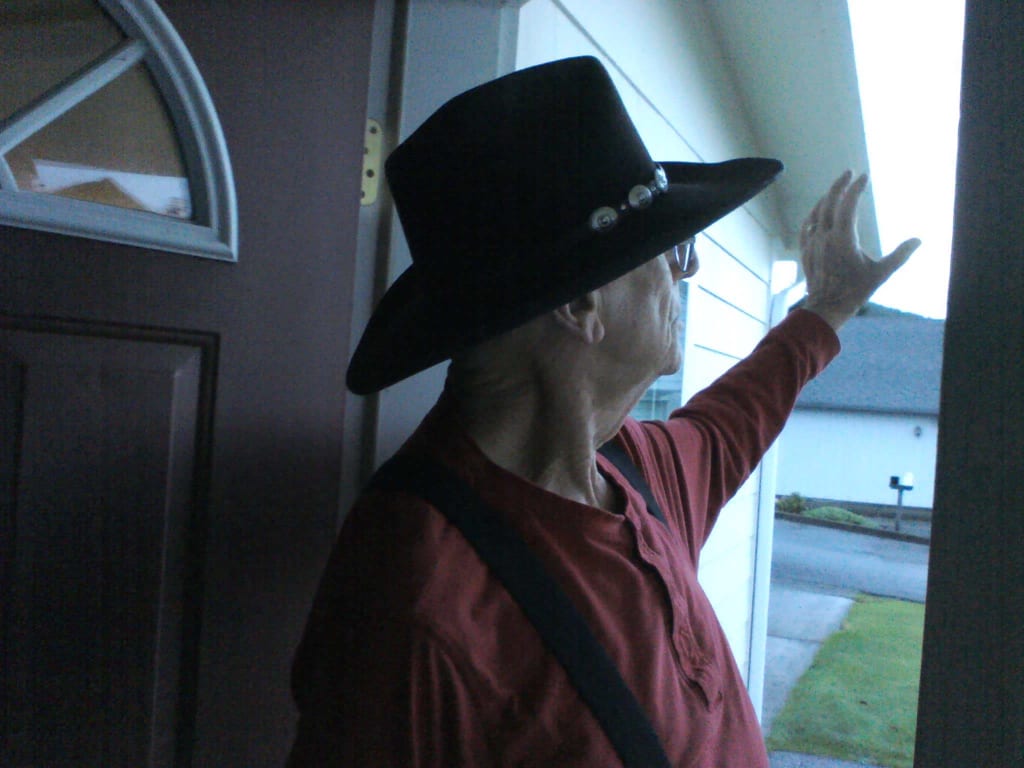 I had not eaten or drank anything all day. Yesterday was one month since my husband's passing; food held no allure for me. A visitor stopped by in the afternoon, and it was probably the last person in the world that I wanted to see, yet in the queerest way I was thankful. I suddenly had the urge to lock-up the place I had been locked up in for three days, and go find something good out there. There must be a positive in this town, I thought.
I put on cosmetics, because I am pale from being inside, and doing it feels like caring for me, myself and I. When I was done doing that, and dressing, I tried to look at myself objectively in the bathroom mirror, making faces and sticking out my tongue before applying lip gloss. "Yeah, you're ready," I thought.
The Tin Man truck acted as though it was supposed to be hibernating, so I kicked down hard on the gas pedal one more time, and it roared awake.
"That's right!" I told Tin Man.
A minute or two later, I headed to the market for veggies and almond milk. It occurred to me that I hadn't made chowder in quite awhile, so I picked up ingredients, hoping my memory was working for what should go in it.
The cashier had heard from another about Ray, and offered condolences, followed by strangers behind me in line. I wondered if that would happen in a bigger city. I thanked everyone, and asked them to cherish the ones they love for me, because tomorrow is not promised, it just isn't.
Another cashier, a young man, unusually kind, was outside having a cigarette. He hugged me tightly, asking how things are going, and complimenting my "paint job." I honestly felt great, and I told him so. I joked about my neighbor telling me he had wanted me for the past five years, and the young man said, "He's no dummy! He knows a good one when he sees it! Kinda soon, though."
I laughed bitterly… "Yes, I am sure his wife would agree"
"Oh!" he raised his eyebrows, "Anyone I know?"
Then we both laughed hard, and I told him probably, and made the "Shhh" sign, with my finger on my lips. We hugged again, and I loaded the groceries.
Sick. Really. I needed food, and it had been so long, so I steered over to Aztlan. The family that owned the restaurant was kind, and they had known Ray. Usually it is quiet; a refuge.
But, not today, they were busy! There were four couples, a birthday party, for a 40 year old big guy wearing a t-shirt that said, 'WELL-HUNG', and then 'drywall', but the word 'drywall' was much smaller. Then there was me.
Coffee. Thank you, Father in heaven, for coffee. I sipped it, while I waited for veggies with chile relleno sauce.
Suddenly something caught my eye, it was a lone, small bird. It was flying back and forth, under the large awning that surrounds the building. The awning sticks out nearly a yard from the building, and it is white underneath, with steel support bars. This bird kept going back and forth, then sat on the closest support bar, once I noticed it. I looked back to my coffee for a sip, and the bird began vigorously flying back and forth again, so I stopped, and looked at it. Immediately it sat on the bar again, and cocked it's head, so it peered down at me. "Is that bird looking at me?" I thought.
I took a drink of coffee, and the bird flapped its wings once, and looked towards the awning, which would have been the sky.
That's when I saw it. The full moon hung, like a pearl in the sky, and from my position, the illusion was that the bird was only inches from it. The bird flapped once more, cocked its head, and looked down at me. I smiled.
Out loud, I asked, "I'm not eating alone tonight, am I?"
For more than ten minutes, the little bird sat on the bar, and no other birds were around. He looked at me often, and when I pushed my plate away, he took off. The moon was visible for that duration, and then the awning was in the way. I knew what had happened was some kind of small gift. I thought of the uncountable amount of times that Ray had called me out to see the stars, or the moon, or something else of awe and wonder in the night sky.
I could only smile.