The Best Bedtime Beauty Reminder
How my daughters found a bond in the story of "Sulwe" by Lupita Nyong'o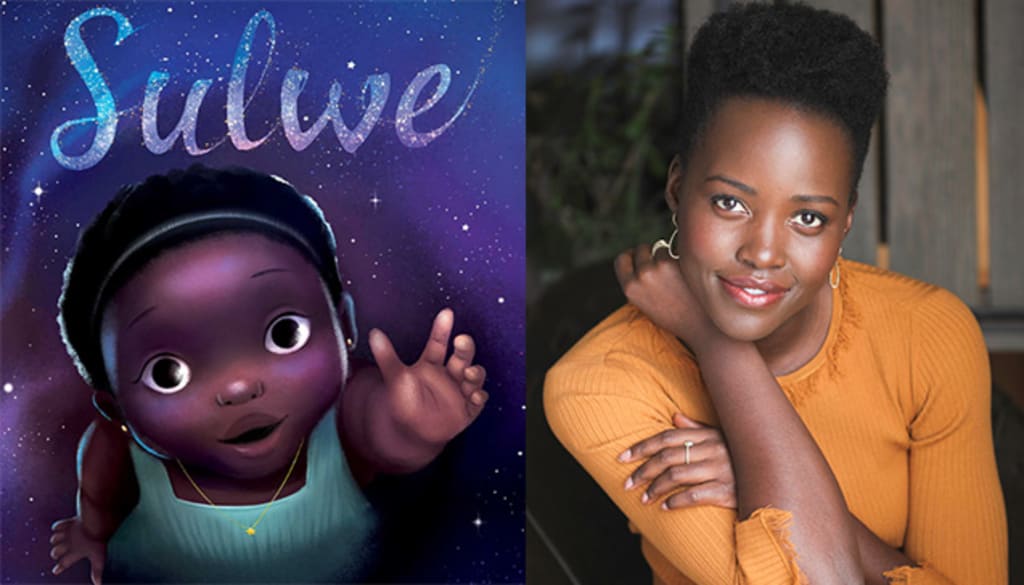 "Sulwe" by Lupita Nyong'o (pictured right)
"You see," the star explained, "we need them both, on their sunniest day and their darkest night, and every shade in between.

Together they make the world we know, light and dark, strong and beautiful."
I am the luckiest mother I know, because I have two daughters to read stories to at bedtime: one is my biological child who is both Black and Caucasian, and the other is my bonus daughter who is Italian and Caucasian. My daughters are gorgeous for different reasons; my biological daughter has beautiful dark curls and a sensationally lovely darkness to her skin, while my bonus daughter has stunningly golden and strawberry locks with a paleness that does not darken in the sun. Since blending families, I've always looked at them together as my little sun and moon, as they're physically opposite but in need of one another to flourish. My bonus daughter has helped my biological daughter open up and grow in so many ways, just like the Sun's light reflects off the moon to give us a silver glow when the sky goes dark. My little girl finally got a big sister, and they're the cutest duo of sisters I've ever seen. They climb into their bunk bed at the same time every night and have dozens upon dozens of books to choose from when they want to hear a bedtime story.
Upon blending my family with my partner's family, we had a wonderfully expanded collection of books to choose from, but I realized I was lacking in Black authored stories. Plenty of characters who looked representative of my bonus daughter, but not much that highlighted my daughter's appearance. I asked other parents of biracial children for recommendations on something that could remind my girls they're beautiful regardless of their appearances, and Sulwe by Lupita Nyong'o was the suggestion I grabbed first (since Lupita is one of my favorite actresses along with having been a phenomenal model for Lancôme cosmetics for a period of time.)
The book arrived and I did not read it beforehand, because I wanted to enjoy the story with my girls. We anxiously awaited bedtime that night and cracked open the book, where I started to read aloud:
Sulwe was born the color of midnight.

She looked nothing like her family. Not even a little, not even at all. Mama was the color of dawn. Baba the color of dusk, and Mich, her sister, was the color of high noon.
Immediately after reading this, I looked at my daughters to see their reactions: my bonus daughter looked intrigued, but my biological daughter looked as though she had a million thoughts running through her head. I continued to read the story, which described the taunting and bullying Sulwe endured for being darker than others. This led Sulwe to try everything imaginable to change her skin tone to a lighter one.
I reflected internally, thinking of the video games my daughter plays, and how each character she makes is always light-skinned. It broke my heart, and I continued reading about Sulwe's desperation to feel as beautiful as her family. I wondered if the pains of Sulwe's worries were resonating with her, but I wanted to finish the story first, so I continued to read. My daughter remained silent, soaking the words in as I paused occasionally to highlight the phenomenal artwork in the book. (Seriously, Vashti Harrison is a brilliant illustrator. The art complements the story in a devastatingly gorgeous way.) My bonus daughter kept excitedly pointing things out that she was enjoying.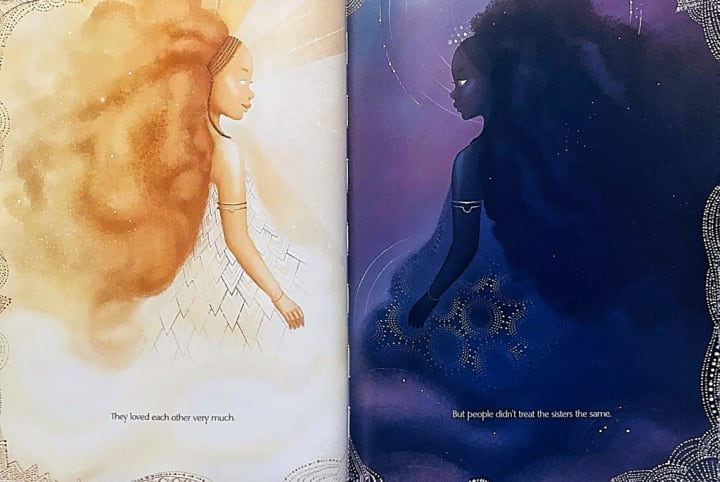 "It's just like me and Zoey!" my bonus daughter said of herself and my daughter.
"That's right," I told her. "You're our little sunshine, and Zoey's our moon and stars."
In the story, a shooting star visits Sulwe (sent by Night herself) to tell her the origins of how Night and Day (sisters) overcame taunting by humans calling Night ugly names while Day was celebrated and loved, given pet names in fond tones and affectionate responses. I continued reading through this part, completely enchanted by Lupita's mystical explanation of why darkness is so integral to beauty, until I reached this passage and found myself choking words out through tears:
"I miss you," said Day.

"I miss you, too," said Night. "But you don't know what it's like to be treated badly for being dark."

"You're right, I don't," Day replied. "But what I do know is that we need you just the way you are. Come and see."
Day didn't understand, and I knew me and my bonus daughter couldn't possibly understand either. I felt like I was learning an incredibly valuable lesson through reading this story, and my daughters were taking in every single word of such important knowledge. I continued reading; eventually, the story shows people cheering upon Night's return, as they'd learned that Day was far too much when it wasn't broken up by Night's visits. My heart started to lift, and we finished the story with the happy ending of Sulwe embracing herself as she was.
The opportunity to talk to my girls, at that moment, was important to me. I remember closing the book and looking at both of them.
"You are both very much like the Night and Day sisters in the book. You're beautiful, and you don't have to be the color of night or day or any other shade in between to be beautiful. What's beautiful about you both is inside your hearts, not on your skin, but beauty does come in all colors and neither of you is better than the other for how you look."
My bonus daughter nodded cheerfully as she started to get herself comfortable for bedtime, while my daughter looked as though she was still working through the story's plot and outcome.
I laid beside her that night and cuddled her close for quite a while, brushing her curls with my fingertips and reminding her over and over how she was just as beautiful as Sulwe realized she was.

While I understand that the book was written with the intention of making young, dark-skinned girls (and boys) feel beautiful in their own skin, the way this book was written spoke to both of my girls in my blended family. It created a bond between two sisters brought together by love and chance, a connection between night and day, black and white both. It helped give me the opportunity to share my knowledge and love as a mother who sees them both as equally phenomenal for very different reasons.
"Sulwe" is not a book that I think should be read to just one ethnicity. The message of beauty is profound in one of the most artistic ways I've ever seen in a children's book, and a message worth sharing with every child while they go to bed. If you plan to spend money on a new book to read to your children, this is the one you need.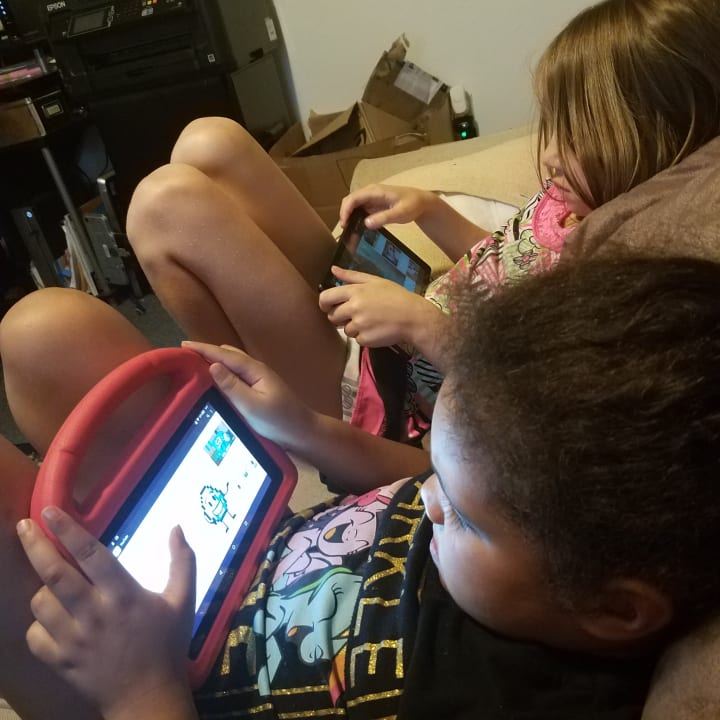 children
I write through the passion I have for how much the world around me inspires me, and I create so the world inside me can be manifested.
Mom of 4, Birth Mom of 1, LGBTQIA+, I <3 Love.