The 10 Best Subscription Boxes for Kids
They don't want to go outside, and you don't want them glued to their iPad. Subscription boxes for kids are sure to provide you the perfect middle ground to keeping you both happy.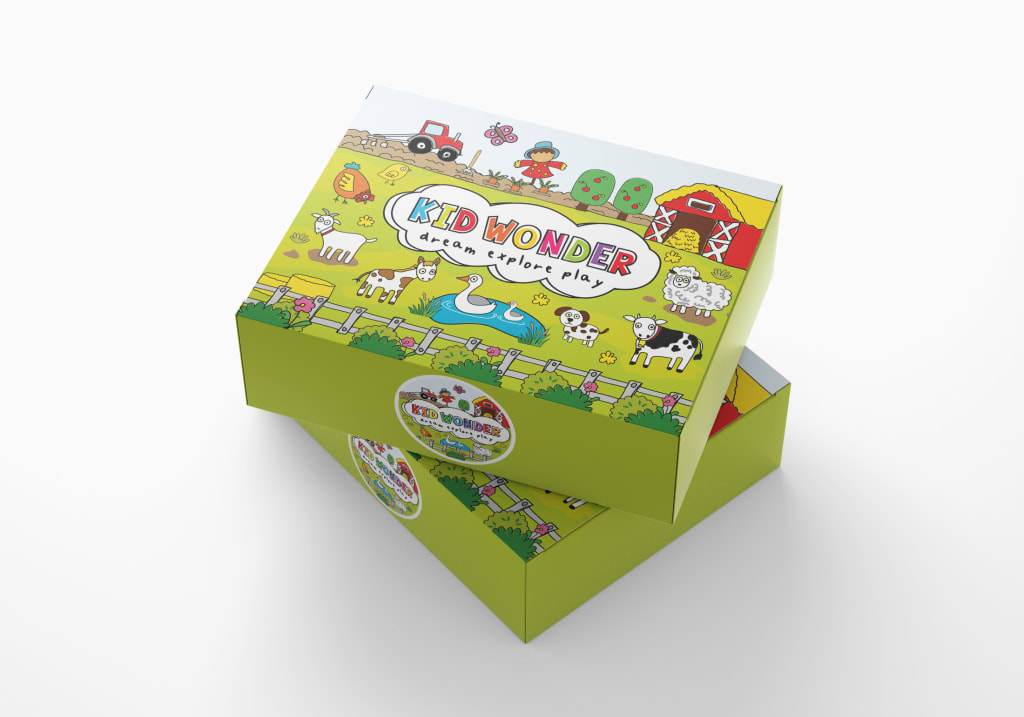 Keeping your kids entertained day after day is an exceptionally difficult task, and every parent appreciates having a little extra help to keep kids occupied. A lot of the time, it goes a long way to keeping parents sane. But playing Angry Birds on your iPad isn't exactly your idea of a good use of their time, right? Having stimulating and educational activities for your kids to engage in is important for all parents, but these services or toys can get pretty expensive once your child gets bored of them and wants the next, newest thing. That's where the need for alternative forms of engagement step in, the best subscription boxes for kids might just be the right amount of fun and educational to give your children month over month.
If your kids are avid readers, or you want to get them more excited about getting lost in a book, then this monthly subscription box could be just the ticket. Aimed at kids between the ages of 8 and 12, this subscription box contains a middle-grade novel that has just been released (and is even sometimes signed by the author) plus a host of other screen-free activities for kids. In addition to a top-notch novel, this box also contains three to five other items; which range from toys, notebooks, socks, and unique prints that are matched according to that month's theme. OwlCrate Jr. is a great choice to fuel your kids' creativity while also inspiring a lifelong passion for reading.
Pros:
Contains Newly Published Literature
Inspires a Love of Reading
$27.99 a month
Different Themes Every Month
Signed Books
Cons:
Does Not Include Postage Costs
Not Suitable for Younger Children
This subscription box from We Craft Box are perfect if your kids love to explore their creativity. This is also a great choice if you have two children (even if they are different ages), as the box contains enough materials for your kids to work together on a creative project. Great for collaborative activity, as well as getting your kids away from the TV, the We Craft Box is the perfect choice to get your child's creative juices flowing. Each month, the We Craft Box comes with a theme for you and your kids to follow, as well as a unique story about the art project to fuel your children's imagination. All materials are included in this monthly box, and it contains easy-to-follow photo instructions so that you know exactly how to piece together the puzzle inside.
Pros:
Ability to Buy a Single Box as Gift or as a Trial Box
Clear Instructions
Extra Materials for Further Crafting in Each Box
Two to Three Activities per Box
Free Shipping Within US
Cons:
Only Suitable for Children Between Three and Nine
Requires Supervision
Ensuring kids feel empowered and inspired is essential for their development as well as for their self-esteem. This box from Wonder Crate aims to do just that, and will introduce your children to inspirational role models from all walks of life. Each month, the subscription box will contain a new book that documents the life and achievements of a pivotal role model from history. What's more, this box also contains stories from children of a similar age who are aiming to make a difference in the world, aimed entirely toward inspiring your children to be the best version of themselves. In addition to the reading material, there are also fun activities inside this monthly box, including some that are aimed at getting your children connected with the skills they will need to succeed throughout their lives.
Pros:
Inspirational and Empowering for Children
Real-Life Stories of Children Making an Impact
A "Sibling Add-on" Option
Portion of Sales Goes to Children Making a Difference
Cons:
Unsuitable for Younger Children
Generic
Do your children love getting dirty? If the answer is yes, then perhaps the Slime Box is something to consider for your little ones. Ideal for younger children, the Slime Box is delivered to your door each month, and is guaranteed to provide hours of fun (and quite the mess, too!). Each box includes three pre-made slimes, mixing tools, glitter, and beads for decoration, plus candy and other treats to keep your children happy. To make this even more creative, each box is based on a different theme, making it sure to inspire creativity. What's more, the slime is as kid friendly as it is adult friendly, completely safe and half the price if you check out the latest offers on Groupon for it.
Pros:
Safe
Instructions Included
One of the Cheaper Options on the Market
Inspires Creativity
Hours of Fun
Cons:
Similar Products with Each Box
Clean-up
Fabkids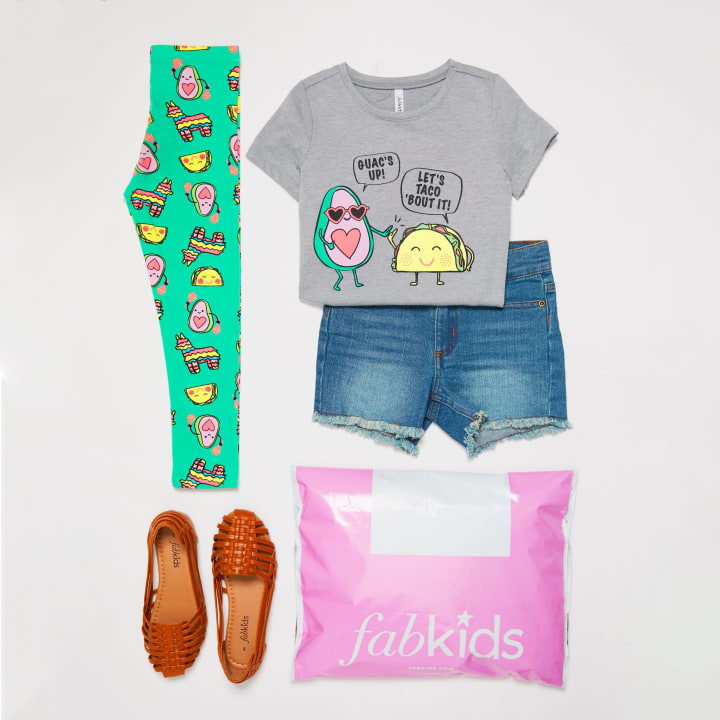 There are some subscription boxes that not only provide a treat for your children, but also help to save you time and stress, and one such box is from Fabkids. This box puts an end to regular trips to the mall to stock up on kids clothes that they continue to outgrow. Delivered to your door each month will be tailor-made items to suit your child's gender, age, favorite color, and what they would be willing to wear to school. Fabkids then comes up with a bespoke set of clothes that are mailed to your doorstep each month. With $10 off your first order and 40 percent off high-street brands, your bank balance will also thank you.
Pros:
Cancelation at Any Time
40 Percent off High-Street Clothing
For Kids Aged 1-16
No In-Store Shopping
Cons:
Quality Sometimes Lacking
Only Gender Specific Clothing
If you're looking to broaden your child's horizons and help them to learn more about the world they live in, Little Passports ticks all of the right boxes. This monthly box offers kids the chance to learn about cultures from far away places, while also providing exciting scientific experiments for slightly older children. The subscription boxes on offer cater to specific age ranges, making choosing the box that best suits your child a cinche. For example, the "Early Explorers" box is for 3-5 year olds and offers a new world theme each month, the "World Edition" box for children aged 6-10 provides info and souvenirs relating to a new country each month, the "USA Edition" about different US states is for children who are between 7 and 12 years old, and the "Science Explorers" box gives kids aged 9+ the opportunity to take part in actual science experiments. There is a lot to love from Little Passports, and they are sure to provide a wealth of valuable information for your little ones.
Pros:
Great Value
50 Percent off First Month
Available for Specific Ages
Cons:
Not Tailored to Individual Child
Of all the subscription boxes for kids mentioned already, none offer up adventure like the Kid Wonder Box. Designed with busy families in mind, this box is filled with educational crafts and activities to keep your little ones occupied. Take the pressure off yourself and allow the Kid Wonder Box to provide everything your kids need for an education and fun-filled afternoon, all instructions and materials included. Aimed at 3-6 year olds, every month has its own theme and a bunch of activities to help kids explore and learn about the world around them. Plus, this box comes with helpful storage boxes to help keep clean up easy!
Pros:
Price Reduction on Each Box with Longer Commitments
40 Percent off First Subscription Box
Encourages Creative Play
Ideal for Younger Children
No Mess
Cons:
Currently a Waiting List for New Subscribers
Only for Ages Three to Six as of Now
If you're looking for a way of keeping your preteens away from the screen, then why not tempt them with an intriguing mystery to solve? Aimed at older children with inquisitive minds, each box contains a new challenge with cryptic clues and puzzles to solve. The mystery can be solved from the comfort of your own home, and is sure to have children and parents alike working together to uncover the truth. This subscription box allows minds to be stimulated, keeps kids occupied, and gives you the opportunity to engage in a family bonding activity that will help you reconnect quickly.
Pros:
Engaging and Educational Activities Every Month
Price Reduction on Each Box with Longer Commitments
Ideal for Older Children
Fun for Adults
Cons:
Limited Number of Boxes Sold Each Month
Only Suitable for Older Children
This box from Sensory is designed to develop your young children's sensory motor skills and to help stimulate their senses. These boxes contain a proverbial toy box of the top sensory play activities; including, textured toys, crafts, and activities that have been put together by occupational therapists in order to maximize your child's development. Sensory TheraPLAY boxes are specifically designed for children with autism and sensory needs; however, they can be enjoyed by any child and aim to encourage activities that reduce anxiety while providing a sense of calm and well-being within your child.
Pros:
Calming Activities to Help Manage Children's Anxiety
Curated by an Occupational Therapist
For Children with Autism or Sensory Needs
Cons:
The Little Feminist Book Club subscription boxes are attempting to ensure that your child receives works of fiction that are representative of high quality moral values. Attempting to address the fact that only 31 percent of children's books contain a female character, and only 13 percent feature a person of color, this subscription box introduces children to books that offer them diversity while teaching them the empathy needed to reflect on the world around them.
There are three different types of subscriptions on offer based off your children's age. The box for newborns through the time they are infants includes two board books or one picture book, as well as a bookmark and discussion questions. The box for 3-7 year olds includes two paperback books or one hardcover, a bookmark, discussion questions, and an activity. Finally, the box for 7-9 year olds contains two lengthier paperbacks or a hardcover, a bookmark, discussion questions, and a letter informing your child why these books are important. This is a great way to promote equality and ensure your child understands that they can be whoever they want to be.
Pros:
Great for Raising Feminists
A Broad Range of Diverse Books
$23 per Month
Free Shipping
Addresses Social Issues
Cons:
Not for Children Aged 10+
There are so many subscription boxes for kids out there that it can be hard to know where to start. Whether you want powerful literature to promote your child's intellect and understanding of the world, fantastic arts and craft activities, or a stylish selection of clothes delivered to your door each month, there is something out there that every household will love.